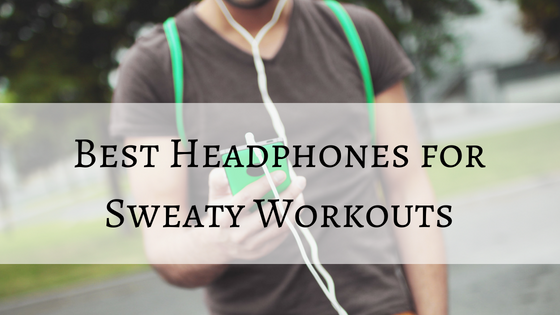 Whether you're just getting into fitness, somewhat established, or a complete pro, great music can help keep you motivated during your workout.
But it can be hard to find headphones that will stand up to intense exercise sessions.
Earbuds slipping out of your ears, tangled cords, or poor headphone fit can put a major damper on your workout. How can you focus on fitness when you're too worried about your headphones staying in place?!
The good news? There ARE moisture-proof headphones out there that are perfect for even the most rigorous exercise.
Before we dive into the research, let's examine my top three picks for the best headphones for sweaty workouts:
Best Budget Headphones: AUKEY Latitude Wireless Headphones
Best Mid-Range Headphones: Sennheiser PMX 684i Ultralight Headphones
Best High-End Headphones: Vi&VI Wireless Headphones
(Amazon links below)
---
What to look for in workout headphones:
Imagine – you're in the middle of a sprint.
Sweat is beading on your forehead.
You have some exciting, heart-pounding music in your ears.
Then, suddenly, your earbuds are too sweaty. They slide out, leaving you grappling to get them back in your ears.
We've all been in one of those situations where our headphones don't make it through the workout. And it's a total buzzkill.
But great wired and wireless headphones exist that are designed with athletes in mind. Built for comfort and durability, the best headphones for these kinds of workouts will make sure moisture doesn't get in the way of your success.
When you're looking for the perfect headphones to hold up to even your sweatiest workout (and then beyond, like on the way to work), there are a couple of factors to consider:
Wired vs. wireless – although this is really a matter of preference, wireless headphones can give you a wider range of motion. You'll be able to wear your headphones while running or while on machines at the gym without having to worry about the wires getting caught or pulled.
Sweat or waterproof – sweat is the number one killer of headphones. They aren't usually built for moisture. But special coatings and build ensure your headphones won't be damaged by water, sweat, or anything else you might get on the surface. Whether you're in the gym or finishing your first Tough Mudder, you want headphones that can keep up.
Fit – When your headphones don't fit quite right in your ear, sweat only compounds the issue and makes them even more likely to slip out. Make sure your headphones are ergonomic, fit well, and can last during a high-intensity workout.
With those criteria in mind, let's look at some of the best options:
---
Best Budget Headphones for Sweaty Workouts: AUKEY Latitude Wireless Headphones
Overview: AUKEY Latitude Wireless Headphones offer wireless audio, water resistance, and a lightweight design at an affordable cost. They have Bluetooth capabilities at a distance of up to 10 feet from the streaming device. These sweatproof headphones come with wireless earbuds, a micro-USB cable, three pairs of ear-tips, three pairs of in-ear ear hooks, a carrying pouch, and a user manual. There is a 45-day money back guarantee and a 24-month warranty
Battery Life: 8 hours
Why I Like It: If you're serious about your workouts, you want something that can withstand moisture. The AUKEY Latitude headphones are rated IPX-4, which means they are proven to stand up to sweat and other moisture. Don't worry if you end up running through some rain showers. With these headphones, you'll be totally covered.
AUKEY Latitude Wireless Headphones also created earbuds with multiple sizes of ear-tips and ear-hooks. This ensures that all ears can find their perfect fit! Wearing these can almost feel like you got custom-made earbuds.
These headphones offer clear, crisp sound. But you have the additional choice of three adjustable sound settings in treble, bass, and vocal. Pressing the "multi-function button" gives you the chance to experience your music – your way. Want something more vocal heavy as a distraction? Done. Need some bass to get pumped up? Also done!
Potential Drawbacks: For those who are not used to ear hooks, the AUKEY Latitude Wireless Headphones may be uncomfortable. This can be a problem for people who want to listen to music throughout their entire workout. After all, it ruins your workout if you're uncomfortable the entire time.
It can also be difficult to figure out when these headphones have a low battery. With a charging time of 1.5 hours, you could get stuck in the middle of a workout with no way to get your music back. And when you're rocking out an intense workout, you need that bass!

Check price and read more reviews of the AUKEY headphones on Amazon
---
Best Mid-Range Headphones for Sweaty Workouts: Sennheiser PMX 684i Ultralight Headphones
Overview: These Sennheiser PMX 684i Ultralight Headphones offer a comfortable, modern fit without the earbuds. Easy to wear, even under a bike helmet, these headphones can also be worn around the neck when not in use. These wired headphones are compatible with any device that has a 3.5 mm headphone socket. They are also offered with a 2-year international warranty.
Battery Life: Because these are wired headphones, they do not require batteries. Listen to your music whenever you see fit!
Why I Like It: The Sennheiser PMX 684i Ultralight Headphones are fairly simple and straightforward. They don't offer a wide range of extras, making them easy to use for all. Their wired design means no waiting time for charging. You can use these headphones whenever the desire for a workout pops up.
These headphones are designed to be sweatproof and waterproof. They can stand up to even the most intense workout and are easy to clean after. In fact, you can even run them straight under running water to rinse them clean. That shows how durable they will be during crazy, sweaty workouts!
Also, we all know how music can pump up your workout. These headphones offer clear, crisp, and rich sound. The built-in microphone and volume control also mean you'll be ready to talk, sing, or listen – no matter where you are.
Potential Drawbacks: Wired headphones have their benefits and their issues. For those who feel that the wire might get in the way, or do not like the feel of wired headphones, these probably won't be for you. Some prior reviewers have also noted that the wire seems to be extra long. This could be a problem for runners, gym goers, or cyclers; the tangled cord could interrupt a workout or get caught in equipment.
The fit may also be slightly uncomfortable. Because the headphones use a band that goes around the head, some may find it to be too tight or too strangely fitting. Additionally, some may dislike the fact that there are not earbuds. Biking or fast movement without earbuds may show that these headphones could have difficulty blocking outside noise or wind.

Check price and read more reviews of the Sennheiser headphones on Amazon
---
Best High-End Headphones for Sweaty Workouts: VI&VI Wireless Headphones
Overview: VI&VI Wireless Headphones are some of the most unique on the market. These headphones include Vi, an AI (artificial intelligence) personal trainer that uses real-time fitness tracking and biometric technology to create custom, optimized workouts. In addition to Vi, these headphones offer a heart-rate monitor. Exercisers can listen to podcasts, audiobooks, and music. An app is offered for iOS and Android users.
Battery Life: 8 hours
Why I Like It: Called "the future of exercise" by Thrillist, VI&VI Wireless Headphones offer the first ever AI personal trainer. The aerospace grade biosensors and fitness trackers assist with your workout by giving personalized workout advice. For people who may need help staying motivated or keeping on the right track, this customization is a great benefit!
VI&VI headphones are also wireless AND both sweat and water resistant. Their high-quality design provides comfort through all your workouts. These headphones are very data-heavy. Part of what they track includes elevation, cadence, speed, calories burned, and location.
Through this, in addition to personalized workout advice, Vi helps to set and exceed your fitness goals. It's like having a fitness coach that you can access at any point in time – without the extra costs!
Potential Drawbacks: For those who do not have iOS or Android phones, they will be unable to access the Vi app. At VI&VI's price-point, this is a definite strike against them.
Because this is relatively new, technologically speaking, there are still some flukes with Vi. The dependence on technology, while cool, means that certain workout stats might not be properly tracked. This is especially true for tracking pace, heart rate, or mileage while on gym equipment (like treadmills).

Check price and read more reviews of the VI&VI headphones on Amazon
---
Wrapping Up
With sweat-resistant headphones, you can prepare for hardcore workouts without having to worry if your headphones can keep up.
If it were up to me, I'd go with the Sennheiser PMX headphones for my toughest workouts. The wired design might be a drawback to some, but they're lightweight, super sweat-resistant and durable, and designed to stay on during heavy cardio and other activities (the band ensures they won't slip off!)
It's also pretty cool that you can literally run them under water to rinse them off.
Hope this guide helps!
Check out the Sennheiser sweat resistant headphones on Amazon.