So, you're ready to get in shape. This is the year.
That's great!
There's only one problem — you have twelve different gym chains within a 5 mile radius of your home or work. So how do you pick?
Below you'll find my gym comparison guide and roundup of the best gyms you can join.
(Including gym membership price comparisons, features, pros and cons, and other information that'll help you pick the right gym for your fitness goals. In a lot of the articles below, I compare gyms head-to-head to help you decide from two at a time.)
Get started with any of the articles below!
Or take my interactive 6-question quiz: What gym should I join?
(You can also check out my video where I asked 6 personal trainers how to pick a gym — you might find it useful in your search!)
---
A quick gym comparison chart
Here's a brief overview comparing the main gym chains you're likely to find near your house.
I haven't included everyone (like Snap, Blink, and YouFit), but these are the big boys and my favorite options for most people.
I didn't include hard numbers like the exact cost of membership because amenities and costs are ALWAYS subject to change year to year and from location to location.
If there's something specific you're looking for, call your local club and see what they have.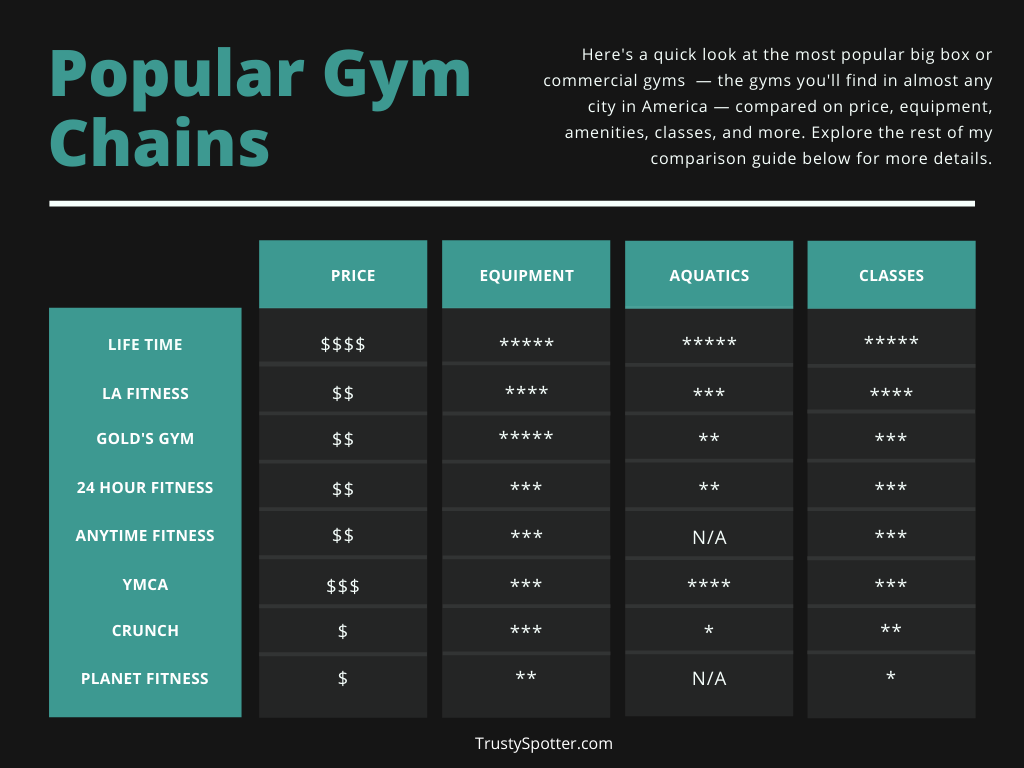 For more details and deep dives, explore the rest of the guide below.
---
Commercial Gym Reviews
Deep-dives into the gyms you see everywhere, featuring an overview of the equipment, amenities, price, and overall vibe of each.
PF is the cheapest gym option around, but is it a good value? In this article, I'll break down what you get for the money, and why it's a great choice for some people (but not everyone).
On the other end of things, you have the ultra high-end fitness club, Life Time. You get a lot for your money here, but does it fit your budget and is it worth the price tag? Check my review to find out.
Here's another popular mid-range gym famous for exceptional hours and 24/7 access. But are the amenities any good?
As of this writing, this is where I personally work out. I think it's the best overall value out there. Click to read my full breakdown and thoughts.
Known affectionately as the $200/month gym, not many people's budgets can handle this place. But if you can make it work, is it actually worth the price?
It's open all night!! But is the gym any good? Check out my breakdown with the pros and cons of joining 24 Hour Fitness.
Gold's is known as a weightlifter's haven — but is it a good gym for you and your fitness goals?
It's the biggest gym chain in Canada! How does it stack up to other household big box names?
F4L is the Planet Fitness of Canada — OK, so they actually have Planet Fitness there, too. But how does this chain grade out?
---
National Big Box Gym Chains, Ranked
Where should you join up if it's your first time becoming a gym member?
Don't have a lot of extra cash or free time? Check out which big box gyms are the best fit for students on a tight budget.
Spend a lot of time on the road and hotel gyms just aren't cutting it? Check out these 5 big name gym chains for nationwide or even worldwide gym access.
You can burn calories and lose weight at any gym, but you'll see the best results when you actually enjoy the club you join. Here's my ranking of clubs based on equipment, amenities, and overall quality for staying motivated.
Not all gyms are created equal when it comes to strength training. Here's what to look for if you want to get into weightlifting at the gym.
Which gyms allow kids under 18 to use the facilities? A ton of them do! But you'll want to read the fine print.
Every gym has treadmills, but what else should runners look for in a membership?
Older adults should look for clubs that accept SilverSneakers or other programs, but that's only one part of the equation.
---
Big Box Gym Comparisons
Convenience is a big factor when choosing the right gym. So, often, your choice really comes down to the two most convenient gyms to your home or work!
In this series, I do a pretty thorough comparison of each gym chain to its most common competitors to give you a feel for which one might be right for you.
Anytime and Planet Fitness are two extremely popular convenience gyms. Check out price differences, equipment, and overall pros and cons in our versus comparison.
Do you want the convenience and low price point of Planet Fitness, or the size and breadth of features of LA Fitness? Our versus comparison breaks it all down for you.
Two behemoths. Tons of features. Pools, saunas, classes, and more. Which big box gym chain is the best for you and your fitness goals? Compare prices and features with our versus guide.
These are two pretty evenly matched, mid-level gyms. Lots of space and equipment, pools, spas, and classes. Which one is a better fit for your specific fitness needs?
Two convenient and inexpensive gyms. Very similar pricing. But which one offers what you need for your own fitness goals? Check out my full breakdown here.
These two gym chains are very different. One is a health and lifestyle club. The other, a community center and workout space. If you're not sure which one is a better fit for you (and possibly, your family), check out my breakdown.
The YMCA and Planet Fitness are both pretty convenient, but have a big difference in price. You have to look closely at the offerings, amenities, and vibe to figure out which one is the better fit for your lifestyle.
One inspired the other, but which is the ultimate convenience gym? Blink is a regional offering, but whether it's the better choice for you will depend on your budget and workout needs. Here's my guide.
Both of these chains are open 24 hours a day! Woohoo! But there's a big difference in pricing and amenities. Which one is a better fit for your lifestyle? I break it down in this article.
These two are incredibly similar in price, equipment, and class selection. But there are at least two major differences that could swing you one way or the other. I'll help you choose in this article.
Both inexpensive convenience gym chains have a lot to offer. If you've got a YouFit nearby (there are only around 100 of them!) you'll want to check out my guide to choosing between these two.
One's for cardio lovers, the other for bodybuilders… right? That's really just scratching the surface. Here's my guide to choosing between these two popular chains.
Both are great health clubs that have a lot to offer, but they have slightly different vibes (and pricing). Here's a quick guide to how to choose.
These two are mega convenient, but a little pricey. Still, having 24-hour access to a ton of locations might be a great fit for you. Here's my breakdown.
I love both of these super-popular chains, and they're really similar overall. But there are two key differences you should know about before you sign up.
One's for lifters, one's for old people, right? Well, not quite. Both of these chains actually have a lot to offer, but which one is right for you?
The best budget convenience gym vs the best mid-range gym. The prices vary greatly, but so do the offerings. Let's take a look at which one you should choose.
The best high-end gyms in the country, and the most expensive! I think they're both great but read the full article for detailed pros, cons, and which one is the better value.
Two budget gyms. Both convenient, but there are some key differences between them. Which is the better choice for you?
The best high-end gym vs the best mid-range gym. Besides the price, what's actually the difference?
Hmm… they sound the same, but are they? Click for a full breakdown and comparison.
The battle for Canada! Which of these gyms is best if you live in Ontario or the surrounding areas?
One's known for being family friendly. The other is affordable and convenient. Let's break 'em down.
They're 2 of the cheapest gyms around. How do they stack up to each other?
These two gyms couldn't be more different, but it's worth comparing them carefully if they're convenient to your home or office.
One costs a good bit more than the other, but does that make it a better value? Read the full comparison to find out.
Canada's two best budget gyms. Both are inexpensive, but which one is the better fit for you?
Here are two of Canada's leading gym brands. They're wildly different in their amenities, so which one should you join?
---
Gym Amenities Compared & Explained
Here are some Best-Of lists ranking all of the national gym chains based on certain amenities (pools, equipment, childcare, etc.)
If you know what your priorities are when it comes to joining a gym, these lists can really help you narrow down your choice.
We've got chains with family-friendly outdoor fun, high-end classy adult pools, and bare-bones lap lanes. Which one is the best value for your money?
Racquetball isn't just for old dudes — it's an insane and fun workout! But it's not something you'll find at every gym. Here's my guide to the best racquetball courts around.
A nice tan isn't necessarily a part of fitness, but it can help you look good! Here's my guide to which gyms have the best tanning set ups for members.
Not every gym has full power racks, but if you're into lifting, you're going to need them. Here's my guide to picking the right gym for lifting serious weights.
Check out my guide to which gyms have the best basketball courts, pick up leagues, and tournaments.
This guide breaks down which gyms to join if you need to wash up after working out, and who has the best shampoo and towel situation.
Rowing machines are, hands down, the best piece of cardio equipment. So which gyms have them and which ones don't?
Most gyms offer group classes, but they're not all created equal. Check out this guide before you sign up if you want to enjoy group fitness!
For many parents, childcare is a make or break feature at a gym. Without it, you simply won't be able to go! This guide breaks down all the major chains with childcare, what they offer, and roughly how much they cost.
You can get a free trial at almost any gym, but this guide explains how long the free pass lasts, who can get one and how often, and what it includes at every big box gym.
You won't find nutritionist and dietitians at every gym, but they can really help supercharge your results. In this post I break down where to find them, how much it might cost, and what you get for the money.
Boxing is an amazing workout! But not every gym has the right equipment. Check this guide to find the right place for your heavy bag sessions.
The best and most common gyms that offer 24/7 access for members.
---
Fitness Class Reviews & Comparisons
Looking to take a class with other people? They're great for staying energized and motivated to workout!
Here are all the ones I've tried, reviewed and compared side by side.
CycleBar is the newest name in spin classes, but with a twist. The weighted bar gives your upper body a killer workout, too! Here's a hands-on review of these spin studios and what to expect at your first class.
Very similar to CycleBar, Flywheel boasts a killer cardio workout along with an arm burn for the ages using weighted bars attached to your bike. We checked one out in person to give you our honest thoughts and review.
For a full-body calorie scorcher, I definitely recommend checking out Burn Boot Camp. It's a little pricey to just pop in, but a full membership gets you free childcare AND access to a trainer/nutritionist. How can you beat that? Check out what I thought after my first class.
Two of the most popular spin classes. Brutal arm workouts. Crazy calorie burns. But which one is right for you? I tried both and put together a detailed comparison to help you choose.
The battel of the spin classes continue! Check out my thoughts on how the ultra-competitive Cyclebar compares to the more spiritual Soulcycle experience.
These two are pretty different, in practice, but on the surface they can seem like sort of the same thing. Well I've tried both and can break it all down for you! Check out my comparison here.
These two high-intensity, group-based classes are extremely popular ways of getting into shape. And they are pretty similar in the way they borrow and blend elements of different disciplines together. But which one is right for you? Check out my full breakdown and comparison.
Most of the big names don't offer childcare, making them a non-starter for parents. Try these studios instead.
Burn, Barry's & F45 go head to head with a traditional gym membership.
Should you do group workouts at the studio, or do your own thing at the gym?
How does the $2,000+ home workout bike compare to joining a big box gym?
How do the costs and workouts on a Peloton bike compare to going to an Orangetheory studio?
One's a bootcamp circuit training class, the other is supercharged HIIT. Which one is right for you?
---
Local Gym Guides (The best gyms in every city)
Looking for something with a little more personality with a big box gym? I'm doing a digital tour of the United States and picking the best gyms and fitness studios in every city.
Here's what I've come up with so far:
Stay tuned for a lot more of these!
---
Other Helpful Gym Guides
Peak times at the gym explained in-depth so you can avoid unwanted crowds.
Full breakdown of prices of the most popular and best gym chains, plus some averages and what you should expect to pay when joining a gym.
Total newbie? Not sure where to go, what to do, or what to bring on your first day at the gym? This guide should help?
Gym memberships can be pricey, no doubt. But they cost more when you pay unnecessary joining, administration, or annual fees. Use this guide to get the best deal possible at any gym locations.
Joined a gym but have no idea what to do? Here's a list of over a dozen free workout plans you can start right now, whether you want to build strength, speed, endurance, flexibility, or just burn calories.
8 main types of gyms you can join and what you need to know about each of them — explained!
Your guide to navigating the various areas and equipment you'll find at the gym.
A helpful guide of what to look for when "shopping" for a gym.
5 money-saving ideas for when your budget can't handle that pricey gym membership any longer.
You've heard the term, but what exactly does it mean?
---
Stay tuned for more gym comparison guides coming soon!