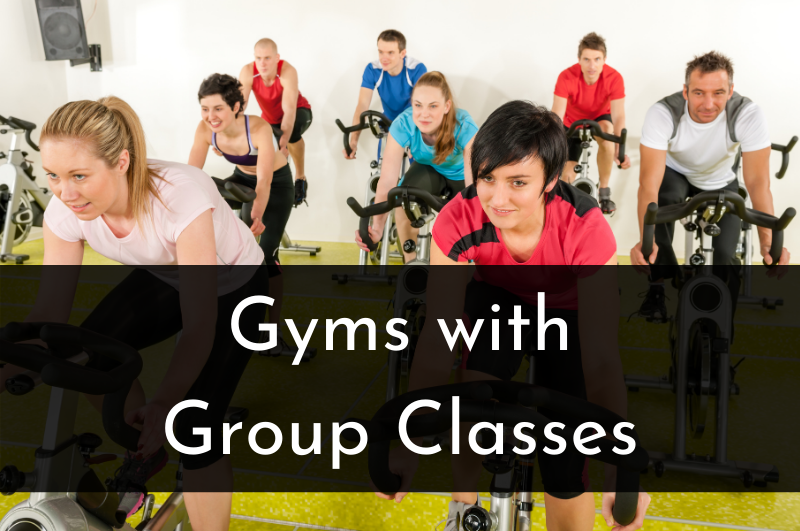 Why work out alone when you can get in shape with others?
Humans are naturally social animals. If your workout regimen consists of running on a treadmill by yourself for an hour, you might struggle to stick with the plan over the long haul.
That's why a lot of people love going to gyms that offer classes. From cycling to yoga to lifting weights, there are classes out there suitable for whatever workouts you like best. However, not all gyms offer classes.
So what are the best gyms with classes near me?
You'll find an excellent selection of classes at most big gym chains. When it comes to affordable, mid-range gyms, LA Fitness has some of the best class calendars around, with almost all classes (like yoga, spin, dance, cardio, strength, and more) coming included with your membership. You can also find plenty of classes at 24 Hour Fitness and Anytime Fitness.
If you can afford it, check out high-end clubs like Life Time and Equinox. The classes and other amenities there are unrivaled, though you'll likely pay $100 or more per month to join up.
Planet Fitness is a great deal at only $10 or so per month, but doesn't offer true group classes outside of simple instructor led workouts.
Below I'll break down the major gym chains that usually have group classes. And although gyms may be under the same brand, there are always variations from one location to the next.
You need to check with a gym first to ensure it has the exact class you want before signing up.
---
Benefits of working out at a gym with classes
For some people, the thought of getting sweaty in front of others may seem daunting.
But ultimately, you have to remember that people aren't paying attention to what you're doing.
They're focusing on their own health. And your primary focus should be on your well-being.
Even if you like working out by yourself, here are some benefits you can reap if you decide to join a class.
Find motivation
You may have a plan to work out three times a week. But when it's just up to you to go to a gym and work out in silence, you may find it difficult to stick with your plan.
When you join a class, you're suddenly accountable. If you were to miss a class, you have people there who ask, "Where were you?"
Plus, you can use other people's workouts to motivate you to perform better. You see people lifting heavier weights or cycling with greater ease.
Let their progress inspire you to stick with your routine.
(Working out in a group or with a buddy is a key motivational trick recommended by psychologists. Watch 7 experts discuss more ways to trick your brain into staying motivated to workout.)
Receive expert instruction
All group classes have a certified trainer or expert leading the workouts.
You may not want to hire your own personal trainer, but with a class, you essentially get access to one for the price of your membership.
If your stance is a little off, you have someone there to correct you. This greatly reduces the chances of injuring yourself and needing to take time off exercising.
Plus, the teacher is there to motivate you to perform your best.
Make friends
The exact health benefits you reap depend on the class you take.
But as far as I'm concerned, one of the best benefits of joining a class involves making new friends.
You can talk with other people who are on the same journey as you. You can hold one another accountable.
Even on days when you don't have a class, you can make a plan with your new friends to go to the gym at the same time and work out as part of a team.
Working out doesn't have to be a solitary activity. Other people can be there to have your back.
Plus, there's no reason you can't make plans to hang out with your new buddies outside of the gym!
---
Which big box gyms usually have classes?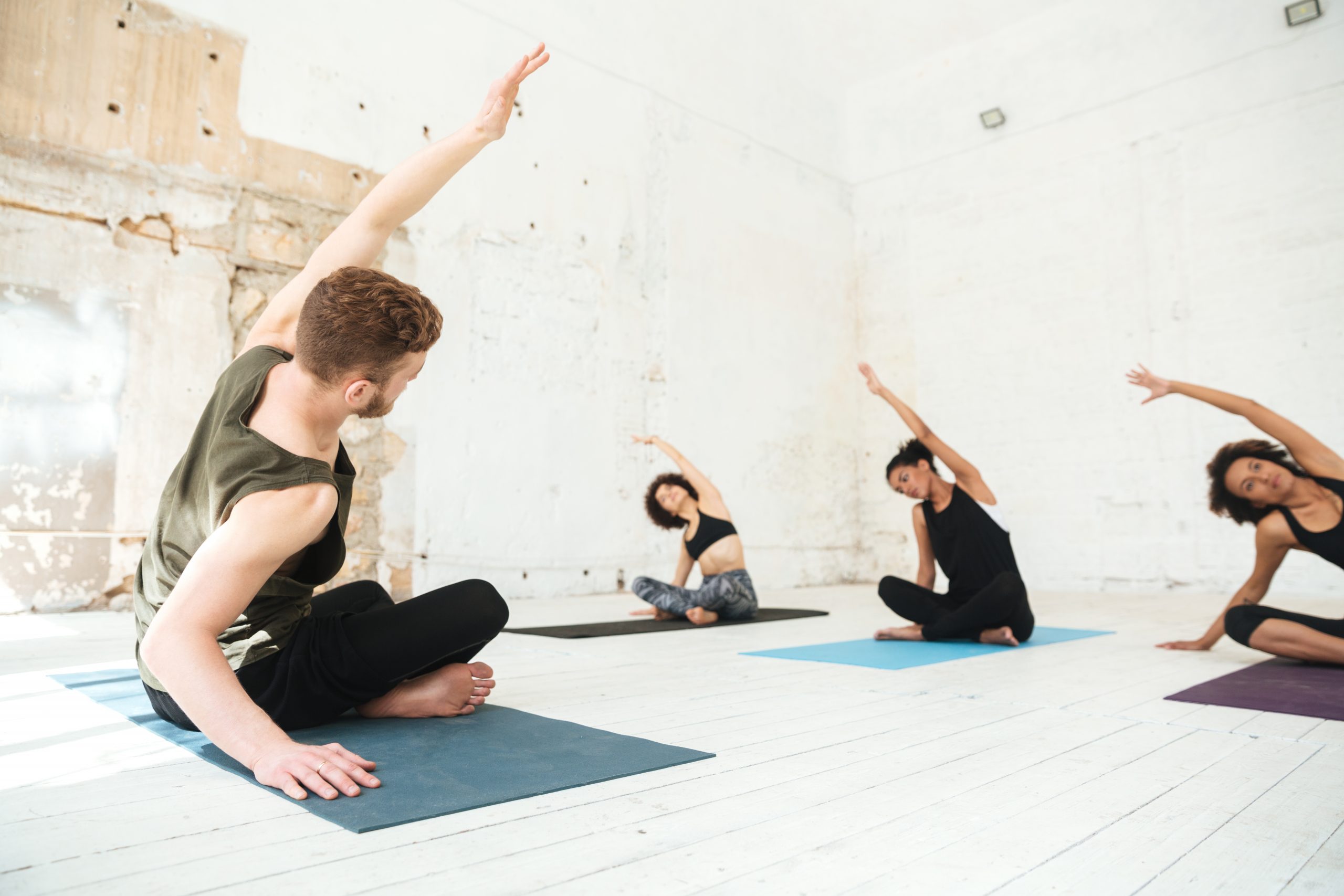 Millions of people with gym memberships only actually go a couple dozen times a year.
But when you sign up for a class, you're more likely to go.
That means doing the research and finding a gym near you that offers classes, specifically ones you like.
Remember, not all gyms, even those under the same brand name, have the same classes. You should look up a gym's schedule in its online calendar.
Or you can call ahead and schedule a tour to talk to someone who's knowledgeable about the gym's classes.
For the most part, here's what you can expect out of some of the big gym names out there.
1. 24 Hour Fitness
24 Hour Fitness has a pretty complicated price tier.
However, it's worth it to call the location nearest you to see how much a regular membership costs because there's a good chance classes come included.
And 24 Hour Fitness really has an impressive array of classes available for members (and included in the price of your membership). Some of the ones you can choose from include:
Strength
Cycle
Dance
Cardio & HIIT
Active Aging
Mind-Body
And if you're unable to attend a class one day for whatever reason, you can still work up a sweat at home courtesy of the 24GO app. This app gives you access to over 1,500 workouts, so you won't feel left behind when you head back to class.
It's a good idea to download the app no matter what because it also lets you keep track of your schedule and track your progress.
You can see in real-time how much you've improved, which is sure to be an added motivation to continue hitting up your sessions.
2. Anytime Fitness
Anytime Fitness places a real emphasis on its team workouts.
There are three main ideals the company devotes itself to.
Base: To establish proper movements to avoid injury
Burn: Learn how to burn up to 1,000 calories per hour
Build: Gain increased strength without excessive bulk
However, a lot of different exercises can exist within these three categories.
To discover which specific classes exist near you, you need to reach out to your local gym.
This also holds true for the pricing. Most Anytime Fitness locations allow you to partake in classes without extra fees. Some others might come with a cost.
3. Crunch Fitness
Crunch Fitness offers a vast array of classes.
The company's website makes it easy to search for a gym near you and look up your local schedule to see what classes you can be a part of.
However, your access to such classes depends on how much you pay for a membership.
You need at least a Peak membership (the middle tier) to have group classes as part of your membership fee.
You get some added perks at this level, too. You gain access to HydroMassage and tanning beds.
If you want advanced HIIT classes, then you can purchase it as an add-on at the Peak level.
Or you can upgrade and get the Peak Results membership. It only costs $5 more, and it gives you access to everything Crunch Fitness has to offer.
Crunch is, overall, an affordable gym — but keep in mind you'll have to pay a lot more than the base package indicates to take full advantage of your membership.
4. Gold's Gym
Gold's Gym wants you to be certain classes are right for you before making the commitment.
You can try out free fitness classes for a week before spending any money. And during that time, you can try out everything from cardio to muscle building regimens.
Gold's Gym really cares about its members' fitness. During the COVID-19 pandemic, the company continued to offer classes (via ZOOM and Instagram Live) so that people could still stay in shape from the comfort (and safety) or their homes.
You gain access to all of the gym's group fitness options even with just the basic membership plan.
With the basic plan, you have access to every Gold's Gym location, and it only costs $17.99 bi-weekly.
5. YMCA
The Y has an array of classes no matter what your schedule or lifestyle is like.
You can find all of the usual suspects, such as cardio, dance, and Zumba.
But the Y is especially a great place for seniors to remain active. There are plenty of classes here that consist of low-intensity exercises to help older people get up and moving.
Another interesting feature of the Y is that it offers small group classes for just you and your friends. If you already have some buddies who want to get in shape and don't want to exercise with strangers, then you can all go in together to hire a personal trainer to lead you through workouts.
Martial arts, yoga, and pilates are also offered.
Make sure to call your local Y ahead of time to see which classes are offered and at what times.
6. Life Time
Life Time is one of the more expensive gym options out there.
However, when you look at everything that comes with a membership, you quickly see why it can be worth it.
All classes come included with your Life Time membership. And Life Time has unique options you don't find elsewhere.
For example, Life Time has a Ringside class, which takes inspiration from the world of boxing.
You engage in strength conditioning and training the same way boxers do outside of the ring.
You could also opt for the Warrior Sculpt class. It combines elements of yoga with weight training, making it both fierce and soulful simultaneously. You really feel like you got a workout, but at the end of it, you feel almost zen.
At Life Time, you're not just cycling for 60 minutes.
You get a unique, often crossover exercise regimen that pushes the limits of what your body is capable of.
7. Equinox
All classes at Equinox are complimentary to members.
They tend to fill up fast, but in the event there are no-shows, you may be able to sneak in.
For the greatest ease in managing your classes, you should get the Equinox app. You can book classes directly from your phone and keep track of your personal progress.
All Equinox classes are designed by leaders in the fitness industry. They're designed to test your limits and achieve whatever workout goals you may have for yourself.
Equinox is essentially the gold standard of high-end fitness clubs (and one of the most expensive gym memberships around) — so you can expect an absurdly high level of quality with every amenity at Equinox including the group classes.
8. LA Fitness
LA Fitness offers numerous classes free of charge to members.
You can choose from over 20 different types of workout regimens, including:
Tai Chi
Kickbox Cardio
Boot Camp Conditioning
Belly Dancing
Aqua Fit
Certain classes, like Pilates, come with an extra fee.
But when it comes to affordable mid-range gyms, LA Fitness has one of the best class menus around — most of which come at no extra charge for members.
---
Gyms that don't have classes
Classes are a major appeal of getting a gym membership, and most big name gyms will have plenty of group sessions for you to explore.
The only major exception is Planet Fitness.
Planet Fitness does offer some group workouts — a trainer will lead a small group through exercises on the gym floor using some of the basic workout machines available to all members.
But you won't find cardio classes, yoga, dance, aqua fitness, or other fun or unique options at Planet Fitness like you will at most other major gyms.
However, Planet Fitness it the cheapest gym membership around.
If you don't want to pay extra for classes, PF might be right for you.
(See my full Planet Fitness review here.)
---
Wrapping Up
In many instances, tons of fun fitness classes come included with your gym membership.
Therefore, you're missing out if you aren't utilizing them!
The best gym with classes ultimately comes down to what you want to do and how much you want to spend. If you think a cycling or yoga class may be fun once in a while, then sign up somewhere that's affordable — LA Fitness is my best recommendation for a mid-range gym.
High-end gyms, like Life Time and Equinox, offer more specialized classes. You'll find more variety, more advanced workouts, and better quality instructors — though it all comes at a price!
Before you go, check out more gym amenity guides like:
Hope this helps!