Personally, I love lifting weights and riding my Peloton.
I do mostly the same workouts week after week, steadily making incremental progress over time. And I love that!
But some people need a level of novelty, or even pure fun, in order to stay motivated to workout.
And consistency is really the most important factor at the end of the day.
So what are the most fun fitness classes you can take, and where can you find them?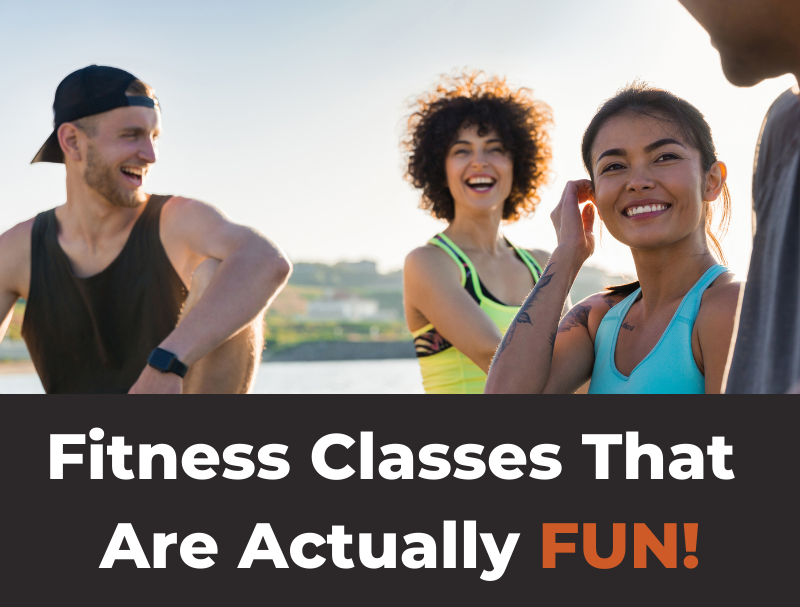 You may need to find a specialty studio to find exactly what you're looking for.
But make sure not to overlook national chains that have some specularly fun fitness classes for you to try!
Here are 8 of the most fun fitness classes everyone should try at least once:
Take Latin dancing at Gold's Gym
Take kickboxing at 24 Hour Fitness
Play like a quarterback at F45
Try Aqua Zumba at GoodLife Fitness
Play racquetball at In-Shape
Learn new moves with pole dancing at Crunch Fitness
Fly high with aerial yoga at a local studio
Bounce on Kangoo shoes at a local studio
Here's everything you need to know about the most unique and exciting classes around — the first handful can even be found at big gym chains in almost every city!
---
1. Take Latin dancing at Gold's Gym
What proof do you need that Latin dancing at Gold's Gym is the perfect way to burn calories?
The exercise regimen was included in the official "Gold's Gym Dance Workout" video game for the Nintendo Wii.
If it's good enough to do at home, it's good enough to do at a class!
As one might expect, the class involves moving to the rhythm of fiery beats.
You'll learn some new moves, which does more for your overall health than merely burning calories. You can also show off your moves at the next family function.
You get access to Latin cardio classes and so many others with just the basic Gold's membership plan.
You can only go to one club though, but it'll cost you roughly $40 to $50 a month.
Classes are available every day of the week, so you should be able to find some time to boogie down whenever it's convenient for you.
Just follow this vote of confidence from Erica P. of San Diego from Yelp:
I burned nearly 700 calories in one Cardio Latin Class! If you're in L.A. for business, definitely strut your stuff with the hotties at the Cardio Latin Class and get a Sexy Peach smoothie for dinner!
Sign up for Gold's Gym Latin cardio classes here.
---
2. Take kickboxing at 24 Hour Fitness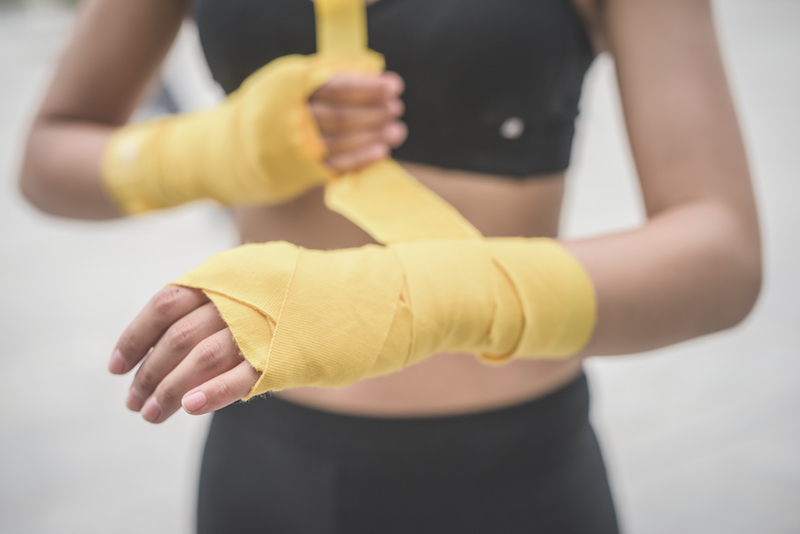 Why step into the boxing ring when you can try your hand at kickboxing?
It's the ultimate cardio workout where you'll practice kicks, uppercuts, jabs, and more as you work your way toward a leaner body.
(Kickboxing gets you AMAZING results.)
When you sign up for one of these classes at 24 Hour Fitness, you don't even have to worry about bringing anything. Not even gloves!
It's recommended for people who are at least in somewhat good shape, but trainers are more than happy to work with you if you're just starting out.
A single kickboxing session can burn between 300 and 600 calories.
And you get access to all of this through a standard 24 Hour Fitness membership.
Prices vary depending on location and whether you go month-to-month or yearly. In general, most people should expect to pay between $30 and $50 monthly.
Kickboxing isn't the only thing to watch out for at your local 24 Hour Fitness. Plenty of other martial arts classes are available, so you not only feel great but you feel safe.
Sign up for 24 Hour Fitness kickboxing classes here.
---
3. Play like a quarterback at F45
F45 offers very different classes than what you'll find elsewhere.
Just expect to pay a pretty penny.
You can sign up for unlimited classes for $199/month.
However, if you don't think you'll go all that often, you can always pay on a per-class basis. A single session costs $27, so it's up to you to figure out what's most affordable.
In the event you do get a chance to visit, you should look into the Quarterback class — which is loads of fun, and definitely different than anything you've tried before!
In the session, you'll train your reflexes as if you were about to play in an NFL game. You'll work on cardio, resistance, and agility as you go through various moves.
It's a ton of fun and perfect if you like to play intramural football.
Learn more about Quarterbacks classes at F45 here.
---
4. Try Aqua Zumba at GoodLife Fitness
Before signing up at your local GoodLife Fitness, you should make sure they offer plenty of aqua classes.
Not all locations have pools, so make sure to call ahead.
You're in luck if it does. Aqua Zumba is like going to a pool party where you'll engage in stretching, twisting, and splashing in the water.
You'll even be encouraged to shout and laugh. It's a full body and mind experience.
You'll have so much fun you'll completely forget that you're scorching calories and building both strength and endurance — huge benefits of both traditional and aqua Zumba.
GoodLife Fitness costs $50 to $60 per month for a standard rate. However, it costs more if you want to take any classes.
Availability and costs vary, so if you want to do more than lift weights and run on a treadmill, tour your local GoodLife and ask about Aqua Zumba.
Sign up for Aqua Zumba classes at GoodLife Fitness here.
---
5. Play racquetball at In-Shape
Plenty of gyms have racquetball courts.
Most of the time, you just have to sign up for time to play on your own.
But at In-Shape, there are actual classes where they'll walk you through the motions of how to play.
And if you've ever played before, you know even a short game of racquetball tires you out like nothing else! You'll scorch hundreds of calories while you play the game.
Once you try your hand at some classes, you can sign up for tournaments or even a league. There may even be a grand prize at the end of it.
A basic membership tends to cost $25/month while the premium Blue tier is $5 to $10 more.
You can take as many classes as you want in either of them, but you need the Blue tier if you want access to the racquetball courts on your own time.
Learn more about racquetball at In-Shape here.
---
6. Learn some new moves with pole dancing at Crunch Fitness
You wouldn't expect a big box gym to offer pole dancing classes.
But you'd be wrong!
Pole dancing is an incredible workout that builds strength, coordination, insane core power, and even self-confidence.
You'll learn some sexy new moves and have a blast, but more importantly, you'll work every single muscle in your body in ways you didn't even know you could!
A membership at Crunch usually starts around $10 per month, but for access to group classes you should expect to pay between $20-30.
Look for X-PERT pole dancing or X-POLE at the Crunch near you.
---
7. Fly high with Aerial Yoga at a local studio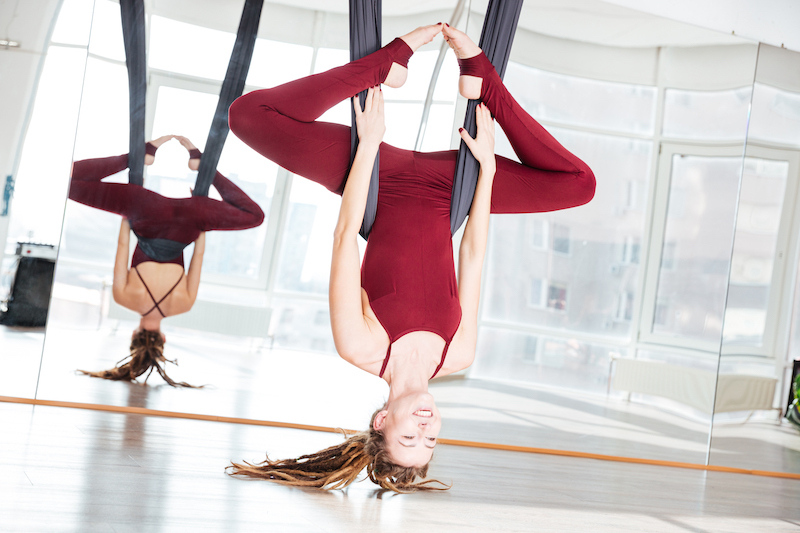 If you hate yoga, or don't see what the big deal is…
… just wait until you try it while hanging several feet in the air!
Aerial yoga involves performing graceful movements and holding challenging poses while grasping at silks hanging from the ceiling.
Not only is it an extremely unique, challenging, and beautiful form of exercise, it completely deloads your joints — there's no impact when you're not even touching the floor!
You'll have so much fun twisting and swinging from the silks that you won't even feel your core tightening, your muscles growing stronger, and your mind becoming more in tune with your breath.
You won't usually find aerial yoga at big box gyms or corporate studios, but classes are available at boutiques in almost every city.
---
8. Bounce on Kangoo shoes at a local studio
Rebounding, or jumping on a mini trampoline for fitness, is becoming more and more popular as a low impacting option.
But have you ever tried Kangoo jump boots?
These thick boots (think roller blades with on wheels) have a springy piece on the bottom that allows you to hop and bounce around the room with ease.
It's a lot like a rebounding workout except you have more freedom to move about the room and move off of a single spot.
You'll build insane endurance, sculpt your butt and thighs, and protect your joints from impact — all while having a ton of fun!
Look for Kangoo classes in your area to get started.
---
Wrapping Up
Exercise on its own helps your brain release endorphins, which make you feel great.
When you're actually having fun? It becomes downright addictive.
Choosing workouts that are fun and don't "feel like exercise" is a great motivational trick to keep yourself going!
Once you start to build that consistency, you'll start seeing incredible results before you know it.
Are there any other gyms with fun classes you enjoy?
You might also want to check out:
Hope this helped!