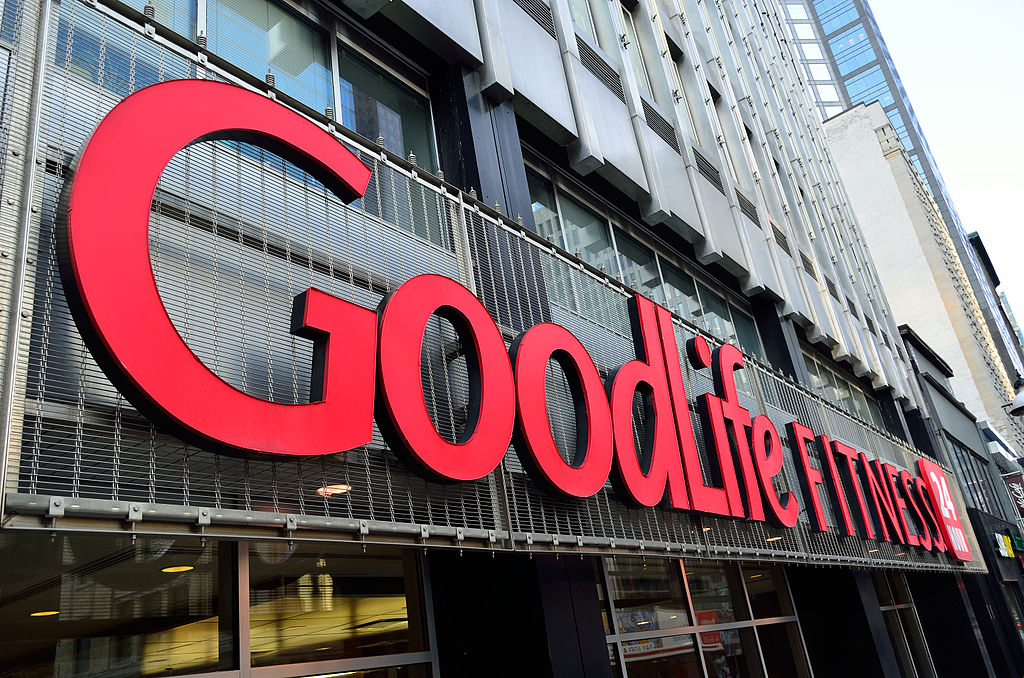 GoodLife Fitness is one of the most popular gyms in Canada, and it's easy to see why.
The clubs are spacious, packed with top-notch equipment, and overflowing with awesome amenities like pools, massage chairs, and more.
It doesn't come cheap, but if you're looking for the absolute best that mid-range gyms have to offer, GoodLife might be a great fit for you.
But is GoodLife Fitness worth it? Here's my review:
GoodLife is the top gym chain in Canada for a reason. It's a little more expensive than your average big box gym, but it delivers with top notch equipment and amenities.
For $50-60 per month (to start), you'll get amazing group classes, childcare services at some locations, pool access, massage chairs, and more!
The only negatives, as with any gym, are that it can be tricky to get out of your contract. And if you don't hit it off with management or staff at your local club, it can make your experience there less than desirable.
Read on for my full GoodLife Fitness gym review.
---
How much does GoodLife cost
GoodLife comes in on the higher end, budget-wise, but is still more affordable than other luxury-type gyms.
Expect to pay about $50-60 per month for a basic membership at GoodLife, plus around $50 to sign up.
Prices go up from there if you want:
Access to more than just your home club
Family and guest passes
Group fitnesses classes
Access to squash and sporting courts
The cheapest way to join GoodLife is to get the equipment-only, single club membership — pay up front for the year if you can for the best deal.
However, doing so means you miss out on a lot of the perks of being a GoodLife member.
(Important note: GoodLife pricing online is often listed bi-weekly, so remember to multiply by 2ish to get the monthly price!)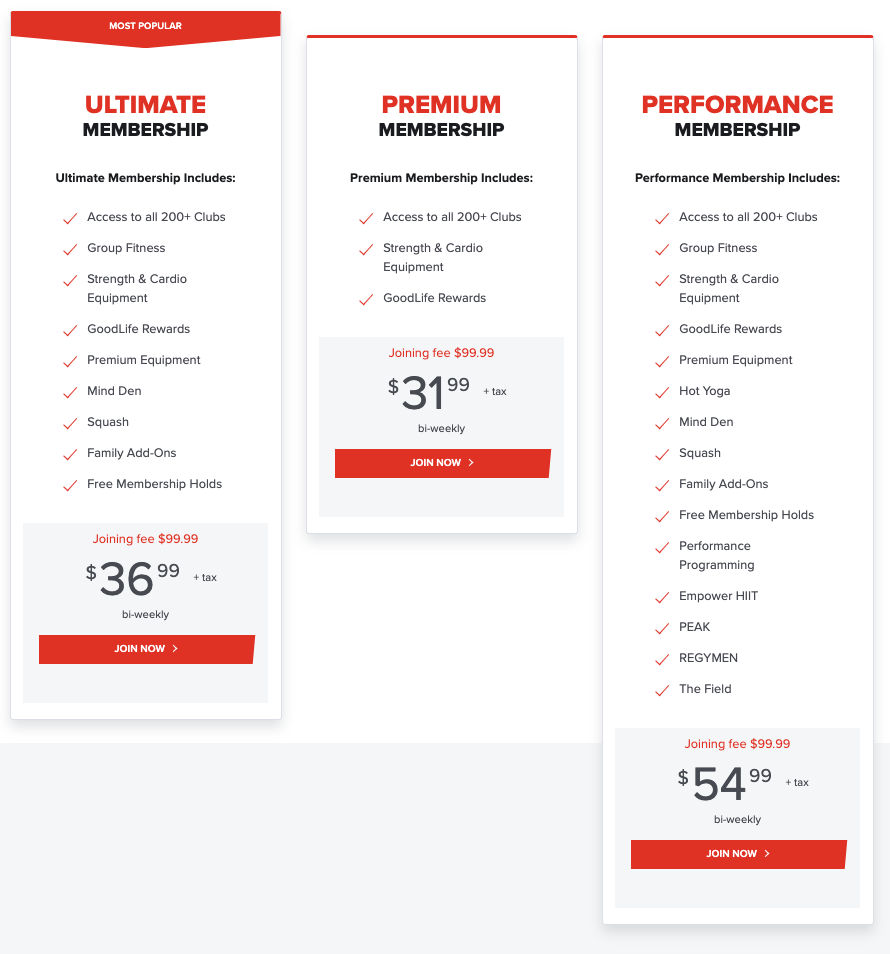 ---
GoodLife equipment, features & amenities
So GoodLife isn't the cheapest gym around…
… but it's not the most expensive either.
Let's take a look at what that pricey membership buys you.
Equipment
GoodLife is a tremendous place to workout.
The gyms are spacious and large, with a great quantity of machines. That means you'll rarely, if ever, need to wait for a treadmill or other piece of equipment to open up.
More importantly, GoodLife is a solid choice for anyone interested in lifting weights — which you can't do effectively at some cheaper gyms.
Expect to find a really nicely outfitted strength training section here with:
Resistance machines
Free weights
A large dumbbell stack (up to 100+ pounds)
Weight benches
Power racks
Specialty barbells
And more
Most locations will also have a functional training area with cool extras like battle ropes, plyo boxes, and more.
---
Classes
Group classes will be included with your membership provided you're signed up at more than the basic, bare-bones level.
And that's a good thing, because GoodLife is a great place to take group classes.
You'll usually see a mix of:
Yoga
Zumba
BodyPump
Les Mills
Cardio
Spin
And more on the schedule
Check your local club (if and when it's open) to see exactly what they're offering.
In general, people love the classes and selection at GoodLife and you'll enjoy dedicated studio space to help you get into the zone.
(Check out more on gyms with classes and the difference between gym yoga and studio yoga.)
---
Pool/Sauna
If you're going to pay top dollar to join a gym, it had better have aquatic facilities.
Why? Well:
Swim laps
Take aquatic fitness classes
Soak in the hot tub after a workout
Take a steam or relax in the dry sauna
Fortunately, GoodLife locations usually have spacious and well-kept pools, ideal for lap swimming and regular aqua fitness classes, along with hot tubs.
One unique perk you'll find at GoodLife (not necessarily an aquatic feature, but still cool!) is massage chairs stationed throughout the gym.
If you don't feel like getting wet but want to relax after a tough workout, this is the place to be.
---
Child Care or Child Minding
Recently, GoodLife has eliminated the Jump! childcare program at some of its key locations — so ask your local club explicitly if it's still offered before you join.
However, some locations still offer the Jump! child minding program — which is an amazing perk for parents looking to get their sweat on.
Kids from 6 weeks to 12 years can be cared for by expert staff while parents workout.
You may be able to add this service on to your membership or pay on a per use basis, but ask your local club for specific pricing.
(Read more on gyms that have childcare)
---
Other Amenities
Some GoodLife clubs also offer:
Male and female exercise rooms
Massage chairs
24 hour access
Free WiFi
Towel service
---
What real people are saying (GoodLife Fitness reviews, pros & cons)
I read through dozens of reviews from real people at various GoodLife locations to get a feel for the overall pros and cons of joining.
Here were some of the most common themes:
Pros
Excellent amenities (massage chairs, separate male and female workout rooms)
Good workout class instructors and schedule
Spacious gym area
Selection of weight lifting equipment
Most people, in general, love this gym.
Users and reviewers frequently mentioned the group classes and how much they loved the instructors, or how much they enjoyed the gym layout and the selection of equipment.
Gym-goers are keen on the weightlifting equipment, in particular. GoodLife is a great place for strength workouts, far exceeding what you'll find at budget gyms like Planet Fitness.
Cons
Rude Staff
Pricing & cancellations
Cleanliness of locker rooms and equipment
99% of complaints about a gym, any gym, can boil down to these three points.
The first is completely hit or miss depending on which location you join, but when a new member has a bad experience with the manager or someone at the front desk, you're bound to read about it on Google.
For as many complaints about the staff as I read, however, I read just as many people who loved the managers, trainers, and other employees at their GoodLife.
You also see a lot of complaints about pricing and cancellations at almost any gym. Once you're locked into a contract, it can get a little contentious when you want to back out — check my guide on what to do if you can't afford your gym membership anymore here.
Depending on your local GoodLife, cleanliness and maintenance could go either way. Some clubs are exceptionally maintained, while others could use a renovation and some new equipment.
---
Alternatives to GoodLife Fitness
If you want to explore some other options before you commit to GoodLife, here are a few worth considering:
LA Fitness
You'll save a few bucks per month joining LA Fitness vs GoodLife, but you'll also sacrifice some amenities. You won't find massage chairs at LA Fitness, and there are more locations that don't have pools or aquatic features.
However, LA Fitness is the best mid-range gym in the United States and otherwise stacks up nicely against GoodLife at a better price point.
Life Time
If you have a Life Time nearby and can swing the membership, which is a little more expensive, you'll love it.
Life Time is truly an elite health club. They have the best pools in the entire industry, amazing childcare, and more/better classes than any competitor.
GoodLife is one of the top gyms around, but Life Time might be one of the few that can outdo it — at a price.
---
Wrapping Up
At this price point, you won't have to deal with too many negatives or drawbacks at the gym.
GoodLife has everything, from group classes to pools to childcare and more.
There's really not much to dislike, except that if you're used to budget gyms like Planet Fitness or Workout Anytime, the price might come with some sticker shock.
However, as always, please tour your local club to see it for yourself. Meet the manager and staff and check out the facilities carefully before you sign a contract.
If you're ready to join, great! Now read this guide to your first day at the gym.
Hope this helps.