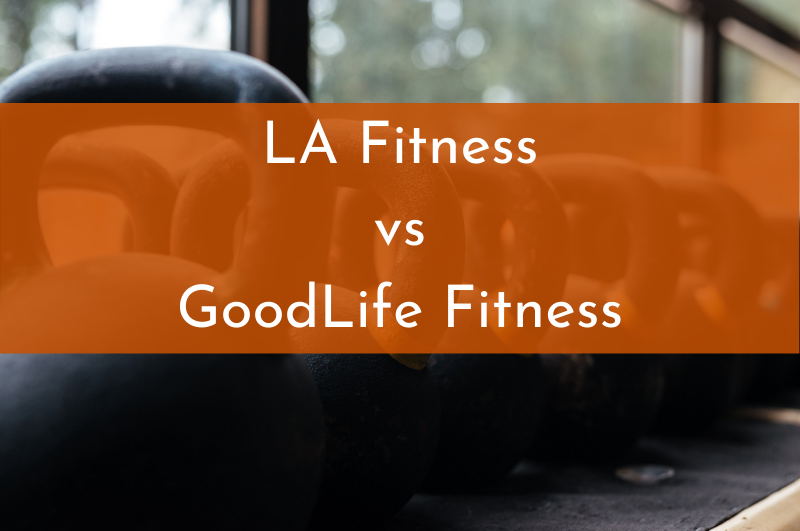 If this is the year you're finally ready to get serious about your health and join a gym, you have a lot of choices ahead of you.
There are at least a dozen major international big box gym chains you can choose from, not to mention local clubs and boutique fitness studios.
The question is: How do you narrow them down?
It helps to set a rough budget and pick between options that are close to your home or office for maximum convenience.
If you live in Canada and are looking at a mid-range gym membership, chances are you'll be choosing from LA Fitness and GoodLife fitness — two of the most popular options in the area.
What's the difference between LA Fitness vs GoodLife?
GoodLife Fitness outdoes LA Fitness in most areas that count — more and better equipment, more classes, and larger facilities. However, GoodLife is also substantially more expensive.
If you can afford to join a GoodLife, chances are you'll absolutely love it. But if LA Fitness is a better fit for your budget, it's one of the best mid-range gyms you could possibly join and you'll have no regrets!
Let's take a closer look at these two and which one might be the better fit for you!
---
What is LA Fitness?
LA Fitness is my favorite mid-range gym and the one I personally use as of this writing.
What's a mid-range gym? That's a gym that costs somewhere around $30-50 per month and has better equipment, amenities, and class selection than budget gyms in the $10-20 range.
At gyms like LA Fitness, chances are good you'll even have access to a pool or hot tub after your workouts.
With 700+ locations in the U.S. and Canada is also quite easy to find. Chances are you'll have an LA Fitness not too far from your home or office.
---
What is GoodLife Fitness?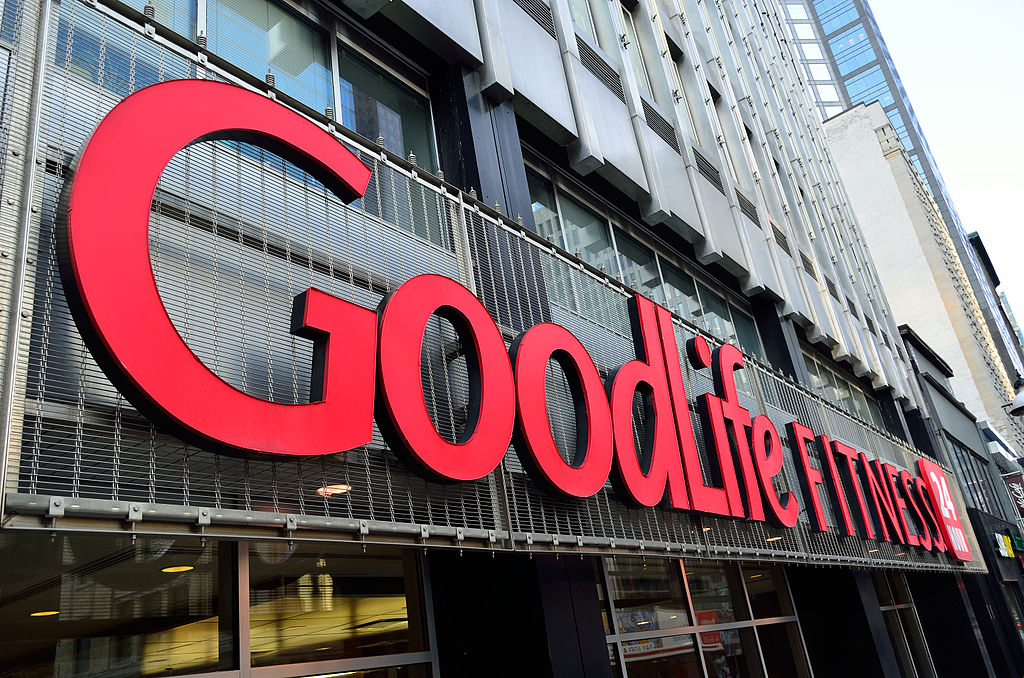 GoodLife is an extremely popular and well-respected Canadian chain of fitness clubs.
There are about 300 GoodLife Fitness locations across Canada — you should easily be able to find a convenient club.
These gyms fall into what I would consider the upper echelon of mid-range gyms, with some being closer to elite or luxury clubs.
Not only are they usually quite spacious with tons of equipment, they (often) have an excellent variety of group fitness classes, a pool and spa, and sometimes even massage chairs and other high-end amenities!
If you can find one of these clubs near you and you're looking for a top notch gym experience, GoodLife is a great fit.
---
Cost
Before we go signing any contracts, we have to consider budget and what the cost difference is between LA Fitness vs GoodLife.
Keep in mind that the average gym costs around $30-50 per month in U.S. dollars, plus joining and annual fees.
Budget gyms run somewhere around $10-20 per month while high end clubs (like Equinox and Life Time) can cost over $100 per month.
LA Fitness cost:
LA Fitness is usually quite affordable, falling right in the middle of the average gym membership cost.
I usually call it a "mid-range" gym because it has better equipment and amenities than budget gyms like Planet Fitness, but it still won't break the bank.
Pricing at the different locations will vary but expect to pay $25-40 per month at LA Fitness. 
You can sometimes get a better deal by signing up for a longer contract, or you might pay more for a shorter one.
(Plus joining fees and annual fees, where applicable.)
Remember that, for every gym, pricing and membership options can vary by location. You'll want to call your local club and negotiate the best deal.
GoodLife Fitness cost:
GoodLife comes in on the higher end, budget-wise, but is still more affordable than other luxury-type gyms.
Expect to pay about $50-60 per month for a basic membership at GoodLife, plus around $50 to sign up.
Prices go up from there if you want:
Access to more than just your home club
Family and guest passes
Group fitnesses classes
Access to squash and sporting courts
The cheapest way to join GoodLife is to get the equipment-only, single club membership — pay up front for the year if you can for the best deal.
However, doing so means you miss out on a lot of the perks of being a GoodLife member.
(Important note: GoodLife pricing online is often listed bi-weekly, so remember to multiply by 2ish to get the monthly price!)
When it comes down to pure dollars and cents, LA Fitness is a better bargain than GoodLife. But let's find out a little more about what these gyms have to offer.
---
Hours
Most gyms keep generous hours, opening in the early morning for the before work-ers and staying open late into the evening.
But if you have specific needs, pay close attention to when your local clubs are open.
LA Fitness hours:
These clubs have mostly standard operating hours.
LA Fitness will usually open around 5am and close around 11pm during the week
On the weekends, expect the gym to be open from 8am to 8pm at most locations.
You won't typically find any 24 hour LA Fitness clubs — though there may be exceptions.
GoodLife hours:
Good news here for you night owls:
Many GoodLife Fitness locations are open 24 hours.
(Currently, at this writing, many are closed due to public health concerns — but in normal times, expect a majority of them to be open at all hours).
---
Equipment
It's a mistake to assume all gyms are created equal when it comes to equipment.
Do they all have treadmills? Sure!
But can you lift heavy weights there? Do they have battle ropes, plyo boxes, and other specialty training equipment?
Both LA Fitness and GoodLife Fitness have an exceptional variety of equipment.
You'll find plenty of:
Cardio machines
Resistance machines
Dumbbells (up to 100 pounds or so)
Olympic weight plates
Barbells
Power racks
Smith Machines
And more
GoodLife clubs also have some additional goodies, like a turf zone with functional training equipment. You may need a Premium membership to access some of this equipment.
Overall, GoodLife has the slight edge over LA Fitness since the clubs are usually larger, the equipment newer and higher caliber, and for the addition of the turf functional training zone.
---
Classes
Both LA Fitness and GoodLife are known as some of the best gyms around for group classes.
GoodLife gets the edge for better class variety and a fuller schedule — members absolutely rave about the group fitness studio and the incredible classes.
However, at LA Fitness all classes are included with your membership. At GoodLife you'll only be able to take classes at the Premium membership level, which is much more expensive.
Here's what's on the schedule at LA Fitness
Zumba
Aqua Fit
Mat Pilates
Yoga
Bootcamps/Abs
Spin & cycling
Here's whats on the schedule at GoodLife:
Aqua
Cardio
Dance
Cycling
Strength
Mindfulness
HIIT & Athletic
Yoga
Women only
And more
---
Pool/Spa Area
Swimming is one of the best workouts your body can get, but a lot of gyms try to keep space and prices down by not offering a pool.
How do LA Fitness and GoodLife stack up?
LA Fitness pool:
LA Fitness usually (but not always) has a pool and some basic sauna amenities.
The pool is typically works well for lap swimming workouts and any aquatic classes the gym might offer, but it's not what you would consider a recreational pool.
LA Fitness will usually have a hot tub, sauna, steam room, or some combination thereof — but not every location is the same, so check your local club to find out for sure.
GoodLife Fitness pool:
GoodLife locations usually have spacious and well-kept pools, ideal for lap swimming and regular aqua fitness classes.
Typically, you'll also find a hot tub and dry sauna for further post-workout relaxation.
And, here's a fun thing you don't find at most gyms: Almost all GoodLife locations have massage chairs available for members!
Now that's luxury.
---
Showers & Locker Room
Both LA Fitness and GoodLife Fitness have spacious, clean, and well-maintained locker rooms with private showers.
(Can you believe there are some gyms that don't have showers?!)
No worries here for the commuter crowd.
---
Childcare
For many parents, the ability to drop off the kids at in-gym childcare is a make or break feature.
Without it, they may not be able to work out at all.
LA Fitness childcare:
LA Fitness is known as one of the best gyms with childcare around.
You can add recurring care to your monthly membership for around $10-15 per child per month (varies by location), or pay per visit.
Certified childcare experts will entertain your kiddos at the Kids Club for up to 2 hours at a time, as long as you stay on campus.
GoodLife Fitness childcare or child minding:
GoodLife offers a childcare program called Jump! at some locations.
Kids from 6 weeks to 12 years can be cared for by expert staff while parents workout. You may be able to add this service on to your membership or pay on a per use basis.
In recent years, GoodLife has eliminated the Jump! childcare program at some of its key locations — so ask your local club explicitly if it's still offered before you join.
---
The Verdict
These are both great gyms and if you're a Canadian looking for a fantastic place to workout, either would make a good choice.
But…
You might prefer LA Fitness if:
You want to keep your overall fitness budget down
You need childcare at the gym (and your local GoodLife cut the service)
You might prefer GoodLife if:
You're willing to pay a little more for higher-end classes and luxury amenities (like massage chairs)
You like a more spacious gym with more modern equipment
Again, you can't go wrong with either!
But before you go, you might find some of these guides helpful:
Hope this helps!