Joining the right gym can change your life.
Picking the wrong one can be an enormous waste of money.
If you're shopping around local health clubs in your area, chances are you have an LA Fitness nearby and are wondering if it's a good fit for you — and if it's worth the monthly membership fee.
Is LA Fitness worth it? Is LA Fitness actually a good gym? Here's my full and honest review: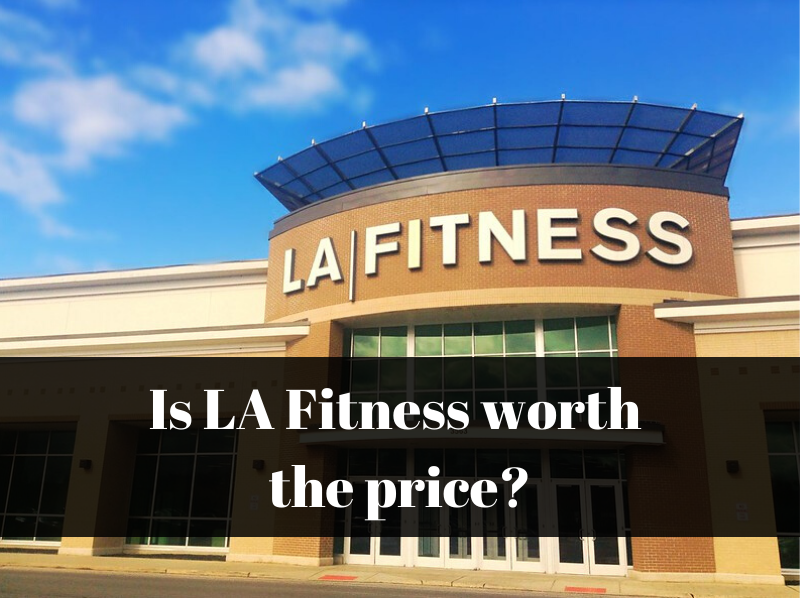 LA Fitness is one of my overall favorite big box gyms, and it's a great fit for most people. The membership fee is affordable compared to higher-end clubs, while the equipment and amenities are among the best of the mid-range gym options. So in short — yes, LA Fitness is worth it if you want a well-rounded and affordable gym membership!
If you're on a shoestring budget, there are cheaper options available, and if you're looking for an elite, luxury fitness experience, you can do better. But for most of us in the middle, LA Fitness is the best choice around.
Let's take a little bit of a closer look at how much it costs and what your LA Fitness membership gets you.
---
How much does LA Fitness cost?
LA Fitness, mercifully, has a pretty simple pricing structure.
(Some gyms offer a billion different packages and add-ons that make quoting a price really difficult — I'm looking at you, Gold's.)
This one is pretty easy to understand:
Depending on location, expect to pay about $35 per month. Single-club and multi-club access typically cost the same but the multi-club tier will have a higher initiation fee, usually around $49.
There may be joining fees and annual fees, though those can usually be negotiated by savvy members (click the link to read my guide).
I love the fees at LA Fitness because they're:
There's pretty much just one membership tier that gets you access to everything in the building.
No special Gold, Platinum, or premium packages. No advertised amenities that come with hidden charges.
(The only thing you'll pay extra for might be child care, but we'll cover that later).
Second, this is a pretty affordable monthly gym membership. The only truly cheaper options are Crunch and Planet Fitness, but neither measures up when it comes to amenities.
That makes LA Fitness one of the best value gyms around.
---
LA Fitness equipment, features & amenities
So we know that the cost to join LA Fitness should be within most people's range.
But what do members actually get once they join?
Let's take a look at what's inside.
Equipment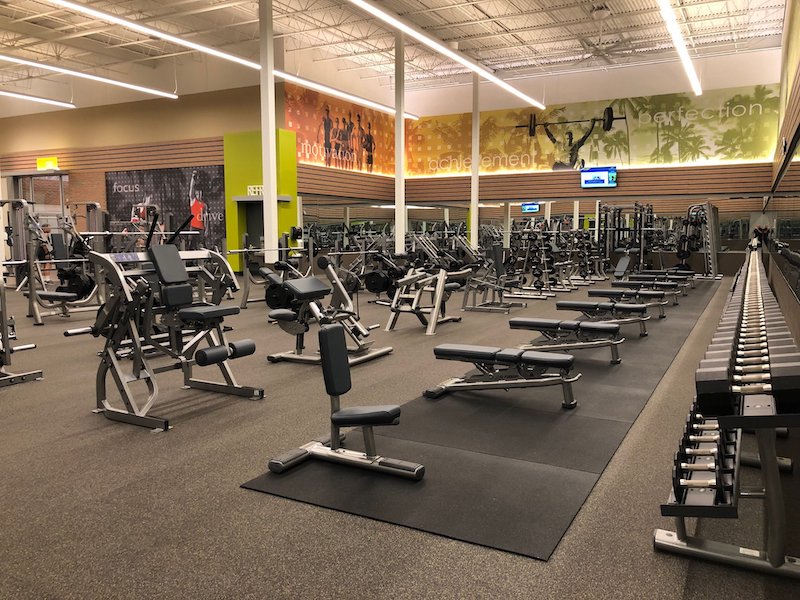 LA Fitness clubs are usually quite large and packed with plenty of equipment.
You should be able to find everything you need here, including:
Tons of cardio equipment
Smith machines
Resistance machines
Full and half power racks
Free weights and dumbbells
Cable machines
Extras like kettlebells, balance balls, and more
It won't stack up to the quantity and selection you might find at a higher-end club like Life Time, but it's rare that LA Fitness won't have what you need.
I also love that LA Fitness has lots of room outside of the machine areas.
The one I go to has a full spin studio and giant yoga studio you can use freely when classes aren't in session, plus a big matted area for stretching, warmups, and calisthenics.
Overall, I've been really impressed!
---
Classes
Most LA Fitness clubs have a ton of group classes.
Better yet, they're all available as part of your membership (no extra fees like some chains).
The variety and frequency are great, and you could join solely to go to the classes and get an amazing value.
At my local club, here's what's on the schedule most weeks:
Spin/cycle
Zumba
Yoga
Aqua Fit
Bootcamp/abs
Conditioning
Power circuit
Pilates
And more
$35 per month for all of that puts joining a private fitness studio to shame.
Of course, it's best if you want to hop around and try different classes each week.
You could take yoga almost every day at LA Fitness, but special classes like pilates might only be available once per week.
The first class usually starts between 5:45 and 8am most days while the last classes of the day usually start around 7pm.
---
Pool & Spa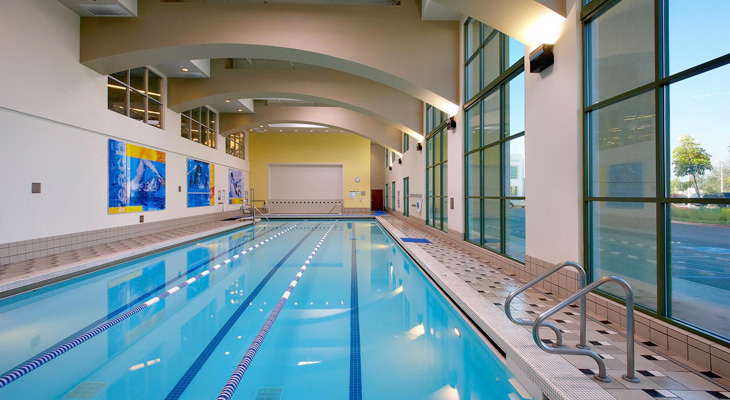 LA Fitness usually has a great aquatics area.
Every club is a little different in their offerings, but you'll typically find:
Pool for lap swimming and aquatics classes
A hot tub
A sauna and/or steam room
Check with your local club to see what they've got!
---
Child Care
LA Fitness has excellent child care options available at most of its clubs.
If you plan on dropping your kid or kids off while you work out, expect to pay extra (you can usually add childcare to your monthly plan for about $10-15 per child per month, but this price varies greatly per location).
The Kids Club staff are certified childcare experts who are well-equipped to look after your little ones while you exercise.
I know it costs a little bit more, but for a lot of parents, childcare is an absolute must-have — they literally won't be able to work out without it!
So this is a huge plus for LA Fitness in my book.
---
Other Amenities
That pretty much covers what you'll find at LA Fitness, but there are a few other nice features you can take advantage of including:
Basketball courts
Personal training (for an extra fee)
And occasional special events
---
What real people are saying (LA Fitness reviews, pros & cons)
Forget about what I think.
(Although, as of this writing, I work out at LA Fitness 3-5 times per week!)
Let's see what other people are saying.
Here are the highlights and common themes after reading through hundreds of LA Fitness reviews around the country.
Pros
Clean & spacious clubs
LA Fitness is known to have really nice spaces.
The clubs are generally large and well-kept.
The LA Fitness I go to has a maintenance man that's CONSTANTLY circling the gym, cleaning, picking up trash, wiping down machines, and even resetting the treadmills to 0 incline.
Excellent personal training & fitness assessments
People speak highly about the fitness assessments and personal training at LA Fitness.
The trainers are friendly, knowledgeable, and really do help you get better results.
Expect to pay around $60 per hour for a personal trainer at LA Fitness (though prices vary by location — check your local club!)
Related: Are personal trainers worth it?
New equipment & great variety
It's rare to find broken down or outdated equipment at LA Fitness, at least at most locations.
You'll usually find the machines and weights to be in great working order and extremely well maintained.
Most clubs are stocked with relatively new and modern equipment.
---
Cons
Can get crowded
LA Fitness is really popular.
That's a good sign that it's a solid value, but it does mean the clubs can get pretty packed during peak hours.
Still, you won't typically have to wait too long for the machine you want — and you can always ask to work in.
Aquatics are hit and miss
LA Fitness usually has great aquatics set ups, but every location is different.
My local club, for example, has everything but a hot tub. That really bummed me out because I love a good, hot soak after my workouts.
Make sure you take a tour of your local club before you sign a contract.
Corporate vibe
LA Fitness is a big chain, there's no getting around it.
Some people don't mind this at all, but other reviewers online complain that they prefer the family-owned vibe you see at private studios.
Every club is different, but don't necessarily expect the staff here to get to know you by name unless you go out of your way.
---
Alternatives to LA Fitness
If you're just not sure if LA Fitness is for you, here are the best alternatives:
If you can afford to pay more per month and you want the best possible amenities around, you'll love Life Time.
They have even bigger clubs, more equipment, better classes, top-notch childcare, and the best gym pools in the world.
If you want something a little cheaper than LA Fitness and you're willing to sacrifice a tiny bit of quality, try Crunch.
You can join for as little as $10/month and still get a great workout.
For more options, check out my entire guide to the best gyms for your money.
---
Wrapping Up
I really like LA Fitness, and it's where I personally choose to work out.
(I've pretty much tried them all and LA is my favorite — unless, of course, I could afford Life Time!)
It's a great gym by any measure and an exceptional value for your money.
For more gym reviews, see:
Hope this helps!