For a lot of people, going to the gym is about more than getting in shape.
It's about having a dedicated space and time to improve your health. It's a place where you can go with friends or your spouse so that you can spend time together working toward a common goal.
There are probably quite a few gyms in your area, and choosing the right one can seem daunting. After all, you want a place you'll enjoy going to multiple times a week that doesn't charge you an arm and a leg.
So is Gold's Gym worth it? Is Gold's actually a good gym? Here's my full and honest review: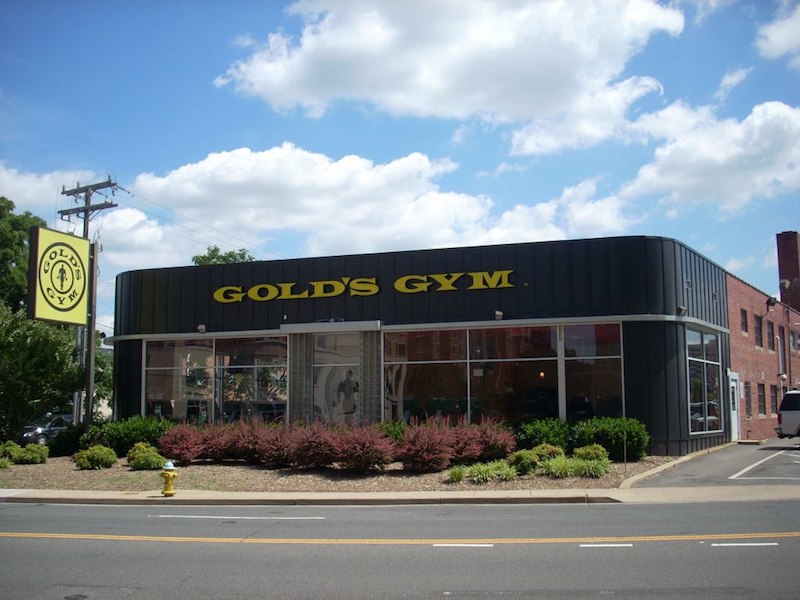 Gold's Gym varies significantly by location. Some places have pools, others don't. Some have basketball and racquetball, and others don't. Luckily, you can sign up for a free program to take classes and take a look at your local gym before spending any money, so you can make sure it's a good fit for you before committing.
There are cheaper options out there, and not all gyms have the confusing tier system like Gold's Gym. But if you're in the market for a convenient, mid-range gym (especially if you need access to weights and powerlifting equipment), Gold's is one of the better choices around.
Let's take a closer look at what Gold's Gym costs and what a membership there will get you.
---
How much does Gold's Gym cost?
Gold's Gym has one of the most frustrating pricing systems out of any gym out there.
The reason for this is that every location varies ever so slightly. Plus, there are a bunch of tiers you have to consider, such as:
Basic & Vintage
Access, Enhanced, Bootcamp, and Studio
Bronze, Silver, and Gold
VIP
On top of the monthly cost, you also have to consider startup and annual fees, which can also vary by location.
With Gold's Gym, it really seems like franchise owners have a ton of freedom in deciding what to charge. Unfortunately, this can make it a bit confusing for newcomers who are just trying to figure out how much it will cost to lift some weights.
Your best bet is to look up the Gold's Gym nearest you to see what kind of prices they have available.
Based on my research, it looks like most people can expect to pay between $30 and $40 a month for a basic Gold's Gym membership. But that doesn't include any extra fees. And you may end up paying more if you want one of the higher tiers that includes amenities like tanning, drinks discounts, and more.
Keep an eye out on contract length. You may get a better deal by signing up for a longer commitment, and on the other hand, if you're willing to pay more per month you may be able to snag a no-contract membership.
For just the basic package at Gold's, it's one of the more affordable gym memberships out there, pretty much in line with a lot of mid-range gyms.
However, depending on what you need and how you want to work out, you could end up spending up to $50 a month or more on a more elite package.
---
Gold's Gym equipment, features & amenities
Let's say the price sounds just right for your budget.
Is it actually worth the money?
What do members actually get once they're inside?
Let's take a look at what all those fees get you.
Equipment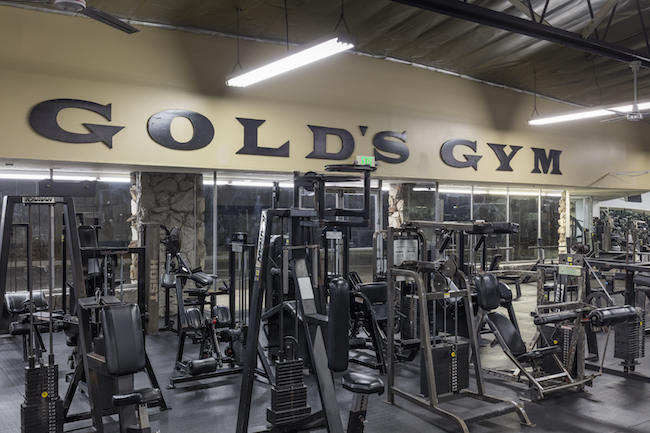 Gold's Gym tends to be associated with powerlifters.
In pretty much any Gold's Gym you walk into, you'll find a massive collection of strength training equipment, including free weights, power racks, barbells, and so much more.
However, Gold's Gym also has resistance machines and cardio equipment. No matter what type of exercise you want to engage in, you'll find a machine to get it done at Gold's Gym.
Gold's Gym equipment has a great reputation, which is why the company actually sells many products to the public. You can buy a kettlebell, jump rope, and other essentials to supe up your own personal home gym if you want.
The equipment at Gold's Gym is really second-to-none, and I've been impressed by what I've seen so far.
But what else can you find at a Gold's Gym?
Classes
Gold's Gym has no shortage of classes.
At the Downtown Los Angeles location, for example, you can join classes for everything from yoga to indoor cycling.
The exact classes at your location may vary, but you can easily check it out to see if there is anything that peaks your interest.
One thing I really love about Gold's Gym is how it offers a free seven-day pass to try as many classes as you like. You can see which classes you enjoy, if any, so you know if you'll want to spend any more money.
Some of the classes you may want to look into include:
Muscle toning
Strength building
Cardio Latin
Pilates
The great thing is that classes run all day.
From early morning to late at night, often up to 8:00 p.m., you can find a class available to suit your schedule. No matter what hours you work, you can typically find a great class to squeeze in.
Pool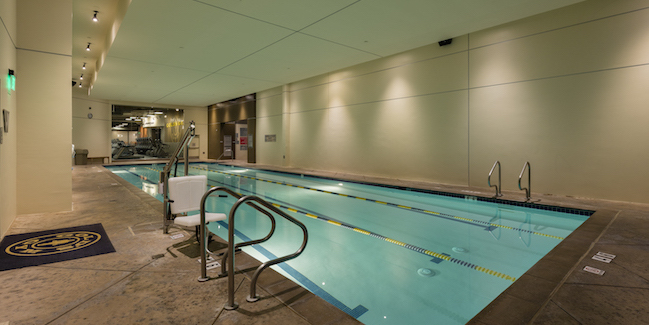 Not all Gold's Gyms have pools.
For example, the Gold's Gym in Downtown Los Angeles has a pool, but the ones nearby in Long Beach, Venice, and Culver City do not.
You should make sure the one nearest you has one before signing up if you want to go swimming.
(If this feature is important to you, check out my guide to the best gyms with pools.)
Child Care
Some Gold's Gyms do offer childcare at an extra cost — in my area, childcare starts at about $10 per month per child. Not a bad deal at all!
Again, you'll need to contact the location nearest you to make sure they have a place you can drop off the kids while you work out.
For the locations that do offer childcare, your kids will get to have a lot of fun.
They offer games, arts & crafts, and help with homework. Teachers have to be certified in CPR/first aid/AED.
The staff has received extensive training to deal with emergency situations, and your contact information will be on-hand in case anything happens.
It's a great service to have available. It's just a shame not more locations offer it.
Other Amenities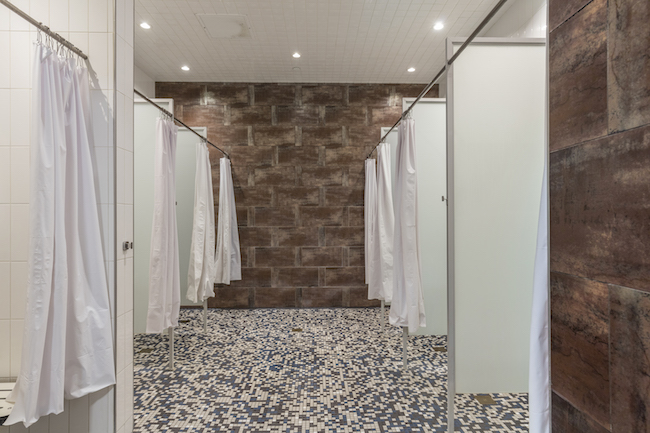 The exact amenities you'll find at Gold's Gym vary by location.
But you can expect most locations to have some or all of the following:
Smoothie bar
Running track
Pro shop
Sauna/steam room
Boxing area
Basketball court
---
What real people are saying (Gold's Gym reviews, pros & cons)
While Gold's Gym isn't my go-to gym, I wanted to see what other people thought.
Here are some highlights and trends I noticed after reading through hundreds of Gold's Gym reviews around the country.
Pros
Cleanliness
Across the board, it seems like Gold's Gyms are very well-kept around the country.
The people working there seem to be good about keeping spaces clean and wiping down machines regularly.
Great staff
One of the highlights of most reviews (even the negative ones) are about the staff members at the clubs.
From the front desk to personal trainers, Gold's Gym employs excellent people who know what they're doing.
You'll feel welcome from the moment you step through the door.
Selection of equipment
It's rare that you will find a piece of broken equipment at a Gold's Gym.
From the weights to the cardio machines, everything is kept in great working order. You also have quite the selection to choose from.
There aren't just free weights here. You really have your choice of workouts even if you want to exercise by yourself.
Cons
Can get noisy
You know how I said earlier that Gold's Gym tends to be associated with weightlifters?
That tends to be true at some locations apparently. And all that heavy lifting results in a lot of noises from weights hitting the ground to grunting.
There's also the issue of music playing over the loudspeakers. While you'll find music at most gyms, it allegedly can get pretty overwhelming at Gold's Gym.
You may want to consider bringing some headphones and your own playlist if you want to drown everything else out.
Inconsistency
One reason why it's hard to review Gold's Gym is that the locations can vary so significantly.
You may have a massive Gold's Gym in one city that has every amenity under the sun, and in one town over, you have a much smaller gym with the bare essentials.
You'll need to contact and tour the individual Gold's Gym before signing up to make sure it has what you want.
Corporate vibe
There's nothing inherently wrong about big chains. There's a certain level of quality you can expect.
However, a lot of people seem to miss out on the family-owned vibe you'll find at smaller gyms. It all comes down to personal preference.
---
Alternatives to Gold's Gym
If you're not sure if Gold's Gym is right for you, there are other options to consider.
Anyone who wants to pay as little as possible for a solid gym experience should look into Planet Fitness.
The company markets itself as a "Judgment-Free Zone," so you may not feel as intimidated by all of the bodybuilders if you're just looking to tone some muscles.
Additionally, Planet Fitness is a lot more affordable across the board. A basic membership plan will cost $10 a month, or you can upgrade to the premium package for $19.99.
If you're looking for a place you can be confident has all the amenities you want, then try my personal favorite mid-range gym — LA Fitness.
Amenities also vary by location, but for the most part, you can expect to find a pool and spa at most locations. It may cost a little more per month, but it's worth it if you get the workout you want.
---
Wrapping Up
There's a lot to like about Gold's Gym, but it's not for everyone.
Ultimately, it all comes down to what the Gold's Gym nearest you has to offer and what the monthly membership is.
If you dig the amenities and the price at your local Gold's, you'll find it an excellent place to workout with friendly, knowledgeable staff and the best equipment around.
However, it can be intimidating for some people and the annoying pricing system might turn you off.
Hope this has helped!
If you're still trying to decide, don't miss my giant gym comparison guide and chart with rankings, head to head comparisons, and more.