There's a whole lot to like about Planet Fitness.
The biggest thing? It's really cheap!
PF is one of the most budget-friendly gyms you could possibly join, and even better, there seems to be one on every corner in every city across the country.
If you're pinching pennies, but ready to invest a little bit into your fitness, you might be wondering:
Is Planet Fitness worth it? Is Planet Fitness actually a good gym? Here's a full review.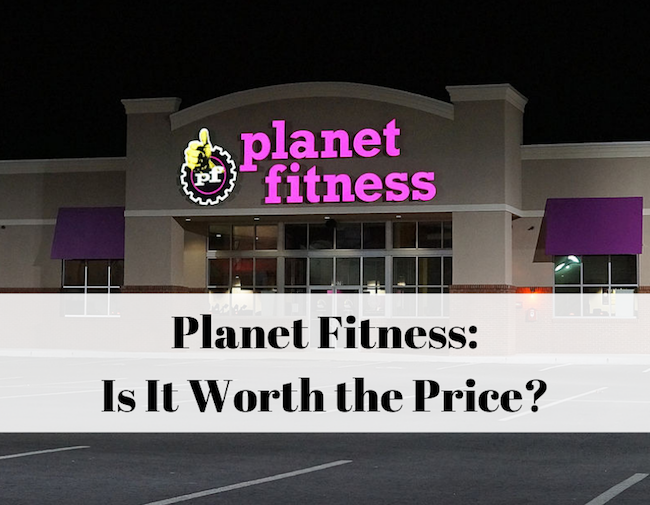 Planet Fitness is worth it if you're looking for a cheap and convenient place to get in some cardio workouts and use basic resistance machines — in that sense, yes, Planet Fitness is a good gym! They are (usually) open 24 hours and completely stocked with an abundance of cardio machines.
If you're looking for more amenities or plan to do any serious weight lifting, I wouldn't recommend joining Planet Fitness.
| Pros | Cons |
| --- | --- |
| Memberships starting at $10/month | Lack of barbells and heavy free weights |
| Beginner-friendly, no meatheads allowed! | No pool, hot tub, or sauna |
| 24/7 access at most clubs | No childcare |
(I'll offer some good alternative options at the end.)
Now let's take a little bit of a closer look at the costs and amenities, plus the pros and cons, of joining Planet Fitness.
---
How much does Planet Fitness cost?
A lot of people end up investigating Planet Fitness and ultimately joining because the membership pricing is absurdly low.
A basic no commitment membership to Planet Fitness will cost around $10 per month (though PF is a franchise an any one location may choose to charge a little more, or may run special promotions from time to time for even cheaper).
Your basic membership gets you:
Access to one single location (called your "Home Club")
Fitness training
And free WiFi
If you like the Planet Fitness vibe, but need a little more bang for your buck, you can spring for the Planet Fitness Black Card membership for about $21.99 per month.
The Black Card gives you:
Access to all Planet Fitness locations nationwide
Unlimited guest passes
Access to tanning beds
Hydromassage
Massage Chairs
1/2 price drinks
And a discount on Reebok products
(We'll dive in a little deeper to each of these perks and amenities below).
The annual membership fee at Planet Fitness is around $39 per year, and there's often a sign-up fee of around $29.
(Though you should negotiate these fees are hard as possible, click to read my guide.)
So for the most basic Planet Fitness membership, you'll end up paying about $188 per year, or $332 per year for Black Card privileges.
This is substantially lower than the industry average. At most commercial gyms, you can expect to pay upwards of $30-40 per month plus annual fees for a basic membership.
On price alone, Planet Fitness is the best deal around.
(Read more about how much a gym membership costs here.)
---
Planet Fitness equipment, features & amenities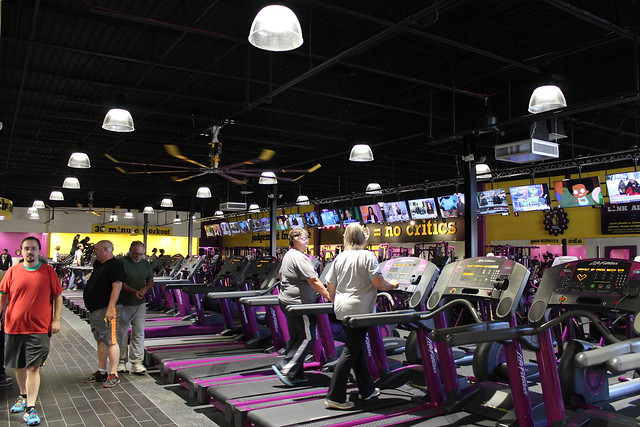 OK, so we know it's cheap.
Now what?
Let's take a look at what Planet Fitness has to offer.
Equipment
Planet Fitness is best known as a giant purple and yellow cardio warehouse.
You'll find tons and tons of treadmills, stair machines, ellipticals, and bikes. As far as the eye can see!
You'll also usually see a pretty good circuit of resistance machines like:
Ab machines
Pec dec
Chest press
Bicep curl machine
Leg press
Smith machines
And more
At one Planet Fitness location I visited, they even had about 5 different ab machines set up in one area with instructions on how to execute a short ab-blasting circuit.
Pretty cool!
What you won't find is much in the way of weightlifting equipment.
There are typically no barbells, Olympic weights, or free squat racks at Planet Fitness.
Most Planet Fitness locations don't even allow deadlifting, or even some other heavy compound movements like overhead press (yes, really).
If you lift too heavily or loudly, you may risk setting off the Lunk Alarm! It's designed to discourage obnoxious "gym bro" behavior but also puts a damper on serious strength training.
Planet Fitness has dumbbells, but they often only go up to about 50 pounds or so (though each location is different), and Planet Fitness usually has Smith Machines, which can work for strength training in a pinch but aren't recommended by many trainers.
---
Black Card benefits & amenities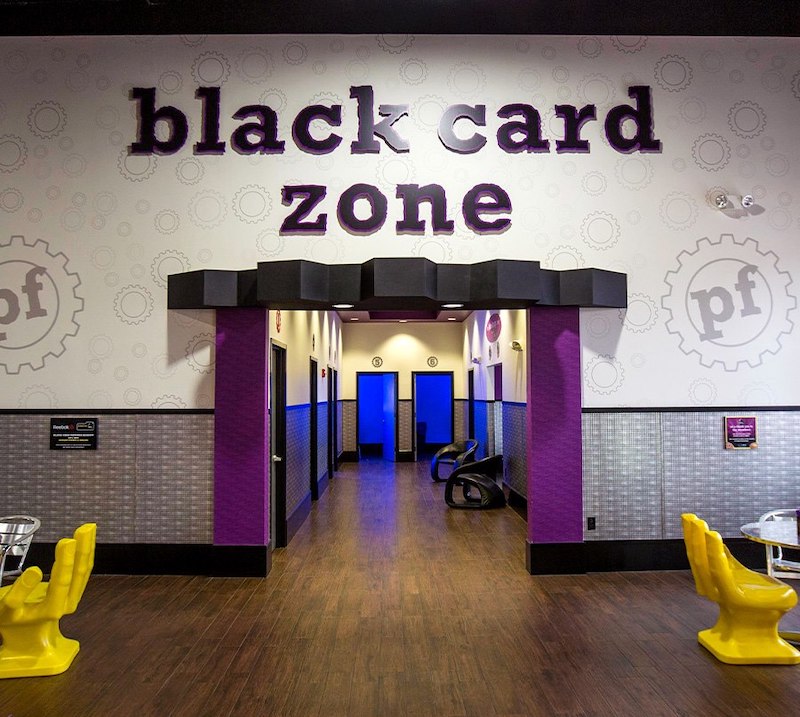 The basic membership gets you in the door and gives you 24/7 access to all of the workout equipment.
But there's a little more going on behind the roped off "Black Card members only" area, including:
Tanning beds – Get a little color any time you want, with unlimited access
Hydro and regular massage chairs – Take a load off after your workout with a machine-induced rubdown
Total Body Enhancement – Access a red light therapy machine that supposedly helps you burn fat, boost mood, and experience faster muscle gain
Haircuts – Yes, Planet Fitness haircuts are a real thing, but only at a few locations around the country
---
Other amenities (childcare, pools, classes & more)
Planet Fitness also usually has a bar with cool drinks (water, Gatorade, pre-workouts, etc.), and they frequently offer free pizza nights and/or bagels in the morning.
You'll also typically find a pretty well-maintained locker room with showers, though your mileage may vary depending on location.
Planet Fitness does offer personal training, but it's basically just an employee that walks around and shows you how the machines work.
Though some locations do offer slightly more robust classes, it's nothing on par with what you'll find at other box gyms. The basic Planet Fitness group class offering is called PE@PF, and consists of a trainer guiding you through a short circuit using the gym's resistance machines. You won't find yoga, pilates, kickboxing, or any such classes here at PF.
Planet Fitness almost never has a pool, hot tub, or sauna area.
---
What real people are saying (Planet Fitness reviews, pros & cons)
So is Planet Fitness worth it?
That's hard for me to answer for you, specifically.
I've worked out at Planet Fitness a few times and have read literally hundreds of user reviews of dozens of different PF locations around the country, and here are my overall findings.
Pros
Really cheap and cost effective
You won't find a gym membership cheaper than $10 per month, you just won't.
There are a few other budget competitors, which we'll get to, but Planet Fitness really is the cheapest fully-stocked gym around.
Massage and tanning
Most gyms don't have this stuff.
It's not for everyone, but if you're into tanning beds and/or grabbing a massage chair session after your workouts, you'll absolutely love the convenience here.
(Though, to get access, you have to buy a pricier membership).
No weight lifting
I know it's weird that I have this under Pros (it will also be under Cons), but a lot of people hate the "meathead" weightlifting culture and want to keep those people out of the gym completely.
At PF, you won't hear weights slamming down, dudes grunting, or see muscle-heads walking around intimidating people.
If you're looking for a "judgment free zone" and a beginner-friendly vibe, PF might be for you.
---
Cons
No weight lifting
If you're looking to build strength and muscle, you'll hate Planet Fitness.
Yes, they have dumbbells and resistance machines, but you'll be far too limited in what you can do, and if you start lifting heavy, you'll probably get asked to leave.
Best amenities cost extra
The tanning, massage, and guest passes are pretty cool perks, but if you're going to spring for those, you can afford to go to a nicer gym.
If you take away the Black Card amenities, Planet Fitness is basically just a warehouse of treadmills and other cardio machines.
It's perfect for some, but most of us will quickly want to graduate to different kinds of workouts.
No classes
Group fitness classes are an awesome perk at most gyms, and the fact that you don't get them here is kind of a bummer.
Yes, PF will put on a few super basic circuit classes, and they'll have an employee show you how to use the machines, but there's no yoga, Zumba, bootcamp, pilates, or anything like that.
Stripping these amenities away is how they keep the price down, but it definitely means there are better options out there.
---
Cheap alternatives to Planet Fitness
They're a little bit harder to find, but if you want something that's just a small step up from Planet Fitness (but still budget-friendly), check out Crunch Fitness.
Crunch is a great alternative to Planet Fitness that offers:
A pool (sometimes)
Exercise classes
And childcare
You'll probably have to spring for the mid-tier membership to get access to these amenities, which should be around $20 per month, but I think it compares favorably to the Planet Fitness Black Card at that price!
If you're intrigued, check out my full guide to Crunch vs Planet Fitness.
And if you're willing to pay in the range of $30-40 per month, check out LA Fitness.
LA Fitness has pretty much everything that anyone could want, including plenty of cardio AND weightlifting equipment, classes, pools, childcare, etc.
(Here's my guide to Planet Fitness vs LA Fitness.)
---
Wrapping Up
So is Planet Fitness worth it? Hmm…
If you're looking for really cheap and convenient access to cardio equipment, or if for whatever reason you just HAVE to bundle tanning and massage in with your gym membership, then Planet Fitness will be a great fit for you.
For most people, though, I think there are better options out there at similar price points.
For a few bucks extra per month, you can get access to more amenities and better equipment at places like Crunch or LA Fitness.
But what do you think? Have you worked out at Planet Fitness? Did you think it was a good value?
And if you're looking to get in shape on a budget, start by clicking that link and checking out my best guides.