Planet Fitness is an appealing fitness chain due to the low membership cost and high number of locations.
You'll often see people decked out in Planet Fitness gear, and members tend to love its inclusive, non-judgemental environment.
However, because the membership is so affordable, it can easily leave you wondering what amenities Planet Fitness is lacking.
If you're big on swimming (or hot tub soaking!) you might be wondering:
Does Planet Fitness have a pool, a hot tub, or other aquatic amenities?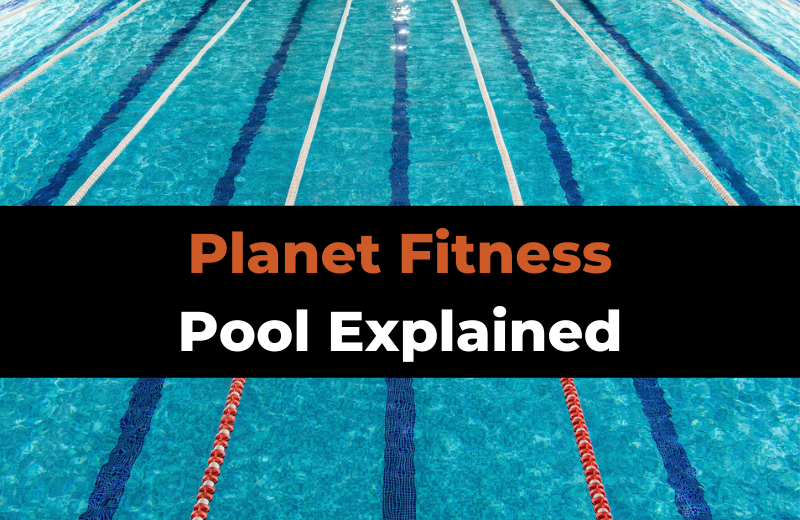 Unfortunately, Planet Fitness does not currently offer a pool at any of its locations. However, if you upgrade to the Black Card membership you can enjoy extra amenities like HydroMassage or tanning. And there's plenty of low-impact cardio equipment here that can be just as effective as swimming workouts!
Let's "dive in" and find out more about the amenities at Planet Fitness, and some good alternatives for finding a gym pool on a budget.
---
Does Planet Fitness Have a Pool?
Planet Fitness does NOT offer a pool as one of its amenities. So far, there are no pools at any of the locations across the United States.
The chain wants to keep memberships affordable, and having fancy amenities like pools and steam rooms puts maintenance costs way up.
Thus, it also drives your membership price up.
Remember, the basic membership at Planet Fitness starts at around only $10/month.
---
What Relaxing Amenities Does Planet Fitness Have?
While Planet Fitness lacks aquatic amenities, there are some ways you can relax at your local Planet Fitness gym.
Showers and Lockers
Planet Fitness thankfully has showers and locker rooms available to members and guests, so you can wash off, wind down, and relax after a hard day at the gym.
The chain considers the showers a perk, and they're right—even some higher-end gyms don't have locker rooms available, and some small chains can sometimes lack showers.
So, while a shower is a pretty basic way to relax, it's definitely a better perk than some gyms have for you.
(Learn more about the showers at Planet Fitness here.)
HydroMassage
If you're a fan of hot tubs, then perhaps you'd like a HydroMassage instead?
Instead of standing in front of a jet in the hot tub and letting it work out the kinks in your back, get on a HydroMassage bed instead.
A HydroMassage works by targeting your soft tissues and muscles with massaging jets of water. It's designed to help you cool down and loosen up after a workout.
HydroMassages are distinct from a typical massage a bed or chair will give you, so it's worth trying out one of these.
(You'll need a Black Card membership to access this perk.)
Tanning
If you like to tan and want to relax after your workout, then hop into one of Planet Fitness's tanning beds.
Laying back while your skin is warmed and bronzed is certainly a nice way to wind down after a workout.
This is quite a surprising perk you'll find at Planet Fitness, so make sure to take advantage of it if you're interested.
Not many low-cost gyms will offer you tanning with your membership.
---
Alternatives to Planet Fitness With Pools
It's incredibly difficult to find alternatives to Planet Fitness within the same price range, unfortunately.
It's even hard to find clubs that cost the same as a Planet Fitness Black Card membership, at $22.99 per month.
Instead, we'll have to jump up in price a little to find you a gym with a pool.
But don't fret — these mid-range gyms won't drain your bank account every month. They're some of the most affordable ones with pools.
Gold's Gym
Gold's Gym costs between $20 and $20 per month for the basic plan, and many of its locations have pools.
You can also expect to find hot tubs, saunas, and steam rooms at some of these locations.
Not every location with a pool will have other aquatic amenities, though, so watch out for that when you're joining. Always ask what your local Gold's Gym has to offer.
You can read more about the aquatic perks of joining Gold's Gym in my article on the pool at Gold's Gym.
(And my guide on if Gold's Gym is worth it is also helpful.)
24 Hour Fitness
If you have a little more cash to splash (get it?) then give 24 Hour Fitness a chance.
So, does 24 Hour Fitness have a pool?
Yes, you'll find some nice pools open 8 am to 8 pm with 3–4 lanes to swim in. But not every location has a pool.
If your local 24 Hour Fitness has a pool, then it probably has some other nice amenities to try out, too. Steam rooms, saunas, and hot tubs are all perks you can expect to enjoy with this gym.
In terms of price, you're going to pay between $30 and $40 for all the bells and whistles, but it's a more affordable monthly gym membership than lots of gyms offer.
(Is 24 Hour Fitness worth it? If you're unsure, feel free to read my full review.)
LA Fitness
LA Fitness is another pricier one (compared to Planet Fitness anyway) at around $35 per month, but the pool at LA Fitness is only one of the wonderful amenities there.
There are saunas, steam rooms, and hot tubs to enjoy at most LA Fitness locations.
Some locations have both recreational and lap pools, and if there's a pool, there are also lots of aquatic classes you can benefit from. There are over a dozen classes you can enjoy in the water!
Now, don't expect every LA Fitness location to have all the aquatic amenities. Some only have the saunas and steam rooms, and some will have a pool and hot tub but nowhere to take a steam. There's lots of variance to it.
But the membership is simple and all-inclusive if you're interested in this gym, so it's definitely one you'll want to check out.
(But is LA Fitness worth it overall? Read my guide to find out!)
---
Wrapping Up
While Planet Fitness doesn't have a pool, it remains a great place to work out if you're on a budget.
Plus, those HydroMassage beds are just waiting for you to take them for a ride.
But if you have more cash to spare and don't mind paying an extra $20–$30 per month, then one of the three alternatives will be more worth your time if you need a pool.
If you really want the best aquatic experience around? Check out Life Time or Equinox — just expect to pay a hefty monthly fee.
Swimming is a relaxing and highly beneficial exercise, so nobody will fault you for shopping around until you find a gym you can swim in!
For more pool guides, check out:
Hope this helps!