Gold's Gym, known as a bodybuilding haven, is a great all-around, mid-range gym — even if you're not big on lifting weights.
Most locations are full of amenities, but each gym varies significantly.
The gyms often list racquetball courts, group exercise, a boxing area, cardio gear, a smoothie bar, and more as part of their amenities.
But unlike some other gyms you may have visited or researched, you can never be certain that all locations share these amenities.
If you love swimming workouts and aqua fitness classes, you'll have one big question before you join:
Does Gold's Gym have a pool?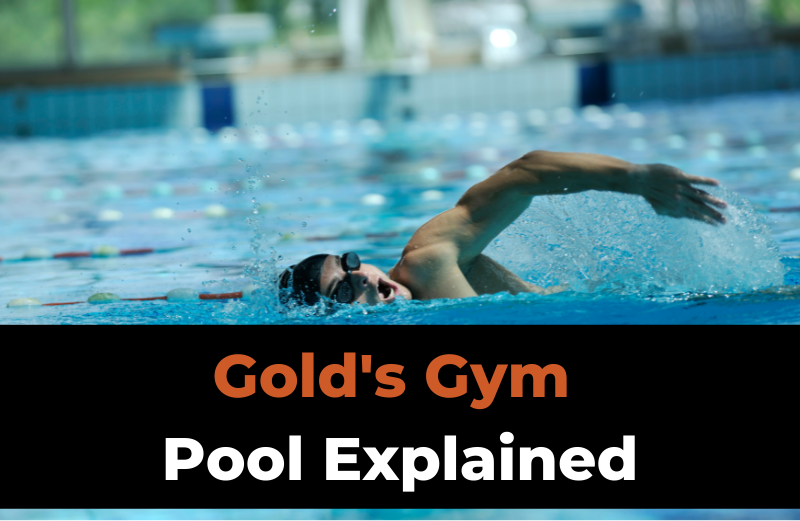 Gold's Gym locations vary from club to club more than most big box gyms. Many Gold's Gyms have pools, hot tubs, saunas, and more — but many of them don't have any aquatic amenities at all. And it's common for a Gold's to have a pool but no hot tub, or even a sauna but no pool. You'll have to call or tour your local Gold's to find out more about what's on offer there.
Let's take a look at more about the pools at Gold's Gym including real photos and more!
---
Does Gold's Gym Have a Pool?
Many, but not all Gold's Gym locations have pools.
There are over 700 Gold's Gym locations across the world with many of those in the US, and each location has its own website page listing what amenities it offers.
You can search for your location on this page. You can then visit the gym page that's appropriate for your location.
It's easy to see whether or not there's a pool at your location. The website often takes you directly to the amenities page for your local gym, and the pool is usually the first amenity listed when present.
I selected 10 random locations to scour their pages for pools. Out of the 10 I selected, four locations had pools. Three of these four had the pool listed as the #1 spot in the list of amenities.
I also noticed that the larger locations with more amenities tended to have a pool, whereas smaller locations lacked a pool but sometimes had other aquatic amenities.
The locations with pools, thankfully, offer various kinds of aqua fitness classes such as swimming lessons, Aqua Zumba, and general Aqua Fitness. Classes vary depending on location.
Something to note about these pools is that they're not always indoor pools.
Some Gold's Gym locations have outdoor pools with a pleasant poolside area for relaxation and recuperation.
---
Does Gold's Gym Have A Hot Tub?
Unfortunately, hot tubs are rare at Gold's Gym — only a select few locations will have them.
For reference, only one of the random 10 Gold's Gym locations I scoured had a hot tub listed as part of their amenities. This reveals that though some locations do have a hot tub, it's quite uncommon.
If you can find a Gold's with a hot tub near you, congrats! Hot tubs are an excellent way to unwind after a workout and boost your recovery.
The Gold's locations with hot tubs specify that they're open for adults and children over 12.
---
Does Gold's Gym Have a Sauna, Steam Room, or Other Aquatic Amenities?
Many Gold's Gym locations have sauna/steam rooms for you to enjoy. These are often present even in Gold's Gym locations that lack pools and hot tubs.
However, some locations that have pools actually lack the sauna/steam room amenity, so you can never be fully sure what you're going to find when you inquire about a Gold's Gym location!
There doesn't seem to be a pattern with which locations have sauna/steam room amenities, either.
Both larger and smaller Gold's Gym locations have them listed as part of their amenities.
The only real way to tell what your local gym has is to call up and ask, take a tour, or visit their website.
---
Photos & Descriptions of Gold's Gym Pools
As expected, there's yet more variance when it comes to the size and shape of Gold's Gym pools.
Some locations list the size of the pool. A 25-meter/27-yard pool is common among the locations that specify their pool size, but other locations have smaller pools that don't quite reach 22 yards in length.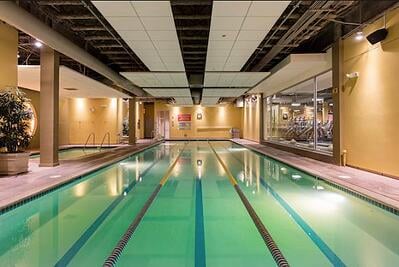 It's also not uncommon to find a 25-yard pool at a Gold's Gym location.
Most of Gold's Gym's pools have three lanes, but there are some with four or more lanes.
It's mostly the outdoor pools that have more than three lanes — there are only a handful of Gold's with outdoor pools.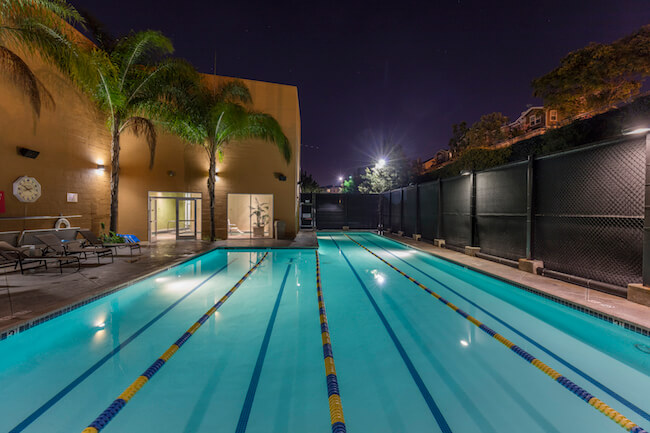 Although, the lanes in some of the 4+ lane locations aren't full length.
For example, some of them have two full-length lanes and two shorter ones.
Despite the wide variance, you can be pretty certain that all of Gold's Gym's pools are plenty long and wide enough to accommodate your needs, whether you want to swim laps, lengths. or have a leisurely soak.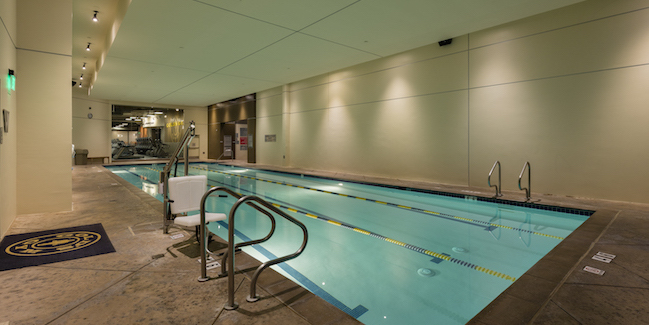 ---
Wrapping Up
Wading through the many Gold's Gym locations to find ones with pools can be tough, and discovering which locations have other aquatic amenities is even tougher.
Thankfully, all Gold's Gym locations across the US have a page dedicated to them and the amenities they offer. So, it shouldn't be too tough for you to figure out which amenities your local Gold's Gym location has.
All Gold's Gym locations offer a free trial period that will let you check out the gym and take classes before you decide to join, so that'd be worth checking out.
You can go in person to see if your local Gold's Gym has the amenities you're seeking.
Now get going!
For more guides, check out:
Hope this helps!