If you're looking to join a gym, then you'll undoubtedly have come across 24 Hour Fitness.
There are around 430 locations across the US, and the biggest draw is that you can visit at any time of day or night!
The hours are certainly a big selling point of 24 Hour Fitness, but it's still a great gym even if you go during normal hours — the wide variety of classes, equipment, and other amenities are a huge draw.
If you're into swimming and/or aquatic fitness classes, you'll have one big question before deciding if 24 Hour Fitness should make your gym short-list:
Does 24 Hour Fitness have a pool?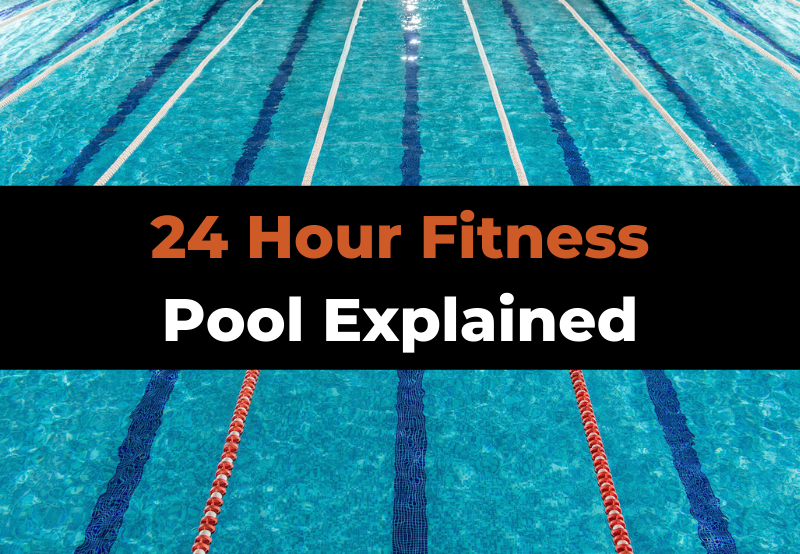 Many (but not all) 24 Hour Fitness locations have a pool. Standard dimensions are about 25 yards long with 3 lap lanes, though some clubs offer U-shaped indoor pools or even outdoor pools. At clubs with a pool, you'll also typically find a hot tub and/or steam room nearby. Just remember the aquatic amenities aren't open 24/7 like the rest of the gym.
Let's take a closer look at some photos and important information about aquatics at 24 Hour Fitness.
---
Does 24 Hour Fitness Have A Pool?
You can expect most mid-range and above 24 Hour Fitness locations to have pools. The pool is typically considered an amenity you'll need a higher-level subscription for, though.
Don't expect anything too fancy or Olympic-sized, as 24 Hour Fitness isn't the flashiest gym in the world, but you'll definitely find a pool that accommodates your needs at many locations.
There's one main downside to the pools, though: they don't have 24-hour access.
Many locations have the pools open from 8 am to 8 pm, and those are better hours than some gyms offer for their pools, but it's still somewhat disappointing for night owls who love swimming.
This is understandable, as the pool needs to be cleaned, and it can be riskier for people to swim at night as there won't be as many people around to notice if you get into distress.
And, speaking of cleaning, some 24 Hour Fitness members have complained about cleanliness at the gym—the gym is incredibly popular and often crowded during peak hours, so it's going to end up a little grimy throughout the day.
So, it may be a good idea to visit the pool early in the morning, as it's likely to have been cleaned and treated during the night.
If the pool isn't cleaned daily, ask the staff what days it's cleaned, then visit the gym the day after cleaning.
However, it's still safe to visit the pool on any day of the week, as public pools are packed with chlorine to keep everything hygienic. 
Plus, you have to shower after leaving the pool, anyway!
So yes, many 24 Hour Fitness locations have pools open all day (but not throughout the night) for you to use. It would be ideal to visit during off-peak hours, though, as the pool area can get a little crowded during peak times.
There are also aqua classes available at the locations with pools, so check those out if you're interested, and once again stay away from peak times if you don't want a crowded class.
---
Does 24 Hour Fitness Have A Hot Tub?
Most mid-range and higher 24 Hour Fitness locations have spa areas, and this includes access to hot tubs. 
You'll generally find a hot tub at any location that has a pool.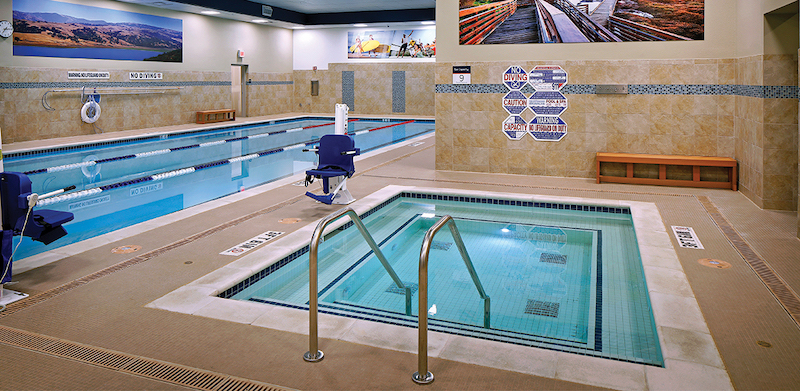 The website calls the hot tub a whirlpool, but rest assured it's just another name for hot tub. Po-tay-toe, Po-tah-toe!
The hot tubs at most 24 Hour Fitness locations are located right near the pool, and they're typically quite spacious and around 3 feet deep.
Once again, visiting the hot tub during off-peak hours is wise.
---
Does 24 Hour Fitness Have a Sauna, Steam Room, or Other Aquatic Amenities?
If a 24 Hour Fitness location near you has a pool and hot tub, then it's likely to have a sauna/steam room, too.
The steam rooms and saunas range from quite large to average/small depending on location.
You can assume you have access to these amenities during the hours you have access to the pool.
Unfortunately, the exact hours the amenities are open may vary, and there's nothing concrete posted online about it.
---
Photos & Descriptions of 24 Hour Fitness Pools
While pool size varies depending on location, many 24 Hour Fitness members have measured the pools at their locations.
The results reveal that 25 yards is a common size.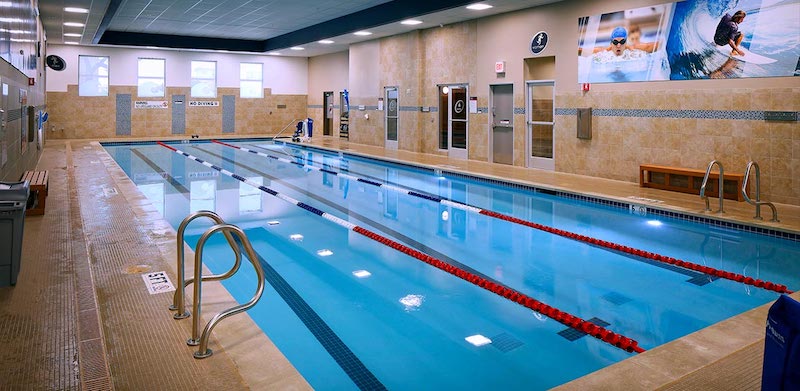 However, members have also noted that staff at some 24 Hour Fitness locations cite the pools as being 25 meters, or 27 yards in length.
Some members have proven staff wrong by bringing in their own measuring tools and revealing the pools to be 25 yards long!
Given so many members have discovered pools at various locations to be 25 yards long, then you can safely assume most if not all of the pools are this size, which is average. Most lap pools in the US are this size.
Based on what's most common at these locations, you can also assume that most if not all 24 Hour Fitness locations have three lanes in their pools. This includes at locations with U-shaped pools.
The U-shaped pools typically have two lanes on one side of the U, and one lane on the other. However, with so many locations across the country, this could easily vary. 
Some very select 24 Hour Fitness clubs around the country have outdoor pools available, but this amenity is rare.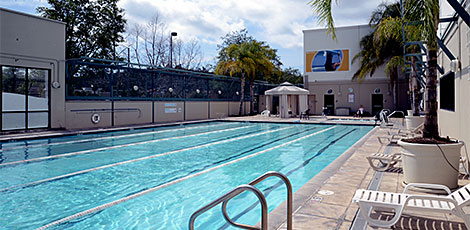 But regardless of the shape or number of lanes, you can be certain that the pools at 24 Hour Fitness are big enough to accommodate your needs.
They're perfectly standard, and this includes in depth. You can safely assume a depth of at least 7 feet at the pool's deepest point, as this is what's required for all gym pools.
---
Wrapping Up
Although there are locations all over the country, 24 Hour Fitness appears quite good at maintaining a consistent length across all pools.
You can expect most mid-range and above locations to have a pool, without much variation in the design or dimensions.
There are also hot tubs and saunas/steam rooms for you to relax in after a hard workout, but make sure you visit during off-peak hours. Your workout won't be as productive if you're fighting for space in a crowded pool!
Remember to do what's most comfortable for you at a popular gym like 24 Hour Fitness. Find the times and days that work for you, and you should have a pleasant time using the gym's aquatic amenities.
For more guides, check out:
Hope this helps!