LA Fitness is one of the most popular fitness chains in the United States.
And for good reason! It's one of the most affordable big box gyms around, with fantastic equipment, group classes, sporting courts, and more amenities.
But one question remains:
Does LA Fitness have a pool?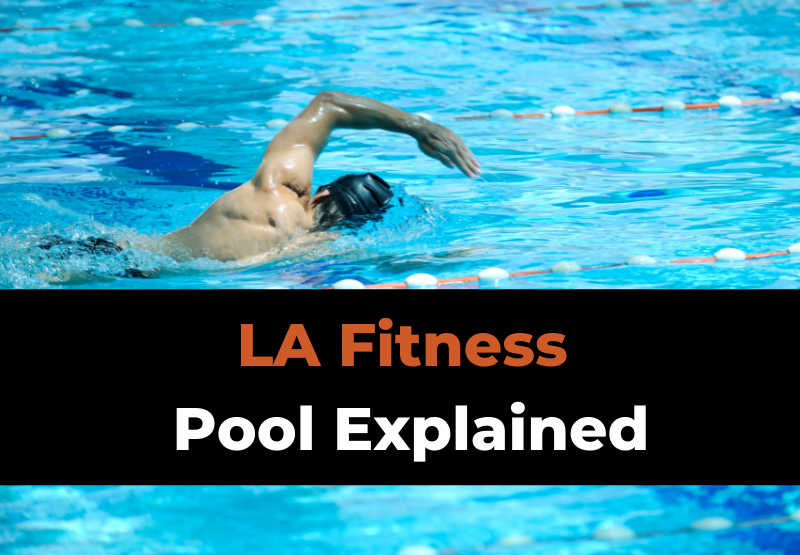 Let's take a look and find out.
---
Does LA Fitness Have a Pool? (Photos, Description & More)
Yes, most (but not all) LA Fitness locations have a pool, though not all offer the same amenities or perks.
For example, most LA Fitness locations will either have a basic lap swimming indoor pool (that can also be used for aquatic classes) or no pool at all.
Some, however, will have outdoor recreational pools that are better suited for kids and general use.
Check your local club to find out what it has to offer.
Recreational Community Pool
A few LA Fitness locations will have large, often outdoor, recreational or community pools.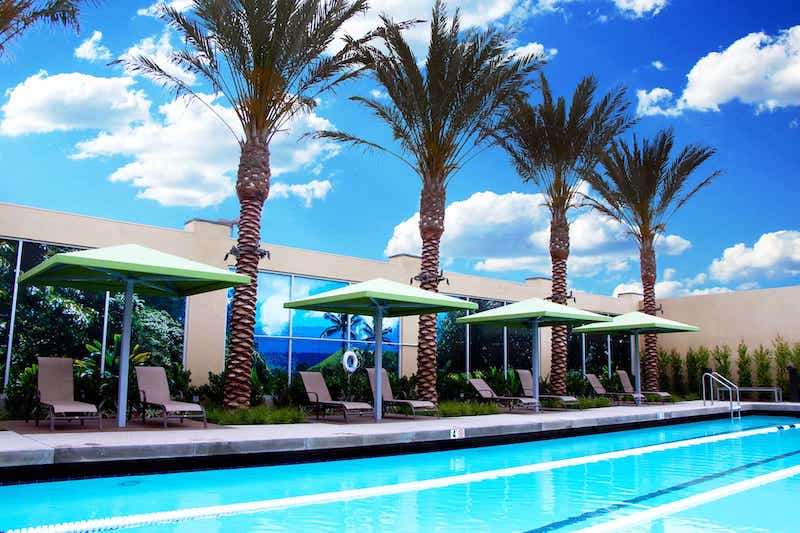 These are still only available to LA Fitness members and not the general public, but they resemble public pools in that they're not specifically designed for fitness.
Shared community pools are great for people who are not looking to swim laps but still enjoy swimming.
(Depending on the location, though, the outdoor pool may have lap lanes roped off.)
They provide an opportunity for family bonding time with children, friends, or partners.
The shared community pool can understandably be busy at times.
It's typically crowded on weekends or during the summer due to the fact that the LA Fitness facilities are open to the public.
Lap Swimming Pools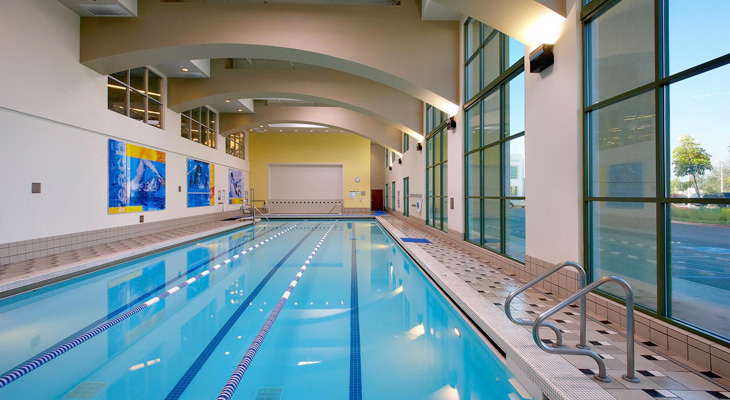 Some LA Fitness locations offer an indoor lap pool that functions as an extension of the gym floor.
Here, members can swim laps or participate in aquatic group fitness classes.
The pools at LA Fitness are long and narrow, usually with just 3 or 4 swimming lanes. That means it can be tough to get a private lane, however some clubs allow you to share if you practice good swimming etiquette.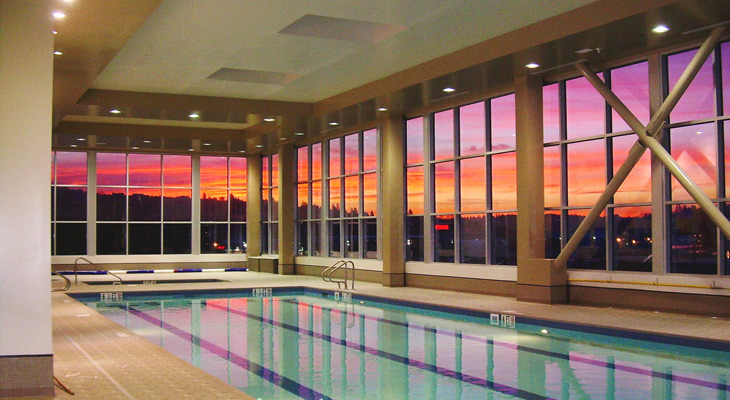 Having a pool at your gym is a huge, huge benefit that drastically increases the value of your membership.
It's been said that swimming is one of the best exercises out there.
Studies have shown that swimming is a great workout for just about every muscle in your body, and it can also increase general fitness in a low-impact way.
The LA Fitness pools are also a must-use part of your strategy if you are undergoing injury rehab or post-exercise relaxation.
A gentle swim in the pool is one of the best ways to increase blood flow, aid in the healing of injuries, and speed up recovery.
Aquatic Classes at LA Fitness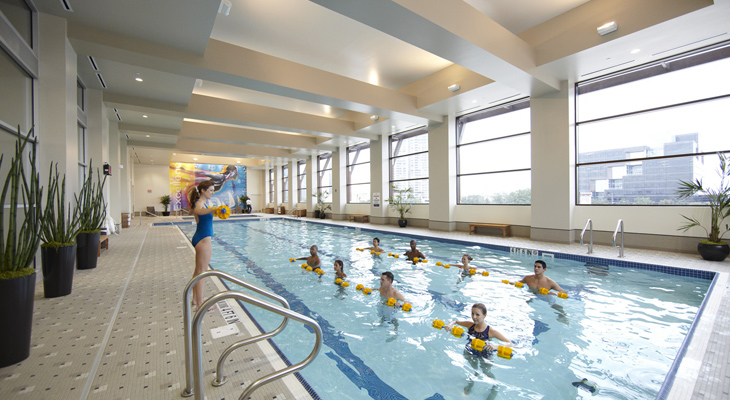 LA Fitness has an astounding selection of group classes that take place in the pool.
Here are a few ways you can take advantage if your local club has aquatic amenities:
Aqua Basic
This is a perfect exercise for beginners because it provides support from the water. The workout focuses on basic movements such as arms, leg, and torso movements.
Aqua Total Body
Aqua Total Body is a combination of cardio and strength training. This routine will help you be stronger and lose weight faster than exercising on land alone.
Aqua Interval Training
This workout is interval training that focuses on burning more calories in a short amount of time. The intervals feature exercises such as trying to stay afloat on your back and then rolling forward into a pushup position.
Aqua Combo
The Aqua Combo class is a combination of Aqua Basic and Aqua Interval Training and gives you the option of working out at your own pace.
Aqua Fit
This workout uses weights to target major muscle groups, but you can also use the water for resistance. Aqua Fit is aimed at people who are new to both water fitness and circuit training.
Aqua RPM
RPM is the perfect class for people who want to train like they are in a spin class without actually getting on a bike. This workout is high-intensity, but the water provides high benefits.
Aqua Sculpt
This class uses a variety of tools, including weights, tubes, and more to target major muscle groups. The water provides resistance while the instructor guides you through the workout.
Aqua Zumba
Aqua Zumba fuses international dance moves with cardiovascular workouts and tones your entire body.
Aqua Bootcamp
This class is a circuit-training workout similar to the popular "boot camp" workouts on land. While in the water, you will work out weights, bands, and body weight to target major muscle groups.
Aqua Fast Track
This is a fast-paced class with little rest. Fast Track combines high and low impact moves in each interval and always keeps you moving. You will target all major muscle groups with Aqua Fast Track.
Aqua Slim
This workout tones your body and is led by an instructor who guides you through simple movements easier to follow in the water. Aqua Slim is perfect for people who want more of a workout but do not necessarily need it to be as challenging.
Aqua Cycling
This class is like riding a stationary bike on land, but this workout uses water and the resistance of the water to tone your legs and glutes.
Aqua Yoga
Aqua Yoga is a low-impact total body workout that focuses on strengthening and lengthening your muscles. You can expect a variety of traditional yoga poses, combined with the support of the water to help you take it to the next level.
Remember, not every location will offer all of these classes. Check the schedule at your home club to learn more.
And check out my full LA Fitness review to get more details on what you get with your membership.
---
Does LA Fitness have a hot tub?
Yes, LA Fitness has a hot tub at many of its locations.
Typically, clubs with a pool will also have a hot tub — but that's not always the case, so check your local club to be sure.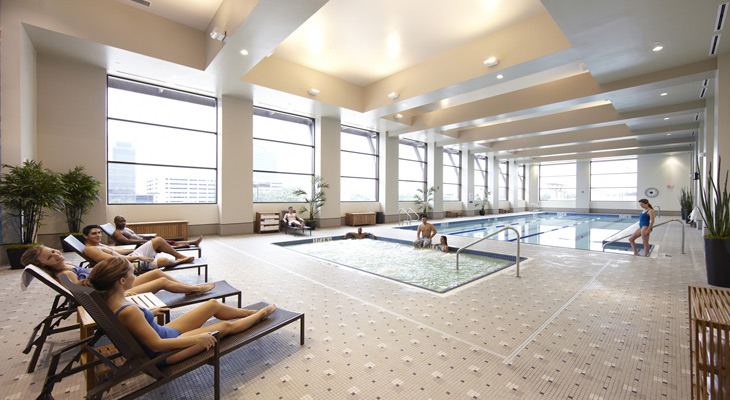 The hot tubs at LA Fitness have a calming, therapeutic effect.
They're particularly great for post-workout relaxation, injury recovery, and overall well-being. In fact, a lot of members like to visit LA Fitness just for a soak in the hot tub — they'll skip the workout all together!
According to medical studies, hot tubs help in post-workout relaxation and injury recovery.
The warm water and jets relieve muscle tension and soreness while improving blood circulation. They can also help in regulating body temperature, which eases muscle spasms and promotes overall relaxation.
---
Does LA Fitness Have a Sauna, Steam Room, or Other Aquatic Amenities?
Yes, LA Fitness has a sauna, steam room, and other aquatic amenities at many of its locations.
Again, perks and features vary greatly depending on what location you join.
You may find all of the above amenities, none of them, or a mixture!
If you do find yourself lucky enough to live near a club with a steam room or sauna, make sure you take advantage.
Like hot tubs, steam rooms and saunas — really any form of intense heat — can work wonders for your muscles after exercising.
---
Wrapping Up
LA Fitness has a pool and hot tub at most locations. Some even have steam rooms, saunas, and more.
That makes a membership to LA Fitness a terrific investment! You can enjoy your own swimming workouts, group aquatic classes, or a post workout soak any time you like.
Just be sure to visit your local club and see the facilities in person before you join.
Fore more, read about:
Hope this helps!