LA Fitness is a popular box gym chain that provides fitness enthusiasts with a range of excellent equipment and amenities at an affordable price.
Most of the locations have large open areas where you can work with materials such as medicine balls, kettlebells and balance balls.
They also have a wide-range of machines, weights, and amenities such as a pool and sauna.
But what about other amenities:
Does LA Fitness have basketball courts?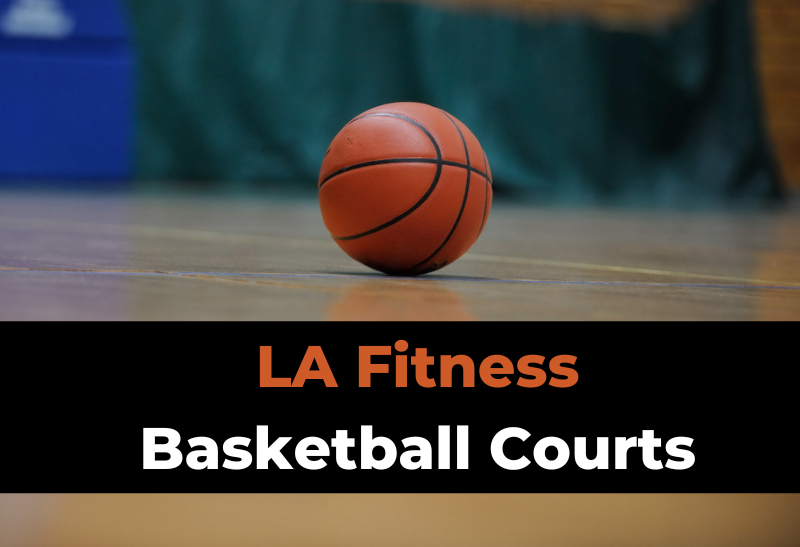 LA Fitness has large, nearly regulation size basketball courts at most (but not all locations). Rec leagues and pick up games are common at most locations, as well, including tournaments!
Let's take a closer look at the basketball amenities at LA Fitness.
---
Does LA Fitness Have a Basketball Court?
Yes! LA Fitness offers basketball courts and racquetball courts among their many, many amenities. Although, unfortunately, not every LA Fitness location has a basketball court.
Some of LA Fitness's locations are built in smaller areas, so they have to cut back on what amenities and services they offer.
If you're wondering whether your local LA Fitness has a basketball court, then you can easily check on this without going down there or picking up the phone.
Head to the "find a club" section of their website and input your location.
It shows the amenities and features available at the club you choose.
You can also check on the amenities at your next nearest location if the one closest to you lacks a court.
Price varies per club, too, so this is also a great way to check out how much you're going to pay at your local LA Fitness location. It's an incredibly useful little tool.
---
Does LA Fitness Offer Basketball Leagues, Lessons, Etc?
If you were hoping for a private lesson or coaching at LA Fitness, then you're out of luck.
They don't offer private or coaching for basketball, so you'll have to learn alone or from other players.
However, there are personal trainers available at the facility, so don't give up hope. Some of them may be willing to help you train your basketball skills
But if you were looking for leagues, then you are in luck..
Several competitions and activities go on throughout the year. There are semiannual members-only basketball tournaments at many LA Fitness locations with prizes for the winners.
If you don't consider yourself good enough to play in one of these tournaments, then don't worry.
There are also competitive recreational leagues for you. These are open to anyone over 18, but there's a 35+ league too, if you'd prefer.
The leagues offer you a a great way to engage with other players and have some fun while you learn how to play this game together.
Please note that none of these leagues—recreational or otherwise—are mandatory to have some fun hooping at the gym.
You can practice by yourself or with a friend, and some members report being absolutely abysmal at basketball but still having a great time playing there.
Pickup games are also common, with users reporting it being a lot of fun.
Although, sometimes these can become quite competitive with aggressive players, so be careful which games you get involved with.
Bring your own team if you're worried about playing with a group of ultra-competitive strangers. You and your buddies can take out a membership and play regular games for fitness and fun.
(Click to learn about the showers at LA Fitness and the pools at LA Fitness.)
---
Photos & Descriptions of LA Fitness Basketball Courts
The basketball courts at LA Fitness are pretty typical. They've got two 10-foot high hoops, which are standard for professional leagues and courts designed for adults.
LA Fitness doesn't outright state how big their courts are, but most of them are believed to be around 87 feet long and 48 feet wide.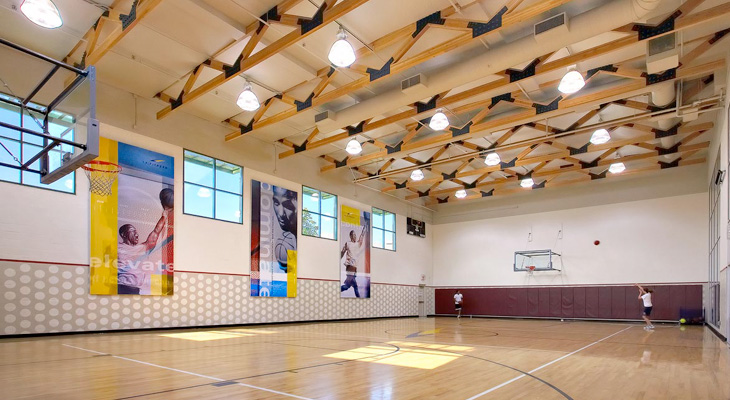 This isn't so different from the typical full-size basketball court of about 91.86 feet long and 49.21 feet wide.
Size may vary per location, but rest assured you'll always have plenty of room to play.
The courts are all indoors and relatively minimalistic. They have no equipment or baskets of balls for you to use.
At most, they have a few posters up to inspire and motivate you, but other than that they're entirely empty.
The walls are all light-colored, so it's a very open and welcoming environment. There are also a few high windows to let some natural light penetrate through the artificial glow of the lighting above.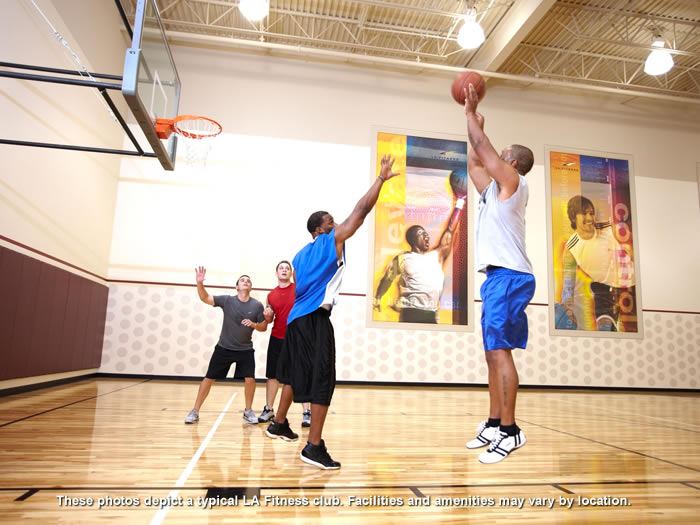 Most of the courts have no place to sit down, so if you want a break, then you'll have to leave the court.
You'll also need to bring your own ball with you, and you should carry it with you at all times as there's no safe place to store it on the court.
---
Wrapping Up
If you'd like a casual game of basketball, or you're more serious and want to join a league, then you'll be able to at LA Fitness.
The courts are almost pro-size, and there are lots of people who be willing to play ball with you.
Most LA Fitness locations have these courts, but make sure to double-check on the website if yours does. If you live in a small town or city, then there's a higher chance your nearest club won't have a court.
For more, see:
Hope this helps!