With hundreds of locations open across 11 states, 24 Hour Fitness densely populates many areas.
It's the second-largest fitness chain in the US, and it remains a popular choice among gym-goers.
It's open day and night with plenty of classes and amenities on offer, and it's a decently priced mid-range option for a gym.
However, if basketball is your favorite way to have fun and stay fit, then none of that matters unless there's a court you can use.
But does 24 Hour Fitness have basketball courts, leagues, lessons, pick up games, and more?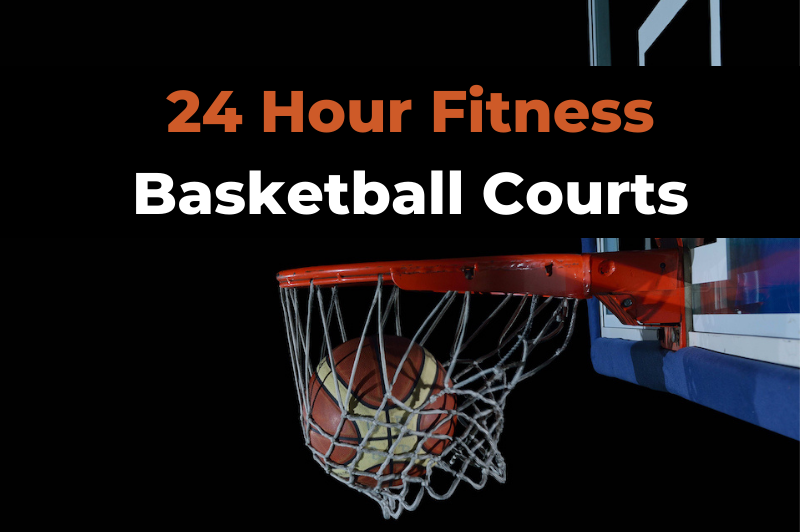 Large 24 Hour Fitness locations often have nice, full-sized basketball courts that are great for pick up games and recreational play. Smaller locations may only have practice courts better suited to individual drills or 2-on-2 or 3-on-3 play at most. Most 24 Hour Fitness locations do not offer leagues, basketball lessons, or tournaments — but they still make for a great place to play and get a workout!
Let's take a closer look at the basketball amenities at 24 Hour Fitness.
---
Does 24 Hour Fitness Have a Basketball Court?
Most larger, higher-end 24 Hour Fitness locations have full-size basketball courts.
These locations are usually built on larger sites and can therefore accommodate amenities that take up more space.
Some smaller locations have smaller basketball courts, referred to as practice courts. These are big enough for you to play some 2-on-2 or 3-on-3, but they won't accommodate a whole team.
If you live near a large 24 Hour Fitness, then chances are, there's a basketball court there. However, there's no need to go check in person.
You can use the 24 Hour Fitness location checker instead.
You can use the advanced search feature to filter the results based on amenities. That will ensure you only see locations with basketball courts.
Keep in mind that if your 24 Hour Fitness location is very busy, then you may have to book time on the court in advance. However, there are also drop-in sessions at many locations where you can pick up a game on the spot.
You should also note that sometimes you'll need to pay an extra fee to use the courts.
---
Does 24 Hour Fitness Offer Basketball Leagues, Lessons, Etc?
Right now, there are no official basketball leagues at 24 Hour Fitness.
This isn't surprising, as many 24 Hour Fitness locations are extremely busy, as are the employees.
The gym chain also doesn't offer any basketball lessons.
Personal trainers are available at 24 Hour Fitness, and you could ask if the trainer will help you on the basketball court — but there's no guarantee.
However, note they're not an official basketball trainer so your lesson may not be as in-depth as it would be with a real basketball coach.
The courts at 24 Hour Fitness are very much meant for recreationally playing by yourself, with other members, or with a group of friends you bring along to the gym with you.
You can still get competitive with other players while you're there, but it won't be in an official league.
You can also try to learn from other members, but be aware they're at the gym for their own fitness and enjoyment, so they may not wish to give lessons to other members.
Overall, the courts at 24 Hour Fitness are best for non-competitive people who can either play ball already, or who don't care about playing the game right and just want to have fun regardless.
---
Photos & Descriptions of 24 Hour Fitness Basketball Courts
The courts at 24 Hour Fitness are decorated minimally. Some have posters of basketball players on the walls, but others keep things plain.
You also won't find shelves of equipment or benches to sit around and watch—these courts are focused on playing, and only playing.
The number of hoops varies by location, so you may find some with two hoops, and others with four.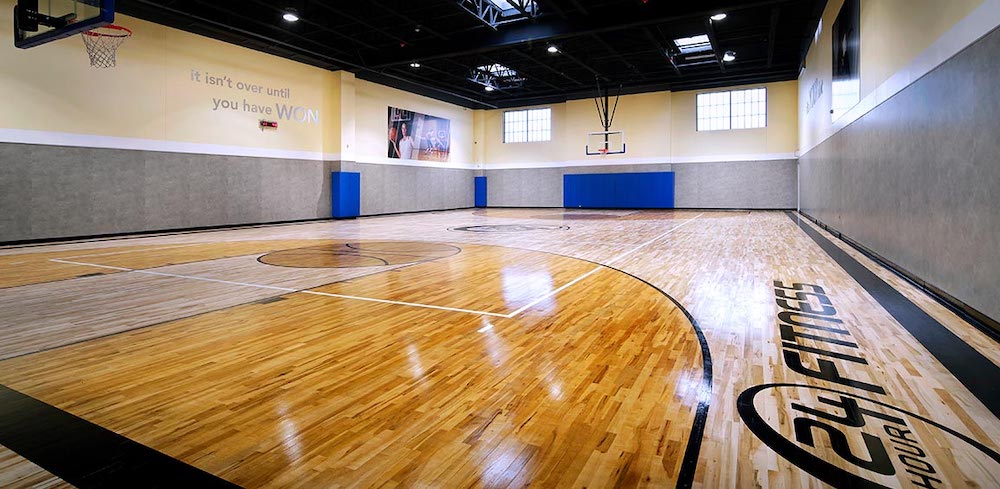 A couple of locations even have six hoops, so you really won't know what you're getting until you go scope out your local gym.
Court size varies in locations that don't have full-size courts, too. There's also some variance in how the basketball courts look.
Many locations have nice, light courts with a very open feel. The floor is shiny and wooden with basketball symbols and the 24 Hour Fitness logo on the ground. The walls are light, usually yellow or yellow and orange.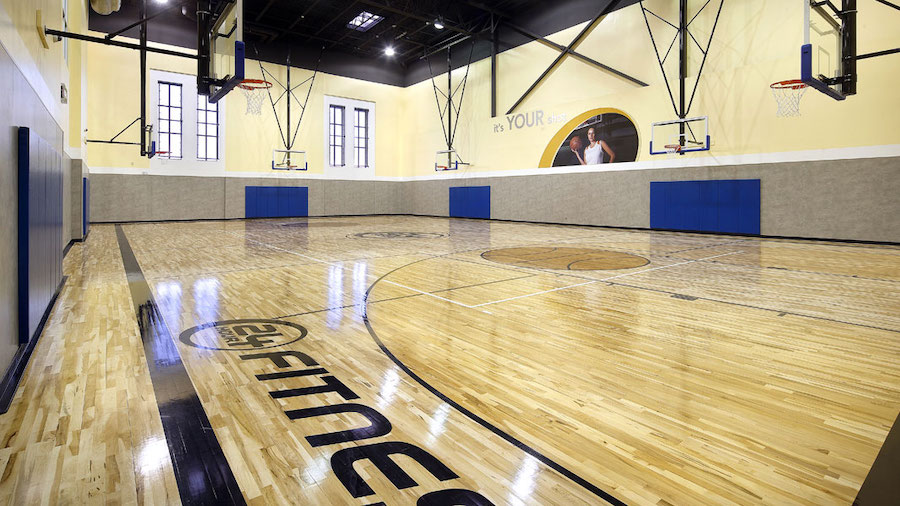 These courts are well-lit and sometimes have windows that let you view other parts of the gym while you play ball. Others have very high windows that lead to the outside, letting some natural light mix with the overhead lighting.
The other most common styling for 24 Hour Fitness basketball courts is a greyish themes. These don't look quite as open or welcoming. Instead, they have a very fitness-focused vibe.
The grounds are grey or black, and the walls have grey and white, or grey and blue elements depending on the location.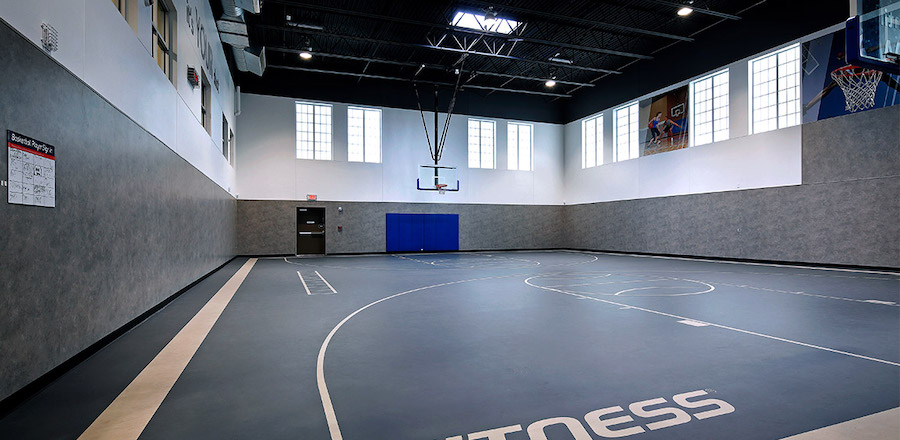 The grey-themed courts without windows have a very closed-in and focused feel. The ones that do have windows feel a little more relaxed.
There are some outliers, like the court at MainPlace mall in Santa Ana, that features neither of these designs. The court in Santa Ana has grey flooring but an extremely open feel. The walls are entirely made of windows that give you a view of the city.
Like with the number of hoops, you won't know what you get until you visit your local 24 Hour Fitness.
If there are two with basketball courts within driving distance from you, then consider checking out both. They may have different court designs, and you might like the feel of one more than the other.
Lastly, it would be good to note that 24 Hour Fitness members report the basketball courts as being clean and well-maintained.
There have been some cleanliness complaints about other areas at 24 Hour Fitness, but the courts are mostly free of that scrutiny.
---
Wrapping Up
If you're looking for a good mid-range gym with a basketball court, then most large 24 Hour Fitness locations can accommodate that. Others might have smaller courts you may enjoy playing on.
This gym is very much a fitness-focused chain that doesn't spend time on tournaments, leagues, or basketball lessons.
All in all, it's a great gym for someone who likes to play for fitness and fun.
For more, check out:
Hope this helps!