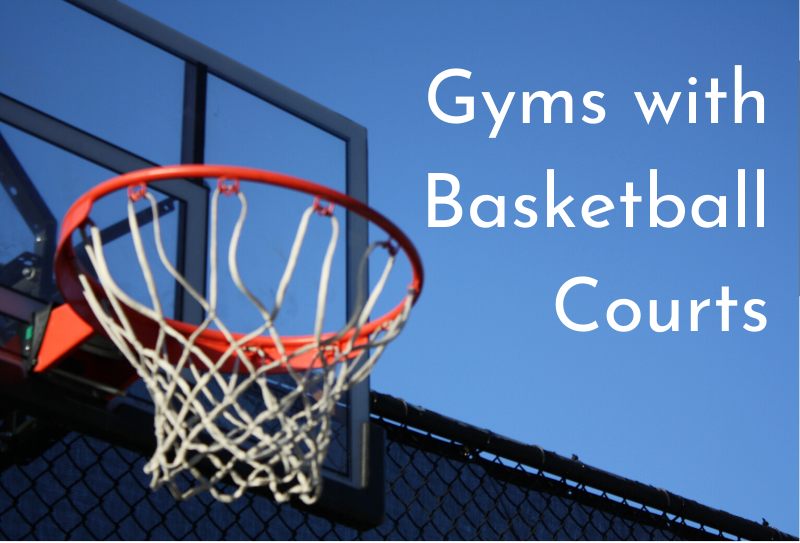 There are many ways to get in a great workout.
Some people may be happy running on a treadmill or lifting weights. But others need something that's, well, a little more fun.
Playing basketball makes for excellent exercise. Not only do you burn a ton of calories, but you also boost muscle development and improve bone strength.
Plus, you have to play with other people, so it's a great way to make friends and be social.
So where do you go when you feel like shooting hoops? Luckily for you, there are plenty of big box gyms out there that actually have their own basketball court for you and your friends to play on.
If you're wondering "what are the best gyms with basketball courts near me?", here's the answer:
You'll find some high-end basketball courts at the likes of Equinox and Life Time. These places are also more likely to schedule official tournaments for you to participate in or offer structured pick-up play.
But if you're more in the mood for something laid back, then a court at 24 Hour Fitness or the YMCA may be more up your alley. 
Below, I'll break down some of the major gym chains that tend to have basketball courts. Although the exact amenities each gym offers vary by location, so make sure you contact your local gym first to see what it offers.
And make sure to check out my gym comparison guide if you need additional information.
---
Benefits of working out at a gym with a basketball court
A basketball court takes up a lot of space in a gym.
Therefore, you can expect to pay a bit more on a membership when basketball is an option.
But will you really get your money's worth?
Are basketball courts worth it?
Ultimately, it comes down to how often you expect to play.
If you have friends you know will want to come to the gym with you often, then you can likely benefit a great deal.
Additionally, if you don't mind making new friends and playing with strangers, then you'll also find some advantages to enjoy.
But if you're shy or struggle in social situations (hey, no shame in it — I sometimes do, too) you might have trouble getting into the pick-up basketball scene at the gym. Then the extra price may not be worth it.
If basketball motivates you to get out of the house and get to the gym regularly, then it's definitely worth shelling out extra for.
Boost your self-esteem
When you play basketball, you may not always win.
But you can typically see yourself improving over time, which is a major boon to your personal confidence.
You may not be the best player right now, but after a few matches, you're bound to see your game improve.
Plus, when you play with friends, you have your buddies cheering you on.
You're all hoping everyone has a good time and does their best, and that motivation can be just what you need to continue going to the gym and practicing.
Enhance mental development
Basketball forces you to think on your toes.
You have to pay attention to what the other players are doing and how you can score your next basket.
It's easy to zone out at the gym. You get into a certain routine, and you're not concentrating as hard on your goal.
With basketball, your head always needs to be in the game. You need to strategize, which does wonder for your problem solving skills off of the court.
Stay motivated
With basketball, you and other players need to schedule times for when you'll all be at the gym.
You can't just bail on them without any warning. For a lot of people, it's hard enough to just get at the gym when they have so many other responsibilities.
When you play on a team, you have a reason to go to the gym a few times a week.
It actually becomes fun to work out, and you have other people there who will encourage you to stick with it, especially if you have just begun your workout journey.
---
Which big box gyms usually have basketball courts?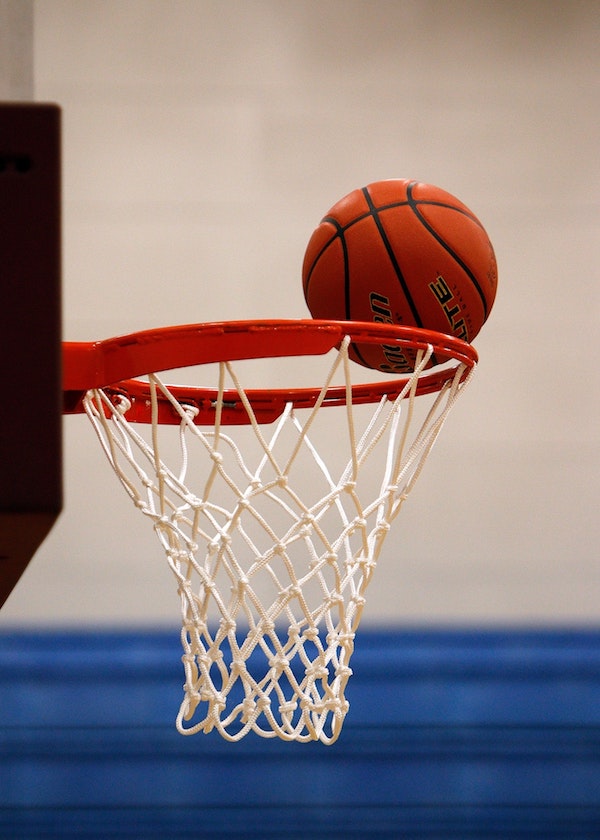 Let's look at the best gyms to go to if you want to play basketball regularly.
A rule of thumb: Not all locations have the same amenities. It may be common to see basketball courts in a given gym, but they may still only be found in 90% of locations.
In general, here's what you can expect from the big names.
1. Equinox
Equinox has some of the best basketball courts you'll find in any big box gym.
The company offers regulation-size basketball courts at the fitness Sports Club that are designed to have the aesthetic of a professional sports arena.
Equinox makes their courts available for training, practice, and league play. You'll likely find a lot of people want to sign up to use the courts, so make sure you have your name on the schedule.
You and your friends can have quite the weekend at Equinox.
Some locations even have in-gym restaurants. After a game, you and your buddies can grab something to eat and commemorate the hard work you've all put in.
(Check out my full guide and review to Equinox gyms.)
2. Life Time
Life Time gyms have some of the best basketball courts you'll find anywhere. The courts have hardwood floors, so you'll feel like you're playing on a professional court.
And if you're worried about when you'll be able to have your time on the court, never fear!
Life Time has "pickup play" scheduled every week. There's time for kids under 17 to play as well as anyone over the age of 40. Of course, there's also open court time when you can do whatever you like, provided it's not too busy.
One of the great things about Life Time is that select locations actually hold their own tournaments.
You and your friends can see how good you've actually gotten by signing up and seeing how far you can go.
There's even training camps if you have kids who want to learn how to become better players. Other gyms are fine if you just want to mess around.
But if you're serious about the game of basketball, then Life Time is where it's at.
Life Time comes at a fairly high price, but is it worth it? Hit the link to read my guide.
3. LA Fitness
You'll want to bring your A-game if you want to shoot hoops at LA Fitness.
Basketball leagues are often offered that run for eight to ten weeks.
When you play in these tournaments, your stats are tracked in-depth, so you can see how you truly stacked up against your fellow players.
LA Fitness tends to be more reasonably priced compared to other options.
While something like Life Time will have a basketball court, pool, sauna, and a ton of other amenities, it's possible the LA Fitness nearest you will only have a basketball court.
If it does, you can save yourself a lot of hassle by downloading the app so that you can reserve a spot on the court before you get there.
Click here for my full LA Fitness review.
4. YMCA
YMCA is a great option for families.
There's a ton of variation from one location to the next, so make sure to check ahead of time what yours offers.
In addition to courts, you may find some with pools, batting cages, and even racquetball courts. It can be a great option for the entire family if you all want to do something a little different for your workouts.
Before you head over, you'll definitely want to check the schedule.
The YMCA tends to have special events that may take up the court. The Y usually has a more laid-back vibe than other gyms, so if you're just beginning to play basketball, it can be the best choice.
5. 24 Hour Fitness
24 Hour Fitness tends to be rather costly in terms of gym memberships.
But with all the potential amenities you receive at certain locations, you may just get your money's worth.
Quite a few 24 Hour Fitness locations have basketball courts, especially if you live in a big city like Los Angeles.
In addition to shooting hoops, you can also play volleyball, run laps, and swim in the pool, all at the same place!
24 Hour Fitness seems to be known for keeping their facilities clean. So you should expect a clean-looking court where you don't have to worry about slipping on someone else's sweat.
Click here for my full 24 Hour Fitness review.
6. Gold's Gym
If you're lucky, then you may be able to find an indoor basketball court at your local Gold's Gym.
These courts are available whether you want a quick pick-up game or a full-on match-up between your rivals.
Gold's Gyms tend to be fairly minimalist.
They are some of the smaller gyms you'll find out there. However, some are a bit larger, so make sure you take a tour or call ahead to make sure the one nearest you actually has a court for you to play on.
Check out my full review of Gold's Gym
---
Gyms that DON'T have basketball courts
Basketball courts are immensely popular. They also take up a lot of space at any gym, so you can expect membership costs to be much higher at these gyms than ones without courts.
If you want to join the following budget-friendly gyms, then you probably shouldn't expect to find a basketball court.
Planet Fitness
Crunch Fitness
Anytime Fitness
Blink
Snap
YouFit
Some of these gyms are on my other amenities roundups like gyms with pools or racquetball courts.
---
Wrapping Up
Having a basketball court at your gym is a huge bonus. However, you'll have to pay for it.
If you plan on playing basketball often and are interested in joining tournaments, then the money's absolutely worth it. Otherwise, you're better off sticking with something with more basic amenities.
Players who want the best basketball courts available should check out Equinox or Life Time.
If you want to save a little money on a more basic court, then somewhere like 24 Hour Fitness or the YMCA will get the job done.
(Just remember to call or tour your local club to make sure they have one before you join!)
Hope this helps!
Before you go – check out how to get the best deal on your gym membership.