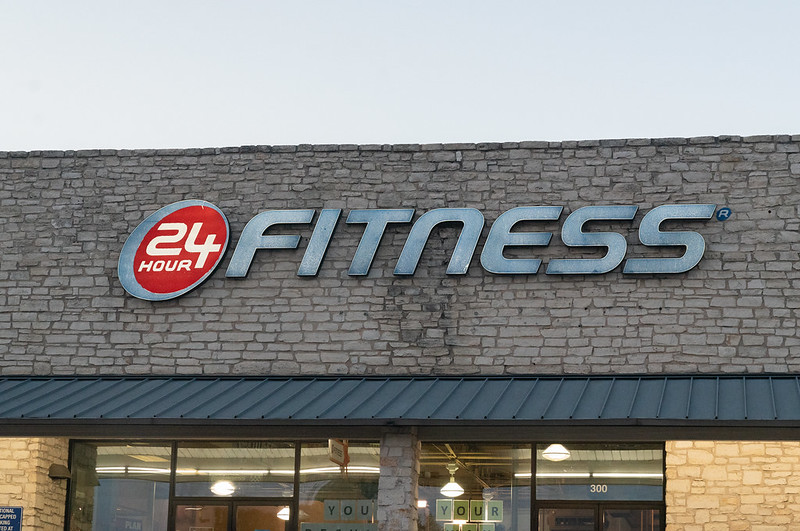 If you're looking to finally buckle down and join a gym, you'll have no shortage of options.
For most of you out there, 24 Hour Fitness will be among the most common gyms in your area — with about 430 locations across the country.
The name gives away the main selling point of joining, but you might still be wondering:
Is 24 Hour Fitness worth it? Is it a good gym and a decent value?
24 Hour Fitness is a great mid-range gym option, comparable to spots like LA Fitness and Gold's Gym. It won't be bargain bin cheap, but you'll get a wide variety of equipment, classes, and other amenities that make 24HF a really good value overall.
Some members complain about the cleanliness of the facilities in certain locations, and 24 Hour Fitness is a popular choice that can get quite crowded during peak hours. But overall, this is a great place to start your fitness journey.
Let's dive in to a more detailed breakdown of what you get as a member at 24 Hour Fitness, the pros and cons of joining, and a detailed review.
---
How much does 24 Hour Fitness cost?
The pricing at 24 Hour is one of the more complicated models I've seen.
(There's no one set monthly price to join.)
It all depend on:
How many clubs you want access to
Which amenities you'd like to enjoy
How long you're willing to commit for up front
You'll pay less to access just a single club or numerous "Sport-Level" or below clubs.
You'll pay more to access the premium "Supersport" clubs, which often have pools and advanced training gear or areas like turf zones or Olympic training setups.
In general, you'll likely pay somewhere between $30-50 per month to become a member at 24 Hour Fitness, plus initiation and annual fees which vary per club — they're usually around $50 each.
Check your local club and ask for their rates.
(As always, keep an eye out for seasonal deals or offers, and use my guide to negotiating your gym membership for the best price.)
This pricing structure puts 24 Hour Fitness right in the middle of what you'll find at other gyms.
Convenience gyms like Planet Fitness or Crunch will be cheaper (around $10/month) and higher end clubs like Life Time or Equinox will cost anywhere from $70-200 or more.
---
24 Hour Fitness equipment, features & amenities
So now you know a little bit about what to expect when you sign up with 24HF.
But what's included at the gym for paying members? What kind of equipment and amenities can you expect to enjoy?
Equipment
The equipment selection at most 24 Hour Fitness locations is quite good.
The size of the facility and total quantity of equipment isn't quite as impressive as some competitors, but you can typically expect to find everything you'd need for a good workout here.
Every location is a little different, but expect to see:
Plenty of cardio equipment (treadmills, bikes, etc.)
Smith machines
Resistance machines
Dumbbell stacks
Free weights
Power racks
Barbells
It's possible that you might have to wait for certain pieces of equipment during peak hours do to the smaller size of these gyms, but in general most gym-goers should be pretty happy with the selection here.
Classes
As a member at 24 Hour Fitness, you'll get access to a bunch of group fitness classes.
Woohoo!
These can be an excellent value compared to joining a specialty or boutique studio. A lot of people love to pair a few group classes per month with a handful of their own workouts for a really balanced fitness regimen.
The class schedule and offerings will vary by city and location, but you'll usually be able to take things like:
Yoga
Zumba
Cardio & bootcamps
Spin
Pilates
And more
All included with your monthly membership!
Pool & Spa
Most of the mid-level and higher 24 Hour Fitness clubs will have a basic pool and spa area.
Don't expect a fancy outdoor lounge pool with a water slide, but if it's a quick place to swim laps or soak in the hot tub you're after, you'll often find it here.
Check with your local clubs, however, to see what they offer and be sure your membership includes access to the higher-level clubs that include the pool and spa.
Child Care
24 Hour Fitness is a great choice for parents — they offer a childcare option called Kids Club at an additional charge to your monthly membership.
The supervisors here are all CPR certified and will entertain and care for your children over 6-months-old while you work out (as long as you don't leave the premises! You'd be surprised how often people try.)
Costs vary by location but expect to pay a few dollars per child per visit, or tack it on to your monthly membership up front.
Other Amenities
There's plenty of other perks you can explore as a member at 24 Hour Fitness — some included, some at an extra cost — like:
Basketball courts
Personal training
Turf zone training
And more
Check your local club as always!
And of course, the main selling point here is 24/7 access at every single club — that's huge for night owls and people with unique schedules.
---
What real people are saying (24 Hour Fitness reviews, pros and cons)
I scoured a ton of reviews from 24 Hour Fitness locations all over the country to see what real members have to say about the place.
Here are a few of the running themes and key takeaway.
Pros
Equipment variety
In general, members seem pretty happy with what 24 Hour Fitness has to offer as a gym.
There's plenty of cardio equipment to go around and usually an impressive selection of strength training gear.
(A lot of mid-range and budget gyms cheap out and don't offer barbells or power racks for serious lifting.)
Take a tour before you join, but 24HF is probably a good bet no matter what kind of workout you prefer.
Personal training
If you choose to enroll in (and pay extra for) personal training here, you're likely in for a good experience.
Most reviews I read praised the personal training staff and process.
For a starter training package (four sessions for new members), expect to pay around $200-300.
Pricing and quality will vary greatly by location, of course, so check your local club.
Cons
Independent management is hit or miss
I read a lot of complaints about the owners and managers at different individual 24 Hour Fitness locations.
These franchised locations can be run by warm, friendly, and helpful folks — or by jerks just looking to make a buck.
Pay close attention to how you're treated when you go in for a tour, and be sure to meet the owner or manager before you commit.
Cleanliness of clubs
A handful of the 24 Hour Fitness locations around the country had negative reviews specifically citing the cleanliness of the clubs.
Most clubs are super well-maintained and have up-to-date equipment, but a few of the locations are older and management has let them fall into disrepair.
It's super important that you take an in-person tour at your local club to see for yourself before you join.
---
Alternatives to 24 Hour Fitness
24 Hour Fitness is a really good mid-range gym option, but it's not my overall favorite.
I would also look into LA Fitness if you want larger facilities, more equipment, and similar or better amenities.
If you want another 24 hour option to consider, check out Anytime Fitness as an alternative.
Both are similar in quality to 24 Hour Fitness but have a few different advantages and disadvantages that might appeal to you. Don't feel like 24HF is your only option due to your budget!
---
Wrapping Up
So is 24 Hour Fitness worth it?
Overall, it's a really good value and a solid mid-range gym. The 24 hour access is a huge plus for people with odd schedules (or night owls!) and you'll find all the equipment you need for almost any workout.
Don't expect fancy pools or huge facilities at most locations, however, and be sure to take a tour before you join to scope out the grounds and meet the management.
Not sold? Check out more comparisons of gyms here for my favorites and one-on-one breakdowns.