If you're lucky enough to not be on a tight budget, you should definitely consider a high-end health club.
Sure, you can hit the treadmill for $10/month at Planet Fitness, but if you're willing to invest, you can get SO much more.
We're talking indoor and outdoor pools, saunas, group fitness classes every day, and access to more and better equipment.
The two best high-end gyms and fitness clubs are, without a doubt, Life Time and Equinox.
So what's the difference between Life Time vs Equinox and which one is right for you?
They're both fantastic, but here's the deal: Equinox can cost anywhere from $50 to $100 more per month than Life Time, but definitely has a more luxury vibe. Life Time is ideal for families with more affordable childcare and amazing outdoor pools.
Let's take a closer look at the price, equipment, and amenities at these two clubs.
---
What is Equinox?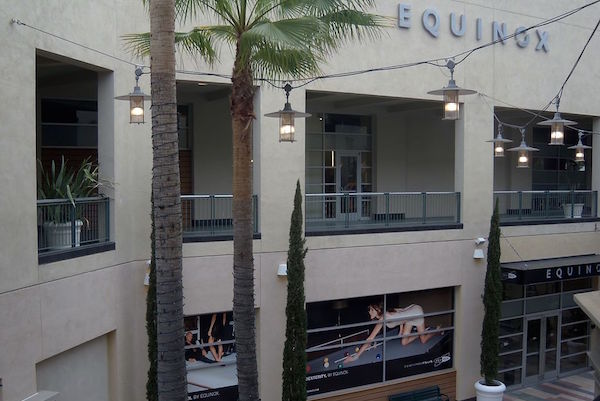 Equinox is an ultra-high-end, exclusive health club with only about 106 locations across the globe.
These clubs are mostly centered around major metropolitan areas like New York, Boston, and LA, but are slowly expanding into new areas.
What makes Equinox so noteworthy?
For starters, it's one of the most expensive gyms you could possibly join — and it shows in the member benefits.
It really is more like being a member of an exclusive group vs joining a gym.
Sure, there's all the equipment and classes you could want, but you also get perks like rooftop pools (at some locations), cold towels soaked in eucalyptus oil, full-service spas, steam rooms, and luxury shower areas with high-end soap products (Kiehl's).
It's also worth noting that Equinox owns some other recognizable fitness brands like SoulCycle, PURE Yoga, Blink Fitness, and more.
---
What is Life Time?
Not to be outdone, Life Time is known as one of the best health and fitness clubs in the country, as well.
Since 1992, Life Time has offered some of the best workout spaces, group fitness classes, personal training, and aquatics amenities you'll find anywhere.
They're also a little bit easier to find than Equinox, with about 151 locations in the United States and Canada.
---
Cost
Alright, this is a big one.
These two are some of the most expensive gyms in the entire world, so let's break down the costs as best we can.
Equinox
Depending on which location and membership package you choose, expect to pay around $185 per month on the low end to join Equinox and up to a whopping $500 per month.
You'll pay towards the high-end for:
Access to premier locations in New York City and other major metros
Access to multiple clubs around the country
You can also expect a hefty initiation fee of around $500 or so.
Compared to your average gym which costs around $30-50 per month, this is a seriously high price tag.
To work out at Equinox, it'll cost you somewhere between $2,000 and $3,000 per year. Yowza!
Life Time
Life Time is likely to be substantially cheaper than Equinox, but don't take that to mean it's cheap by any means!
You'll pay around $60-70 per month on the low end to access a single Life Time location.
If you want to hop between different clubs and access higher-level amenities, you could pay up to $140 per month.
As always, expect an initiation fee and possibly an annual fee, though these can often be negotiated.
Both of these gyms come with whopping costs, but you probably already knew that. Let's dive deeper to see if they're worth it.
---
Hours
How early and late are these joints open?
Equinox
Most Equinox clubs open around 5-530am during the week and around 7am on weekends.
They'll typically close up around 11pm most evenings, or a little earlier on the weekends.
Check your local club, because hours vary greatly depending on where you join.
Life Time
Many Life Time locations are open 24 hours. Woohoo!
The rest have impressive extended hours, usually operating from about 4am to midnight most days.
(That's just barely enough time to mop the floor and open right back up again!)
Weekend hours and weekday hours are quite often the same at most locations.
When it comes to convenience and extended hours, Life Time definitely gets the edge.
---
Equipment
No clear winner here.
You should be pretty happy with the selection of equipment at Equinox and Life Time.
(And if you're not, I'm not sure what to tell you… You'll have a very hard time finding a better-stocked gym than these two.)
Both studios will feature almost everything you could possibly need:
Dozens and dozens of cardio machines (treadmills, ellipticals, StairMasters, bikes, and more)
Dumbbells up to and over 100 pounds
Free weights, barbells, full power racks, and Smith machines
Resistance machines
Specialty equipment like kettlebells, balance balls, etc.
Both usually feature large facilities and a lot of quantity, as well, so it's rare that you'll have to wait for a machine.
Plus, both gyms have an exceptional reputation for clean, modern equipment.
You should be happy either way! But I always recommend you take a tour before you sign a contract just in case you're looking for something specific.
---
Classes
Both of these clubs offer an exceptional selection of group fitness classes that (most of which, anyway) are included with your membership.
It's funny — these gyms seem incredibly expensive, but people don't bat an eye at paying $100/month+ for a yoga studio or regular spin class.
With clubs like these, you can get access to all of that AND your own workouts.
Here's what's on the schedule at Equinox:
Cycle Power
Barre Bootcamp
Above the Belt (upper body strength)
Below the Belt (lower body strength)
Elevate (treadmill class)
True Barre
Precision Run
METCON3
Pilates
Yoga
And tons more
Here's what's on the schedule at Life Time:
Discover Pilates
Chisel
Discover Group Training
EDG Sculpt
EDG Cycle
PWR Cycle
FLOW
Alpha Metcon
GTX Cut
Strictly Strength
RINGSIDE
Pilates
BarreFusion
Aqua
Barbell Strength
Alpha Strong
And many, many more
Take a look at the schedules at your local clubs and see if they have classes that line up with your interest and availability!
---
Pool/Spa Area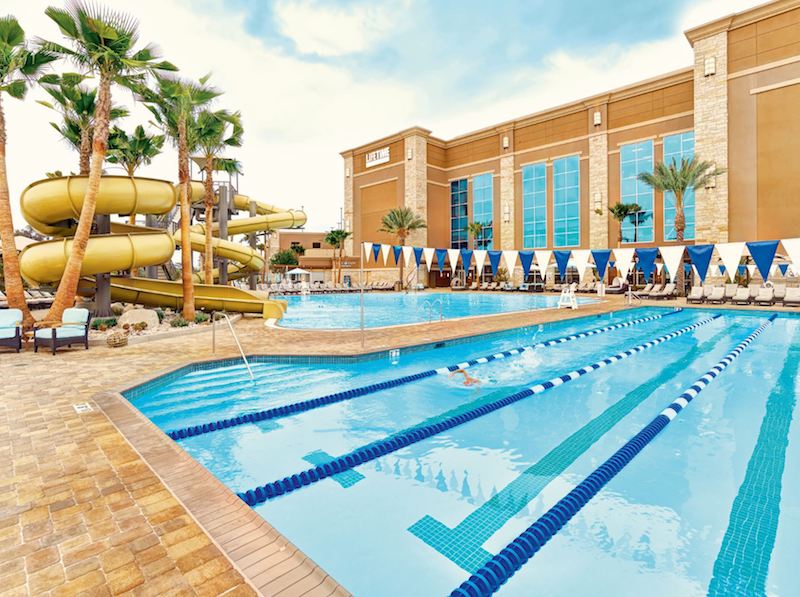 If you're going to pay this much for a gym, you'll probably want some really nice aquatic amenities.
Let's look and see how these two stack up pool-wise:
Equinox
Many, though not all, Equinox clubs have gorgeous indoor or outdoor pools.
(They're some of the classiest around.)
They're typically paired with outrageously luxurious hot tubs, steam rooms, and full-service spas.
Of course, you'll have to pay extra for that hour-long full-body massage, but you get a discount on your birthday (hooray!) and there's no better way to unwind from a workout.
Life Time
Life Time almost always features both an indoor and outdoor pool at its clubs.
In fact, this is often the main selling point of joning Life Time.
The indoor pools are great for lap swimming and aquatics workouts, while the outdoor pools are packed with water slides, umbrella tables, kiddie pools, and more.
You'll want to bring the whole family here.
Check your local Equinox and Life Time to see their specific pool setup, but expect a classy, luxurious, adult vibe at Equinox and a big, splashy, family-fun vibe at Life Time.
---
Showers
The good news?
Both Equinox and Life Time have large, spacious, clean locker room areas with showers.
So if you're working out before work or any other special event, have no fear! You won't have to arrive drenched in sweat.
Equinox gets bonus points here for having huge, absolutely gorgeous showers that are stocked with really, really nice Kiehls bath products.
---
Childcare
Both clubs have excellent childcare available, which makes them ideal for working parents who desperately need a workout and some pampering.
Quality-wise, they're both excellent, though Life Time has an absolutely stellar reputation industry-wide for the quality of their daycare and childcare services.
But here's how the two stack up price wise:
Equinox
Expect to pay around $7-14 per child per session for child care at Equinox. Note that child care isn't available at every single location (a little more than half of Equinoxes have it).
You can sometimes cut this cost down by buying child care sessions in packs of 10, 20, or more.
Life Time
You can add a junior (child under 13) to your monthly membership and receive access to childcare for between $15-20 per month, depending on location
No matter how you slice it, child care is more cost-effective at Life Time, but Equinox's model is nice because you don't have to pay for it every month; only when you need it.
---
The Verdict
These are both fantastic (and expensive) health clubs, and they're really meant for different kinds of people.
I heartily recommend both overall, but…
You might prefer Equinox if:
You want access to spa services, eucalyptus towels, and other high-end luxuries
You only need ad-hoc child care
You're willing to pay more for a more exclusive vibe
You might prefer Life Time if:
You need frequent child care
You want to bring the kids to the outdoor pool
You're on a "tighter budget" ($70-140 per month versus $180+ per month)
Hope this helps, everyone!
And before you go, check out my full guide to the best gyms and this list of free workout plans you can start today.