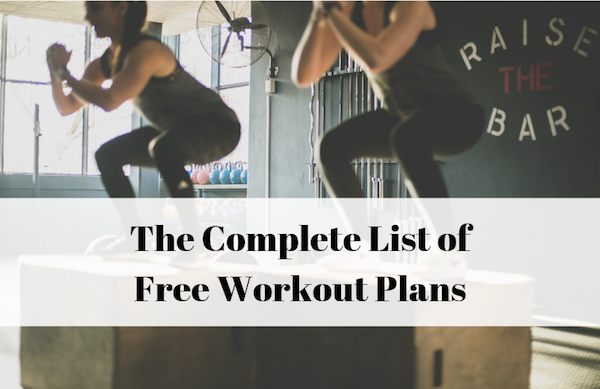 You don't have to spend an arm and a leg to get in shape.
But you do need a plan.
Going to the gym and "winging it" is a surefire way to spin your wheels, get frustrated, and eventually give up.
A proper program will give your workouts structure, goals to strive for, and a way to measure your progress along the way so you're always motivated.
(I got started on a free program myself, and knowing exactly what to do every time I went to the gym was monumental in helping me form the habit for life.)
So here are the best free workout plans I could find for every type of fitness, from strength training, to HIIT, to cardio, and everything in between.
Ultimately, the best free workout plan is the one you'll stick with. So if you're not sure what kind of workout you want to do, or what you fitness goals are, just read through the programs I've outlined below and see which ones sound like fun!
Let's get into it.
---
The best free cardio or running workout plan – C25K 5K Trainer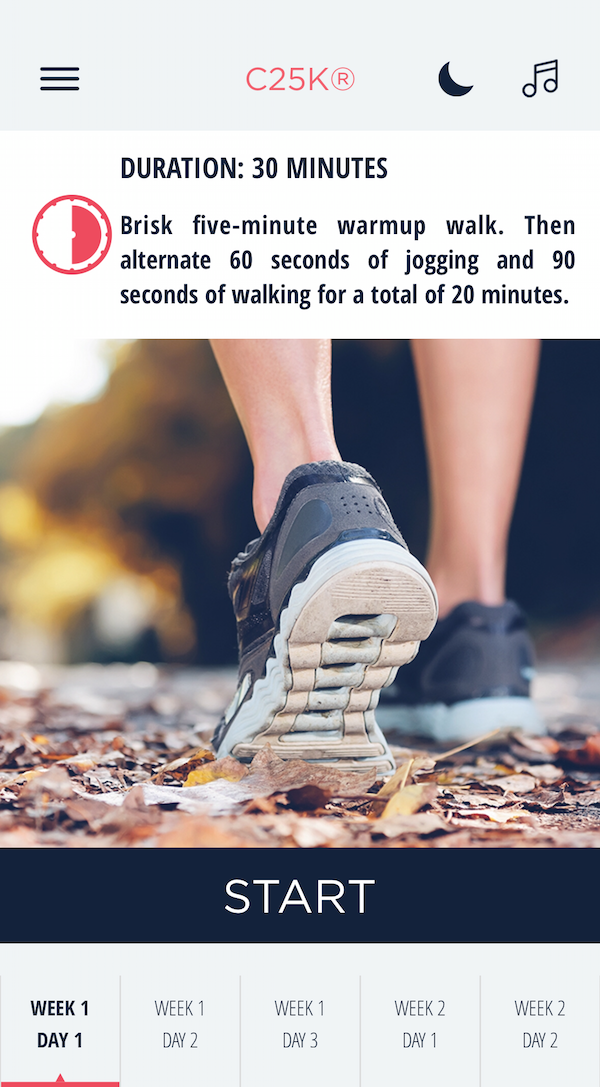 This is truly one of the simplest and free-est ways you could possibly get started working out.
It's called a Couch to 5K (this is an umbrella term that describes a lot of different programs that utilize similar strategies), and it's designed to take you from, well, total couch potato to someone who can run and complete a 5K (3.1ish miles) run in a respectable time.
Not bad, right?
This free mobile app gives you an eight-week program to follow with three workouts per week.
The first couple of workouts will be super, super easy warm-up style sessions just to get you moving.
By the end, you'll be running miles at a time without a break!
You can check out C25K here or grab it for free from your mobile provider's app store.
---
The best free sprinting / speed training workout – Men's Health Sprinter Workout
Maybe distance running isn't your thing.
(It's certainly not mine!)
You can, however, design a running workout to improve your speed, athleticism, and explosiveness instead.
When it comes to a free workout for increasing your speed, you'd be hard-pressed to beat this pretty thorough guide put together by Mens Health.
The article walks you through:
Warming up for speed work
Gassers
Interval Training
Downhill running for speed
Ladder workouts
Hill running
And how to put it all together and force yourself to progress week over week.
You'll have to take a little initiative with this one, and I kind of wish this information all existed within an app or a printable guide.
But it's free and effective if you can push yourself to follow the plan.
---
The best free calisthenics or bodyweight exercises workout plan – Reddit Bodyweight Fitness Routine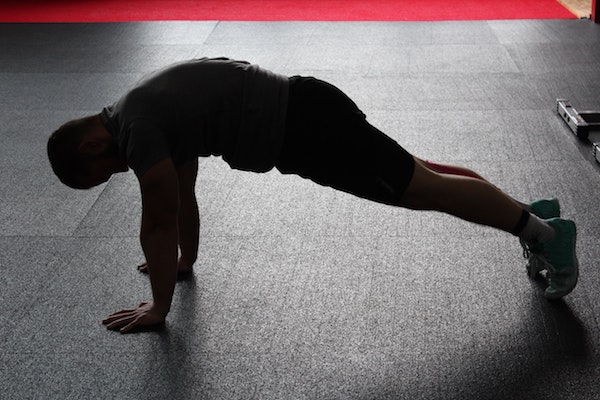 Calisthenics and bodyweight fitness are often used interchangeably, though calisthenics can technically include anything like running, sprinting, and cardio work.
(Check out my full guide to gym slang and fitness terminology.)
But in either case, I think working with your own bodyweight at home is one of the absolute best (and cheapest!) ways to get in fantastic shape if strength is your goal.
Plus, it's just super badass to be able to do lots of pull-ups and other more advanced movements.
This free routine put together by the community over on Reddit Bodyweight Fitness will take you from zero to bodyweight hero.
It's one of my favorites, and it's usually the first thing I tell people when they want a free program to follow, because:
It's crowd-sourced and tested by a ton of different people
It exists on Reddit, so no ads or upsells
The page is constantly updated with troubleshooting and FAQ answers
Once you get really strong on push-ups, bodyweight squats, pull-ups, rows, etc. you may graduate beyond this program and need something a little more challenging.
But you can continue to tweak it and progress toward more and more challenging movements for quite a while.
I highly recommend this if you're looking for a quick, free workout to do in your living room (though you may eventually want to invest in a pull-up bar and some other minor equipment).
---
The best free home HIIT & circuit training workout – J&J Official 7-Minute Workout app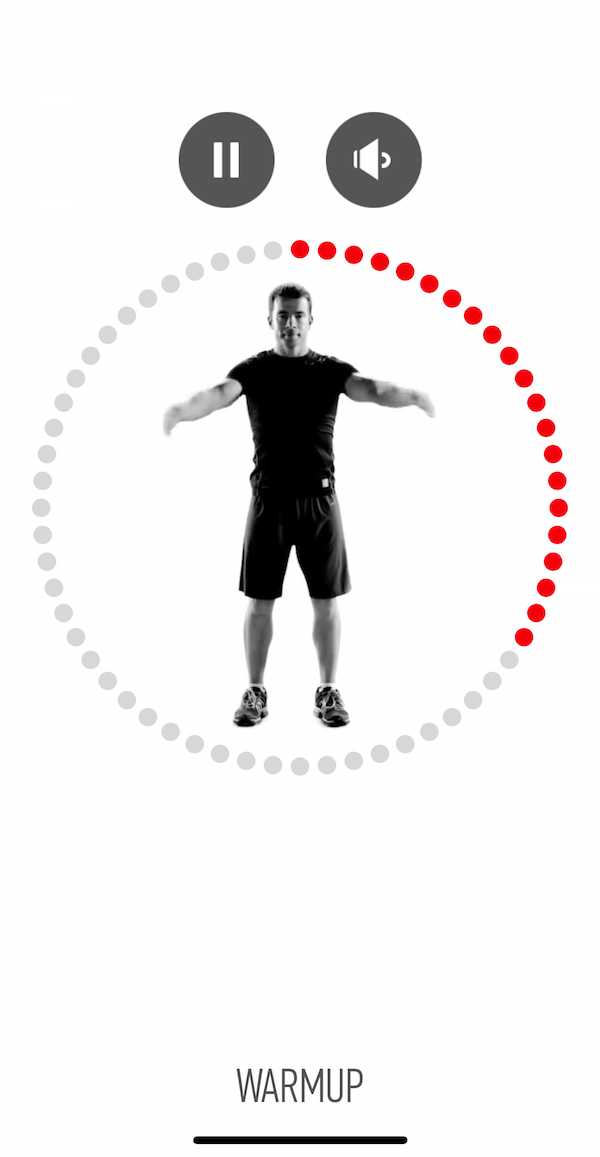 If it ain't broke, don't fix it!
The 7-Minute Workout app is the original home HIIT program, and has been around seemingly forever.
The completely free app walks you through (surprise!) 7-minute workouts utilizing a variety of bodyweight movements like:
Jumping jacks
Planks
Lunges
Air squats
Push ups
Wall sits
And more
Total, there are over 72 different exercises inside the app that can be shuffled up in a variety of ways, either using various presets, or slowly progressing to more and more difficult workouts.
The interface is incredibly clean and simple, and it hides a pretty impressively customizable workout experience underneath.
For short but intense workouts in your living room with no equipment (and no fees), you'll love this app.
(Search the app store for "7 minute workout" and look for the official Johnson & Johnson download.)
Here it is on the Apple app store.
High-end paid option: Check out a free trial of Beachbody on Demand for access to, literally, hundreds and hundreds of  home workout videos in every possible style your can imagine.
I love that their programs are each designed to walk you through a logical progression in a certain amount of time, from easy 3-day programs, to months-long body transforming journeys.
See my full review of Beachbody on Demand's streaming workout service here.
---
The best free strength training program (with barbells) – Nerd Fitness Beginner Guide to Muscle and Strength
This is actually the program that got me started.
There might not be anything in the fitness world more intimidating than learning to lift weights effectively at a gym for the first time.
Not only are you embarrassed of looking weak in front of other gym-goers, but you don't know how to use half of the equipment or which exercises to choose.
I recommend reading this entire guide put together by the folks at Nerd Fitness.
It explains everything you need to know to get started in excruciating detail, and includes an extraordinarily simple 3-day lifting routine anyone can start following immediately.
You'll start with the very basics like:
Squats
Deadlifts
Bench press
Pull-ups
And some core work
I did this routine for a couple of months just to learn the basics of the gym and how to lift weights.
From there, I figured out what I liked and didn't like and eventually moved onto other programs, but I'll always have a special place in my heart for the super, super simple free workout plan that started it all.
High-end paid option: When I was ready for something more specialized, I signed up for the Kinobody Warrior Shredding Program.
It's a low-volume lifting routine that comes with a detailed intermittent fasting and nutrition guide to help you get that lean, cut physique.
Check out my full Warrior Shredding Program results here.
---
The best free dumbbell workout plan – Muscle & Strength 3-Day Full Body Dumbbell Workout
In an ideal world, you'll want to incorporate barbells into your weight training.
They're awesome for learning how to lift propery and develop a ton of strength.
But dumbbells have their advantages! Most importantly, they're easier to keep at home or find when you're traveling.
So having a good, free dumbbell workout program in your back pocket can come in handy.
I like this one from Muscle and Strength, which uses a 3-day split and a good mix of exercises.
You'll do about 7 exercises per workout day, including:
Dumbbell squat
Dumbbell bench press
Curls
Dumbbell deadlifts and stiff-legged deadlifts
Dumbbell military press
And plenty more
It's a really good all around program that'll hit every muscle in your body over the course of a week, and I like that each exercises on the program page links over to a detailed description of exactly how to do that exercise properly.
It also tells you exactly how many sets and reps of each lift to perform.
If you're looking to get into strength training but like the flexibility working with dumbbells provides, definitely check this program out.
---
The best free weight-machine-only workout plan – JetFit Machine-Only Beginner Workout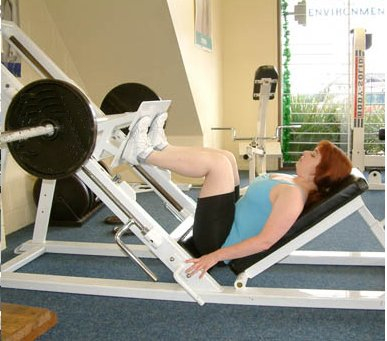 In general, I'm not the biggest fan of weight machines.
They do a lot of the stabilizing work for you verus lifting a barbell, and thus usually are a lot less effective for building strength and muscle.
However, they can be great for isolating specific muscle groups, and they're a lot more beginner-friendly than something like a power rack.
So if the weights section of the gym is still just a little too intimidating for you, check out this 3-day weight-machine only routine from Jet Fit.
It's a solid full-body routine that hits all of your muscles from a variety of angles a few times per week using only machines.
The program, which you can download as a printable, gives you all the sets, reps, and instructions you need for each machine exercise. Pretty cool!
You will have to learn how to use the Smith machine, which technically uses a barbell, but that's actually a great way to get more comfortable around free weights.
---
The best free, basic beginner's gym workout – Planet Fitness 30-Minute Workout
Want to just get your butt into the gym and do SOMETHING that feels productive?
You might dig this extremely simple 30-minute workout from Planet Fitness.
You'll warm up on the treadmill, hit a few resistance machines, use the stair climber to scorch some calories, and top it all off with some basic ab work.
It's an extremely approachable, time-efficient workout than anyone can do.
Just remember to kick the intensity up a notch when you're ready for more of a challenge!
(If you're a beginner, get used to the idea of Progressive Overload: You must lift more weight and/or more reps and/or with less rest over time in order to continue to see results. Doing the same exact routine with the same weights forever and ever will have serious diminishing returns!)
---
The best free yoga workout – 30 Days of Yoga with Adriene
Some of the best yoga routines out there right now are available for free on YouTube.
And one of the best known of all of the online yogis is Adriene, from Yoga with Adriene.
Her videos are fantastic!
You could simply hop around her channel and others, trying different yoga workouts as you find them, but for total beginners I'd recommend something a little more structured.
She recently created an amazing 30-day yoga challenge, complete with 30 videos that ease you into your practice and take you, eventually, into some intermediate and advanced stuff. It's a great place to start.
They're about 20 minutes apiece and ramp up in intensity as you go along.
You can download the entire video library for a donation of your choosing or watch each one individually via her website and YouTube channel.
---
The best free pilates workout plan – Verywell Fit 30-Day Beginner Pilates Program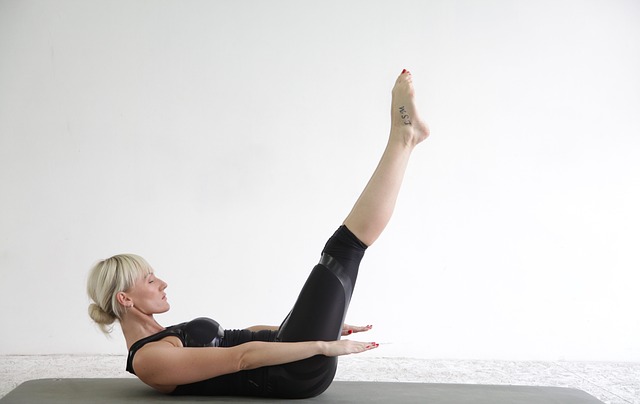 If yoga isn't for you, pilates might be a little more up your alley.
Pilates workouts focus on controlled, precise movements to strengthen muscles throughout your body.
There's a heavy emphasis on balance, flexibility, and core strength in pilates, and though many classes use a machine called a reformer, you can get a pretty awesoem pilates workout at home for free with nothing but a basic mat.
I really like this beginner pilates program from Verywell Fit. It breaks down exactly what to do each time for four straight weeks to take you from total pilates beginner to the intermediate level.
The program page gives you a nice overview, but you'll have to click through to the individual workouts, so be sure to save, bookmark, or print the overall guide.
---
The best free mobility, flexibility & stretching workout program – Refinery 29 30-Day Flexibility Fitness Challenge
Whatever kind of workout you choose to do (or even none at all) almost all of us could use some improved flexibility and mobility.
Being more limber and open helps with athletic performance, sure, but it also alleviates aches and pains as we get older, improves our posture, and improves our overall health.
If you're stiff and not sure what to do about it, give this free 30-day flexibility challenge from Refinery 29 a try.
You can view or print the calendar, which tells you which movements to practice each day for a month.
You'll spend a ton of time working on opening your hips, but you'll also limber up your shoulders, glutes, lower back, and more.
The interface isn't great, as the workout it housed inside an annoying slideshow full of pop-up ads, but the content is fantastic if you can print or jot down what you need to know.
---
The best free barre workout program – Barre Fitness Video Library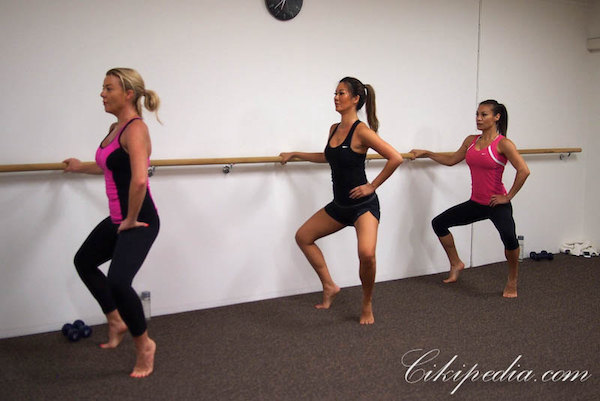 Barre is a fascinating style of exercise that utilizes ballet-inspired movements to strengthen and tone your muscles.
It's usually done in a studio with the use of a full-size ballet barre, but you can actually get in some pretty great workouts at home using some of hte same principles!
I had trouble finding a good course or program that guides you through the beginner stages of learning barre, but a good place to start might be the free workout video library over at Barre Fitness.
There are a ton of barre workout videos to choose from there, each about 10 minutes or so long, and you can simply work your way through the list at your own pace.
Shoot for around 3 barre workouts per week to allow your body time to recover.
The videos are free, which is amazing, but you might need some light dumbbells, resistance bands, and a stand-in for the ballet barre (some kind of surface to lean on and press againt).
---
The best free spin & cycling workout program – Shape 30-Minute Spin Workout
Stationary bike and spin workouts are an amazingly efficient way to scorch calories.
They're also really friendly on your knees and other joints, and can build strength in crucial tendons that prevent injuries and aches and pains.
Wahoo!
The only problem is, spin classes are pretty expensive.
If you have a bike at home, or want to develop a good plan to use the ones at the gym, start with this super basic 30-minute spin workout template from Shape Magazine.
It walks you through the very basics of creating a 30-minute spin routine, when and where to crank up the intensity, and where to dial it back.
It won't take you through a week by week progression, but if you continually dial up the difficulty as your fitness improves, you'll do just fine.
High-end paid option: If you want something a little more structured, and some more variety, try a free trial of Aaptiv.
It's a mobile app that streams workout videos for the treadmill, HIIT, ellipticals, and of course, spin bikes.
It's like taking a real-live spin class from the comfort of your home, or even on your own at the gym. People absolutely rave about the videos, and once your free membership runs out, you can get unlimited workout videos for just $9.99 per month.
Check out Aaptiv right here & start a free trial.
---
The best free elliptical workout plan – Daily Burn 30-Minute Elliptical Challenges
Much like stationary bikes, I think ellipticals are fantastic.
They're low impact, they completely obliterate calories, and (one thing that makes them unique), they're a full-body workout!
You can buy an elliptical for your home, but you're probably going to find it cheaper and more convenient to use the ones already at your local gym.
But what should you do once you step foot on the elliptical?
You can start with these 3 different 30-minute elliptical HIIT workouts from Daily Burn.
There's one for:
Speed & stability
Strength & endurance
And upper body, core, balance & stability
Try them all and work up the intensity each week as your fitness improves.
High-end paid option: I'd highly recommend Aaptiv here, again.
With your membership, you'll get unlimited access to tons of different elliptical workout videos, all of them high-energy, engaging, and easy to follow!
---
Wrapping Up
Having a plan when you hit the gym (or even workout at home) is a must.
Sure, you can pull up random workout videos on YouTube, but I really think having a structured system in place to challenge yourself more and more over the course of time is really important.
You don't have to spend a lot of money to do that! Any of the free workout plans are a great place to start, and they're all lightyears ahead of not working out at all!
That said, I do think there are some awesome benefits of paid workout programs.
Usually they:
Are better organized and easier to access
Include custom nutrition plans for best results
Walk you through weeks or even months of improving your performance, step by step
Have better production quality & more thorough instruction
I think you'll do great with a streaming service like Beachbody on Demand with its 70+ complete workout and nutrition programs, or an app like Aaptiv that brings spin classes and elliptical workouts directly to your phone.
But if you're just looking to get started, begin with a free plan and work your way up from there. That's what I did and I can't recommend it enough.
I hope this helps, everyone!