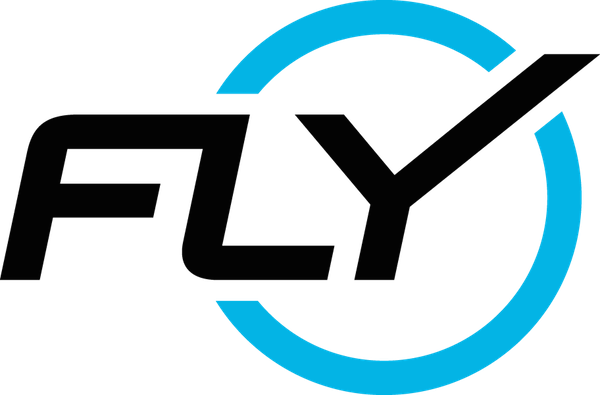 My wife is a serious spin nut.
She's been working out at CycleBar every week for about two years.
But I kept hearing more and more about this new studio called Flywheel that's apparently all the rage, so I sent her to check it out.
If you're wondering what a Flywheel class is like, how much it costs, and if it's worth checking out, here's our 100% honest Flywheel spin class review!
Overall, the studio near us had impressive size and amenities. The bikes weren't our favorite that we've tried, but the pricing and value are excellent if you bundle spin and barre classes. You can get pretty much everything you need fitness-wise with a membership here, which is a huge plus!
Now let's dive into a few more specifics. Is Flywheel Sports right for you?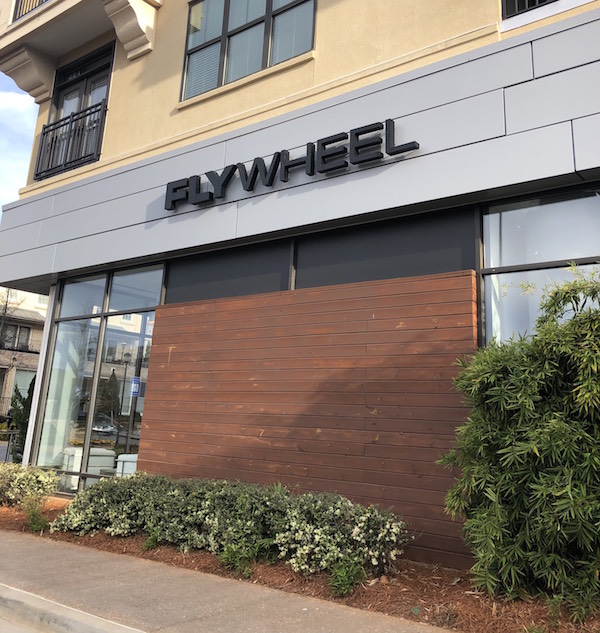 ---
What to Expect at a Flywheel Sports Spin Class
If you're thinking about giving this a try, but you're not sure if it's right for you or if it's worth the money, here's exactly what you're in for.
---
Before You Go
One thing that's great about Flywheel is that you book your class (and bike) ahead of time on their mobile app or on the website, both of which are super easy to use.
That means you're guaranteed a spot (unlike walk-in studios or classes held at big box gyms), and you can choose whatever available bike you want.
Grab one at the front or hide away in the back, it's all good!
How should you prepare for a Flywheel class? Other than booking, there's not much to do.
Wear some comfortable and breathable athletic gear and socks. Definitely don't wear baggy pants that might get caught up in the bike — go for shorts or something fitted.
They'll give you clip-in spin shoes when you get there.
---
When You Get There
When you walk in, an actual human will check you in at the front desk your first time.
(Once you're in the system and have been to a class before, you'll just do a quick check-in on an iPad they have set up at the front).
The instructor working at the desk will greet you and explain how everything works.
One thing we really liked — your shoes (in the correct size) are already waiting for you in a cubby that corresponds to your bike number.
It's a great touch and saves you time scouring for the right size. Plus it just feels really welcoming.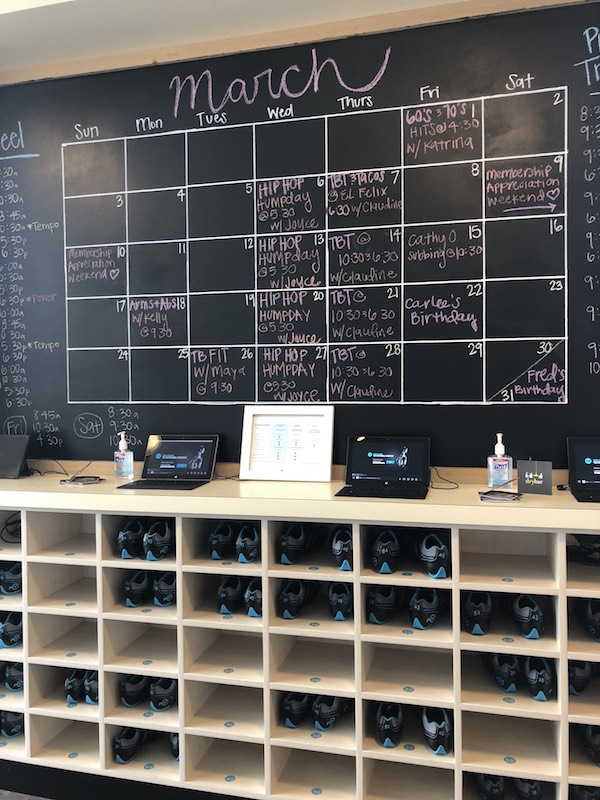 You'll find a pretty big and spacious locker room (unisex – so it's mostly just for getting your shoes on and off!) and some small combination lockers right outside the studio.
(For after class, they have plenty of private shower and dressing areas if you need it.)
There are also single person bathrooms, which is great — nothing worse than riding with a full bladder.
You'll also probably see a small shop with athletic gear and apparel somewhere in the lobby. A lot of it is REALLY nice stuff that's branded with the Flywheel logo, including a few pieces made by Lululemon.
One thing we noticed right off the bat was how clean and tidy the whole place was, which was really impressive!
Finally, I have to note that one super awesome thing about Flywheel is that there's a barre studio in the same building as the spin studio. (Barre classes are a cool hybrid of dance/ballet moves, strength training, yoga, pilates, and more.)
But for now, we're just here to talk about spin.
Heading into the studio (first, grab some fresh fruit and water from the lobby), friendly instructors came around to help you get set up on the bike and get clipped in (which was helpful, because the clip style wasn't what we're used to.)
Before you know it, it's time to ride!
---
During Class
So what's a Flywheel class actually like?
Once you're clipped into the bike and the instructor takes their place at the front, the lights go down and things start to ramp up.
Music: Expect a lot of upbeat pop and hip-hop; general Top 40 sort of stuff. The energy was great but the music wasn't particularly memorable.
Intensity: Like most spin classes, you'll get a little bit of everything here. After a warm-up song to get loose, you'll alternate between hill climbs (high resistance) and speed sprints.
We found that Flywheel, or at least this instructor, put us through a lot of sprints and not as many hills which was a little different from other classes we've taken.
Length: The class was Flywheel's 45-minute Method ride, which they describe as their signature high-intensity interval ride. (You can also sign up for Power and Tempo rides that offer different challenges.)
Arms: Much like CycleBar, Flywheel kicks things up a notch by including a song or so worth of arm work. How? Attached to your bike you'll find a 2-pound bar and a 4-pound bar (or combine both for 6 pounds).
You'll get a killer burn in your upper body from these while you ride, although if you have a strong upper body, you might be left wanting more of a challenge.
Scoring: Ah, the fun part! Flywheel has a big "scoreboard" at the front (called the TorqBoard) that ranks everyone in the class in real-time based on their performance.
Your Torq score is basically a combination of your average RPM and average gear, or in other words, how hard you're working.
(Men and women are ranked separately, which is a nice touch.)
On your bike, you'll have your own live read-out of your Torq score so you can easily see it and adjust your effort level, though we found the placement of the display on the bike a little bit awkward.
(Don't worry, you can opt out of competing on the ToqBoard if you want.)
What we liked:
Easy to see your Torq score and adjust effort
Men and women ranked separately
Lots of gears to choose from to fine-tune your resistance level
What we didn't like:
Bikes felt a bit outdated
Placement of display and water bottle holder on bike were a bit awkward
Music fun and upbeat but not memorable
Lots of speed, but not enough hill climbs
Studio felt very cramped and stayed dark most of the ride
All in all, my wife reports she burned about 371 calories during her 45-minute ride.
(You can expect to burn anywhere from 200-1000 calories during your Flywheel ride depending on how hard you push, your size, gender, etc.)
---
After Class
When all is said and done, you'll have gotten a great workout (and you'll probably be drenched in sweat).
Time to get unclipped and hit the locker room.
Again, if you just want to slip your shoes back on and head home, there's a unisex locker room area where you can sit down for a second and collect yourself.
There are also private showers and bathroom areas for anyone who needs to clean up immediately (so, yes, Flywheel would make a great pre-work or lunchbreak workout).
When class is over, you'll get all of your performance stats sent to your email. In your email and via an online dashboard, you'll be able to see:
Your total Power score
Calories burned
Distance cycled
Average speed
And more
If you really loved the Flywheel experience, you do have the option of bringing it home with you. You can actually buy Flywheel bikes and get their Peloton-style apps for a full spin experience in your living room, which is pretty cool if you can afford it!
---
Pricing (How much does Flywheel Sports cost?)
You'll want to check with your local studio to see exact pricing options, but based on our area, here's about what you can expect to pay:
4 classes/month – $84
8 classes/month – $152
Unlimited spin & barre – $200/month
You can also buy individual class credits (not limited to a single month) starting at around $23 per class, with bigger packages offering better rates.
PLUS, you can spring for memberships that are valid at multiple studios in your area, or even ALL Flywheel studios nationwide (for an extra fee, of course).
Flywheel definitely isn't a cheap option, but it's really cool how many different packages you can mix and match — if you like it, you're bound to find something that works for you.
And if you're into barre workouts, $200 for unlimited everything at one studio isn't a bad deal at all.
---
Flywheel Pros
OK, so ultimately, what did we like about working out at Flywheel?
The building is spacious, clean, and modern
Private shower areas are a plus and great for commuters
The barre studio on-premises — getting unlimited classes is a pretty great deal
Lots of pricing options for different kinds of riders
---
Flywheel Cons
That said, there were a few things it felt like Flywheel could improve on, or a few things that make it not the best fit for everyone.
It felt like "just a workout," with a bit of chain vibe rather than a "local/community gym" feel
Music was so-so: We really like classes with musical themes, and the schedule at our Flywheel didn't really have that
Bikes were a little awkward and outdated: The clip style was unusual, and the placement of the screen and water bottle threw us off.
Mostly speed focused: Not as much core work from steep hill climbs during class, and the weighted bars might be a little light for some people
---
Wrapping Up
Flywheel is popping up everywhere, and chances are your city or town has a few within shouting distance.
It's a great workout, and even better if you want to check out some of the barre classes they offer on-site.
Flywheel was a killer workout, and the studio was extremely convenient and well-kept, so if you're looking for an awesome calorie burn before work or on your lunch break, you could do a lot worse than Flywheel!
You can find your local studio and get more info on pricing over at Flywheelsports.com
Hope this helps, everyone.
(Also, check out my full comparison: Flywheel vs. Cyclebar)