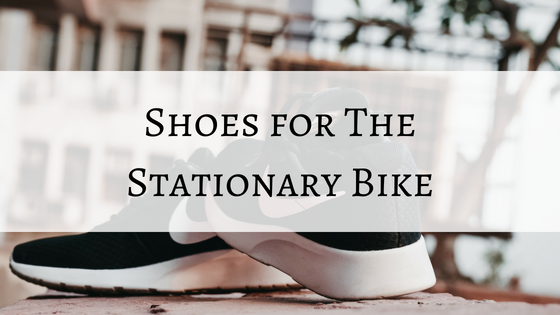 A stationary bike is a piece of equipment that you can find in most every gym.
Newer models often have everything from virtual reality screens (so you can pretend you're cycling through the French Alps!) to multiple options for resistance.
Considering how fun a stationary bike can be, you may even forget that you're working out!
But with the right shoes, you can have a more effective and comfortable cycling workout. Whether you're looking to pedal on the stationary bike in your home gym, or sweat out your frustrations at the new cycling studio downtown, having good spin shoes will take you to the next level!
Below, I'll go into detail on how to pick the best shoes for a stationary bike, but if you want a couple of quick recommendations, try these:
In the end, it is totally fine to wear normal gym shoes on a stationary bike. However, cycling shoes can provide a lot of value. If you're looking to get the most out of your workout, stay safe, and optimize your health benefits, keep reading.
---
What to look for when you buy shoes for working out on a stationary bike
Exercising on a stationary bike is a great way to improve your health. From reducing stress on your joints, to building muscle, and losing weight, you can adapt a stationary bike to your workout routine.
Stationary bikes often have two sides to the pedal. One side is flatter with a loop to hold it on your feet. For many people, this is thought to be the easiest way to pedal.
But it turns out…getting cycling shoes can help lock your foot into place AND make your workout more energy efficient. All you need to do is lock in on the OTHER side of the pedal!
How? A lot of pedals have spots that are more grippy for shoes with cleats. In the end, if you're not planning on using your stationary bike a lot, you may be able to get away with using regular sneakers.
But if you really want to add it as a major part of your workout, or become more invested in exercising on the stationary bike, the following factors are important to consider:
CLEATS:
Whether or not you want shoes specifically meant for biking is going to be your personal preference. However, if you do buy shoes made for your stationary bike, take the cleats into consideration.
Cleats are used on the bottom of the shoe to increase grip strength.
When using a stationary bike, shoes with cleats will help lock your foot into place on the pedal. Without having to worry about slipping, you can throw your all into your workout. This means that you can maximize energy efficiency in your pedaling, therefore increasing your power.
Cleats may be sold separately from shoes, so if you are looking for a shoe with cleats, remember to check. The most common type of cleats is compatible with the Shimano Pedal Design (SPD), a two-hole system that is designed to fit on pedals on most stationary bikes. There are also pedals that use a 3-hole system, which are compatible with LOOK Delta Cleats.
FIT:
To have the optimal stationary bike experience, it is important for your shoes to fit snugly and comfortably.
These shoes are generally more stiff and will not stretch with wear like other shoes might. Because of that, you want a fit where your toes still have some space at the end of the shoe. The toe box should be roomy enough for your toes to barely or not touch the end of the shoe at all.
Because of the repetitive motion of cycling, as well as the strain it might put on your body, the fit of the shoe should include arch support. Although cycling is relatively low-impact, it is important to make sure your foot is supported to avoid unnecessary pain or injury.
VELCRO VS. LACES:
For biking and cycling, Velcro straps are usually much better than shoelaces.
The Velcro straps will help ensure a snug fit while still giving you enough room to move comfortably. These straps should be thick, durable, and reliable so that they will not come unstrapped in the middle of an intense workout.
Laces are much more likely to get tangled up in the straps, leading to you needing to stop your workout to untangle them, or potentially yanking on your foot and causing harm.
SOLE:
For a good stationary bike workout, it is imperative that you have a grippy and stiff sole. It will make your workout more pleasant; after all, you don't want a sole that bends and flops around as you pedal!
The stiffer the sole, the less likely you are to feel cramping or soreness in your feet as you pedal.
A stiff sole also helps put all of your power into pedaling your stationary bike, rather than having your energy get sucked into the sole (hey, it happens)! Some recommend a sole that is made of plastic or fiberglass, although you may see other products used as well.
COMFORT & BREATHABILITY:
Nobody likes sweaty feet (or maybe they do, but I sure don't)! Breathable, comfortable fabric well help promote air flow during your workout. Not only will this make your feet more comfortable, and reduce the chance of blisters due to friction, but it will keep you from issues such as athlete's foot.
To recap, a good shoe for stationary biking will:
Have cleats for extra grip
(Normal shoes are fine for more casual workouts)
Be snug, but with a little extra room in the toe box
Use Velcro straps
Have a stiff sole
Breathe!
Now, here are 3 awesome cycling shoes that you might want to look into if you're ready to get serious about your stationary bike workouts.
---
1. Gavin MTB Indoor Cycling Shoes
Overview: Gavin MTB Indoor Cycling Shoes are perfect for use on anything from a stationary bike to a trail ride. These shoes are unisex and can be worn by men or women. The 2-bolt cleats are compatible with a variety of pedals, from MTB to SPD. These shoes offer a fiberglass-injected nylon sole.
Major Pros: When it comes to the Gavin MTB Indoor Cycling Shoes, the benefits include:
Affordability – whether you're new to using a stationary bike, or you're an avid SoulCycle extraordinaire, these shoes are accessible and affordable for all.
Breathability – these shoes are extremely breathable. To maximize this, these cycling shoes include mesh paneling and perforated, quick-dry insoles.
Durability – these shoes are well-made, with thick Velcro straps and a stiff sole. They hold up to frequent usage.
Major Cons: At the same time, there are a few negatives that you might want to consider:
Comfort – some people say that these shoes are too stiff. While you do want a stiff sole, the shoe itself should still be comfortable and have room for your foot to move around.
Fit – these shoes run slightly small, prompting people to have to go up a size. This can create worries about choosing the right fit or having a shoe that cramps toes.
Cleats not included – although these shoes are at an affordable price point, it does generally mean that cleats are not included and need to be bought separately. (Here's a basic and inexpensive cleat set on Amazon that should get you started)

Get the latest price & read real customer reviews of the Gavin MTB shoes on Amazon
---
2. Shimano Commuter Recessed SPD Cycling Shoe
Overview: The Shimano Commuter Recessed SPD Cycling Shoe is made of breathable mesh, with a suede upper and EVA midsole. They are designed with both cycling and walking in mind. These shoes come without cleats, but are compatible with SPD cleats (get some from Amazon here), and optimized for SPD and CLICK'R pedals. This particular shoe is made for men, although Shimano offers shoes for both men and women.
Major Pros: If you're considering buying Shimano cycling shoes, think about these major benefits:
Versatility – with its shock-absorbing midsole, these shoes work both on and off of a stationary bike. For someone looking for versatile shoes (and who may not be ready to go all-in on complete cycling shoes), these are a great option.
Durability – these shoes are made from mesh and suede, providing a high level of breathability while also making shoes that last. The ventilation on the shoes ensure your feet aren't sweating during your entire workout!
Major Cons: Although these Shimano shoes have their benefits, there are also some downsides to consider:
Sizing – when you're riding a stationary bike, you need shoes that fit. These shoes tend to run a little larger than normal, prompting a need to size down.
Laces – unlike other cycling shoes, these Shimano shoes have laces to close instead of Velcro. Although they are a cross between normal sneakers and biking shoes, this may be an issue for some.

Get the latest price & read real customer reviews of the Shimano Commuter shoes on Amazon
---
3. Pearl iZUMi Select RD IV-M Cycling Shoes

Overview: Pearl iZUMi is well-known in the cycling industry. These SPD compatible shoes (get some SPD cleats on Amazon to go with these) with a synthetic sole offer the look and feel of a professional cycling shoe at a reasonably affordable cost.
Although these shoes are at a slightly higher price point, they work with a variety of indoor stationary bikes. The anatomic closure system has straps that reduce pressure on your foot. This particular shoe is made for men, although iZUMi does offer women's shoes as well.
Major Pros: If you're looking for a great shoe for stationary bike use, consider the following benefits:
Comfort – the build of these shoes uses a rubber heel bumper and EVA foam, making for a comfortable experience both on and off of the stationary bike.
Compatibility – these shoes are compatible with SPD pedals, but also with road pedals (those with 3-slots). They will work on pretty much any stationary bike pedals.
Safety – these shoes will help keep your heel in place while pedaling your stationary bike, reducing the risk of unnecessary pain or strain on joints and muscles.
Major Cons: While there are benefits to the Pearl iZUMi Cycling Shoes, there are a few downsides as well:
Sizing – the biggest complaint about these cycling shoes is that they run incredibly small and overly tight, causing pain in the feet and toes.
Poor construction – some find it difficult to screw in the different types of cleats. Loose cleats increase the chance of slippage or injury during a workout.

Get the latest price & read real customer reviews of the Pearl shoes on Amazon
---
Wrapping Up
If you're using the stationary bike in your home or at the gym, you should definitely consider getting cycling shoes.
Although I understand the appeal of using the sneakers you already have, changing to cycling shoes can help maximize your workout.
Personally, I would spring for the Gavin MTB Indoor Cycling Shoes.
They offer breathability and durability, even during long, intense workouts. If you are looking for shoes that are more of a mix of regular sneakers and cycling shoes, though, consider the Shimano cycling shoe above, or others in the Shimano brand. They mix comfort with a design to improve your workout, while still being accessible for all.
Cycling shoes will help your feet stay in place, making your stationary bike workout more efficient while minimizing stress on your body. But to get the benefits, and reduce the potential for injury, you need durable, stiff-soled shoes that are made from high-quality fabric.
You can check out my top pick, the Gavin MTB Cycling Shoes on Amazon right here.
Hope this helps!