There's a new name in spin, and it's CycleBar.
You've probably seen more and more of these fitness studios popping up (there are now over 150 open across the country) to rival the likes of SoulCycle, Flywheel, and others.
But there's a twist.
The 'bar' in CycleBar actually refers to a weighted bar instructors use to incorporate a killer upper body workout into the cycling calorie-burn.
So it's not quite the same-old spin class you're used to. But does it live up to the hype?
Here's a hands-on, honest CycleBar review from someone who's been working out there for almost two years — my lovely wife!
(Full disclosure: I tried it once myself and it totally kicked my butt.)
Overall, a CycleBar class is an incredible workout in a friendly and supportive atmosphere. It's a little expensive to work out there regularly and won't fit everyone's budget, but the value, intensity, and sense of community are really second-to-none.
Here's what you should expect at your first CycleBar class, how much it costs to ride at CycleBar, and a few pros and cons to help you decide whether it's worth checking out.
(Plus, for a low-cost alternative you can do at home without equipment check out Beachbody on Demand. Use my link to try it free for 14 days and do amazing cardio, HIIT, yoga, and strength workouts in your living room.)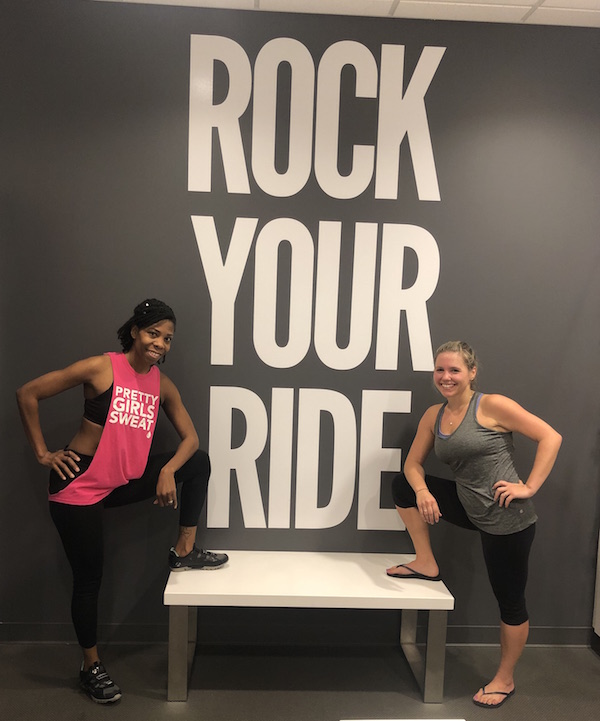 ---
What to Expect at a CycleBar Class
If you're considering giving this new workout a try, here's exactly what you're in for!
---
Before You Go to Cyclebar
It all starts with booking your class and reserving a bike.
This is a huge selling point right off the bat and really sets CycleBar apart from the spin classes you'll find at big box gyms like LA Fitness.
Through the CycleBar app or website, you'll reserve your class time and your specific bike in the studio, so you're guaranteed to have a spot.
You'll get an email reminder a day or so before your class, just in case you're prone to forgetting (or looking for excuses to skip your workout!)
When you sign up, you'll also get to pick a display name (we'll get to why in a minute), and you'll put in your height, weight, and other key stats so your bike can properly calculate your performance and calorie burn.
---
When You Get to the CycleBar
When you walk into CycleBar, you'll be greeted by someone at the front desk and you'll check in to class using an iPad.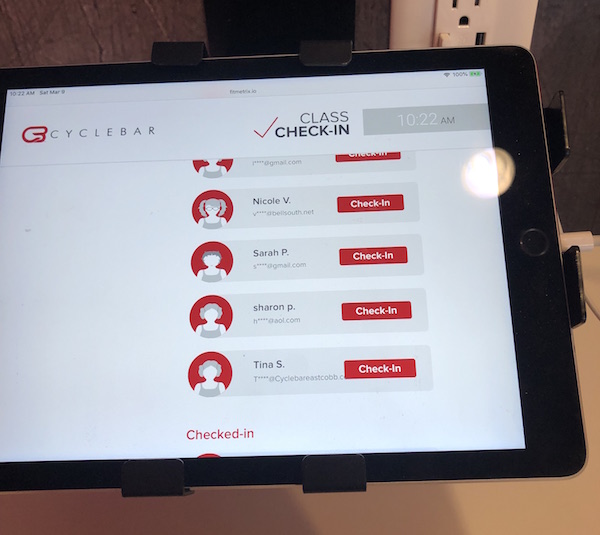 No need to bring your own spin shoes!
They'll have what you need there, stored in handy little cubbies.
You can grab a pair in your size after you check in.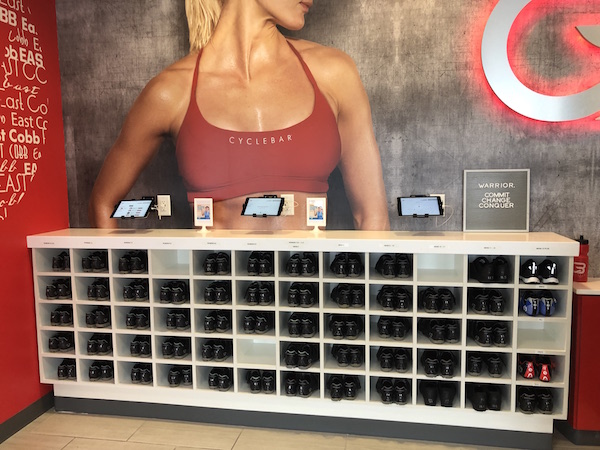 Newbies will also get a CycleBar water bottle to bring in to class (and keep!).
You'll get a chance to hydrate before your class, too — there's usually water and fresh fruit set up just outside of the studio.
If you need to change, you'll find a unisex locker room with private combination locks. There are also a few private bathrooms and showers.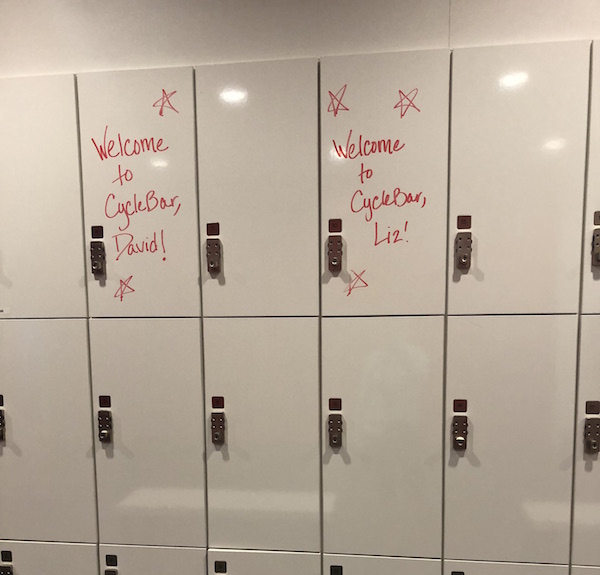 Before you head into class, you'll also see a really cool whiteboard (or redboard) wall with all the upcoming classes and themed rides handwritten on it, plus other notes and shoutouts.
The wall really gives the studio a personal feel and helps tone down the corporate-franchise vibe.
There's also a small display of some branded merch and non-branded athletic gear and accessories riders can buy.
But enough of that! You came to work out, right?
Let's step inside the studio.
---
During a CycleBar Class
A few minutes before class, you'll want to head into the studio itself to get ready.
It's dark and cool inside, with awesome dramatic lighting and a huge mirror at the front.
When you walk in, there's already upbeat music playing, building the excitement and getting everyone pumped.
There are a few rows of bikes — about 40 or so in total.
(My wife loves to grab a bike front and center, but there are also plenty of options in the back and corners if you'd rather not have extra eyes on you!)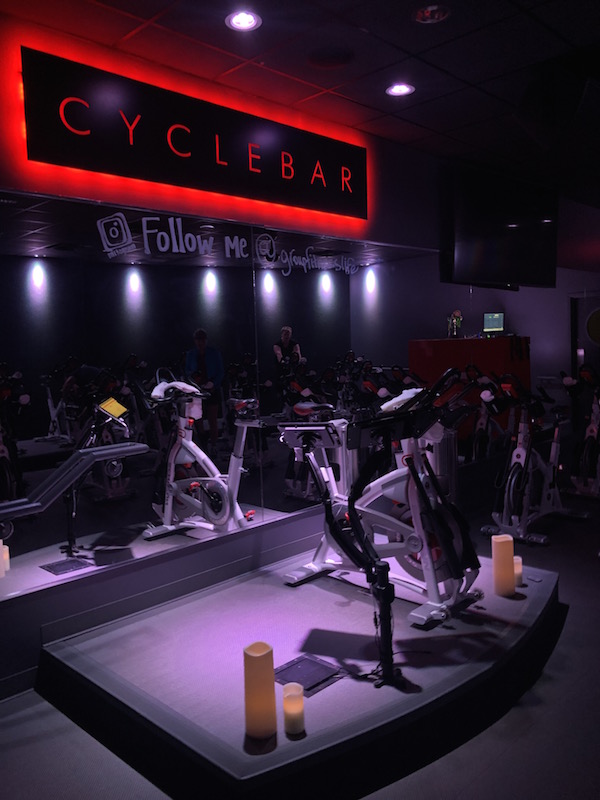 Before the ride starts, the main instructor (here, they're called CycleStars) and some others will come around and help you get set up on your bike.
If you're new, this is really reassuring! The bikes can be a little difficult to adjust to the right height, and getting your shoes clipped on properly takes some practice. But with an assist from a friendly instructor, you'll be ready to ride in no time.
Every instructor and class is a little bit different, but usually a CycleBar ride goes something like this — synced with killer music, of course:
A warm-up song – You'll pedal fast at a low gear to warm up your muscles and get your heart-rate up
Second song – The second song is often a "hill," meaning you'll stand up on your bike, ratchet up the resistance (higher gear), and do a slow climb.
From there, the rest of the class is a mixture of low gear sprints, high gear hill climbs, and everything in between.
The workout will be as intense as you make it! You're always free to take it slow when you need to.
A little more than halfway through the class, you'll get an "arms song" — you'll grab the weighted bar in front of you (choose 4lbs, 6lbs, or use both for 10lbs) and do some arm-burning movements while still pedaling.
Most classes finish off with a super-intense sprint.
Finally, a cool down song brings class to a close and you'll finish with some off-bike stretching.
Throughout the whole thing, you can choose to participate in CycleStats — meaning you'll see your display name and performance up on a big leaderboard at the front of class.
The board tracks your Power Points — a combination of your average gear and average RPM (basically, how hard you're working!) while accounting for height and weight.
It ranks everyone in the class in real-time for those who need that competitive push (but don't worry, you can opt out if you want.)
The sprint song near the end is a great time to make a final push and finish a spot or two higher!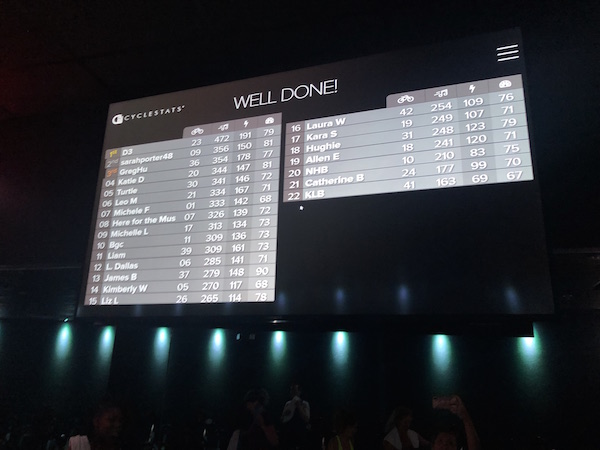 There are a few different ride options or class-types at CycleBar:
Classic ride – 45 minutes
Connect – 45 minutes (no leaderboard or points)
CB60 – 60 minutes
Endurance – 75 minutes
They mostly vary by length, though each instructor will choose different music and different levels of intensity based on the day.
(Oh, and if you're wondering — They say you can burn between 250-1000 calories per ride — my wife usually winds up burning about 400-600 per workout.)
Now, time to congratulate yourself for a job well done!
You survived your first CycleBar class.
---
After Your CycleBar Class
After such an intense workout and sweat, you'll be happy to know that CycleBar will have cold towels waiting for you as you walk out of the studio.
Ahhhh, that's better!
One of my wife's favorite things about our local CycleBar is the people — after class, there's almost always a group gathered to talk and laugh outside the locker room.
Depending on when you go, there might be snacks, wine, brunch, and other goodies on a table outside the studio for you to enjoy after your ride — which is a nice touch.
At the end of class, you'll also get an email with all of your performance stats so you can see how you did, and have some goals for next time.
(You'll get the playlist from class, too, if you were really digging the music!)
The locker room is coed, so it's mostly just for grabbing your things and throwing on some shoes.
There are a few private showers, though, and they'll have pretty much everything you need already stocked — shampoo, conditioner, body wash, bobby pins, hair ties, shaving creams, razors, you name it.
(If it was your first class, expect your butt to start hurting from the bike seat right about now. It's part of your initiation and should go away after your 3rd class or so!)
---
When You Join CycleBar and Start to Go Frequently
When you go a lot, you'll start to see how many cool events, special rides, and other membership perks they throw in to keep things fun.
Some of our favorites are:
Themed rides — Expect a lot of classes to have some kind of musical theme. It might mean the playlist is all 90s or all from one artist. The mashup classes are fun (like Janet vs Michael) and get lots of sign-ups.
Weekly events — There are a few special things our CycleBar does every week. Wine Down Wednesday (free wine after class), Happy Hour Fridays, and a brunch spread after class on Sunday morning.
Charity rides (CycleGiving) – Organizations and non-profits can book the studio for special rides where all the proceeds go to their cause.
Contests – CycleBar runs all kinds of contests at different times of the year — for example, if you do 12 rides in a month you can get some free merch; things like that.
Rewards – You'll get a special hat or other type of merch for your 100th, 200th, or 300th ride, plus a balloon on your bike during birthday rides!
Different CycleBar locations do things a little differently, but that's a taste of the fun stuff they're doing near us.
---
Is CycleBar on ClassPass?
Yes!
Almost every single CycleBar location near me is featured on ClassPass.
So is Flywheel and even a few SoulCycle studios if you want to mix things up.
(Or read more on how this all works: Is CycleBar on ClassPass?)
---
Pricing — How Much Does CycleBar Cost?
You'll want to check with your local studio to find the exact pricing in your area, but ours breaks it down like is:
Single class (called a "drop-in") – $22
10 pack of classes – $180
20 pack of classes – $340
If you put your payment on auto-renew, you'll get a better rate:
4 rides/month = $59
8 rides/month = $109
Unlimited rides/month = $149
There are almost always special rates and promotions going on, so chances are you can get a good introductory deal depending on the time of year.
Also, keep an eye out for referral bonuses when you bring in a new rider.
---
Pros (What I Love About CycleBar)
There's a lot to love about this place! (That's why my wife has been a loyal rider for about two years now)
It's accommodating to all skill levels. The staff here are so friendly and helpful — they want to get to know everyone and make sure every rider is comfortable. You can push yourself to your absolute limit at CycleBar, but it's also a great environment to hang back and ease into things until you're feeling more confident.
The music and playlists are amazing. It's really fun to get the song lists after class and replay them later.
Really high calorie burn! If you push it, you can burn 400-600 calories or more per workout.
The arm and core work. CycleBar is more of a full body workout than most spin classes. The weighted bar will really help build strength in your arms, and your core will get a serious challenge from standing on the bike during hill climbs.
The leaderboard. It's not for everyone, but it can give you that extra push to really challenge yourself — especially near the end of the workout.
Tons of class times. Our local CycleBar has a great selection of morning and evening classes to choose from.
---
Cons
It's a great experience and a great workout, but there are a few things that you should be aware of before signing up for CycleBar:
It's expensive. The studios offer a ton of value and a great community, but it won't be in everyone's budget — especially if it's not your only fitness expense (yoga classes, a gym membership, etc.)
Sore butt! There's an adjustment period getting used to the bike during your first couple of classes. But that's true of any spin class.
No dedicated locker room and few showers. You'll get pretty sweaty at CycleBar, and sometimes there aren't enough showers for everyone on busy mornings. (But they've been nice enough to let my wife use the employee shower in a pinch.)
---
Wrapping Up
After nearly two years of working out at CycleBar, my wife keeps on going back because of the awesome intensity of the workouts, the incredible results, and the relationships she's formed with the instructors and other riders.
You don't get that everywhere!
At roughly $15-20 a class (depending on which package you buy), it can become a pricey endeavor to work out there frequently. But it's a great investment if you respond well to the high-energy environment (and if you could use a little push from the leaderboard).
I also recommend trying Beachbody on Demand for equipment-free home workouts. Try it free for 14 days and you'll get hundreds of workout programs to choose from!
Hope this helps!
(And be sure to check out my full comparison: Cyclebar vs. Flywheel)