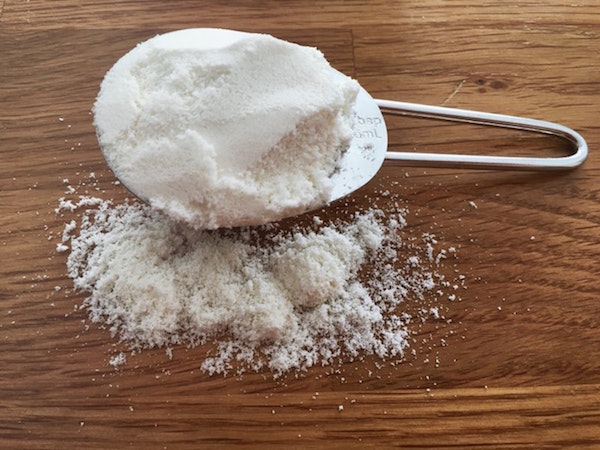 If you are looking to get into shape before summer, for a special occasion, or just to live a better, healthier lifestyle, you may be looking into protein powders to add into your diet.
Protein powders allow you to replace your meal (or supplement a meal) with a protein-packed shake that helps you meet the amount of protein you need to build strength and muscle.
If you're reading this article, chances are that you have thought about trying a protein powder but aren't sure what brand is going to be the best for you. Let me simplify the process for you!
For my money, the best protein powders for beginners to try are:
Let's take a closer look at what every beginner should consider when buying their first protein powder.
---
What To Look For When Shopping For Protein Powders
As a beginner, you are going to need to know a few things before buying your first protein powder to ensure that you are getting a product that is going to do what you need it to do.
With a wide selection of protein powders on the market, it can be very intimidating trying to research each product.
Let's look at a few things to remember when choosing a protein powder.
What is protein powder used for and who needs it?
Protein powder is usually used to make a shake for meal replacement or to supplement a meal.
Basically, it's a relatively inexpensive and convenient way to get a large amount of protein, really quickly.
To build strength and muscle (or maintain muscle mass on a cut or weight loss phase), you'll need a pretty good amount of protein every day — somewhere around .8 to 1 grams per pound of bodyweight.
Protein powders aren't necessary, as they're obviously not the only way to get that much protein into your diet, but they are convenient and often less expensive than buying lots of lean meats and other sources.
What should beginners look for in a protein powder?
Beginners should look for a couple of different things before pulling the trigger:
Source & form of protein: In most cases, you'll get the most benefits from Whey protein vs other kinds (like casein, plant, pea, etc.) You'll also want to look for powders that contain at least some protein isolate, one of the purest forms and highest concentrations of protein.
Protein per serving: Keep an eye on this number to figure out how each supplement will fit into your overall diet and protein intake needs. 20+ grams of protein per serving is common. Lower than that and the supplement may have too many fillers.
Price: You may not want to immediately spring for the highest-end protein on the market. If you don't enjoy supplementing with protein or don't like the taste, you won't want to be stuck with an expensive tub you have to finish or waste.
What's a good budget for protein powder?
A good budget is going to depend on how much protein you are going to need and what brand you want to go with.
Most respectable protein powders go for about $10-$20/lb — a tub of protein powder will be anywhere from 1.5 to 5 pounds.
If you're taking a protein shake every day, a tub will usually last you somewhere around a month. But the range can vary greatly by the size of the tub and how many protein shakes you're having every day.
What should you avoid?
This will be a personal decision and will depend heavily on your goals and how much protein powder you use.
For example, if you're relying heavily on protein powder as a significant piece of your diet every day, you may want to avoid low-quality supplements with lots of fillers, added sugar, or too many artificial sweeteners.
If you're just trying protein powder for the convenience, and want the flexibility to add in a quick shake here and there for a boost of protein and amino acids, you'll be fine with a more budget-friendly approach.
(Related: What are protein farts? And how to prevent them!)
Now let's take a look at some great protein powders you can try if you're just getting started.
---
Best budget protein powder for beginners: BSN SYNTHA-6 Ultra Premium Protein Matrix
Overview: BSN is a really well-thought of brand in the supplement game, and their entry-level protein formula is a great one to start out with.
The price is fair and friendly but still gets you a good quality protein powder. Some of the cheaper options than this one have to cut corners on quality and ingredients — something you may want to avoid if your shakes will be a big part of your diet.
There's only 2-3 grams of sugar in each serving, though (with the help of a little artificial sweetener) this supplements packs a taste-whallop. Users rave about how much they love to drink it.
Source & Form: Mixture of whey protein concentrate, isolate, and others
Protein per Serving: 22g
Why I Like This Protein Powder for Beginners: The "protein matrix" included in this supplement is really cool.
Getting really pure, high-quality whey protein isolate is great if you can afford it, but as far as less expensive options go, a blend like this has some nice benefits.
The milk protein, egg protein, and casein proteins in this powder all have unique attributes and benefits, making this a good all-around choice for beginners.
I also love that this one is affordable and has great taste. That's pretty much exactly what you want when you're first dipping your toes in the water.
Potential Drawbacks: There's a good amount of artificial flavoring via sucralose and other synethic flavors.
For some, that's part of why this tastes so great without having extra sugar. For others, the taste is too overpowering.
Some people also don't like to consume artificial sweeteners on a daily basis.
Check the current price & read real user reviews of BSN SYNTHA-6 on Amazon.
---
Best mid-range protein powder for beginners: Optimum Nutrition Gold Standard Whey Protein Powder
Overview: For those with a slightly higher budget looking for a higher quality protein they can really make a part of their lifestyle, Optimum Nutrition protein is by far one of the most popular and highest rated protein powder on the market.
This supplement uses high-quality whey and only 1-3 grams of sugar per serving along with a very mild dose of sucralose.
What you give up in some flavor with this supplement, you more than make up for with a clean tasting product that's good for your body.
Source & Form: Whey protein isolate, concentrate, and peptides
Protein per Serving: 24g
Why I Like This Protein for Beginners: There's a lot to love about this supplement.
Each scoop has over 5 grams of naturally occurring BCAAs which are fantastic for gym performance and muscle recovery.
I also love that the powder is instantized (meaning the manufacturer has used one of many methods to make the powder more soluble), which means you're way less likely to get clumps when mixing it into water, milk, or smoothies.
Finally, you have to appreciate that the product caters to elite athletes — it's been tested for banned substances. If it's good enough for the pros, you should feel pretty good about taking it.
Potential Drawbacks: It's a good thing that this protein is light on sugar and artificial sweeteners, but for some people, that means a sacrifice in taste.
The price point here is also higher than a lot of competitors.
Check the current price & read real user reviews of Optimum Nutrition whey protein on Amazon.
---
Best high-end protein powder for beginners: Isopure Zero Carb Protein Powder
Overview: If you're looking for a protein powder with zero carbs and a low-calorie count, look no further than Isopure's Zero Carb Protein Powder.
Packed with 25g of protein, 100 calories, and 0 carbs in every scoop, this protein powder is perfect for those who are looking to lose weight while gaining muscle.
I'm pretty on the record saying that carbs aren't bad, but you do need to moderate or restrict them in order to eat enough protein and not go over your calorie goal for weight loss.
That's what makes this powder an awesome option for beginners, especially those looking to slim down and get toned.
Source & Form: 100% pure whey protein isolate
Protein per Serving: 25g
Why I Like This Protein for Beginners: Where to start?!
This supplement is made from 100% pure whey protein isolate, making it among the best quality options you're going to find anywhere.
I also love that there are no carbs — none! — in each and every serving. It really helps you keep your calories down while getting the protein surge you need to build or maintain muscle mass.
It also makes this protein a perfect candidate for those on low carb or Keto diets.
This is a really high-quality product you could feel good about adding to your daily diet.
Potential Drawbacks: The Isopure protein has a sodium content of 240mg per scoop which equates to 10% of your daily recommended intake. Depending on your current diet, this will be something that you need to take into consideration.
Users are also extremely mixed on the taste. Some enjoy the mild sweet taste of this no-carb supplement, others absolutely detest it. Your mileage may vary!
Check the current price & read real user reviews of Isopure zero carb protein powder on Amazon.
---
Wrapping Up
Protein shakes are a totally optional supplement, but they have some awesome advantages.
Namely, they're usually cheaper and more convenient than buying and cooking other high protein sources like lean meats.
When you're trying to hit your protein intake and macros in a pinch, they can really help!
If you're just getting started, I probably wouldn't shell out big bucks yet until you know if you can stomach having a protein shake every day.
My best recommendation would be to go with a budget-friendly option like BSN SYNTHA-6 (Amazon link) and try it out before eventually upgrading to something a little more high-end when you're ready.
Hope that helps, everyone, and good luck!