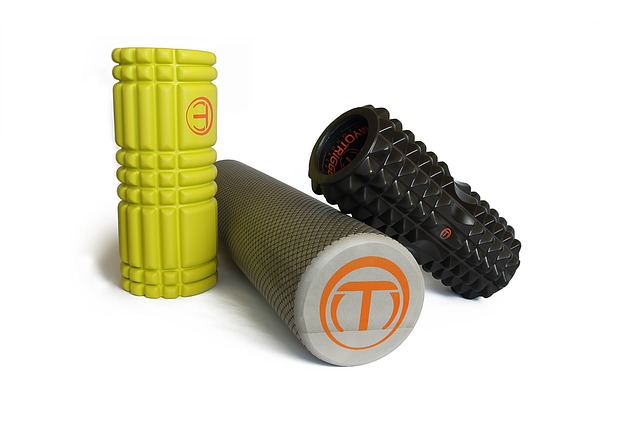 Foam rollers are a fantastic accessory that can help with all kinds of aches, pains, and workout recovery problems.
They're great for:
acupressure
relieving muscle pain/ myofascial release
relieving muscle cramps
fibromyalgia
trigger points
myofascial adhesions
knots
abdominal training
And so much more!
Interested in using a foam roller but not sure where to start or what to expect?
Searching for foam rollers can be confusing to newbies, as there are many different types and each one is geared toward a specific use. Let me simplify it for you!
For my money, the best foam rollers for beginners are:
Now let's take a little bit of a closer look at how to buy your first foam roller.
---
How to choose your first foam roller & what to look for
Taking care of your body is more than eating right and going to the gym.
While you have probably heard of foam rollers, you may not have heard of one of their main uses: "myofascial release."
Myofascial release is simply the act of relieving tension in your body, by rolling out tight muscles with a foam roller.
This concept is easy and helpful, especially when a professional massage isn't an option (due to time constraints, budget, etc.) or when you hope to quickly recover from overtraining or injury.
Foam rollers can also be used to assist in relieving chronic pain conditions, including:
back and neck pain,
fibromyalgia pain
myofascial adhesions
trigger-points
marathon-related aches and pains
overtraining discomfort
and as a health tool to target acupressure points
Think of using a foam roller as a therapeutic, easy self-massage that can be done right on your yoga mat, at the gym, the track, or at home!
The most common types of foam rollers are:
Low-Density Foam Rollers:
If you could reach through your computer screen and feel a low-density foam roller, it would be the lightest and bend to your touch.
Low-density is ideal for treating muscular pain, therapeutically, with a low level of rolling related discomfort. According to the experts, low-density is designed to work out any knots in your muscles and treat trigger point pain directly.
Other types of foam rollers can be deep and intense, in the same way a deep-tissue massage is.
If you prefer a firm, deep touch, this might not be the right type of foam roller for you, but if you want to start slow and build up your resistance, this is a good foam roller for a beginner who is sensitive to the touch.
---
Firm & High-Density Foam Rollers:
A firm foam roller will not yield to your touch and is dense enough that you can sit on it.
It provides concentrated myofascial release and if you opt for intense sensations after powerful workouts, this type will be best. If you're someone who prefers deep tissue massage, you will also prefer this roller type.
Be aware of how you feel during the session and after. Be on-guard for subsequent pain, which might mean you went too deep.
Also, notice any jaw clenching or facial tension- all signs that you may need a softer variety of foam.
---
Bumpy or Knotted Foam Rollers:
If you look at a bumpy foam roller and think "OUCH!", then it may not be right for you.
Other times, athletes and those looking to target tension points on the body, prefer knotted rollers as they can quickly find the right spot.
Similar to the sensation of a chair massage, these pointed rollers are great on shoulders and the mid back.
They are helpful for trigger points and specific muscle tension.
---
Short Foam Rollers:
Short foam rollers were not created for a specific kind of intensity, as all varieties of firmness can be in found as long or short rollers.
Short form rollers are simply 'short', so you can reach more delicate parts of your body more easily.
They're easy to store in your home, training facility, or office, as they take up less space.
Some people opt to use short foam rollers as a carry-along item when traveling.
Ideal for neck muscles, quadriceps, and pinpointed specific areas that a longer roller would struggle to reach (such as the underarm, etc.)
---
Medium-Density Foam Rollers
If the above descriptions didn't sound quite right for your purposes, then medium-density might be right for you.
These rollers are great for stretching and massage tension. You can lean in, to make the sensation deep, or ease off to lighten the experience. A medium foam-roller is an excellent choice if you have back pain.
---
How much should a beginner spend?
Buying a foam roller won't break your piggy bank.
You can purchase discount foam rollers for under $10.
However, just as the cheapest car may not be the best, try and spend $10-$25 for a middle of the road roller and $25-$65 for the best foam rollers.
---
Best Budget Foam Roller for Beginners: LuxFit Foam Roller
Here's what I like about this roller:
High density
Full 10 Year Limited Warranty.
Available in 4 sizes (12, 18, 24, 36 inches).
Molded propylene foam.
This is a great budget pick for beginners who are just getting started with foam rolling.
The ends of the roller are molded, for comfort and ease.
It is firm and will target muscle groups well, while helpful video instructions on use will be sent to the purchaser's email address once you buy.
Purchase the 24' variety if you're interested in using the product for abdominal strength training!
If you're tall, purchase the longer size, while short and medium-sized people might be happy with mid-sized (or smaller) versions.
Here's what I don't like about this roller:
Some users might find this roller a bit too firm.
It's a good option for beginners, but you may eventually want to change to something lower-density that better suits you.
(Conversely, you might find it's a perfect fit for you!)
Some users also found the speckled texture of this roller to be a nuisance as the flecks of paint got caught on their clothes.
Check the current price and read real user reviews of the LuxFit Foam Roller on Amazon.
---
Best Mid-Range Foam Roller for Beginners: OLIVIA & AIDEN Foam Roller Set
Here's what I like about this roller:
High-density & extra firm
Handy carrying bag with drawstring
Includes some fun extras for more mobility and recovery work
This 13-inch high-density roller has the added bonus of a carry-bag and spiky peanut rollers which help massage the back so you can avoid straining your spine and vertebrae.
The color-coded resistance bands are a great addition for extra mobility work (and are great for workout recovery, too). Start light and build-up strength and resistance gradually over time.
Choose this roller if you want to focus on hip, neck, shoulders, groin, and armpit.
Here's what I don't like about this roller:
The extras that come with this roller may not be necessary if you're just getting started.
Some users were also disappointed to find that this roller doesn't come with any instructions or videos on how best to use it and the other massage and band accessories.
Check the current price and read real user reviews of the OLIVIA & AIDEN foam roller set on Amazon.
---
Best High-End Foam Roller for Beginners: RumbleRoller Textured Muscle Foam Roller
Here's what I like about this roller:
Knotted surface
3 Year Warranty
Chemical, latex, and phthalate free
Variety of sizes available
If you love massage but not the cost of hiring a massage therapist RumbleRoller is an on-demand, convenient alternative.
It's a little pricier than the other options on this list, but this roller is worth the cost, as it feels closer to having a massage than using a roller.
Its patented design means that its goal is to give you optimal help for your muscles, while its texture is top of the line.
This roller comes in 3 sizes (Full: 31 inches. Mid: 22 inches. Compact: 12 inches) and is latex free, free of phthalates, lead, and other chemicals.
Waterproof and non-absorbent, you can sweat all you want and your roller will stay clean and fresh!
Here's what I don't like about this roller:
This roller is also quite firm. Some users love it, while others found it too intense for their liking. Be aware that if you have sensitive skin and muscles, this might be a little much for you.
The price point is also somewhat of a drawback here.
It's a great foam roller, but there are less expensive options, especially if you're new to these kinds of products and aren't sure if you'll stick with foam rolling.
Check the current price and read real user reviews of the RumbleRoller foam roller on Amazon.
---
Wrapping Up
As with any new exercise or treatment, it's always a good idea to talk to your doctor and make sure a foam roller is right for your particular condition.
But for most people, using a foam roller can be a great addition to your workout routine and used as aftercare for sore muscles!
While it can be difficult to start a new habit, using a foam roller consistently is important. To increase your success, try and use your foam roller at the same time daily (usually after a workout).
My top pick for beginners just getting started with foam rolling would be to go with a good all-around and budget-friendly option like the LuxFit foam roller on Amazon.
You can always upgrade to a higher-end model down the line once you know what you like or try different densities. But if you're just getting started, you'd be hard-pressed to find a better entry-level foam roller for the price!
Hope this helps!