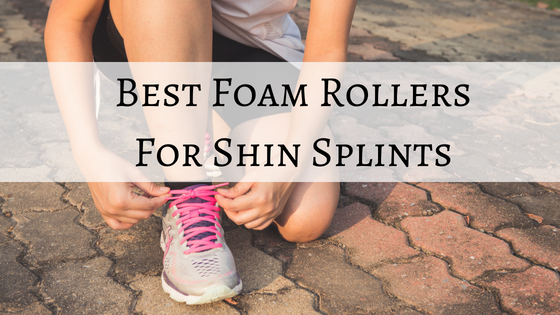 A common exercise-related issue, shin splints can develop after any intense physical activity…
… even just from getting back into the gym after a long break.
If you've dealt with this uncomfortable feeling, you know that it can put quite a damper on your exercise routine.
But by buying the best foam roller for shin splints, you can not only alleviate sore muscles, but also perform self-myofascial relief.
Myofascial relief – what? Even though it sounds intense, this is just a way of using the foam roller to hit pressure points and give yourself a massage! When you're able to loosen up a little before a workout, you'll see increased flexibility and better balance. For those suffering from shin splints, a foam roller can be a great way to lessen that pain.
(Before we dive in further, here's a quick summary of my top picks:)
Image
Product
Details

LuxFit Premium

Budget-friendly
Lightweight
Extra firm

Check on Amazon

321 Strong

Great for deep-tissue work
Can withstand 500 pounds of pressure
Firm feel

Check on Amazon

My Pick

TriggerPoint GRID

Many sizes available
Specifically designed for injuries & pain
Great durability

Check on Amazon
---
What to look for when buying a foam roller for shin splints
Shin splints basically refer to any pain or discomfort coming from the area of your shins.
It happens when the muscles, bones, and tendons in your legs become tired and overworked. Unfortunately, this can happen for a lot of reasons – maybe you changed your workout routine for the first time, or maybe you wore an old, unsupportive pair of sneakers to the gym.
Regardless, shin splints cause a huge problem for athletes (and gym-goers) by making any physical activity seem unpleasant.
Foam rolling can be super helpful for shin splints by reducing inflammation, decreasing stiffness, and increasing mobility in your shins. By rolling out from just under your knee to just above your ankle, you can relieve the pressure of sore muscles, making for a better workout. A lot of people tend to associate lower-leg pain with their calves, but addressing shin pain is equally as important!
When trying to find the best foam roller for shin splints, there are a couple things to take into consideration:
Size – foam rollers differ in size from tiny, portable rollers that can be taken on vacation (travel-sized, anyone?) to rollers that stretch one or more feet long. For those with a high level of workout pain and discomfort, a foam roller of a minimum of 1-foot in length is recommended.
Stiffness – foam rollers can be made of a softer material, or can be very stiff with a harder exterior designed to pinpoint a deeper muscle massage. For some beginners to foam rolling, the stiff ones can be more painful, so it might be good to start soft and work your way up!
Portability – some people want a foam roller to use at home, but some want to be able to take it with them wherever it goes. If portability is important to you, consider buying a foam roller that is durable, compact, and lightweight.
Design – while some foam rollers are straightforward and simply designed, others are made to pinpoint certain muscles, reduce spinal pressure, or provide a more unique roll. If you're looking for a special alleviation of muscles, consider a foam roller with a unique design.
(And don't miss my guide to buying a foam roller as a beginner.)
---
Best Budget Foam Roller for Shin Splints: LuxFit Premium High-Density Foam Roller
Overview: This affordable foam roller from LuxFit is a perfect way to help with sore muscles. Durable and built from modeled polypropylene, this roller is extra firm to work out even the most persistent shin splints and muscle aches. The LuxFit Premium High-Density Foam Roller is water-repellant, smooth, and available in three sizes.
Weight: 7 oz.
Sizes Available: 6 x 12 inch, 6 x 18 inch, and 6 x 36 inch
Why I like it: The LuxFit Premium High-Density Foam Roller can be the option for those who require a firm touch. This foam roller is a great option because:
It has a no-frills, straightforward design. This foam roller is designed to be durable, sturdy, and well-suited for all body types. Although some design can be good for foam rollers targeted for the back or other muscle groups, the simple design of the LuxFit is meant to keep its shape – and work out your sore muscles – no matter how many times it is used.
It is a great choice for all body types. Because it is built to be extra firm and sturdy, the LuxFit foam roller suits people of all shapes and sizes! Because foam rollers are great for stabilization and muscle strengthening, the LuxFit is able to provide health benefits for everyone who uses it.
It comes in multiple sizes. Whether you work out at home, at the gym, or as a traveling athlete, the LuxFit foam roller has a size that suits your needs.
Potential Drawbacks: Although the LuxFit foam roller does offer a multitude of benefits for users, it also has a few potential drawbacks, including:
Extra firm isn't for everyone. For the first-time foam roller user, an extra firm roller may be a little too much to handle. Although foam rollers are meant to stimulate and soothe sore muscles, one that is too stiff (to start off with) may be painful. A foam roller can sometimes be uncomfortable, but should never hurt.
It doesn't include directions. While some people may not need directions for their foam roller, others find it soothing or helpful to be able to have a guideline on how to use the product. As of the last few years, the seller has not been providing directions.

Check latest price and reviews of the LuxFit roller on Amazon
---
Best Mid-Range Foam Roller for Shin Splints: 321 Strong Foam Massage Roller
Overview: A mid-range option from 321 Strong, this foam roller comes in a variety of bright colors to bring a "pop!" to your workout routine. A medium-density roller, the 321 Strong foam roller is made from high-quality EVA foam. Backed by a lifetime warranty, you never have to worry about the 321 Strong foam roller giving out on you.
Weight: 1 pound
Size: 5.5 x 13 inches
Why I like it: As a medium-density roller, the 321 Strong foam massage roller is one of the best foam rollers for shin splints because:
It is built from sturdy, high-quality material. 321 Strong's EVA foam is designed to withstand up to 500 pounds of body weight and pressure and has a core that is sturdy and built to survive even daily use.
Its unique design simulates a deep tissue massage. This foam roller has three distinct massage zones – the "thumb zone," the "finger zone," and the "palm zone," to mimic the feeling of getting a massage from a massage therapist. These three zones offer different intensities of pressure so that you can choose how hard – or soft – you want to roll out your muscles. This way, when working on your shins, you won't put too much pressure.
Potential Drawbacks: The 321 Strong foam roller is a great option, but some folks may take issue with:
Only one size offered. While you don't need a variety of foam roller sizes to address shin splints, some people might find this foam roller to be too small (or too large).
The ridges and spikes for the massage don't go all the way around. In the design of the 321 roller, about 25% is covered by grooves/massage zones, followed by 25% of smooth surface, then a repeat of the grooves and the smoothness. While some may enjoy the ability to have both a massage roll and a smooth roll, others may find it frustrating that the spikes do not encompass the entire roller.
Check latest price and reviews of the 321 Strong roller on Amazon
---
Best Higher-End Foam Roller for Shin Splints: TriggerPoint GRID Foam Roller
Overview: TriggerPoint GRID foam rollers are high-quality and well-known throughout the fitness world. These GRID foam rollers are standard density and constructed of EVA foam over a hollow core.
TriggerPoint rollers come in a variety of lengths and sizes, from the Original GRID (featured; 13 inches) to the GRID 2.0 (26 inches), the GRID Mini (4 inches) and more. Their patented design offers a product suited to reduce the soreness of your shin splints and strengthen your muscles to avoid future issues.
Weight: 1 pound
Size: 5.5 x 13 inches
Why I like it: This quality foam roller from TriggerPoint is perfect for addressing your shin splints because:
It is specially designed to address injuries and pain. When you're dealing with shin splints, you don't want a foam roller that will cause you to wince in pain. The TriggerPoint GRID is built to simulate a massage from a certified massage therapist. With firm foam and a multi-density surface, the TriggerPoint foam roller is meant to help work out all kinks.
It comes in various sizes. TriggerPoint offers the travel-friendly GRID Mini, the extra-dense 13-inch GRID X, and more. Anybody looking to roll out their muscles and shin splints at any point, whether traveling or at home, will have an option to carry with them.
It is extremely durable. The build of the GRID roller means that it can withstand up to 500 pounds of pressure on it. Built with high-quality EVA foam, it will also hold up through the years and through multiple uses.
Potential Drawbacks: Of course, the TriggerPoint GRID also has some potential drawbacks for users, including:
It has a hollow core. While some may like the hollow core, it is more susceptible to cracking or breaking down the line.
It is a more expensive option. Foam rollers generally cost between $6 and $50, a wide spread! The TriggerPoint is one of the higher-priced options. While this can signal quality, it can also be somewhat off-putting.
Check latest price and reviews of the TriggerPoint GRID roller on Amazon
---
Wrapping up
If you're suffering from shin splints and shin pain, you're not alone, and there are a ton of foam rollers on the market designed to help you out. Rolling out your shins can lead to more mobility, flexibility, and muscle strength for the future – and less pain for you!
In terms of the above options, I would say that the best foam roller for the money would be the TriggerPoint GRID. Although one of the pricier options, the special design and varying densities of the GRID provide an option for everyone.
Being able to choose the density of your roller means that you won't struggle with a product that is too hard or too intense for your muscles. Plus, the fact that TriggerPoint offers sizes is helpful as well.
Plus, for those just getting into foam rolling, the helpful instructional videos from TriggerPoint that come free with the foam roller mean that your sore shins will be feeling better in no time!
Get the full specs & read customer reviews of my top recommended foam roller, the TriggerPoint GRID on Amazon