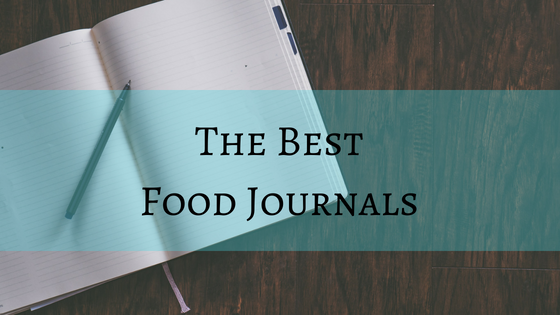 Based on my research and experience, I think the best food journal for most people is the Life & Apples Journal on Amazon. It's sturdy, well-designed, and has some great in-depth tracking options for calorie counting, weight loss, and fitness journaling.
However, having a really good calorie counting app on your phone is a lot more convenient and practical these days! If you're looking for an on-the-go option, you can't do much better than MyFoodDiary — it's extremely robust, easy to use, and accurate!
Read on for some more options and to learn how I chose my picks.
…
Getting into shape can be frustrating.
Sometimes you feel like you're exercising and eating well, but you're just not getting to where you need to be.
That's where keeping a food journal comes in!
Really good food journals help you track what you eat and drink, how you feel, and even sometimes what exercises you're doing.
Why is that important? Tracking this information can help you see what food mistakes you might be making. Plus, a 2008 study found that people who keep food journals lose 2x as much weight as people who don't.
If that sounds like exactly what you need, here are my top picks for the best food journals:
Image
Product
Details

Daily Food Journal

Simple & lightweight
Budget-friendly

Check on Amazon

Fitspiration Journal

Sturdy & durable
Mood tracking
Excellent value

Check on Amazon

My Pick

Life & Apples Journal

Tons of pages
Eco-friendly
In-depth tracking options

Check on Amazon
---
What makes a great food journal?
A 2012 study from the Journal of the Academy of Nutrition and Dietetics found that women who kept food journals lost 13% of their body weight, compared to 8% for non-journalers.
But a food journal can be great for men and women!
A food journal can keep you accountable. Sometimes we "forget" to think how much we ate that day. Sometimes we don't count calories as much as we could. But your awareness of your health – and eating habits – gets better with a food journal.
(There are lots of apps that can do this, but if you're like me, you'll do way better with something real you can hold in your hands.)
So when you're looking for the best food journal to fit your health needs, consider these factors:
Entry space – you want to be able to follow your food and fitness goals. A food journal that doesn't have a lot of space can make it hard for you to accurately track your intake. You want a journal that has good writing space and a lot of pages.
Size – sometimes remembering your food intake can be difficult. But depending on the size of your food journal, you may be able to carry it with you. Having it on you will make it easier to track what you're eating.
Material – you want your journal to be as strong as you are! Buying a food journal made from high-quality material means it won't fall apart.
Helpful guidance – your food journal should help you towards your food and fitness goals. Some great food journals offer food tips, tracking tips, or even exercise suggestions.
Let's take a look at some of the best picks on the market that fit our criteria.
---
Best Budget Food Journal: Daily Food Journal
Overview: The discreet and compact Daily Food Journal provides easy-to-use pages to jot down your food and water intake. You can also track calories and activity. This durable journal offers 192 pages.
Weight: 7.7 oz
Dimensions: 4.5 x 0.5 x 6 inches
Why I Like It: An affordable and easy-to-use journal, we think that the Daily Food Journal is a great choice.
It includes introductory tips for food journaling. Starting to fill out a food journal for the first time can be daunting. This guided notebook opens with eight tips to start you on your journey.
Think you're already a pro? Even experienced journalers can use some great tips sometimes!
The Daily Food Journal is compact, so you can take it with you wherever you go.
It's easy to carry and fits into a purse. If you struggle with remembering what you've eaten, being able to take your journal with you will be a huge help. Plus, this little black book looks sleek and elegant.
Remove the "Daily Food Journal" slip from the cover and nobody will even know you are tracking your food intake!
This economical journal also offers enough pages to track 3 months of food.
The 192 pages have areas to track meals, calories, water intake, and daily exercise. If you need a long-term look at what you're eating and drinking, the Daily Food Journal can help.
Potential Drawbacks: The pages are fairly straightforward. There is enough room to track the names of food, calorie counts, and the names of exercises. But there's not much space to expand.
Experienced journalers, or those who want to track additional information like mood or portion size, may find this difficult. Because of its compact nature, the Daily Food Journal is also not super sturdy.
The binding is not strong, with some reviewers noting that pages fall out. A provided bookmark can also be lost if separated from the journal. This could lead to losing progress or valuable information.

Check price and read more reviews of the Daily Food Journal on Amazon
---
Best Mid-Range Food Journal: Fitlosophy Fitspiration Journal
Overview: The Fitlosophy Fitspiration Journal blends food journaling with health tips and motivation.
Offering a daily gratitude section, this journal wants to empower you physically and mentally. It offers 114 entries, enough to track around 16 weeks worth of progress. The Fitspiration Journal has three separate covers that journalers can choose from.
Weight: 14.4 oz
Dimensions: 6.5 x 0.8 x 8 inches
Why I Like It: The Fitspiration Journal focuses on both mind and body wellness. Sometimes people forget that what's going on in our heads can influence how we're eating.
By making people address intake, as well as mental health, this journal opens people up to changing their whole lives!
The Fitspiration journal empowers people through health tips, daily inspirational quotes, and areas for reflection.
There are also numerous spaces to track exercises, food and water intake, and more. This is great for expanding on basic information. It can also help show people how their moods or other factors might be affecting their eating.
This can be extremely helpful in the long-run as well.
One of the perks of tracking things like moods or other factors can show people concrete reasons why they do some of the things they do. It presents a roadmap for change. Fitspiration Journal gives 16 weeks of tracking, allowing for people to start seeing any patterns in their habits.
Potential Drawbacks: According to certain reviewers, the quality of the Fitspiration Journal is not very high.
Although the inner pages are crisp and clean, the book cover and binding have some cosmetic issues.
In addition, this book may focus more on the mental aspect of fitness and eating than the physical.
It does offer a lot of areas for tracking and reflection, but the areas for mental reflection and mental health may provide more space that food tracking. For people specifically looking for help with food intake, this might not be ideal.

Check price and read more reviews of the Fitlosophy Fitspiration journal on Amazon
---
Best High-End Food Journal: Life & Apples Food Journal and Fitness Diary
Overview: The Life & Apples Food Journal is a daily wellness planner designed for healthier living. It's designed for both men and women. The journal is high-quality and offers 240 pages for tracking.
This food journal and wellness planner offers best practices based on research on health, diet, and psychology.
Weight: 13.8 oz
Dimensions: 8.4 x 5.9 x 0.9 inches
Why I Like It: The Life & Apples Food Journal combines all of your tracking and wellness needs into one.
This journal provides a food journal, a meal planner, workout schedules, weekly progress reviews, habit trackers, and even a section for daily gratitude. Mental health plays a role in physical health.
So it is great to see Life & Apples addressing that! The different sections make journalers have to think about their choices.
The journal is guided, which is great for new journalers and seasoned journalers alike. It can help to keep you on track. But it is also great for noting bad eating or fitness habits and learning to correct those.
Plus, Life & Apples provides five free ebooks, a weekly meal planner, recipes, and a complete guide to meal planning with every journal.
Life & Apples is also a sustainable company, which is awesome.
Their Food Journal is made with vegan and eco-friendly materials. Their commitment to a happier, healthier life extends to how they make their products.
Potential Drawbacks: Although this journal offers the most pages, it still only tracks three months worth of information.
Some people may find the additional wellness information helpful, but for those just looking to track food and fitness, paying for additional superfluous pages seems unnecessary.
In addition, it is unclear how durable this journal is. We appreciate the fact that they use eco-friendly materials! But we're not sure if they will hold up as well as other options.

Check price and read more reviews of the Life & Apples journal on Amazon
---
Wrapping Up
Keeping a food journal can be incredibly helpful for health goals. Luckily, there are a LOT of choices out there depending on your needs.
For me, I would say that the best food journal would be Life & Apples Food Journal and Fitness Diary. Although just slightly more pricier than the other options, the Life & Apples Food Journal provides help for both mental and physical health.
This food journal gives space to track moods, intake, exercise, and more. It offers journalers the ability to create goals and to follow those, meaning you'll never forget what you're working towards. The additional ebooks and supplies are also a huge value-add

Head to Amazon to get the full specs and read customer reviews of my top-recommended food journal, the Life & Apples Food Journal.