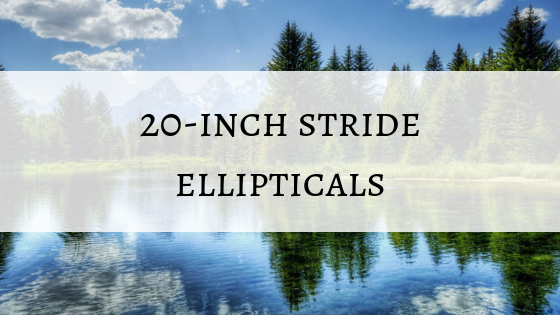 After reading through hundreds of user reviews and spending hours researching elliptical features and stride length, I think the best 20-inch stride length elliptical is the SOLE E35 on Amazon. It has an amazingly sturdy build, rich feature set, and an adjustable stride between 20-22″ for taller riders.
Read on for some more great options and to see how I chose my top 3.
…
Working out an elliptical has an absolute TON of benefits.
For starters, it's one of the most efficient calorie-burning workouts around.
Second, it's super low impact and great for joint and muscle health!
But… only if you're using your elliptical properly.
If you're looking for an elliptical for your home, don't overlook stride length while you're shopping. If you're especially tall or short, you'll want to pay extra attention to this number to ensure a good fit and a safe workout.
For most people, a 20-inch stride elliptical will be perfect. If you're somewhere between around 5′ 4″ and 6′ 5″ tall, here are the best elliptical machines for your home:
Best Budget Elliptical: Nautilus E614 Elliptical
Best Mid-Range Elliptical: NordicTrack C 7.5 Elliptical
Best High-End Elliptical: SOLE Fitness E35 Elliptical Machine
Image
Product
Details

Nautilus E614

20" fixed stride
Lightweight build
Smaller weight capacity

Check on Amazon

Nordictrack C 7.5

20" fixed stride
Compact footprint
Great value for the money

Check on Amazon

My Pick

SOLE E35

20-22" adjustable stride
Sturdy & durable
Amazing feature set

Check on Amazon
---
A Quick Guide to Elliptical Stride Length
Stride length on an elliptical machine is pretty much what it sounds like.
It's a rough measurement of the length of your natural stride according to your leg size and/or height, and when using the elliptical it's the maximum distance between your feet at the peak of the elliptical's range of motion.
It's important to get this right for a few reasons, the main one being comfort. If you've ever tried to use an elliptical, stationary bike, or other workout machine that wasn't calibrated for your size, you know how weird and uncomfortable it feels.
Second, using an elliptical with the wrong stride length can cause injury, especially if you need to overextend your legs to accomodate a stride length that's too long.
So do you need to measure your legs or your own stride before you buy an elliptical? In most cases, no. Here's a simple guide to how to choose the right stride length on an elliptical:
Stride length = 16 to 18 inches: This is ideal for shorter users, or riders under 5′ 3″ or so. You may also want to consider a shorter stride length machine if you're a little taller than this but have noticably shorter legs.
Stride length = 20 inches: This is the standard measurement and the most common stride length (below, I'll show you the best ellipticals around with this stride length). It should be comfortable for most people. If you're over 5′ 4″ and under 6′ 5″ or so, 20 inches should be perfect.
Stride length = 22+ inches: If you're extremely tall or have very long legs, you might want to buy an elliptical with a stride length of greater than 20 inches. Machines are available all the way up to 26″, but for most people (even you extremely tall ones!) 22-24 inches should be plenty.
Stride length = adjustable: This is the best option for multi-rider households. It's also a good safe bet to get an elliptical with customizable stride length if you're right on the border of the limits mentioned above (if you're right around 5'4″ or 6'5″, it might be nice to have some wiggle room).
If you're not sure which measurement you need, I'd recommend getting a rough measurement of your natural stride for comparison.
But even better would be to head to a local fitness equipment store or even your gym and try out some real-life ellipticals to see how they feel on different settings.
Now let's get into my top picks!
---
Best Budget 20-inch Stride Elliptical: Nautilus E614
Overview: I've written about the Nautilus E614 before simply because it's a fantastic, budget-friendly elliptical (that also happens to be quiet and great for homes or apartments).
If you're looking for an awesome 20-inch stride elliptical but don't want to spend a lot of money, this is one of my top picks. I'd seriously recommend not scraping the bottom of the barrel and picking up an elliptical under $300. The Nautilus blends a friendly price tag with excellent quality and a 20-inch stride length that should make most riders quite comfortable.
Stride Length: 20 inches fixed
Footprint: 71″ length x 28″ width x 71″ height
Why I Like It: For the price, you get a lot of value with this elliptical. Just a few of the awesome features included are:
built-in speakers
dual LCD displays
USB charging
and a fan to cool you off during your workouts!
The Nautilus E614 also comes with 20 levels of resistance and 22 different pre-set workout programs, which should keep you busy and engaged for a long time to come!
Reviewers on Amazon love how sturdy this machine is for the price and how quietly it operates.
It's smooth, easy to use, intuitive, and offers a great at-home workout to new and experienced riders alike.
Potential Drawbacks: Beware if you're planning on assembling this yourself, as it may be a bit of a chore. I'd opt for expert delivery on Amazon unless you've got some time and expertise to devote to an afternoon of assembly.
The Nautilus E614 can technically handle up to 300lbs of weight capacity, but many reviewers write that 225lbs is a more realistic cap. If you're heavier than that, you may want to invest in a bulkier model.

Check price and read more reviews of the Nautilus E614 on Amazon
---
Best Mid-Range 20-inch Stride Elliptical: NordicTrack C 7.5
Overview: NordicTrack is one of the best names around when it comes to ellipticals, and the C 7.5 is sure to not disappoint.
For a bit of a step up in price from the Nautilus above, you get the same comfortable stride but lots of extra features and a higher-quality of design and construction. Like the Nautilus, it's a front-drive elliptical that packs a ton of power while maintaining a small footprint, not to mention quiet operation and a smooth ride. That's a recipe for a fantastic home workout anytime you want one.
Stride Length: 20 inches fixed
Footprint: 67.1″ length x 30″ width x 69.1″ height
Why I Like It: Looking for an elliptical that fits your stride but also packs plenty of useful features? You'll love the C 7.5's:
26 built-in workout apps designed by a personal trainer
Super smooth riding motion
22 resistance levels (change with a single touch)
0-20 degree incline
Reviewers online love the quiet operation of this machine, with some even reporting they use it in their bedrooms and the upper levels of their home without issue.
If you're up for putting it together yourself, you'll be pleased to know that the parts and hardware come nicely organized and ready to roll.
Finally, this is a super sturdy machine. It weighs around 220lbs itself and easily lives up to its advertised weight capacity of 325lbs.
Potential Drawbacks: Reports vary on how easy this thing is to put together. Some reviewers wrote that they did it themselves in about an hour. Others spend an entire day with a team of two and struggled to get it done. Your results may vary, but if you're concerned about it, spring for the expert delivery.
Some users also had maintenance issues and complaints about NordicTrack customer service.

Check price and read more reviews of the NordicTrack C 7.5 on Amazon
---
Best High-End 20-inch Stride Elliptical: SOLE Fitness E35
Overview: If you're willing to drop a little more cash, there's a lot to love about the SOLE E35.
The primary stride length on this elliptical is 20 inches, but can be adjusted to 22 inches for slightly taller riders. That makes this machine an awesome fit for almost anyone other than very short users. The elliptical itself is also relatively short in stature (though long), which makes it a good fit for shorter ceiling rooms.
Perhaps the biggest value-add of buying this higher-end elliptical is the warranty, with a lifetime guarantee on the frame and 5 years on parts!
Stride Length: 20-22 inches adjustable
Footprint: 83″ length x 27″ width x 58″ height
Why I Like It: Here are just a few of my favorite features of the E35:
Adjustable 20-22 inch stride length
Gorgeous 7.5 inch LCD display
Built-in-fan
Long and comprehensive warranty
Adjustable pedals
Ultra quiet operation
375 pound weight limit
Heavy, powerful 29lb flywheel
So as you can see, this is pretty much a top of the line machine in every aspect. It's heavy duty, powerful, durable, and has the warranty to back it up.
It has all essentially all of the features you could possibly want in a home workout machine, with exceptional design and usability to boot. This is a club-level elliptical and one of the best around at an affordable consumer price.
Potential Drawbacks: The E35 doesn't have as many preset programs as some competitors, and some reviewers wrote that the overall resistance levels felt lighter than NordicTrack ellipticals.
The biggest drawback of this machine is the price, which comes in signicantly higher than the other options on this list.

Check price and read more reviews of the SOLE E35 on Amazon
---
Wrapping Up
The vast majority of people are going to find a 20-inch stride length to be a perfect fit on their home elliptical machine.
If you're very tall or very short (over 6 foot 5 inches, or under 5 foot 4 inches) you may want to consider taking a look at some ellipticals with stride lengths that can better accommodate your legs for a comfortable and safe workout.
If you're unsure, look into an elliptical with an adjustable stride length!
One important thing to note is that ellipticals are outrageously complex machines with lots of small parts and inner workings. They can be prone to issues during assembly and maintenance problems down the road. While I firmly believe that the Nautilus E614 and the NordicTrack C 7.5 are fantastic machines, plenty of reviewers online have had their issues with those models.
So for that reason, I would probably save up and spring for the uber-high-quality SOLE Fitness E35. Far fewer people have had problems with that model, it's got some of the best design and quality in the entire industry, and the warranty is unmatched.
Get the full specs and read customer reviews of my favorite 20-inch stride elliptical, the SOLE E35 on Amazon.
Hope this helps, everyone!