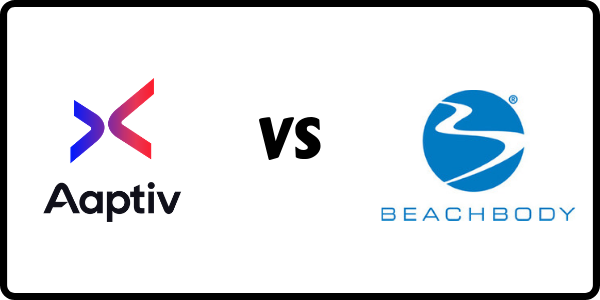 Who needs a personal trainer?
These days, between workouts on YouTube, Netflix, Hulu, and more, you can pretty much always find an awesome workout to kick your butt, whenever and wherever you need it.
But me? I do like to have a little structure to my workouts — knowing what I'm doing every day and why.
That's where workout apps and streaming services come in handy.
In this article, I'll break down two of the most popular fitness apps: Aaptiv vs Beachbody on Demand.
Overall, Aaptiv is a more flexible and versatile app. It features plenty of workouts you can do at home with no equipment, but you can also take these audio-guided workouts to the gym with you for a great burn on the elliptical, treadmill, or in the weightlifting area.
Beachbody, however, is an awesome choice for working out at home. And I love the full workout programs that you can follow for weeks or months at a time — they even come with detailed nutritional guides!
Read on to find out a little more about the differences and prons and cons of each of these apps.
Image
Product
Details

My Pick

Aaptiv

Thousands of individual audio workouts
Great for in-gym workouts
Starts around $8/month

Start Free Trial

Beachbody on Demand

60+ video workout programs
Best for at-home fitness
Starts around $8/month

Start Free Trial
---
What is Aaptiv?
Aaptiv is a mobile fitness app that gives you access thousnads of audio-guided workouts in your pocket, whenever you need them.
When you sign up, you'll input a little bit of information about your fitness and preferences, and Aaptiv will build a custom workout schedule for you.
For me, they suggested two days of weightlifting with lots of yoga, walking, and stretching worked in.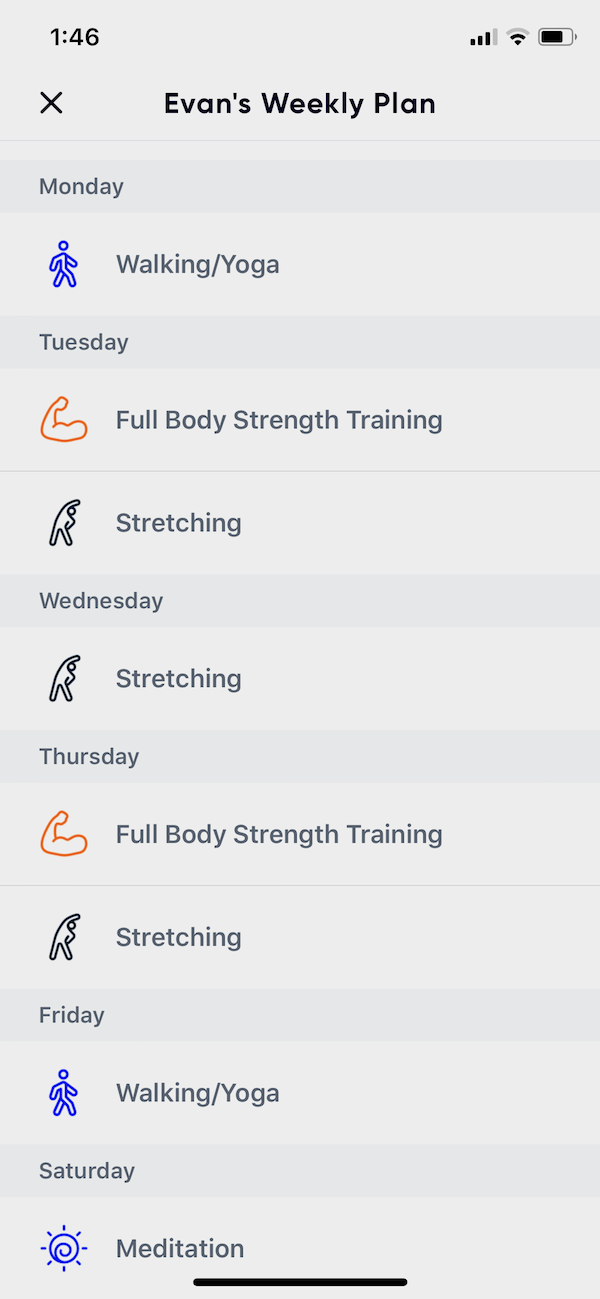 You can change or customize the workout plan any time you want, but it's a nice starting point that will hold you accountable to your goals!
From there, you'll have dozens and dozens of choices for your individual workouts.
If it's Thursday and it's time to pick a strength workout, you can scroll through and choose from a ton of options based on:
What equipment you'll need
How long the workout is
What kind of music the workout is set to
And individual trainers
Besides these individual workouts that align to your schedule, you can also join specific programs that help you reach a goal like:
Train for a 5k
Train for a half marathon
Touch your toes in two weeks
Etc.
Pretty cool!
To read a little more detail on what Aaptiv has to offer, check out my full hands-on Aaptiv review
---
What is Beachbody on Demand?
Beachbody is all the rage right now!
You can't look anywhere on social media without seeing their coaches, or your friends, sharing their workouts and progress.
And while the marketing behind Beachbody can be a bit aggressive for my taste, I can't argue with the results:
It works.
At the heart of Beachbody is its streaming workout service Beachbody on Demand.
Once you sign up, you'll have access to thousands of individual workouts, spread across over 60 expert-designed programs.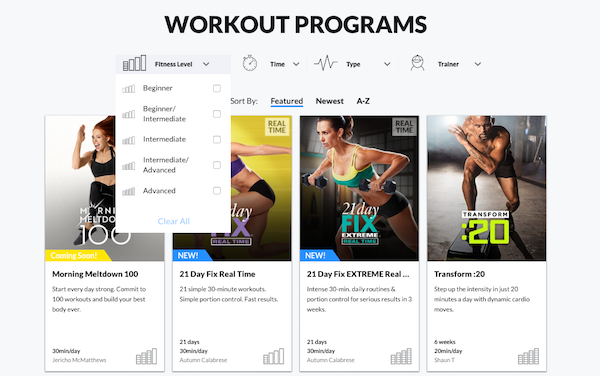 The workouts come in video form and are designed to be done at home with some (but minimal) equipment.
The comprehensive programs are my favorite thing about Beachbody. You can choose programs as short as a week, or as long as a couple of months, that challenge you more and more every workout, like:
Dance cardio
Yoga
Strength
Booty-building
Bootcamps
And more
The programs also come with EXTREMELY detailed nutritional guides that will help you lose weight or build muscle, and get the best results possible.
For more on what's included with BOD, check out my detailed Beachbody on Demand review.
---
Pricing & Cost Comparison
Though the offerings inside Aaptiv and Beachbody on Demand are very different, their pricing is quite similar.
For both, you can get a subscription as low as $8-9 per month depending on the length of your commitment.
Aaptiv pricing:
Get a month-to-month subscription for $14.99 per month
Get a one-year subscription for $99.99 ($8.33 per month)
Beachbody on Demand pricing:
Get a quarterly membership for $39 ($13 per month)
Get a semi-annual membership for $59 ($9.83 per month)
Get an annual membership for $99 ($8.25 per month)
Overall, these two services cost pretty much the same, and you'll get the best deal on both of them by signing up and paying for a full-year at a time!
---
The Workouts
The primary difference between these two apps is this:
Aaptiv offers audio-only workouts, while Beachbody features follow-along video workouts.
This is actually a pretty huge difference, and each approach has its pros and cons.
For example, Aaptiv is great because you don't need to look at the screen. You can keep your phone in your pocket while working out outside or on a piece of equipment at the gym and focus more on your own movements.
But Beachbody brings more energy to the workouts with engaging istructors, and if you're new to some of the moves, having video instruction is super crucial.
The other primary difference:
Aaptiv focuses more on individual workouts stacked together to form a custom program for you, where Beachbody encourages you to follow pre-designed workout programs from start to finish.
On Aaptiv, you'll build your own schedule by choosing how many days per week you want to workout and what kinds of workouts you like to do.
From there, Aaptiv will suggest a schedule and you'll be able to customize or change whatever you want.
(The downside to this is there is less of an emphasis on progression from workout to workout and getting better over time, though that will happen naturally with consistent effort.)
Aaptiv, does, however, offer a handful of programs like 5k training, mobility, and general weight loss.
Beachbody wants you to pick one program at a time (for example, P90X or Hip Hop Abs) and follow it exactly as prescribed until you've completed it.
You'll even print out a calendar and check off each workout as you finish it!
Both approaches can work great, but which one works better for you will have a lot to do with your workout style and personality type.
Me? I already follow a weightlifting program I love, and I joined Aaptiv to get a little more general fitness and conditioning on off-days, so Aaptiv suits my preferences better.
See Aaptiv's workouts or Beachbody's workouts by following my links.
---
Ease of Use
I tried both of these apps out on my iPhone X and found them both to be well-designed and super easy to use.
If I had to give the edge to one, it would be Aaptiv.
The layout is a little more intuitive and information is easier to find.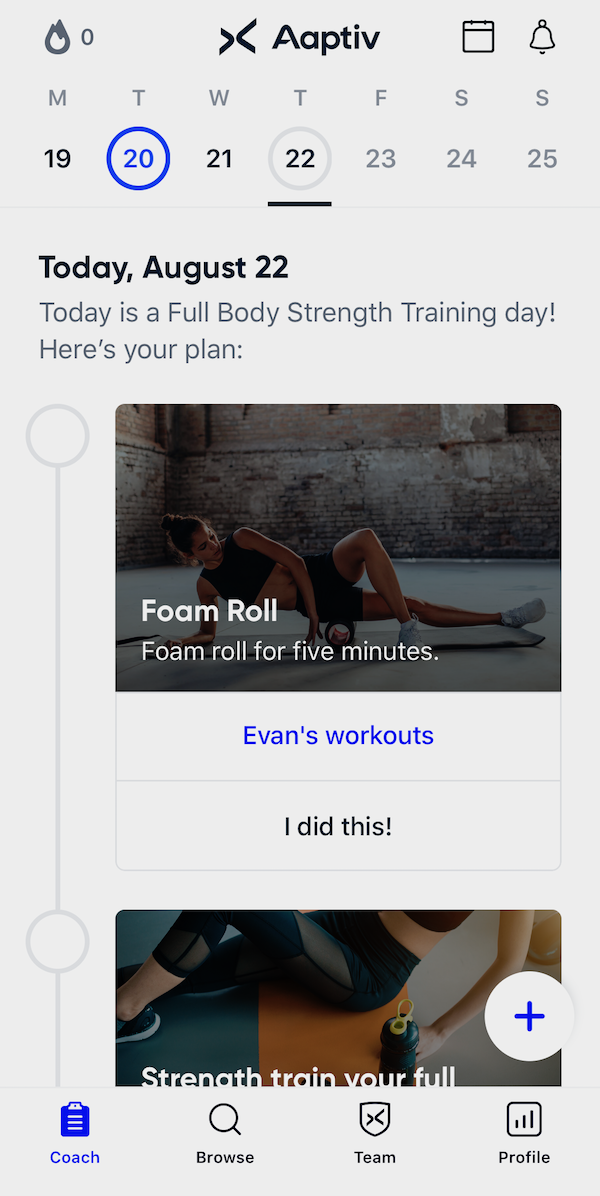 On Beachbody, at times I felt myself becoming overwhelmed with all of the choices — there are SO many different workout programs to choose from!
And on mobile BOD, it's hard to see all the information and details that differentiate them. That information was easier to find on the desktop version of the service.
However, you shouldn't have any problem using either of these apps.
They work great on iPhone and Android so you can always have them handy.
(I'll give a slight nod to Beachbody for being available on Apple TV and Roku, as well!)
---
You might like Aaptiv better if:
Now let's get into my final recommendations.
Aaptiv is probably going to be the better fit for you if:
You don't want to look at your phone or screen while working out
You want elliptical, cycling, or treadmill workouts to follow along with at the gym
You want more freedom to customize your workout plan or choose one-off workouts on-demand
---
You might like Beachbody on Demand better if:
On the other hand, BOD has a LOT to offer, and will be the better choice if:
You want weeks-long workout programs you can follow from beginning to end
You're looking for some nutrition guidance to lose weight or build muscle
You like (or need) to do your working out at home
You need the video instruction
---
Wrapping Up
Overall, when it comes to Aaptiv vs Beachbody on Demand, I found that Aaptiv was a slightly better fit for my need.
I was looking for one-off workouts I could pick and choose from to supplement what I was already doing, so Aaptiv was a great fit!
But if you're looking for something even more structured, a program to follow step-by-step and get great results, you'll probably prefer the Beachbody on Demand system.
They're both great, and after spending time with both of them and trying them out, I can recommend both whole-heartedly.
You can start a 14-day free trial of Beachbody right here.
Or try 7 days free on Aaptiv by using my link.
I hope this helps!
Let me know if you have any questions about either of these fitness and workout apps in the comments, I'll do my best to answer!