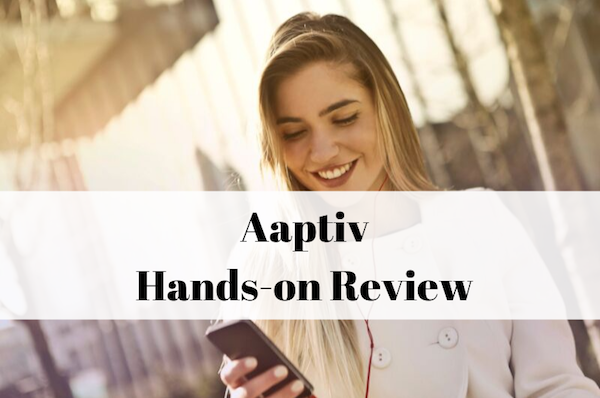 I'm all about tools, tips, and technology that help people make fitness a part of their lives.
So I'm constantly trying new workouts, apps, streaming services, and more to find the absolute best of the best.
I recently heard about an app called Aaptiv (like an "active app," get it!) that supposedly offered some things I'd never heard of before:
Audio-based workouts you could follow along with while on the treadmill, elliptical, or stationary bike.
(Plus a whole lot of other stuff.)
It sounded really interesting so I decided to give it a try; and now here's my completely honest, hands-on Apptiv review:
Overall, Aaptiv delivers an absolute ton of value in its workout app. While it doesn't come cheap, especially since many of the workouts require equipment or gym access, having a plan of attack to reach your fitness goals is really invaluable.
The production quality of the app and audio workouts is amazing, and I love the specialty programs that help you work toward a specific goal (rather than just repeating different one-off workouts every day).
I didn't like that the entire program catalogue couldn't be accessed right away and that the free trial was only 7 days long.
But let's dive in way deeper.
Here's everything you need to know about Aaptiv: Pros, cons, and is it worth the price?
(Or start your Aaptiv free trial right here.)
---
What is Aaptiv (and why I decided to try it)
Aaptiv is a workout app for your phone that does a couple of things:
First, it offers audio-based workouts you can follow along with at home, at the gym, or outside
The library has thousands of workouts in strength, cardio, yoga, medititation, and more
You can also choose to try a program to help reach a specific goal; like a series of workouts that will help you run your first mile or teach you to touch your toes
Different workouts are paired with different musical styles, so you can pick the ones that get you most energized
I wanted to test-drive it myself primarily because I was interested in some of the unique workouts they offered.
I already follow a 3-day weight lifting program that I don't really want to deviate from.
But when it comes to burning calories on the elliptical, or doing some cardio outside or on the treadmill, I've never really had a plan or a blueprint.
I loved that Aaptiv actually has guided treadmill workouts I can follow at the gym.
(I'm also really trying to work on flexibility and mobility, and Aaptiv has a ton of stretching workouts, too.)
So while I wasn't looking to completely transform my current regimine, I was really interested in how Aaptiv could supplement what I was already doing in unique ways.
I started a 7-day free trial and got going right away.
Learn more about how Aaptiv works and what it includes here.
---
How Aaptiv works & what happens after you join
When you go to sign up for Aaptiv or click around the website, you'll be greeted by a message from trainer Jamie.
She'll hit you with a short quiz to get to know a little more about you and your fitness goals.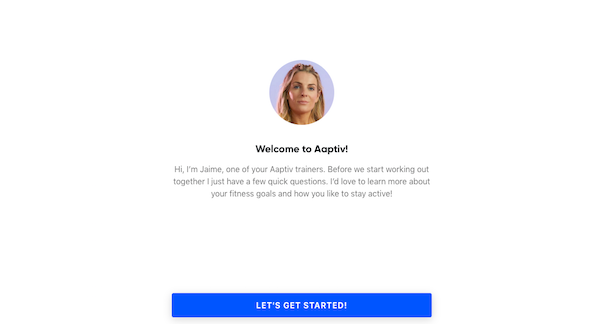 You'll be asked:
What kinds of workouts you like to do
What your fitness goals are
Etc
The whole thing only takes about 30 seconds.
From there, you can begin a free 7-day trial.
You do have to put in your credit card number and create an account to begin, however.
Once you're signed up, Aaptiv will text you a link to download the app.
Once inside the app and logged in, you'll actually have to complete a similar quiz, though it goes into slightly more detail:
How many days a week you'd like to workout
How long you like your workouts to be
What equipment/facilities you have access to
Healthy habits you'd like to build (like foam rolling or more core work)
Once you're done, Aaptiv "analyzes your answers" and takes you into the full dashboard.
---
Creating Your Weekly Workout Plan
Your main view in the app is a calendar dashboard (called the Coach tab).
It tells you what works you're supposed to do that day, based on a regimen the app has built from your responses.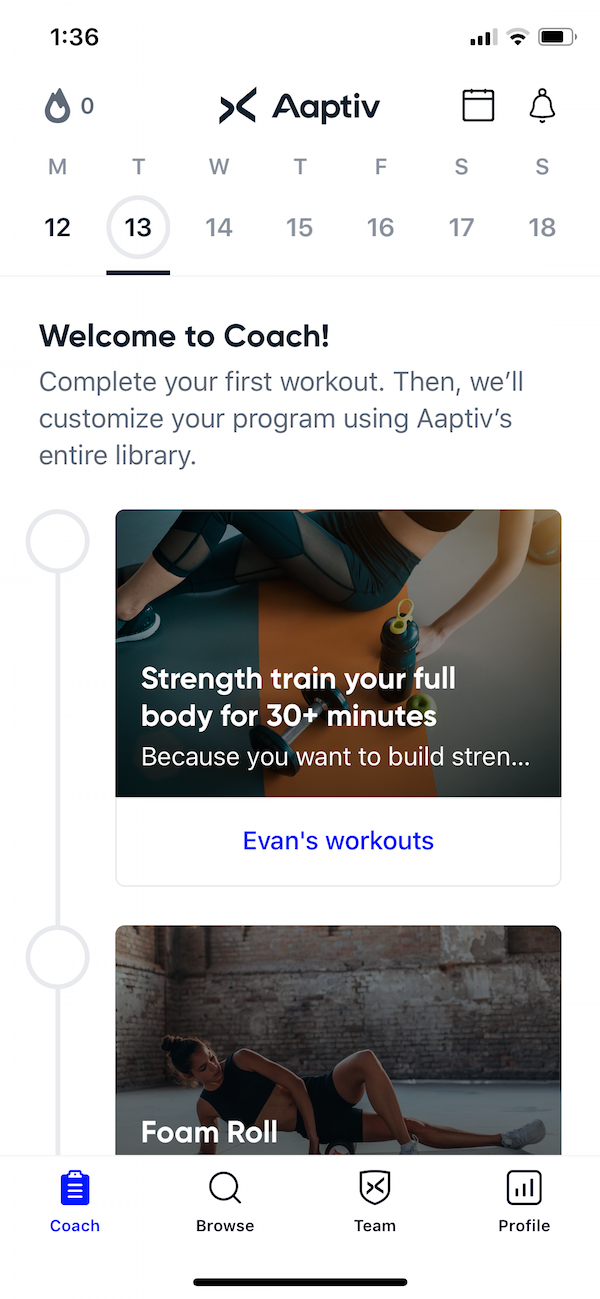 For me, it suggested a 30-minute full-body strength training session on workout days, followed by 5 minutes of foam rolling then stretching.
On "off" days, the app by default suggested a mixture of stretching, foam rolling, walking, meditation, and yoga.
You can see what's up for the day in the Coach tab, or you can view the whole plan at once.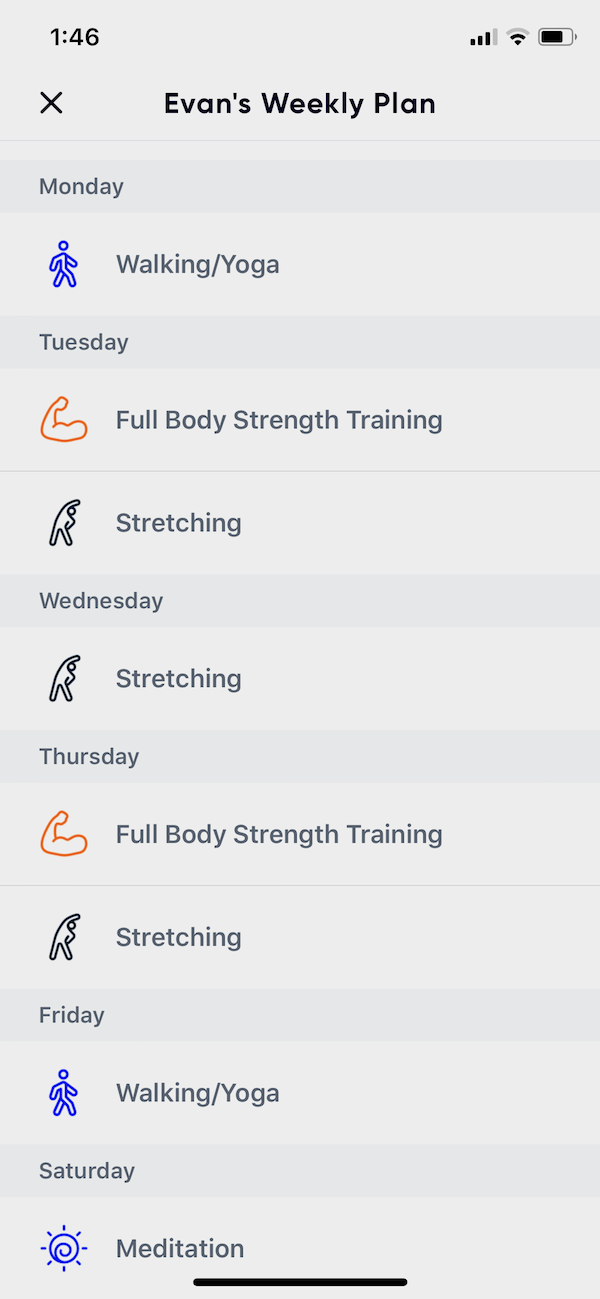 From this dashboard, you can edit your plan and preferences at any time.
So if you don't like what they've built for you, or you want to workout more or less often, or just switch things up, you can change all of that pretty easily.
(Though I wish it were easier and more intuitive to build a completely custom plan based on what you like.)
When you're ready to workout for the day, you click on your workout suggestion and you'll be taken to the Workouts screen.
There, you can choose a specific audio workout that corresponds with what you're supposed to do.
When I clicked my "30 minutes of strength training" card in the Coach tab, it took me to a list of a couple of different workouts I could choose from and follow along.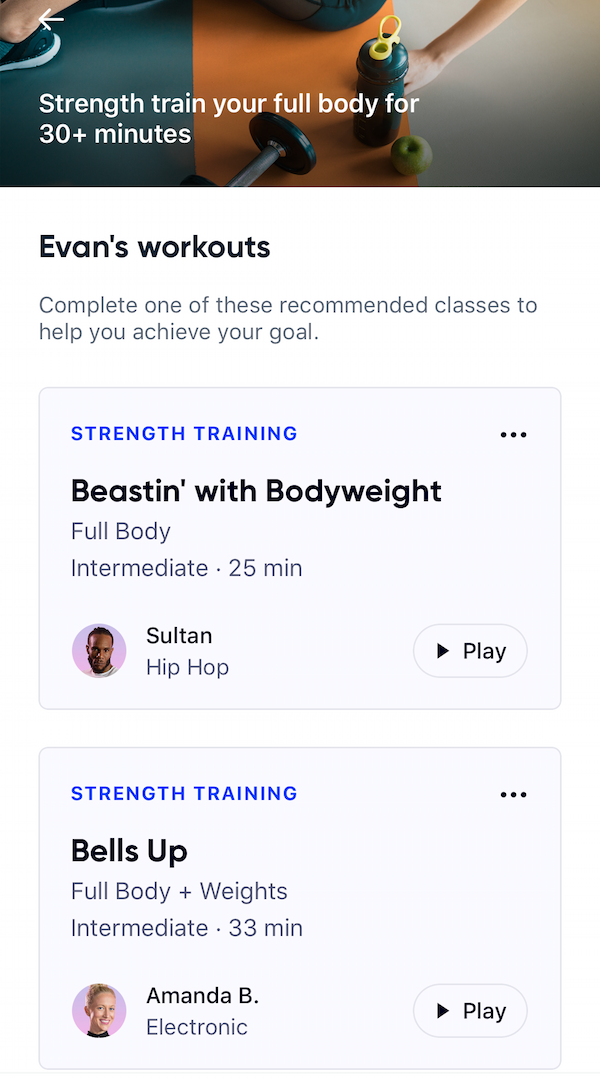 Choose one of these workouts and the app tells you what equipment you'll need and what moves you'll be doing in the workout, so you can watch instructional videos on the moves before you start the audio-only workout.
(It also gives you an estimate of how many calories you'll burn)
As for the workout itself, the production quality is awesome.
The sound is crystal clear, the music is perfectly suited to the preferences I set, and the voice talent is great; with the right mix of energy and clear instruction.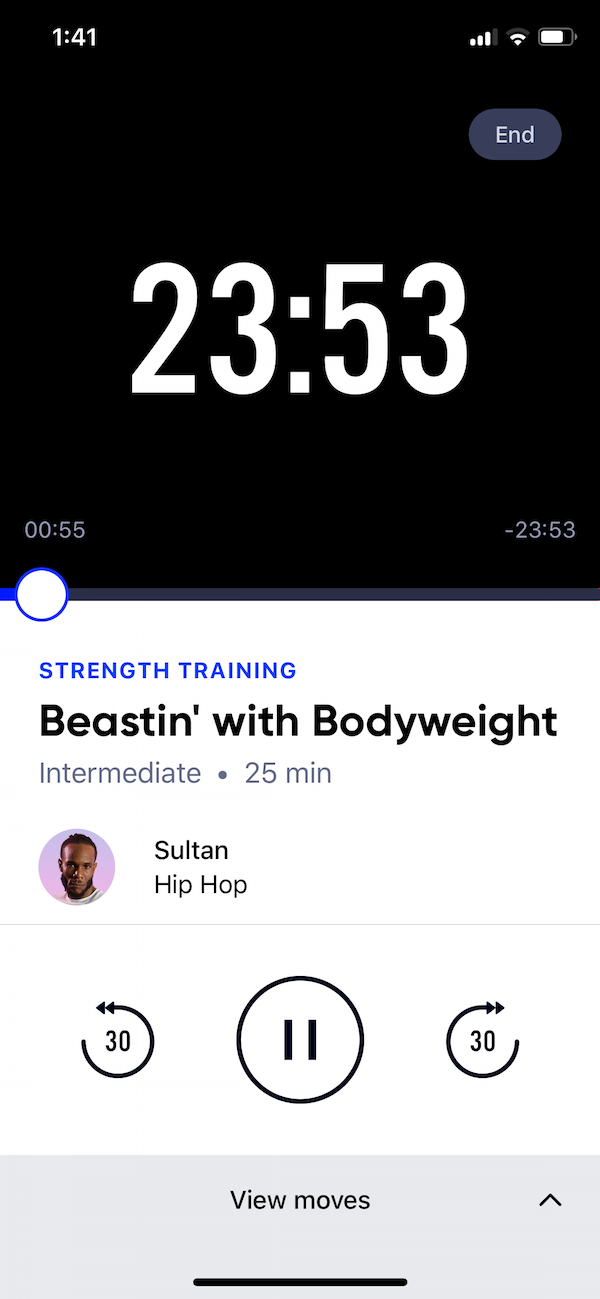 It was a little jarring at first not to see any visual cues as I did the workouts, but you'll get lots of audio cues and pointers from the trainers during the workout.
(And you can swipe up on the bottom of the screen to see the moves again, if you need to.)
If you decide to end the workout early, the app asks why, and it'll present you with some alternatives if you didn't like the workout!
[Start your free trial of Aaptiv right here.]
---
Other Aaptiv Workouts & Programs You Can Choose From
That's the basic core functionality of Aaptiv.
You set your preferences, and then follow along in the Coach area, completing the workouts for each day.
It gives a TON of structure, stabliity, and progress to your workouts.
But there's more Aaptiv can do.
Besides individual workouts, there are specialty programs that help you achieve a certain goal like:
Walk to run one mile
Train for a 5k
Train for a half marathon
Touch your toes in two weeks
Etc
(For someone concerned about mobility, I'm pretty excited to try the touch your toes program!)
You can also choose individual workouts in a ton of categories, including:
Treadmill
Outdoor running
Strength training
Stretching
Elliptical
Indoor Cycling
Yoga
Meditation
Stair climbing
(Aaptiv adds new workouts and categories all the time.)
One thing I don't like, however, is that all of these programs and workouts are locked at first.
You can't just jump in and choose whatever you want; you have to go through your Coach workouts initially before you get full access to the library.
I'm not a fan of that — this is a paid service and if I want to jump in and start playing around with the different features, I should be able to do that.
See all the Aaptiv programs and workouts here.
---
Equipment Needed for Aaptiv Workouts
One thing that makes Aaptiv really unique is that, in addition to the kinds of workouts you might find for free in an app like 7 Minute Workouts, you'll also find some cool stuff like:
Treadmill workouts
Stair climber workouts
And elliptical workouts
That you can take to the gym with you.
Some Aaptiv workouts will require certain equipment like cardio machines, kettlebells, dumbbells, medicine balls, and more.
Though you can always choose an alternative, and you'll tell Aaptiv in the beginning what you have access to, so they won't recommend a dumbbell workout if you can't do one.
There are tons of workouts inside Aaptiv that don't require anything outside your bodyweight or decent weather outside, for example!
---
5 Things I Liked About Aaptiv (Pros)
There's a lot to like about Aaptiv!
Here are some of my favorite features:
Gym-friendly workouts
I just think it's really cool and unique to find workouts you can use to get more out of your time in the gym.
A lot of people come to the gym without a plan and sleepwalk through their workouts.
Paying a little extra for access to Aaptiv could seriously improve the results you get in the same amount of gym-time!
Awesome production value
The app design and workouts are crisp and high-quality.
I've joined workout programs before where the video or audio quality was a total afterhtough, or the app design was buggy and difficult.
Not the case here!
This will be a breeze to use at the gym when you're sweaty and in a hurry!
Specialty programs
I'm a firm believer that you should always be working toward a specific fitness goal.
It could be big, like gaining strength or losing weight.
Or it could be small, like doing your first pull-up or finally being able to touch your toes.
So I love that, in addition to one-off workouts every week, you can try out programs that take you step by step toward achieving a specific goal.
Talk about staying motivated to workout!
Tons of value
At $99 per year, Aaptiv isn't cheap.
But while that price sounds steep at first, it amounts to only a few extra bucks per month for access to thousands of individual workouts and programs.
Even if you're already paying for a gym membership, I can see Aaptiv being a good investment in getting faster, better results.
Audio-only is a unique spin
Video can sometimes be distracting.
Even in your own home, you can wind up paying too much attention to the instruction on the screen and not enough to what your own body is doing.
And in the gym? I wouldn't feel super comfortable following along with a video workout in front of other people.
Audio workouts are discrete and better for your mindfulness, if they are sometimes a little harder to follow.
---
3 Things I Don't Like About Aaptiv (Cons)
The app isn't perfect, don't get me wrong.
Here are a few potential "Cons" to joining Aaptiv.
Restricted access, at first
When you first sign-up, you can't just choose any workout you want and get rolling.
You need to complete your first Coach workout, per your preferences, before everything else unlocks.
In the end, this is more of a minor inconvenience, but for a paid service, I think that it's a little bit lame.
No nutrition
The focus on Aaptiv is definitely on the workouts
When it comes to what and how to eat, there's unfortunately not much information inside the app.
It won't matter much if you just want to get a little more flexible, or increase your cardio endurance a little, but for weight loss or more specific training goals, a nutritional guide would have been nice.
Short free trial
While it's awesome that Aaptiv offers a free trial, I wish it was longer than 7 days.
It'd be nice to get more of a chance to explore all the app has to offer before making a decision (and it is a big decision at $99.99 annually or $14.99 per month).
However, students can get 50% off their subscription.
---
Wrapping Up
In the end, I think Aaptiv has a ton of value if:
You go to the gym, but could use some more structure
You just want to workout at home, but need more than free HIIT workouts
You want a plan to train for a 5k, a half marathon, or reach a specific fitness goal
At $99.99 per year (or $14.99 per month), it's not a cheap subscription, but the service is great and brings a lot to the table for beginners and advanced fitness people as well!
Do you have any questions about Aaptiv for someone who has tried it? Hit me up in the comments!
Otherwise, the best thing to do is start a free trial of Aaptiv now and decide for yourself — there's no commitment to join.
Hope this helps, everyone!
---
Frequently Asked Questions
How long are Aaptiv workouts?
Aaptiv foam rolling and stretching workouts can be under 10 minutes, while more intense training sessions can be over 40 minutes long.
You'll often have your pick of a few different workouts of varying lengths.
Can I use Aaptiv on multiple devices?
Yes you can.
You can be logged into Aaptiv on multiple devices, but you can not use the same subscription concurrently on more than one devices at a time.
Per Aaptiv customer service, you can switch between devices as needede.
(Aaptiv supported devices include all current iOs and Android devices.)
Can I try Aaptiv for free?
Yes!
Click here to start a 7-day free trial.
Just remember, you'll be billed $99.99 once the 7 days are up for a yearly subscription.
How much does Aaptiv cost?
An Aaptiv 7-day trial is free.
An Aaptiv monthly subscription costs $14.99
An Aaptiv yearly subscription is $99.99
Is Aaptiv worth it?
That's up to you!
I know it seems expensive if you're already paying for a gym membership, but it could potentially help you get a lot more out of your membership by adding structure and routine to your gym days.
If you need to work out at home, it's definitely a cost-effective way to access lots of workout materials.
Are there any alternatives to Aaptiv?
The best free alternative to Aaptiv would probably be the Johnson & Johnson 7-Minute Workout app. You can find it on the app store and use it to access hundreds of short, bodyweight HIIT workouts.
7MW, however, doesn't have any workouts for the treadmill, running, strength work, or specific fitness goals.
The best alternative to Aaptiv, if you're willing to pay, is definitely Beachbody on Demand. The two are similarly priced and both offer huge workout libraries. BOD has far more nutritional information, while Aaptiv is a better choice for workouts at the gym or outside in the open air.
Check out my full Beachbody on Demand review here.