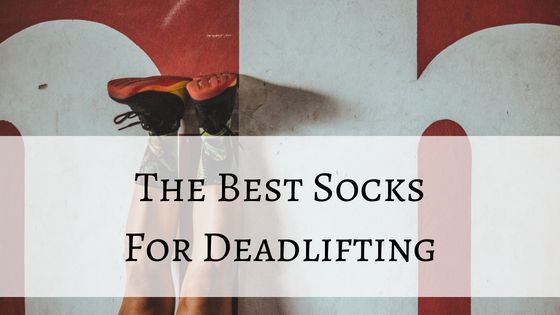 After pouring over hundreds of reviews and doing hours of research on the benefits of socks for deadlifting, I think the MOXY Knee-High Deadlift socks (Amazon link) are going to be the best bet for most people. They're affordable and have pretty much the optimal thickness and padding.
Read on to find out about some other great options and how I decided on my top 3!
…
Deadlifting is one of the best ways to build muscle, develop better posture, and burn excess fat.
But, deadlifting is also serious business. It can even be dangerous.
When working with heavy weights, it's incredibly important to have the right technique. You'll also want to have the right equipment.
Yes, even your socks!
A slip of the foot, or a scrape of the bar against your shin while deadlifting can compromise your form and your mindset, which is NOT a good thing when you're holding hundreds of pounds in your hand.
If you like to deadlift barefoot or just in socks, you're going to want a pair of socks that are tailor-made for lifting heavy so you can stay safe and get the best possible performance.
Here's my quick guide to the best socks for deadlifting:
(First, a quick summary if you're in a hurry:)
Image
Product
Details

TCK Sports Performance Socks

Budget-friendly
Tons of colors available

Check on Amazon

My Pick

MOXY Deadlift Socks

Extra shin padding
Comfortable & breathable
Excellent value

Check on Amazon

Hoplite Compression Socks

Good all-around compression sock
High-quality design
Superb breathability

Check on Amazon
---
What to look for in deadlifting socks
So what makes a pair of socks good for deadlifting?
Well, ideally, the right pair of deadlifting socks will be comfortable, airy, and most importantly, they will protect your shins. Some things to consider when looking for the best socks for deadlifting are:
Do they include deadlift cushion padding for your shins?
Do they incorporate ventilation?
Are they compression socks?
Do they provide arch support?
Shin padding is especially important because the deadlift bar can sometimes knock against your shins during your workout. The right socks will help to protect against painful scrapes and cuts.
Ventilation should allow your feet room to breathe during your workout so they will be less likely to swell or cramp up.
And compression socks are designed to add some pressure to your lower legs to help maintain blood flow and circulation. They are often used in sports, travel, and for people who have poor blood flow in their legs and feet.
In an article for Very Well Fit it was said that, "a growing number of studies suggest that the use of compression socks may, in fact, speed recovery and reduce soreness after a strenuous workout."
So compression socks would be a great addition to your deadlifting routine!
With all this in mind, let's take a look at our recommendations.
---
Best Budget Socks for Deadlifting: TCK Sports Elite Over the Calf Performance Socks
Overview: To start off with a great budget option, we recommend the TCK Sports Elite Digital Camo Over the Calf Performance Socks. These socks have hundreds of positive reviews and are available through Amazon Prime. A few of the notable features of these socks are:
Moisture control
Odor control
Breathable mesh
Arch compression
Ergonomic cushioning
Price: $
Why I Like These Socks: These socks are a great option for someone looking for a little extra protection for their feet at an affordable price. Because they are compression socks they will help deadlifters with blood circulation in their feet and will help reduce soreness.
Also, the breathable mesh added to the socks helps give your feet room to breath while also helping you to control any unwanted irritating moisture. Another plus for these socks is that they come in different sizes, and they come in a great variety of colors and designs. So they will also add a little fun to your workout!
Potential Drawbacks: One of the biggest potential drawbacks for these socks is that there is no added shin padded to protect deadlifters against the bar. So, even though these socks will still provide benefits for your work out, they might work better for deadlifting in combination with shin pads or shin guards.
Also, a few reviews on Amazon mention that these socks are a little too tight. But this shouldn't be cause for too much worry, you can always size up!

Check price and read more reviews of the TCK socks on Amazon
---
Best Mid-Range Socks for Deadlifting: MOXY Knee-High Performance Deadlift Socks
Overview: If you're willing to pay a little bit extra for better shin protection, the MOXY Socks Knee-High Performance Deadlift APeX Socks. These socks are great because they were specifically designed with deadlifters in mind. They have favorable reviews and an overall positive rating on Amazon. And they are available with Prime shipping! Some of the noteworthy features of these socks include:
Achilles Tendon Performance and arch support
Side Ventilation
Deadlift Cushion Padding
MOXY Compression
Price: $$
Why I Like These Socks: These socks are an awesome option for deadlifters because, as we mentioned above, they are specifically designed with deadlifters in mind to help maximize and enhance deadlifting performance. So how could you go wrong with giving these a try?
They include added shin padding to protect your lower legs from the barbell. Also, it's mentioned in reviews on Amazon that, in comparison to other socks advertised for deadlifters these socks have more padding and thickness, but are still thin enough to be comfortable and breathable, giving you the best of both worlds.
Potential Drawbacks: Some reviews on Amazon mention that the socks tore after a few weeks or months. So you might have to repurchase the socks periodically if you use them heavily, which would be an added expense to consider.
Also, some reviews mention that they would like there to be a little extra padding around the actual foot, instead of just for the shins. And lastly, these socks are 'one size fits all,' which, let's face it, can be hit or miss. (One size almost never fits all.)

Check price and read more reviews of the MOXY socks on Amazon
---
Best High-End Socks for Deadlifting: Hoplite Compression Socks
Overview: Another great option for serious lifters are the Hoplite Compression Socks for Serious Protection for OCR Training Racing and Recovery. They have a solid overall rating and are available through Amazon Prime. Some of the cool features of this sock are:
Compression Socks
Shin Padding
Breathable
Moisture Control
Price: $$
Why I Like These Socks: One great thing about athletic socks is that even the higher-end options are pretty affordable, and these socks are no different. For a reasonable price, you get great quality. They are made with high-intensity athletes in mind so they're designed to maximize and enhance your workout.
They are Compression socks with added shin padding to protect against the deadlift bar and they are still breathable! (And of course, the moisture control is a great benefit!)
Potential Drawbacks: Some reviews mention that while the compression component is great, the padding is not quite thick enough for their deadlifting needs. Also, these socks do not mention any added arch support.
And on a final note, although these socks are advertised for deadlifting and other workouts, most of the reviews are from runners – so there is not a ton of feedback from deadlifters specifically. But the high shin coverage and awesome compression make them worth a try.

Check price and read more reviews of the Hoplite socks on Amazon
---
Wrapping Up
Some call the deadlift the king of all mass building exercises.
But to get the maximum benefit from the lift, you've got to have your form and your gear on point.
Doing deadlifts in socks that support your feet and protect your shins is a fantastic idea. There are TONS of options to choose from, but hopefully ,the 3 options above will get you started as you try to whittle them down.
For my money, I'd go with the MOXY Knee-High Deadlift Socks. They're specifically made for deadlifting and should give you everything you need at a decent price.

Check out the MOXY deadlift socks right here on Amazon.
---
BONUS: Do you need shin guards for deadlifting?
If you have serious problems with scraping your shins during deadlifts, you can look into buying a good pair of shin guards.
(I recommend this pretty simple but versatile pair on Amazon.)
Deadlift shin guards are great, but you could also use more basic athletic gear like soccer shin guards.
A couple of other fixes you might try to prevent scraping your shins:
Adjust your form: Try leaning your hips and butt back a little further when beginning your deadlift. It should be possible to lift with excellent form and power with just a minor brush against your shins, rather than super abrasive scraping.
Try a new variation: Sumo deadlifts and trap bar deadlifts are awesome variations that give you a lot of the same strength-building benefits with much less chance of destroying your shins.
Take some time off from deadlifting: If you've really done a number on your legs from bad deadlift form, those scabs and wounds might just need some time to heal or they'll keep opening up from even the slightest bit of contact.