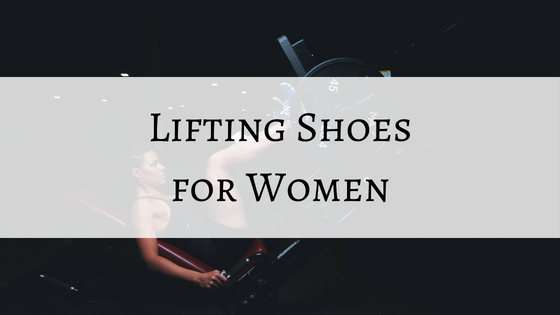 After pouring over hundreds of reviews and doing hours of research on the benefits of proper weightlifting shoes, I think the adidas Powerlifts (Amazon link) is going to be the best bet for most women. They're affordable and absolutely perfectly designed for heavy squats and deadlifts.
Read on to find out about some other interesting options and how I decided on my top 3!
…
Let's hear it for women who lift!
Strength training is one of the absolute best ways to get in better shape, gain strength (duh), and sculpt and tone your body.
And your whole lifting experience can be a heck of a lot more enjoyable with a good pair of lifting shoes.
They're not exactly like steroids, so don't expect them to totally revolutionize your results! But a good pair of shoes that are actually meant for weight lifters can help correct your form, protect your knees, joints, back, and more, along with potentially adding some weight to your lifts.
Not to mention overall comfort.
So if you're looking for the best lifting shoes for women, I've got a ton of research and recommendations for you below. Let's dive in.
Here are my picks (in order from cheapest lifting shoes for women to most expensive)
Image
Product
Details

Converse All-Star

Budget-friendly!
No heel raise at all

Check on Amazon

My Pick

adidas Powerlift

Super versatile for lifting
Not specialized for squats

Check on Amazon

Reebok Legacy

High heel raise
Not great for cross-training

Check on Amazon

Reebok Crossfit

Good all-around shoe
Not specialized for lifting

Check on Amazon

Inov-8 FastLift

Incredibly high-quality
Most expensive option

Check on Amazon
---
Cheapest / best budget pick: Converse Unisex Chuck Taylor All-Star High-Top Casual Sneakers
| PROS | CONS |
| --- | --- |
| Inexpensive | No bells, whistles, or ergonomics |
| Flat heel (great for deadlifts) | Horrible for athletics & cardio |
| Time tested & durable | No straps |
Overview: The classic Chuck Taylor might seem a surprising pick, but it's one of the best cheap lifting shoes out there because of its super bare bones and utilitarian design.
Seriously… people love lifting weights in their Chuck Taylor All-Stars, especially powerlifters focused on the big 3 (squat, deadlift, bench press).
There's nothing special here or any big secret as to what makes them good. They're just flat-soled, comfortable shoes that hold up to wear and tear and give you an awesome platform for pressing into.
Colors Available: Over a dozen
Materials: Canvas, rubber sole
Why I Like Them: There is no older, more classic shoe than the Chuck Taylor.
These bad boys have been around since 1917 and have pretty much stayed the same, advancing only here and there with minor design updates and new manufacturing technologies. The design is time tested and hasn't failed in around a century of existence.
While the Chuck Ts were originally made as a basketball shoe, it didn't take too long for lifters to adopt them.
The reason? Lifting in an All-Star is pretty much the closest thing to lifting barefoot that you're going to find.
If you're the kind of lifter who loves to have that solid connection with the ground beneath you (as opposed to a raised, cushioned heel), you're going to love lifting in these. (The sole is only about an inch thick and pretty much completely flat)
The high-top design of the Chuck Taylors, though made of relatively thin canvas, is great for a little extra support around your ankle. A lot of lifting shoes offer straps and extra ankle support, but the Chuck Ts come up a bit higher than most, which is great for a snug fit.
This pair of shoes is also incredibly durable. They should last you years, and at the low price point, that's a steal.
They're a great investment to make in your fitness… if you don't ultimately end of liking the way they feel while you lift, you'll only have spent a fraction on them of what you'd pay for a high-end lifting shoe.
Potential Drawbacks: This is a great shoe, but it's pretty light on bells and whistles and some of the new technological advancements that have been made in athletic shoes.
That's one of the best things about it, how simple and effective and utilitarian it is, but that may be a drawback for some.
With a Chuck Taylor, you won't get that raised heel that'll help you nail your squat form and get extra depth and power. You also won't get some of the advanced cushions and straps that you'll find in most of the other shoes on this list.
Finally, the All-Stars are a great shoe for lifting and for casual wear, which is great for versatility, but they're awful for running or other athletic activities.
If you're into CrossFit or other hybrid type workouts, you may want to look for something a little more flexible.
In the end, though, the low price makes these worth a shot for female lifters.

Check price and read more reviews of the Chuck Taylors on Amazon
---
Great for lifting & still budget-friendly: adidas Women's Powerlift.3.1 Cross-Trainer Shoes
| PROS | CONS |
| --- | --- |
| Budget friendly | Heel raise on the lower end for squats |
| Moderate heel raise | Only two colors |
| Extra toe room | |
Overview: If the super flat, stripped down Chuck Taylor isn't up your alley, you might dig this cross trainer from Adidas.
This one's got all the extra design features, top-shelf design, awesome support, and beautiful colors you could possibly want in a lifting shoe.
The adidas Powerlift Cross-Trainers are also a lot more versatile than the Chuck Ts, though not quite as complete and well-rounded a shoe as some others.
You'll find them excellent for weightlifting, powerlifting, and some HIIT workouts, though they're not perfectly suited to running or long treadmill sessions. But in terms of stability, support, aesthetics, and price, it's really, really hard to beat these.
Colors Available: Two (energy blue & energy pink)
Material: Lightweight synthetic leather, mesh, and rubber sole
Why I Like Them: There are some great design features on these adidas powerlifters that make them an awesome choice for most women.
They're really, really lightweight, so the comfort on your foot is incredible. Along with that, the upper part of the shoe is made from a high-quality breathable mesh to keep your foot from overheating or sweating too much. So the comfort rating on these is crazy.
The sole on the bottom of the shoe is completely flat, which gives you a perfect stable platform for squats, deadlifts, and other lifts. But the raised heel helps spread your weight across the entire foot, corrects form, helps you get deep and stay stable during squats, can add power, and protects your foot.
There's a lot to like about that!
I also really like the ankle straps on top that go over the laces.
It keeps the ends of the laces from dangling down and tripping you up, while also helping the shoe fit really, really snug around the upper part of your foot and into your ankle. The support is perfect for heavy lifting movements.
(By the way, I have these same shoes in the men's version and absolutely love them.)
adidas also gives you some extra room and flexibility in the toe area of this shoe so you don't feel too constricted. You want a tight, snug, and firm fit, but having your toes a little bit looser keeps you from feeling like your foot is suffocating.
A lot of reviewers on Amazon note that they did notice stronger lifts after they switched from a running shoe to the adidas Powerlift Cross-Trainers.
Potential Drawbacks: There isn't too much to dislike about this shoe, but some reviewers openly wished the heel was a little taller (more raised) for even better range of motion on squats.
In terms of heel height, this shoe doesn't quite compete with super high-end lifting shoes (it's somewhere around 15mm, or .6 inches), though it comes at a much more reasonable price.
Other reviewers had trouble finding the right size, with some saying the shoes ran too big and others saying they ran too small. You may have to get used to having more room in the toe area with these shoes, because that's how they're designed.
But also be aware that you may have to send the shoes back for a different size once you try them on, at least according to many reviewers.

Check price and read more reviews of the adidas Powerlifts on Amazon
---
Best for serious lifters: Reebok Women's Legacy Lifter Sneaker
| PROS | CONS |
| --- | --- |
| High 22mm heel | Bad for cross training |
| Low cut design | Only one color |
| Two straps | |
Overview: One quick look at this shoe and you can tell it's not screwing around.
It doesn't care what color you want, because it only comes in one… black!
This is a shoe for serious lifters, with a high heel raise (22mm), two support straps, low-cut design, and super lightweight feel. The Reebok Legacy is absolutely perfect for deep range of motion squats and other very heavy lifting exercises.
It's not a great cross trainer, with its flat sole and very high heel, but if lifting is your game, this shoe is perfectly suited.
It's in a bit of a higher price bracket but more than makes up for it with quality and specialization.
Colors Available: One (black)
Materials: Synthetic leather and mesh, rubber sole
Why I Like Them: At this point, if you've looked at a lot of lifting shoes, it might start to seem like they're running together a bit. Yeah, yeah, yeah…. they all have lots of support, lightweight design, comfort, etc.
So let's just cut to what makes the Reebok Legacy Women's Lifter a little bit different than the competition.
First up is the heel height. Heel height is a total personal preference, but it's important to note.
Some people like the total flat design of a Chuck Taylor (or even lifting and squatting barefoot). Others will like a moderate lift. Others still will prefer a really high heel raise for lots of support on squat and deep range of motion.
The Reebok Legacy falls into the latter category with a towering 22mm heel, one of the highest around. Keep in mind this heel height makes the Legacy less than ideal as a cross trainer, so keep it away from the treadmill.
But for lifting, and squatting in particular, if that extra height on the back of your foot helps you, you're going to love this shoe.
The second thing to note about the Legacy is its low cut design. A lot of lifting shoes will climb higher toward your ankle for extra support, but the Legacy prefers to keep that part of your body free for optimum flexibility and mobility.
It's up to your own personal preference which you prefer, but if you feel constricted by high top shoes or other lifting shoes, you might prefer this style.
Potential Drawbacks: The drawbacks of this shoe are basically all of its strengths, provided they don't line up with your goals. What I mean is, this is a shoe that's specialized for heavy lifting and squats, has a high heel raise, and a low cut design.
That's kind of a very specific style, and it might not be for everyone.
If you're looking for a more well-rounded shoe that's better for cross training, running, CrossFit, or other athletic activities, you might want to keep looking (or keep scrolling down this list, I've got some ideas for you).
If all you want your shoe to do is help you during heavy lifts, this is a great choice.
Finally, the last drawback of the Legacy is its high price point. If you have a tighter budget, the adidas Powerlift or the Chuck Taylors (above) may be a better fit.

Check price and read more reviews of the Reebok Legacy lifters on Amazon
---
Best for Cross-Training: Reebok Women's Crossfit Lifter 2.0 Training Shoe
| PROS | CONS |
| --- | --- |
| Great all-around shoe | Not ideal for pure heavy lifting |
| Lots of fun colors | Expensive |
| Awesome comfort | |
Overview: If you're into CrossFit (or really any kind of cross-disciplinary workout where you do lots of different stuff in a single session), it's hard to beat a shoe that's specifically designed for it.
That's exactly the case with these Reebok women's CrossFit training shoes. They've really got a little bit of everything: raised heel and support straps like a lifting shoe, but enough comfort and ergonomics to be pretty good for cardio, too.
Whatever your WOD (workout of the day!) is, these shoes should have you covered.
Colors Available: Five (electric peach, flux orange, stinger yellow, white, and orange)
Materials: Synthetic leather with a rubber sole
Why I Like Them: For cross trainer athletes and CrossFit enthusiasts, it just doesn't get much better than this. Part lifting shoe, part traditional sneaker, the Reebok CrossFit trainers is built for all-around athletes.
There is just a little bit of a raised heel on these shoes, which gives you that extra oomph, support, and range of motion on your squats, but not so much that you can't use the shoe for anything else. Reviews on Amazon note that this shoe is absolutely perfect for squats, clean and jerks, push presses, and more.
Its versatility means you can easily transition from weightlifting movements like the ones above to short bursts of cardio, whether that's jumping and plyometrics, burpees, or running or machine cardio.
They're not a specialty shoe. So there are better shoes out there for squatting and better shoes out there for running, but for someone who wants to be able to do both, possibly in the same session, these shoes are a fantastic choice.
Reebok has legendary quality with most of its athletic shoes and these are no different. Durable, comfortable, and with plenty of style and flair to go around, all-around athletes will get a ton of use out of these shoes.
Potential Drawbacks: Again, it's not so much that there are drawbacks to this shoe, moreso that you just need to decide if it's for you.
If you do CrossFit, I would order this shoe right now. It's one of the absolute best on the market for that kind of workout… it literally has CrossFit, the brand, in the name of the shoe! And Amazon is chock full of CrossFitters who rave about this trainer.
Similarly, if you just like to do lots of different athletic activities and want a shoe that can keep up (so you don't have to pack multiple pairs every time you go to the gym), this is also an excellent choice. It can hold up to pretty much anything and do a solid job.
But if you're more of a specialist and want a shoe that's precision-built for squatting, for example, this probably isn't it.
And also, again, the price point of this shoe starts pretty high. Quality is amazing but be ready to spend a little bit of money.

Check price and read more reviews of the Reebok Crossfit shoes on Amazon
---
Best of the best: Inov-8 Women's FastLift 400 BOA Fitness Shoe
| PROS | CONS |
| --- | --- |
| Versatile lifting shoe | Not a good pick for cross training |
| Moderate heel raise | Very expensive |
| Micro-adjustable fit | Boring colors |
Overview: Known far and wide as one of the best pro lifting shoes around, it's really hard to top the Inov-8 FastLift 400 if you can fit it into your budget.
Great for weight lifting but also with lots of versatility, the 400 is lightweight, features a mid-level heel raise (high enough for deep squats, not so high it interferes with deadlifts or makes the shoe obsolete for other athletic activities), and has something called "micro-adjustability" that helps ensure a perfect fit for wide or narrow feet.
This shoe doesn't come cheap, but is an awesome all-around athletic and weight lifting shoe for women.
Colors Available: Two (grey, silver)
Materials: Synthetic, mesh, with a TPU heel (thermoplastic urethane)
Why We Like It: Again, let's skip right to what makes the Inov-8 special and unique (and whether it's a good fit for you).
First up is the heel raise, which clocks in at a modest 16.5 mm.
That's a little bit higher than a lot of cross trainers but not as high as many specialized squatting shoes, making this shoe a nice middle ground for all around athletes. It's great for squats, deadlifts, and also plyometrics (jumping) movements and other athletic endeavors.
Next up is the heel construction, which is a little different than most others on this list.
The heel is made of something called high density TPU, or thermoplastic urethane), which is a lot harder and denser than your standard shoe heel. That means you won't compress into the shoe as much during heavy lifts. The good thing about TPU is that it's crazy durable and super lightweight, while giving you ultimate stability.
But some people prefer to have just a little bit of give in their heel for a better feel during squats, so that's going to be up to your personal preference.
Finally, the Inov-8 FastLift has a really cool feature called micro-adjustability using a BOA dial system on the foot strap. The little circular device allows to customize the fit and tightness of your shoe down to ridiculously small increments (1mm) to get the absolute perfect fit.
People with wide and narrow feet alike can get the exact fit they desire with this shoe, making it a really safe buy if you've had trouble with lifting shoe sizing before.
Potential Drawbacks: This shoe may not be best for you if, for starters, it doesn't fit your budget. It's the priciest option on this list in most cases, and while it's incredibly high quality and durable (should last you a very long time, especially due to the rugged TPU heel), you'll have to spend some cash to get it.
Second, for pure weightlifting (and squats in particular), you may prefer a higher heel raise closer to 20mm or more. That'll help you get awesome range of motion on your squats and tons of support and depth.
Last, it's kind of a bummer that these shoes only come in two colors (dark grey and silver), and it'd be nice if they had a little more flair to them. They're functional and utilitarian, but not the most beautiful to look at.

Check price and read more reviews of the Inov-8 women's shoes on Amazon
---
What to look for in a women's weightlifting shoe
If you're stuck trying to decide between the options above, or the thousands of shoes available on Amazon, it can be pretty overwhelming to pull the trigger and spend your hard-earned money on a shoe without knowing if it'll work for you.
To help make the decision, you can narrow things down using a handful of criteria:
Do you care most about heavy lifting, athletics, or a mix of both?
This is one of the biggest factors that goes into your purchase, and why it's difficult to recommend just one lifting shoe.
The shoes I wear to lift weights are the adidas Powerlift, and they're awesome for that, but I would never want to use them for running, HIIT, or other cardio or even plyometrics.
What's your routine like? If you're really serious about squats, get yourself something with awesome support and a nice high heel (20mm or more). If you like to do a lot of different lifts, including deadlifts, and don't want too high of a platform, look for something in that 15mm range.
If you're into CrossFit, get a cross trainer or something with some more versatility that more closely resembles a sneaker.
How does the shoe fit?
This is typically really difficult to gauge online without actually trying the shoe on.
Some shoes run wide, some run narrow, some run long, and some run short.
The best advice I can give is read through Amazon customer reviews and see what people say about how the shoe lined up with their size expectations and you can get an idea of what size you should order.
Pro tip: If you're wondering what B(M) means in shoes on Amazon, both the B and the M refer to the show width (it's a little redundant) and mean the shoe is of medium width. B denotes standard width for a woman's shoe.
When you see D(M), that means it's a men's shoe and the D is the standard width for a man's shoe. If you're looking at a woman's shoe and it shows the size as D, that means it's wider than normal for women.
A little confusing, but that's the best way to explain it.
What's the price? What's your budget?
Lifting shoes can really span a wide range of prices. Chuck Taylor All-Stars, for example, cost a fraction of what the high-end Inov-8 FastLifts retail for.
Is a more expensive women's weightlifting shoe always better? Not necessarily! It really all depends on what you want out of it, though typically the more expensive brands can signify quality, durability, and service.
If you're really not sure what you want and are new to lifting and new to athletic shoes, it might make sense to make a smaller investment up front (a cheaper lifting shoe) and try it out for a while.
Learn what you like and don't like about it, and then when you're more experienced, invest in something more high-end that fits your needs more closely.
---
Wrapping Up
Obviously, there's quite a lot that goes into picking the right women's weightlifting shoe. The options above should be a great start for you, and cover most of the bases, but there are plenty more options available if you feel you need to do some more research.
Remember that it all comes down to what you need and prefer. There's not really a "best" lifting shoe. They all just have different features, and if you go with something that fits your workout style, comes from a reputable brand, and has good reviews, you should be pretty happy.
(Also, if you buy on Amazon, there's a good chance you'll be able to return any that don't fit or don't meet your expectations.)
When I take everything into account (budget, versatility, quality, etc.) my top pick would be the adidas Powerlift shoes.
I own them myself and quite like them. They're great for lifting but they're not so specialized that they're only good for squats… you can do a lot of different lifts comfortably and effectively with these.
They aren't ideal for cross-training (I know Cross-Trainer is in the name, but if athletics is your game, there are better choices out there), but if lifting is what you care about most, these are a good entry-level pair to try if you're not ready to drop nearly $200 on a pair.
Get the full specs and read customer reviews of my favorite lifting shoes, the adidas Powerlift.3.1 Cross-Trainers on Amazon.