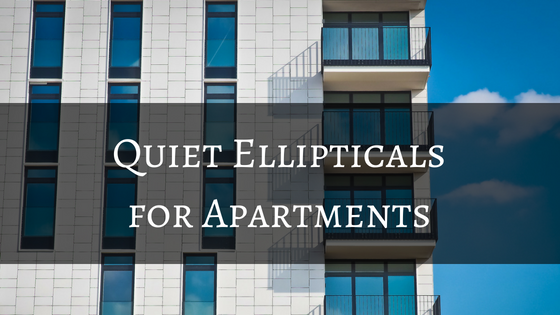 After pouring through hundreds of real user reviews and spending hours researching elliptical noise, I think the best quiet elliptical for an apartment is the Nordictrack SE9i (Amazon link). It's got all the features anyone could want, at a fair price, and the high-quality build you need for absolute quiet.
Read on to see some more great options and learn how I chose my top 3!
…
You want to buy an elliptical for your apartment, but you don't want to start a war with your downstairs neighbor.
Totally understandable!
Ellipticals, while quieter than, say, jogging in place, can still be a little bit noisy for an apartment if you're not careful about which one you buy.
Luckily, there are some pretty easy ways to make sure you end up with a quiet elliptical model. Your neighbors may not even know you have it!
Let's dive into my research, tips, and recommendations for buying a quiet elliptical for apartments.
Best Budget Elliptical: Nautilus E614 (Amazon)
Best Folding Elliptical: Horizon Fitness Evolve 3 (Amazon)
Best Overall Elliptical: Nordictrack SE9i (Amazon)
Image
Product
Details

Nautilus E614

Budget-friendly
Compact
Tricky assembly

Check on Amazon

Horizon Evolve 3

Compact footprint
Folds away for storage
On-board computer a bit buggy

Check on Amazon

My Pick

Nordictrack SE9i

Best feature set & resistance levels
Top-of-the-line build
Folds away for storage

Check on Amazon
---
What makes an elliptical quiet vs loud?
All kinds of issues, from minor to major, can cause your elliptical to make unwanted noise while working out.
Very loud noise coming from your elliptical is probably a sign that something is wrong. It could be:
The assembly (fasteners are not secured properly)
The drive belt
Wear and tear on the machine
The machine could be off balance. (Source)
But unfortunately, some elliptical models are just louder than others, even brand new and out of the box. Typically, ellipticals that use lower quality parts and materials, or overall less sturdy construction, are prone to noise.
Yes, the harsh truth is that less expensive ellipticals are often far less sturdy, and can suffer from wobbling and weight distribution issues that will make your floor squeak (and your downstairs neighbors very unhappy!)
If you're looking for a quiet elliptical for an apartment, be ready to shell out a little bit of cash.
(The good news is that, in return, you're going to get an absolutely amazing and durable piece of workout equipment.)
---
Other considerations & features for ellipticals in apartments
Noise level is only part of the picture when you're thinking about bringing an elliptical into your apartment.
(Why does it feel like we're talking about adopting a puppy?)
There are a few other things you should keep in mind while shopping. Your neighbors and landlord will thank you later:
1) Compact design: Here's the big one… ellipticals can take up a LOT of space.
In an apartment, that can spell trouble. Luckily, modern ellipticals often feature space-saving design, compact features, and/or can fold up and out of the way. Keep a look out for these features and make sure you've got a plan for how your elliptical will fit in your apartment.
2) Overall height: You're going to want to pay close attention if you live in an apartment with a short ceiling.
Check out my guide to buying an elliptical for a short ceiling (many of the recommendations are the same!). But the bottom line is to make sure your tallest rider will have plenty of clearance.
3) Shipping and assembly: Some of these machines weigh 150 pounds or far more when shipped.
You may need to budget for in-home delivery (not just curbside drop off) and consider paying for a pro to assemble it for you (this is often an option). If you're up to the challenge, that's great! But having 200 pounds of elliptical parts splayed all over your small apartment living room floor sounds like a bit of a chore.
Alright, enough tips! Let's jump into my recommendations for quiet ellipticals for apartments.
---
Best Budget Quiet Elliptical for Apartments: Nautilus E614 Elliptical
Overview: You can get an elliptical for as low as $200 or so, but I wouldn't recommend it if you don't also want to invest in a pair of earplugs. The Nautilus E614 is about as close as you'll get to a quiet, budget-friendly elliptical. It's also got some great features like built-in speakers, a USB charging port, and two LCD display windows.
Overall Footprint: 71″ length x 28″ width x 71″ height
Why I like it: Reviewers love this elliptical. It's not the cheapest on the market (though definitely cheaper than the true top models), but people rave about its sturdy construction and quiet operation. Perfect for apartments.
Potential drawbacks: Assembly may be a major chore. If you're over 225 pounds, this may not be a sturdy enough model for you.
Check price and read more reviews of the Nautilus E614 on Amazon.
---
Best Folding Quiet Elliptical for Apartments: Horizon Fitness Evolve 3 Elliptical
Overview: If you're willing to go a little more pricey, the Horizon Evolve 3 rewards you with the ability to fold up and out of the way, which is perfect for apartments. The quiet operation is great, and it's also got a fairly small footprint. This one is a winner.
Overall Footprint: 69″ length x 28″ width x 69″ height
Why I like it: This one is low to the ground, has a small footprint, and folds away. It is truly a perfect fit for tight spaces and apartments. It's also in a great price range for sturdy construction and quality parts (and near-silent operation) without completely obliterating your bank account. You can do far worse if you're shopping for an elliptical for an apartment.
Potential Drawbacks: Some reviewers weren't in love with the on-board computer. Price tag isn't cheap but that's what you pay for a super quiet elliptical.
Check price and read more reviews of the Horizon Evolve 3 on Amazon.
---
Best Overall Quiet Elliptical for Apartments: Nordictrack SE9i
Overview: Take everything that makes the Horizon Evolve 3 great – fold away design, quiet elliptical operation – and supercharge it with all the top of the line features and bells and whistles you'd expect from a superpower like Nordictrack.
The SE9i is an amazing piece of equipment (and worth every penny of its hefty price tag).
Overall Footprint: 78″ length x 31.9″ width x 66.4″ height
Why I like it:  Reviewers are in love with the endless parade of features and extras that come with the SE9i. Built-in fan. Best-in-class digital display with over 30 different workout apps. On-board speakers. Folding design. It's also easy to assemble and operates in near-silence. Perfect!
Potential drawbacks: This is an awesome machine, and you pay for it. This is the most expensive option of the bunch.
Check price and read more reviews of the Nordictrack SE9i on Amazon.
---
What should I do if my elliptical makes loud noises?
You can try to diagnose it yourself, but it could be almost anything.
The first and most obvious thing to do is to check that your elliptical is properly balanced. If it's not on a sturdy surface, there could be rocking issues causing the noise.
Unless you're incredibly handy, I'd hesitate before opening up the elliptical's shell and poking around with the hardware.
Call customer support for your elliptical brand. These are top notch machines and should not be making loud noises. Most reviewers note that the companies are happy to send technicians to fix issues and/or replace faulty units.
---
Wrapping Up
Remember, if you try to get by with a bargain-bin elliptical, don't be surprised when the construction is shoddy and it starts making a ton of noise.
It's really worth investing in a high-quality product. There are tons of great quiet ellipticals for apartments to choose from, but I hope the 3 I've recommended will be a help to you as you search.
For a good next step, jump over to Amazon and read more about my top pick, the Nordictrack SE9i Elliptical. (Amazon link)
---
Quiet Elliptical FAQ
What causes elliptical noise?
Usually, ellipticals are loud because they aren't constructed very well or are cheaply made. Crappy components and assembly can lead to creaky joints, wobbles, and other loud noises, sometimes noises coming from the flywheel.
Sometimes, though, you may not have assembled the elliptical properly (there may be a loose part or fastener somewhere that's rattling around), or there could be an actual mechanical issue causing the noise.
The best plan of action is to call the manufacturer and get help trying to diagnose. Don't disassemble the elliptical (especially its inner workings) unless you know what you're doing.
Do ellipticals fit inside apartments?
They sure do, but you'll have to be aware of their overall footprint and their step-on height (or how high the rider will be off the floor at the elliptical's highest setting).
Fold up ellipticals are actually great for apartments (see the Nordictrack Spacesaver model recommended above) because they can stow after between use and take up a lot less room.
Sometimes, getting the smallest elliptical possible and getting a quiet elliptical can be at odds with each other, as very slight of frame ellipticals can be cheaply made. You'll want to try to get a good balance of value and quality construction for your in-apartment elliptical.
Why is my elliptical making a knocking, clunking, grinding, or squeaking noise?
Again, it's very hard to say and trying too hard to diagnose it yourself could be problematic. If you open it up to take a look, you could further damage your machine and/or void your warranty!
I would call the manufacturer and see if they can walk you through the diagnosis over the phone. In some cases, they may offer to send out a service professional to repair the machine (depending on your warranty) or even just replace the elliptical.
After all, these machines aren't cheap and big fitness brands have reputations to uphold. That's why you're well-served not going the budget route but instead buying from a reputable company like Nordictrack, Nautilus, or Horizon.
Are quiet ellipticals expensive? How much does an elliptical cost?
You can get a pretty decent model for a few hundred dollars. Again, I would avoid going bargain shopping if your ultimate goal is quiet operation so you don't bother your apartment neighbors.
Higher end but still affordable models will run you somewhere between $800-1200 most likely, and you can be pretty sure you're getting an awesome piece of equipment for that price.
If you have your own home gym or for some reason really want commercial grade quality and the highest end elliptical you can buy, expect to spend $5000 or more.
How to lubricate a noisy elliptical
Lubricating your elliptical from time to time can prevent squeaking noises and elongate the life of your machine. However, you should be very careful doing this, as added lubricant to the wrong spots or using the wrong kind of substance could damage your machine irreparably.
Refer to your user's manual or call your manufacturer directly for specific instructions on how to lubricate an elliptical. If you're looking for a decent starter guide, check out this article here.
And don't forget to check out my favorite elliptical, the Nordictrack SE9i Elliptical on Amazon.