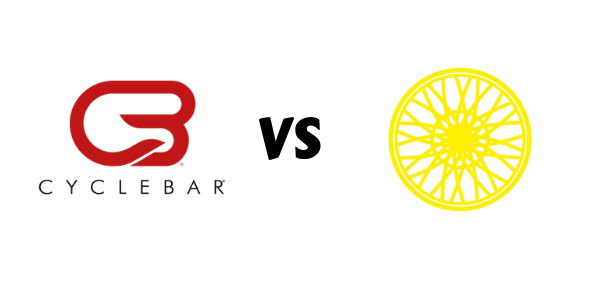 Spin class is an amazing way to get in shape.
You'll absolutely TORCH calories, build strength in your legs, and boost your endurance like crazy.
All of that in a safe, no-impact workout. What's not to love?
The question is, which spin studio should you go to?
Two of the most popular choices are Cyclebar and SoulCycle.
When it comes to Cyclebar vs SoulCycle, they're both great — take it from someone who's tried a ton of different spin classes. But you only really need to join one!
Overall, Cyclebar offers a more competitive atmosphere, with live scoring on a leaderboard and more intense classes. SoulCycle is better for tough but introspective workouts; with classes lit by candlelight and no score element to speak of.
Cyclebar is also far more affordable, which is an important factor!
Which one will appeal more to you depends on a lot of different factors, so let's take a closer look!
(P.S. – The best and most affordable way to try both, and hop around between as many different fitness classes as you want, is to join ClassPass. Hit my link to get a free month!)
---
Amenities
Cyclebar and SoulCycle are pretty similar on their surface.
Walk in and you'll immediately find:
A front-desk staffed with friendly greeters
A spin studio (duh)
Clean, crisp locker rooms
Showers and changing rooms
The main difference you'll notice here is the gift shop.
CycleBar locations usually have a pretty small selection of gear and athleticwear you can purchase.
SoulCycle has a gear shop, too, but it's often quite a bit larger and more robust; with more selection and more household brands.
This is such a minor amenity in the scheme of things (you'll usually get a way better deal on gear and athleticwear shopping elsewhere or online), so I'm calling this one a draw.
Edge: Even
(By the way, read my full Cyclebar review to get a full walkthrough from signing up through finishing your first class.)
---
Price
OK, our first main big difference!
The pricing structure at spin studios can get a little complicaed.
You can usually buy single classes, class packages, unlimited memberships, and many more options.
But for the sake of comparison let's start here:
A single class at SoulCycle starts at: $30
A single class at Cyclebar starts at: $22
That's a sizable difference.
(At both studios, the more classes you buy in advance and commit to, the cheaper your per class rate gets.)
Two other things to consider:
Shoe rental is free at CycleBar, but costs $3 at SoulCycle
Your first class is (usually) free at Cyclebar, but will cost around $20 at SoulCycle
There are no unlimited packages at SoulCycle, so you'll always pay per class to some degree
In terms of which studio is easier on the budget, I think the winner is clear — it's Cyclebar.
And even better, they're both on ClassPass — start a free month by clicking my link and try them both, then hop around between them (and other kinds of fitness classes) whenever you want!
Edge: Cyclebar
(Cyclebar's cost is a lot more in line with what you can expect from a Flywheel spin class – click to read my full review.)
---
The Workout
A spin class is a spin class, right?
Well, not quite.
While the basic mechanics of the spin workout is the same at Cyclebar and Soulcycle, there are a few pretty major differences in the way the workouts are structured.
In essence, at both you will:
Hop on a bike
Do a mixture of sprints and hill climbs in rhythm to music
And work your upper body with some weighted movements during the ride
But here are some of the interesting differences that could be a major factor in your decision:
No scoring at SoulCycle: Cyclebar (and many others like Flywheel) are big on the live-scoring system, which reads out your performance on a big screen at the front of the room if you choose to participate. It's supposed to stoke your competitive fires and inspire your best performance.
SoulCycle, on the other hand, does not track calories or power on a leaderboard. Instead, you're encouraged to look within for your motivation.
The mood: SoulCycle features a dark spin studio room, like most of these studios do, but instead of black lights or flashing club lights, the room will be primarily lit by candle for a more spiritual, introspective vibe.
The upper body workout: Cyclebar uses, well, a bar! You can choose between a 4 pound bar, a 6 pound bar, or use both for 10 pounds.
SoulCycle uses small dumbbells and pushups onto your bike to work your torso doing the spin class, along with some rhythmic dance moves.
Honestly, these are just two different styles, so it's tough to pick a winner.
Personally, I think the live-scoring system is a great motivator and helps "gamify" the workout and make it more fun, so I'm giving the edge to Cyclebar here.
Edge: Cyclebar
---
The Bikes
Both Cyclebar and SoulCycle have great bikes in their studios.
They're new, in great shape, ergonomic, and comfortable.
Both will have slightly different positioning of their handle bars, their water bottle holder, their onboard computer, etc.
Which one you prefer will highly depend on personal preference, but don't worry; both of these studios have state-of-the-art equipment.
Edge: Even
---
The Community
If you know anything about SoulCycle, you'll know that their followers are EXTREMELY loyal.
Riders frequent the studio over and over and form bonds with the instructors and their fellow riders.
But you might also be surprised that, at least in my experience, the same is true at Cyclebar.
I love the community vibe at Cyclebar. It's extremely personalized to each local studio and it never feels like a huge corporate chain.
The instructors are active on social media, interacting with riders, soliciting playlist requests and more.
In short, both of these studios have a great vibe!
You'll just have to decide if you like the competitive fire of Cyclebar or the spirituality of SoulCycle more.
Edge: Even
---
Final Thoughts
SoulCycle and Cyclebar are both great spin studios.
You can get an amazing spin workout at either!
But there are a few key differences that will likely tip you one way or the other.
Overall, you might prefer Cyclebar if:
You're on a smaller budget
You like the live-scoring element to fuel your competitiveness
You want more of an upper body challenge
But you might really love SoulCycle if:
You like your workouts to be more reflective and spiritual
The club-atmosphere inside a studio turns you off
You're willing to pay a little more for a more exclusive experience
---
Wrapping Up
For my money, I prefer the vibe and workouts at Cyclebar.
The candles and the "healing crystal" inside the studio (yes, that's a real thing) at SoulCycle are a little "woo-woo" for me, and I like competing against others in the room based on energy output and calories burned.
But that's just my opinion! You should make up your own mind, and I can't think of a better way to do that than by working out at both Cyclebar and SoulCycle before committing.
(Your first class will probably be free at Cyclebar, but you'll likely have to pay around $20 for your first workout at SoulCycle.)
And I definitely recommend trying a free month of ClassPass.
You can take up to 7 different classes in your first month and really get a feel for the kinds of workouts that are best for you. Click the link to get started!
Hope this helps, and let me know in the comments if you have any more questions!