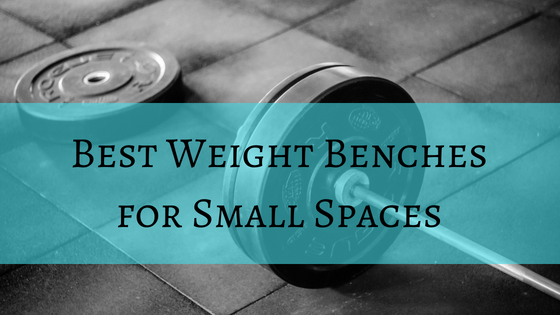 After pouring over hundreds of reviews and doing hours of research on home weight benches for working out, I think the best weight bench for small spaces is the Body-Solid Powerline folding bench (Amazon link) — it'll be the best bet for most people. It's quite small for a fully-functioning incline decline bench, and folds up to save a little more space.
Read on to find out about some other fantastic options and how I decided on my top 3!
…
Sometimes it's easier to work out at home than to try to go to the gym.
Other times, a home work out is just more convenient or fits better with your schedule
Having a weight bench is the perfect piece of home exercise equipment. Its versatility means you can use it for a ton of different exercises.
But how do you justify buying a weight bench when you just don't have the space at home?
Even if you're in a tiny apartment, you can still hit your fitness goals with a weight bench! In my research, I found a bunch of great foldable, collapsible, or adjustable weight benches that make it easy to get a great workout in at home, even if space is tight.
Let's take a look at my buying guide for the best weight bench for small spaces:
Image
Product
Details

Fitness Reality 1000

Budget-friendly
Light as a feather
Tricky assembly

Check on Amazon

My Pick

Body-Solid Powerline

Excellent balance of size & power
Folds and stows
Best quality for the budget

Check on Amazon

Bowflex 5.1

Heavy, but short
Folds and stows
Most expensive option

Check on Amazon
---
What to look for in a compact or portable weight bench:
Weight benches are great tools to have at home. You can use them for abdominal exercises, weightlifting, body weight exercises, and more.
While the overall size of many weight benches is relatively standardized, if you're in a small space you should definitely look for a weight bench that can be folded for easy storage.
That way, it may take up room while you're working out, but can be easily moved out of the way.
(Another benefit of these kinds of benches is that they're portable… You won't want to bring them places often, but it's nice to have that option!)
When you're looking for the perfect weight bench to fit a smaller environment, there are a couple of factors to consider outside of just its size:
Maximum user weight – even if only you're using it in your apartment or home gym, this is an important factor to take into consideration. You want something sturdy and easy to stash when you're done. But in the moment, you need to think about what will keep you – and your weights – stable during your workout.

Incline/Decline – if you're really trying to save space, you can get a pure flat bench that won't take up much room at all. But the lack of incline and decline severely limits what you can do with the bench. It's worth a couple of extra inches in length to make sure you have a bench that can do it all.

Leg Bar – a leg bar, or a leg hold, is a bar that helps stabilize your legs during an exercise. Although this may not be a buying point for everyone, weight benches with leg holds can help you maintain proper form through your exercises.
Alright, enough of that! Let's take a look at the actual benches I think might fit what you're looking for:
---
Best Budget Weight Bench for Small Spaces: Fitness Reality 1000 Super Max Weight Bench
Overview: The Fitness Reality 1000 Super Max Weight Bench supports up to 800 pounds and a user height of up to 6 feet 4 inches. This durable bench is ideal for upper-body strength workouts. It has a 12-position adjustable backrest. This bench has wheels for easy relocation. It offers a one year limited warranty. Finally, it can be folded for easy storage.
Weight: 35 pounds
Dimensions: Unfolded – 59 L x 23.5 W x 48.5 H inches ; Folded – 51 L x 23.5 W x 9 H inches
Why We Like It: This weight bench offers durability and a high-quality build not usually seen at this price-point. It's also sturdy and easy to set up. Once you place it on the ground, you can feel good that it will support you while you're working out.
This adjustable weight bench is great for people of all heights and sizes.
It is designed to fit even tall individuals and can hold up to 800 pounds of weight on it. Although the manufacturer states that this bench is great for upper-body workouts, it can also be used for abdominal workouts (like crunches and inverse crunches) or other exercises.
This bench can be adjusted to an incline, decline, or to lay flat.
The adjustable leg bar allows for another layer of support. When done with the workout, the bench folds, reducing its height by 39.5 inches (approx. 3 feet 5 inches). The rolling wheels make moving it and stashing it away simple. It will be easy to put in storage – or even hide under the bed – in a small space or apartment.
Potential Drawbacks: While many laud this bench as being easy to set up, a few reviews disagreed and found the instructions hard to follow and a little frustrating. Additionally, the bench might be too narrow or less padded than some people would like. This could make it slightly uncomfortable to work out on.

Check price and read more reviews of the Fitness Reality bench on Amazon
---
Best Mid-Range Weight Bench for Small Spaces: Body-Solid Powerline Flat/Incline/Decline Folding Bench
Overview: The Powerline PFID125X Multi-Bench is a multi-purpose incline and decline bench designed to help you hit your fitness goals. This easy-to-use bench is ready to be put to use straight from the box; it requires no setup. Offering seven adjustment positions, this bench is also foldable and easy to store.
Weight: 45 pounds
Dimensions: Unfolded – 57 L x 16 W x 18 H inches; Folded – 57 L x 16 W x 9 H inches
Why We Like It: The PFID125X Multi-Bench comes with a ten year warranty for the frame and a one-year warranty on additional parts. This shows that the company is committed to not only providing a good product but making sure that exercisers are happy!
The bench itself is very stable.
It is designed to hold up to 500 pounds of weight. A metal-framed bar is used for the different bench adjustments, providing a level of strength and durability. The adjustments include 7 different positions, one of which is a decline. Not all weight benches offer a decline, so this can be an added bonus.
Another great aspect of the PFID125X is that it comes already assembled!
You don't need to worry about trying to get all of the pieces right. You can jump into a workout as soon as you get the bench. Then, when you're ready to store it, the weight bench has wheels on the bottom. You will be able to easily move it around by yourself.
Potential Drawbacks: Although this bench does fold, it doesn't greatly reduce its size when folded. Only the height decreases by 9 inches. While that does make it slightly easier to store, it may not work for some spaces or situations.
The backrest is also very narrow. While this might work for people who are more slender, people who are built more broadly may have a difficult time feeling comfortable on this bench.

Check price and read more reviews of the Body-Solid Powerline bench on Amazon
---
Best High-End Weight Bench for Small Spaces: Bowflex 5.1 Adjustable Weight Bench
Overview: The Bowflex 5.1 Adjustable Weight Bench is a strong, durable weight bench with stowable capabilities. Offering 6 adjustable positions, this Bowflex bench supports a maximum weight of 480 pounds. Bowflex offers a one year warranty on the upholstery, with a stunning 30 year warranty offered on the bench frame.
Weight: 63 pounds
Dimensions: 51 x 17.8 x 8.7 inches (about half size when stowed)
Why We Like It: The durability of the Bowflex 5.1 Adjustable Weight Bench cannot be contested.
Built with high-quality, heavy-duty commercial steel, this weight bench will provide a sturdy platform for your workouts. A removable leg hold also gives people more support when working out while the bench is on a decline.
The bench itself is designed to help correct posture and make sure you are in the right position during your workouts. This is extremely important, since not having the right posture or form can injure you in the long run.
The 5.1 is also easy to move and store.
When not in use, the bench folds to around 50% of its normal size, saving you room in your space (though the exact size when folded isn't advertised). Its added transport wheels also make it easy to wheel between different rooms in your house, or over to where you want it to be stored.
Potential Drawbacks: Despite its higher price-point, the Bowflex 5.1 Adjustable Weight Bench holds less overall weight than benches at a lower price.
This can make it difficult for someone who is larger-bodied or using a heavier amount of weights. Many also find the backrest of the bench to be too hard on their backs, or slightly curved to the point that their workouts are affected. Finally, some reviewers note that this bench is difficult to put together and, once set up, may be uncomfortable for people of a shorter stature.

Check price and read more reviews of the Bowflex bench on Amazon
---
Wrapping Up
Being restricted by space doesn't mean that you can't get a good workout. Whether you're looking to add a weight bench to your apartment, home gym, garage, or another spot, a compact or folding weight bench is key.
In terms of the above options, I would say that the best weight bench for most tight spaces would be the Powerline PFID125X Multi-Bench.
With its durable build, portability, and compact design, the Powerline PFID125X will fit into small spaces without making them feel cluttered. It comes already assembled, so you can start working out right away!
Check out the Powerline PFID125X on Amazon.