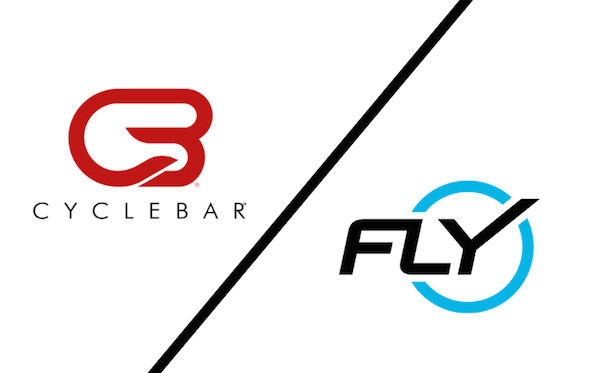 Spin class is a helluva workout.
You'd be pretty hard-pressed to find a better way to scorch calories, build endurance, and keep the impact on your bones and joints to a minimum.
But which spin class should you take?
Chances are you have a couple of choices nearby, including Flywheel and Cyclebar.
When it comes to Flywheel vs. Cyclebar, they're both great — take it from someone who's tried them both. But you only really need to join one!
Overall, we really dig the less corporate vibe and the stronger community at Cyclebar, though Flywheel gets the edge for giving you the option of doing spin and barre workouts in the same building.
Which one will appeal more to you depends on a lot of different factors, so let's take a closer look!
(You can also check out my full reviews after trying both Cyclebar and Flywheel.)
The best and most affordable way to try both, and hop around between as many different fitness classes as you want, is to join ClassPass. Hit my link to get a free month!
---
Amenities
Flywheel and Cyclebar offer pretty much the same stuff at most locations:
A spin studio
A unisex locker room
Showers and changing rooms
But there are one or two key differences that give Flywheel an overall edge in terms of offerings.
The "gift shop": You'll find that Flywheel usually has a bigger selection of athletic gear, branded merch, and accesories for sale at the studio. Flywheel actually partners with Lululemon on some of their clothing line, so you can expect to find some really high-quality stuff.
Cyclebar has something like this at most locations, but it's usually smaller and has less selection.
The barre studio: Flywheel is best known for its spin class, but most locations also include a barre studio in the same building.
(Barre is a workout that's inspired by ballet movement and often uses an actual ballet barre for stability, mobility, and strength moves.)
That's pretty cool if you want to change up your workouts now and then but only pay and drive to one location.
Edge: Flywheel
---
Price
Cost is usually going to be a pretty big factor when deciding between two pretty similar workout classes.
Unfortunately for your decision-making process, Cyclebar and Flywheel are pretty evenly matched here.
It's hard to compare perfectly as they offer different packages and each individual studio across the country may be different, but near me here's about what you can expect:
Single class at Cyclebar: $22
Single class at Flywheel: $23
That's pretty close, though Cyclebar has a small edge. Even in packages of classes, your per class rate at Cyclebar will probably be slightly less than Flywheel.
However, one cool benefit of Flywheel (again) is the barre classes that count the same as the spin classes. Though their unlimited classes per month package is outrageously expensive at face value, you get to alternate between spin and barre as much as you want.
I'm calling this a push.
(Check your local studio for accurate prices, please!)
Edge: Even
(Related: Find out how Cyclebar vs SoulCycle shakes out on cost and other amenities.)
---
The Workout
The actual spin class workouts are pretty similar at Cyclebar and Flywheel, but again, for the discerning among you there are a few differences that might matter.
Music: At least at our local locations, Cyclebar is really big on "themed rides" (80s, Michael Jackson, mashups, etc.) where Flywheel mostly just plays a mix of up-tempo Top 40.
Hills vs Sprints: In our experience, Cyclebar is a more challenging workout, incorporating more "hill climbs" (hard resistance, standing on the bike) vs just speed runs.
The arm workout: Both Cyclebar and Flywheel incorporate arm strength training during your ride through the use of weighted bars. The weighted bars at Cyclebar are heavier and provide a bigger challenge.
(Cyclebar has 4 and 6 pounders available, while Flywheel has 2 and 4 pounders.)
The scoring system: Both of these studios offer a live-scoring system. We slightly preferred how Flywheel does it (the number you see on your bike's dash matches the scoreboard exactly) vs Cyclebar (the big screen is the only place you can see your actual score), but both incorporate this extremely well into the workouts.
Though similar in length and structure, you'll probably find Cyclebar classes a bit of a harder challenge overall, for that reason, they get the nod in this category!
Edge: Cyclebar
---
The Bikes
The construction of the actual bike at a spin class is really important!
How it jives with your body, it's ease of use and intuitiveness, it's overall comfort. These things really matter.
In our experience, the bikes at Cyclebar are a little newer and more ergonomic.
Flywheel bikes felt a little awkward, the monitor read-out with your score on it was in a weird place to the side, and the water bottle holder was a bit intrusive. The shoe clips were also a bit unique and difficult to figure out at first.
Not the end of the world, but we think Cyclebar bikes are more comfortable and easier to use.
Edge: Cyclebar
---
The Community
This is bound to vary greatly between locations (and honestly, it might not be something you care about at all!).
But we found that Cyclebar near us is a bit more of a tight-knit group. People know each other, stay after class to chat, and develop friendships with others at the studio.
The instructors are also pretty active on social media, interacting with riders, sharing the playlists from their class, and furthering your connection to the experience.
Flywheel, in our experience, has more of a corporate vibe with busy commuters. Get in, get your workout done, and get out!
For us, this is big (and it's a major reason my wife continues to frequent Cyclebar every week), though if you prefer more solitudinous workouts, it might not be a dealbreaker.
Edge: Cyclebar
---
Final Thoughts
Again, these are both fantastic franchises that offer excellent spin class workouts. You really can't go wrong with either one!
Overall, though, we prefer Cyclebar because:
It feels a little smaller and tighter-knit
The music is more varied and fun
The workouts are a little more challenging
However, Flywheel may be more up your alley if:
You want to try spin and barre at the same place
Flywheel is way more convenient to your house
You don't care much for the community aspect of your workouts and just want a fun experience
---
Wrapping Up
In the end, we tend to prefer Cyclebar for a few reasons.
But my best advice to you? Try both!
Almost every workout studio will offer you a free class to try things out.
Go online and check the website, and if you can't find a deal there, just call them up and ask for a free trial.
This is, hands-down, THE best way to find out for sure which spin class chain is better suited to you and your workout style.
(I've done this at Flywheel, Burn Boot Camp, Orangetheory, and others.)
So go out there and decide for yourself!
Let me know in the comments — Do you work out at Cyclebar or Flywheel regularly? Have you tried both? Which one do you like better and why?
And I definitely recommend trying a free month of ClassPass. You can take up to 7 different classes in your first month and really get a feel for the kinds of workouts that are best for you. Click the link to get started!
Hope this helps!