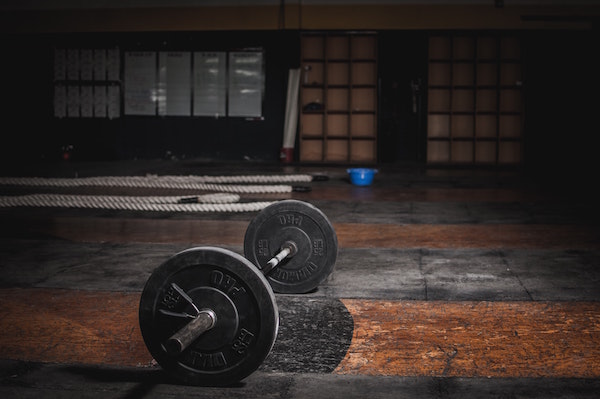 For those of you with a killer home gym in your garage, I really envy you!
Except, maybe, in the dead of winter.
Yes, having to work out in your garage gym in the freezing cold can be a bit of a problem.
Why? It's tougher to, literally, warm up your muscles, get loose, and prevent injury.
Not to mention it's crazy uncomfortable and, well, miserable.
But it doesn't have to be! There are actually some terrific options when it comes to the best heaters for your garage gym.
I'll dive in deeper below, but let's get right to my recommendations:
Image
Product
Details

Pro Breeze Mini Ceramic Space Heater

Super affordable
Simple to use (plug and play)
Small heating capacity

Check on Amazon

Mr. Heater Buddy Portable Propane Heater

Enhanced heating capacity
Uses a small propane tank
Auto shut-off for safety

Check on Amazon

My Pick

Pro-Temp Variable Propane Forced Air Heater

Can heat up to 1,500 sq ft!
Runs up to 11 hours straight
A little noisy

Check on Amazon
Click any of those links to jump over to Amazon and check out the product, or read on for more information and a few extra tips for working out in cold weather.
---
Heating Options for Staying Warm in Your Garage Gym
Now the good news is, you have a TON of options when it comes to heating up your garage in the winter.
The bad news is, it can all be a little overwhelming.
Let me walk you through your basic options and explain the pros and cons of each:
Electric space heaters
You know these. Little square doo-hickies that plug into any wall or power outlet and put off heat via electrical coils.
A lot of people use them in bathrooms that tend to get cold or bring them to the office to warm up their cubicle.
What's great about these is that they're really simple to use (just plug it in) and pretty inexpensive. Even a really high-end one should only run you $50-100.
The downside is that even powerful electric space heaters might not have the juice to really warm up your garage. It depends on how cold it is, how well-insulated your garage is, how big your garage and workout space are, and how good the heater is.
They're worth a try at first because they're so cost effective, but you may end up needing to spring for something more powerful.
Radiant heaters
Usually propane-based, you'll find a lot of heaters that look a lot like space heaters but work a little bit differently.
These radiant heaters create heat using an actual flame fueled by propane and disburse the heat with a small onboard fan.
The plus side of these is that they are relatively small, inexpensive, and still fairly easy to use. Though not everyone will love having to use a propane tank.
The downside is that even these may not be enough to fully heat your cold garage to a comfortable temperature.
Forced air heaters (or torpedo heaters)
Now we're getting into the big guns.
Forced air heaters can come in lots of different shapes and sizes, though they'll often look like telescopes or high-tech ray guns!
They use a fuel source (propane or kerosene, mostly) and an electrical outlet to create heat and then circulate that heat with blasts of air.
These guys can pack a ton of heating power and, if you have the budget and can ventilate your garage properly, will probably be the best way to go.
Infrared heaters
You know those giant tower heaters that restaurants sometimes use on their patios to keep patrons warm?
They typically use propane and electrical power to create massive amounts of heat that can be directed pretty precisely at one area or source.
These probably aren't the best bet for your garage, as using them indoors is pretty dangerous. But there are variations of these models that can work inside if you're committed to the idea.
---
Best budget heater for your garage gym: Pro Breeze 1500W Mini Ceramic Space Heater
Overview: If you're looking for a cheap and simple solution, you should definitely try out an inexpensive electric space heater like this one.
It's not a complete bargain-bin item — it's really well-rated and packs a punch as far as space heaters in its class go with 1500W of power and tons of positive user reviews.
The best thing about this heater is it's really simple to use. You'll have a lot of control over the temperature, and it's small and easy to move around wherever you need it.
Not to mention, dealing with kerosene or propane is inherently a lot more dangerous than a relatively low wattage electric option like this one. It might be worth giving this a try first to see if it can handle heating your garage.
Type: Electric space heater
Power Level: 1500W (roughly 5,000 BTU)
Pros:
Inexpensive
Highly portable
Safe! (Shuts off if it overheats or tips over)
Impressive power for its size
Plenty of customers claim they use it to heat their garage
Cons:
Depending on your garage and the temperature, might not be powerful enough
Best used to heat a small area
Can be a little noisy to operate
Check the latest price and read real customer reviews of the Pro Breeze space heater on Amazon.
---
Best mid-range heater for your garage gym: Mr. Heater Buddy portable radiant heater
Overview: If you need something with a little more punch, but prefer a small and portable heater, you might want to check out the Buddy from Mr. Heater.
It can cook up between 4,000 and 9,000 BTUs of heating power, giving it an edge over most electrical space heaters while remaining pretty easy to use.
It does run off of a small propane tank housed in the side of the container, so be aware of that!
Propane sounds a little intense, but this guy has all the safety features you'd want including auto shut off if it gets tipped over, the pilot light goes out, or other unsafe conditions arise.
Pro tip: I've seen lots of people say they pair two of these together and put them on either side of their workout area for PERFECT and even heating.
Type: Propane / radiant heater
Power Level: 4,000 to 9,000 BTU
Pros:
Small, portable, and lightweight
Can put off about twice the heat of most electric space heaters
Safety features prevent it from being a fire hazard
Uses a mini propane tank
Cons:
You have to buy and refill propane tanks to use it
Includes an open flame
Must ventilate the area (crack the door or a window to be safe)
Still not enough power to fully heat a cold two-car garage
Check the latest price and read real customer reviews of the Mr. Heater Buddy heater on Amazon.
---
Best high-end heater for your garage gym: Pro-Temp propane forced air heater
Overview: Ready to break out the big guns? Then look into forced air heaters or "torpedo" heaters or "salamander" heaters.
This one runs off of a standard propane tank for up to 11 hours and cranks out a whopping 60,000 BTU of heat.
They say that's enough to heat an entire 1,500 square foot enclosed area, so it should be absolutely plenty for your garage gym.
It will be a little noisy due to the forced air circulation, and definitely requires proper ventilation in the area, but if you don't want to bother with space heating and would rather bring your whole garage up to a comfortable temperature, this is the one for you.
Type: Propane / forced air
Power Level: 60,000 BTU
Pros:
Insane power and heating capacity
Runs off of propane tanks (burns cleaner and easier to work with than kerosene)
Higher BTU models available for bigger areas
Uses propane tank and does not require house hook-up to gas line
Cons:
Will be quite loud! You might want to wear headphones during your workout or play your music pretty loud
You'll have to ventilate (bringing the garage door up a few feet should be plenty)
Most expensive option on the list
Check the latest price and read real customer reviews of the Pro-Temp forced air heater on Amazon.
---
More Tips for Icy Winter Workouts
Here are a few things to keep in mind during those winter workout sessions in your garage.
If you spring for a powerful forced air heater, you should be able to get it pretty damn toasty in there. But otherwise, there are a few tweaks you may want to make to your workout routine.
Wear layers
I'm a huge fan of warming up in a lightweight jogger or pullover type shirt with long sleeves, worn over top of my normal workout shirt.
I'll do this at my commercial gym, in fact, during the winter when it's kind of cold in there.
You don't need to wear it the whole time, but keep it on through your warm-ups and maybe even some of your early sets until your blood really starts moving.
And speaking of which…
Warm up properly!
You should be doing this anyway, but it's even more important in the winter.
Take the time to get proper blood flow moving through your muscles. It will take longer if you're ice cold, so give your warm-up the attention it deserves.
Not only does proper warm-up prevent injury, but it also allows you to perform a heck of a lot better in your workouts.
For lifting, I like to do as many as 5 warm-up sets, gradually increasing the weight and lowering the reps, until I reach my working weigh.
Store barbells and other metal equipment inside if possible
Your heater may give you a cozy place to work out, but if you've left your barbells and other equipment out in the garage all night, it might be FREEZING.
Seriously, there's nothing worse than gripping a barbell only to find it's absolutely frigid.
Obviously, you can't move the whole power rack inside the house, but I'd find a place for your barbell(s) inside the warmth of your home during the winter. They'll be a lot more fun to use that way.
---
Wrapping Up
Don't let the winter weather discourage you! There are plenty of things you can do to make your home gym workouts more comfortable in the cold.
At the very least, grab yourself a small electric space heater to warm up one small area of your garage.
But if you have the budget, I think you'll be really happy you sprang for a powerhouse like the ProTemp forced air heater (Amazon).
And don't forget, in the summer you'll probably want an awesome fan in your garage to keep things cool!
Hope this helped, everyone!