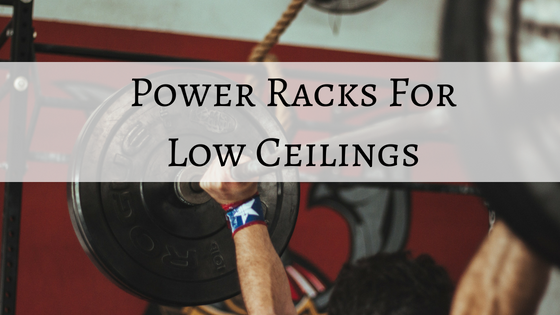 After pouring over hundreds of reviews and doing hours of research on power rack dimensions and construction, I think the Titan T-2 short rack (click to buy from Titan) is the best bet for most people with low ceilings. It's affordable and its performance and specs put other "short" racks to shame!
Read on to find out about some other good options and how I decided on my top 3.
…
Building a killer home gym is every lifter's dream.
Thankfully, most of the equipment you need is affordable and can be easily bought online and delivered right to your home.
Awesome!
But there's one major problem…
Power racks and squat racks, the centerpieces of most home gym, often won't fit in basements.
And the basement is a prime home gym location!
If you're having this problem while shopping for home gym equipment, let's dive in to my research and recommendations for the best power racks for low ceilings.
(First, a quick summary:)
Image
Product
Details

Ollieroo barbell rack

64.2" height
Half rack
480 pound capacity

Check on Amazon

Cap Barbell cage

72" height
Full rack
500 pound capacity

Check on Amazon

My Pick

Titan T-2 short

71" height
Full rack
700 pound capacity

Check on Titan
---
How to shop for a power rack for a low ceiling room or basement
So here's the problem.
Most standard power racks clock in at about 7 feet tall, or 84″. Most homes in the United States and other developed countries have 8 foot tall ceilings.
That makes for a pretty good (if a little bit tight) fit. Because true ceiling height is usually a little bit less than structural ceiling height, you may have SOME issues doing full range of motion pull ups with a 7′ rack and an 8′ ceiling, but you should be OK.
The real problem occurs when you're putting a squat or power rack in a basement with low ceilings — usually around 7 feet.
This leaves zero clearance for head room and assembly for your standard rack.
That's why you need a shorter-than-usual power rack. There aren't a ton of options, but there are a few good choices that come in at 6′ or lower.
Here are a few things to keep in mind while you look for short power racks:
Your height: A 6′ power rack sounds great… unless you're 5′ 11″. That puts the top bar almost right at your forehead, which could be uncomfortable and dangerous. If you're on the taller side, consider a half rack (see my recommendations below).
Weight capacity: With shorter racks, you often have to compromise somewhere, and often it's with the overall fortitude of the structure and its weight limit. If you're really strong, make sure your short power rack can handle the weights you'll be using.
To pull-up or not to pull-up? If you want to use your rack's pull up bar (and do full range of motion), you'll need a little extra headspace. So don't cut the measurements too close!
---
Best Budget Power Rack for Low Ceilings: Ollieroo Multi-function barbell rack
Overview: The Ollieroo is a half rack with a ton of versatility and solid construction. You might be surprised to learn that even many of the best half racks on the market are too tall for low ceiling rooms! The Ollieroo multi-function is one of the few exceptions and is an outstanding rack in its own right.
Max Height: 64.2″
Weight Capacity: 480lbs
Why We Like It: The red and black color scheme looks plain awesome.
This half rack also has some really nifty features, in addition to being one of the few pieces of home gym equipment that should fit comfortably in most basements. I
t's adjustable by height AND width, meaning it can accommodate and support a wide range of exercises.
Reviewers rave about the solid steel construction and easy assembly. Best of all, the price tag is extremely budget friendly.
Potential Drawbacks: The weight limit on the Ollieroo half rack is only 480lbs, and that's the absolute maximum.
If you're a strong, experienced lifter who needs a home gym that can handle heavy, heavy squats or impressive bench numbers, this might not be the one.

Check latest price and reviews of the Ollieroo rack on Amazon
---
Best Mid-Range Power Rack for Low Ceilings: Cap Barbell 6′ Full Cage Power Rack
Overview: Cap Barbell has taken their extremely popular and well-made 7 foot cage and, well, chopped part of it off!
The 6 foot model is a perfect fit for lower ceiling rooms and garages, and gives you some extra features you won't get in the half rack options.
This is a solid full cage power rack with a lot to like about it.
Max Height: 72″
Weight Capacity: 500lbs
Why We Like It: One of the very, very few full power cages that's capable of fitting in a 7 foot ceiling room right out of the box.
Speaking of out of the box, assembly of this bad boy is a breeze, with many reviewers commenting on how easy it was.
It's a pretty straight forward rack… well made, reasonably priced, and with all the usual features you'd expect to see without a ton of extras.
It doesn't hurt that the powder-coated finish is great and overall the rack has an awesome look to it.
Potential Drawbacks: 4″ between pin holes isn't ideal for fully customizable adjustment, particularly on the bench press. Weight capacity is still lower than ideal.
Check latest price and reviews of the CAP Barbell rack on Amazon
---
Best Higher-End Power Rack for Low Ceilings: Titan T-2 short power rack
Overview: The Titan T-2 short (not to be confused with the full sized T-2) is, simply put, the best rack you'll find under 7′ tall.
This sub-six-foot rack is made like a tank, with a solid max weight capacity and much thicker gauge steel than most competitors in this market.
The price is higher than the others on this list but still quite reasonable. Trust us, you won't do much better than this.
Max Height: 71″
Weight Capacity: 700lbs
Why We Like It: One look and you can tell the Titan T-2 means business.
It's made from 11 gauge steel which holds up great and puts most other racks in this price range to shame.
It can comfortably handle up to 700lbs on this frame, far more than the other racks mentioned on this list, and enough to keep even pretty advanced lifters happy for a while.
Another great feature, the pines holes are a measly 1.25″ apart, giving you a TON of room to customize the bar height for any exercise under the sun.
The pull up bar on the Titan T-2 is actually a few inches below the top of the rack, at 68″, so you should even have room for those full ROM pull ups if you so choose.
Potential Drawbacks: This rack is deep and wide, giving it a large overall footprint despite its short stature. Price tag is the highest on this list.
Check latest price and reviews of the Titan T-2 Short Rack on Titan Fitness
---
Wrapping up
In most cases when shopping for home gym equipment, there are enough options to make your head spin.
Not so when choosing a power rack for a basement or low ceiling room.
There are really only a handful of racks out there on the market that can fit in a room with 7 foot ceilings, and some of those are half-racks (which are great, but come with a few compromises.)
Based on my research, you're really going to have trouble doing better than the awesome and reasonably priced Titan T-2 short rack.
Hope this helps!
Get the full specs & read customer reviews of my top recommended short power rack, the Titan T-2 short power rack.
---
Power rack height FAQ
How tall is a power rack?
That's a hard question to answer, but most full cage power racks are about 7 feet tall or more.
The short power rack options that I've listed above are mostly around 6 feet tall.
How tall is the ceiling in an average a garage or basement?
The average ceiling height in an American home is either 8 or 9 feet, depending on when the home was built. Newer homes tend to have slightly taller ceilings and will more often have 9 foot heights. Slightly older homes are more likely to be 8 feet tall.
Garages are almost always 8 feet tall. The standard garage door opening has to be 7 feet tall, and the track and garage door opener equipment above need about a foot of space. Most often, your garage ceiling will be 8 feet tall.
Low ceiling basements, however, can pose a problem. They are often 7 feet tall, which is enough for people to walk around (well, most people!), but leave very little room for exercise equipment.
Even a 7 foot power rack would barely squeeze into a 7 foot basement, and leave you absolutely no room for range of motion on certain lifts, so that's where the issue comes into play.
Are half power racks shorter?
Sometimes, though not as often as you would expect. Half power racks often take up about the same floor space as a full cage, they just don't extend out all the way to the top, so they take up a little less air space.
It's very common for half racks to have the same footprint and height as their full sized counterparts.
Wall-mounted racks are usually the same height, but can save you some floor space and overall depth. Though mounting a power rack to the wall is quite a lot of work and has to be done properly for safety purposes.
Will I hit my head on the ceiling doing pull ups?
Possibly, especially if you're tall and your ceilings are low. That's one of the often overlooked issues with power rack height. You may have plenty of room for squats and bench pressing, but you can run into issues getting in a full range of motion on the pull up bar up top.
That's why a short power rack is so useful, although taller users may find them troublesome for other reasons (like hitting the top of the cage during an overhead press, for example).
If my ceiling is too short for a power rack, what should I do?
You could always get a good dumbbell set and a really solid weight bench and do many of the same exercises. It'll be hard to get the same weight overload with dumbbells vs a loaded Olympic bar, but especially if you're a newer lifter you'll still be able to get an amazing workout.
You should also be able to find a gym near your house that's not too expensive. Just be wary of Planet Fitness – they're inexpensive but they only have Smith machines!
Can you cut down a power rack?
Yes! Some of the really reputable fitness manufacturers will custom-cut their power racks to fit your height requirements, but you'll have to inquire with them directly rather than going through a retailer like Amazon.
Titan and Rogue have been known to do this for customers who ask or possibly pay an extra customization fee.
Can I cut my own power rack down to size?
You can, but I wouldn't recommend this. You'll likely void your warranty, and if you don't do it properly you could seriously compromise the integrity and strength of the rack.
If you plan on using your rack to lift heavy weights, I wouldn't mess around with chopping it into pieces to fit a short room. There's no way of knowing how you might alter the weight limit of the rack by doing this, plus if your cut isn't 100% even you could cause instability or even toppling issues, which could be incredibly dangerous.
Are 72″ power racks safe?
Absolutely, provided you use them properly. Just make sure before you buy that you check the maximum weight capacity, which is sometimes less than larger, bulkier racks. If you stay within the manufacturers suggested weight limit, you shouldn't have any safety issues.
As always, you should use the safety bars and/or a spotter during heavy lifts to prevent injury.
Can I make my own power rack to fit my house?
This is definitely possible, but I wouldn't do it unless you're a really skilled carpenter and/or metal worker.
A power rack is a lot more than just a thing that holds weights. It's designed to keep you safe, and the best racks are rigorously tested for balance and capacity. I wouldn't trust benching heavy on a rack I made myself, because if it fails, it could be deadly.
If you really know what you're doing and you're willing to do some testing on your own (plus spend a lot on materials and construction time), it's definitely possible to make your own DIY power rack, but it's not something I'd recommend.