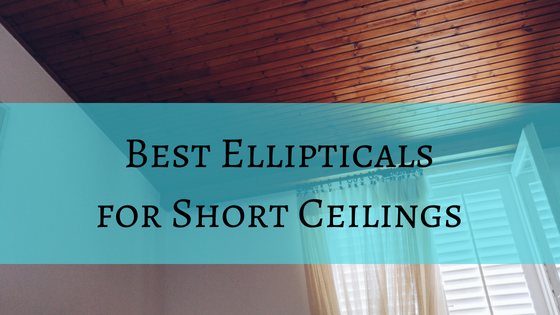 So you wanna buy an elliptical.
That's great! They're terrific full-body cardio machines that can absolutely help you get into terrific shape.
There's just one problem:
They're huge.
Unlike treadmills and other pieces of home workout equipment, the dynamic range of motion utilized by elliptical trainers makes them take up even more space than their bulky frames.
Does that mean you can't put an elliptical in a basement with a short or low ceiling? Definitely not!
I've done the research, and I'm ready to help you pick the best elliptical for short or low ceilings.
Image
Product
Details

Nautilus E614

12" step on height
Budget friendly
Lower weight limit than competitors

Check on Amazon

Bowflex M7

12-14" step on height
Super compact
High-end price

Check on Amazon

Horizon Evolve 3

10" step on height
Folds away for easy storage!
Quick assembly

Check on Amazon

My Pick

Nordictrack SE9i

14" step on height
Top overall choice
Best feature set available

Check on Amazon
---
Benefits of Elliptical Machines for Working Out at Home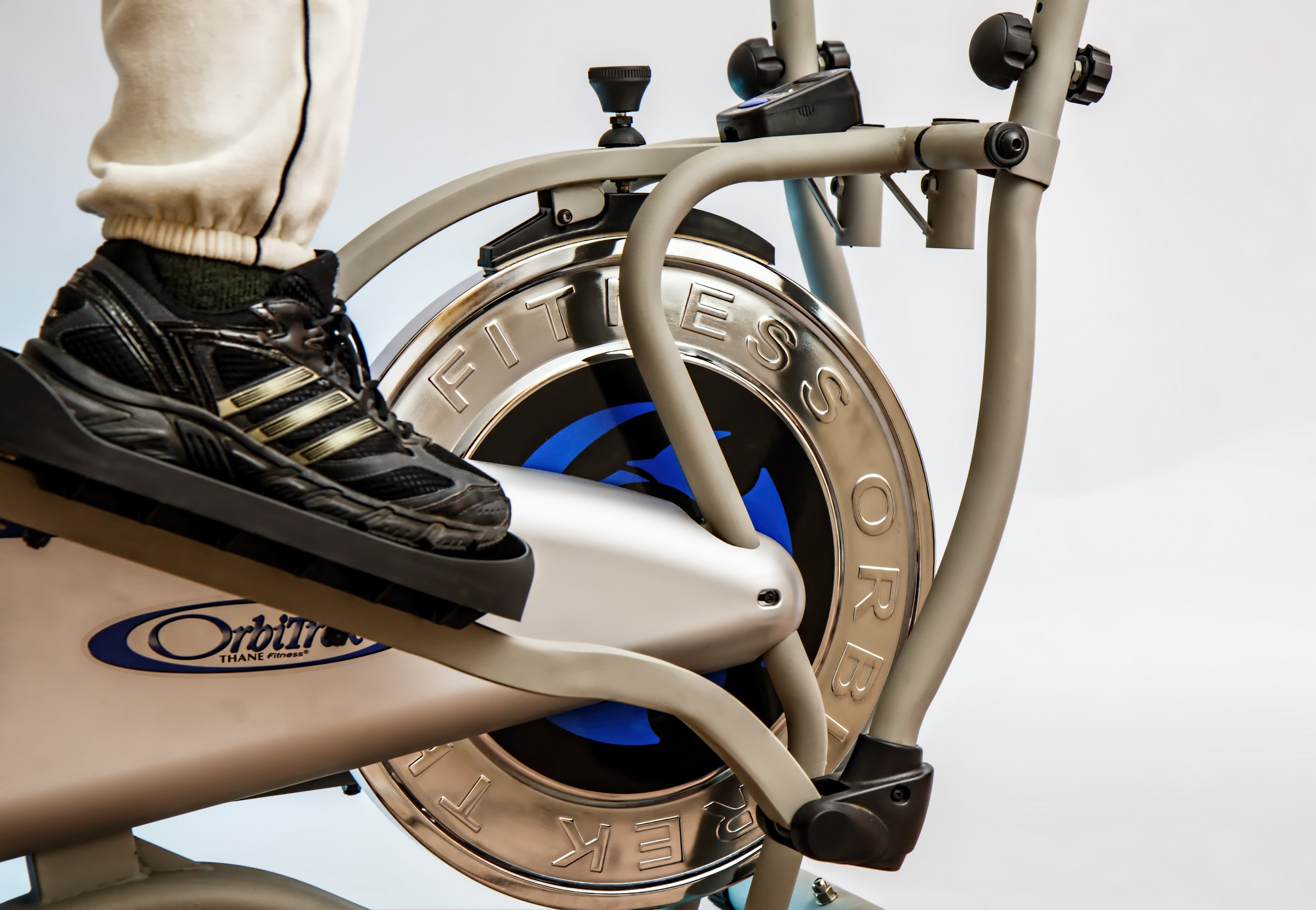 You're making a great decision adding an elliptical machine to your home.
Before we dive in to my top picks for short and low ceilings, here are just a few of the benefits of ellipticals — proof you're about to make a smart purchase!
No Impact
Running outside or on a treadmill is a great workout and burns lots of calories, but it is absolute hell on your bones and joints.
The elliptical machine imitates a similar range of motion and works many of the same muscles, but with a minimal impact on joint health.
For that reason, it's a great alternative to anyone with nagging injuries or who just wants to avoid wear and tear on their bones.
Especially if you have good elliptical shoes!
Full Body
The moving handlebars/poles at the top of an elliptical machine do more than provide stability; they get your arms and upper body in on the fun.
When your legs get tired of driving the flywheel, let your arms take over and get a burn of their own.
Or use both in equal measures and get a fantastic full-body workout that a treadmill could only dream of.
Feels Easier
The elliptical machine triggers a strange phenomenon, potentially because of its ultra-smooth range of motion, where it feels like you're not working all that hard.
The ultimate calorie output is comparable (or maybe slightly less) than running on a treadmill, but psychologically it feels much easier, and you'll likely be able to keep going for longer.
(For a little more detail, read my pros and cons of ellipticals.)
---
How to Shop for an Elliptical for Short & Low Ceilings: 6 key steps
You're here because you've got a low ceiling and you're wondering how the heck you can fit a huge elliptical machine in your home.
Well here's a couple of key things you should keep in mind while shopping:
1) Know your ceiling height:
This sounds obvious, but get out a measuring tape and make sure.
The average ceiling should be around 9 feet tall. If your ceiling measures 9 feet or more, you likely won't have any trouble fitting any model of elliptical in there (unless you're extremely, extremely tall). If your ceiling comes in under 9 feet, read on.
2) Know the height of your tallest elliptical user:
If that's you, no problem.
But if you plan on having other members of your friend group or family use the machine, make sure you've accounted for the tallest one in the bunch.
3) Ideally, you'll want 17 inches of clearance between the tallest user and your ceiling:
This number came to me straight from a rep at Nordictrack (thanks Jordan!).
If you can hit this magical number, almost any elliptical model should work in your home (example: 8 foot ceiling = 96 inches. 6 foot rider = 72 inches. T
hat's 24 inches of clearance… plenty). But if your ceiling is really low and/or you have to account for tall riders, you're going to be cutting it close.
4) Find the "step-on height" of the elliptical: 
This is a measure of roughly how high a rider becomes elevated at the peak of the elliptical's stride path.
The step-up or step-on height isn't often listed on product pages and specs, so you have to dig for it or estimate (I've done my best below).
Typically, most elliptical models have a step-on height of 12-14″. This is why experts recommend 17″ of clearance (accounts for step-on height plus a little extra).
5) Check overall elliptical footprint
The "footprint" is how much room the elliptical takes up. If you're concerned about ceiling height, you likely don't have a ton of extra room and should pay attention to the elliptical's overall footprint.
There are lots of compact models to choose from, however some of the larger ones fold away for even easier storage.
You'll have to choose what works better for your space.
6) If your ceilings are under 8″ and you're over 6″ tall, you might want to consider an alternative to an at-home elliptical machine.
Your clearance margin is just going to be too thin for safety purposes.
Similarly, if your ceilings are right around 8″ tall, but you're 6′ 3″ or taller, you might also have clearance issues with most models.
Again, if your ceilings are average height (9 feet) or taller, you shouldn't have problems with most major elliptical models.
Now let's jump into my top recommendations.
---
Best Budget Elliptical for Short & Low Ceilings: Nautilus E614 Elliptical
Overview: The Nautilus E614 is an affordable elliptical machine with some nice extras, including built-in speakers, a USB charging port, and two LCD display windows.
Step-On Height: 12″
Overall Footprint: 71″ length x 28″ width x 71″ height
Why we like it: This is definitely a great machine for the price, making it a top value buy. Reviews are stellar, and though this elliptical doesn't have the smallest footprint, it comes in a little lower to the ground for extra headroom.
It should be a good fit for short ceiling rooms.
Potential drawbacks: The Nautilus E614 takes several hours to assemble yourself. Some users mention that though the weight limit is technically 300 pounds, users over 225 pounds may want to invest in a sturdier model.
Check price and read more reviews of the Nautilus E614 on Amazon.
---
Best Compact Elliptical for Short & Low Ceilings: Bowflex Max Trainer M7
Overview: Bowflex is one of the top names in at-home fitness, and the Max Trainer M7 is no exception. This bad boy is top of the line and packs a lot of workout power into a very small, sturdy, and well-constructed frame.
Step-On Height: 12-14″
Overall Footprint: 49″ length x 30.5″ width x 65.5″ height
Why we like it: This thing is a beast, and definitely the right call if you're ready to make a serious investment in yourself and your fitness.
Construction is top of the line, and the technology is through the roof: It can even remember settings for 4 different users! The extremely small, compact footprint makes the M7 a wonderful fit for tight spaces.
Potential drawbacks: This is the priciest option on the list, and may not fit everyone's budget. Some users complain that the machine is loud during use.
Check price and read more reviews of the Bowflex M7 on Amazon.
---
Best Folding Elliptical for Short & Low Ceilings: Horizon Fitness Evolve 3 Elliptical
Overview: The Horizon Evolve 3 is a fantastic elliptical that has a ton going for it; notably its ability to fold up for easy storage. That's a huge selling point, but this piece of equipment also comes with a digital screen, a fairly small footprint, and a reasonable price tag.
Step-On Height: 10″
Overall Footprint: 69″ length x 28″ width x 69″ height
Why we like it: This modestly sized elliptical is perfect for small spaces: It's low to the ground (only around a 10″ elevation at the peak of its stride) and it folds away so it takes up way less room when you're not using it.
It's also the easiest elliptical to put together out of any on this list. Definitely worth considering for your basement or apartment with a short ceiling.
Potential Drawbacks: Very few. It's not the cheapest option on the market but reasonably priced. On-board computer less advanced than competitors.
Check price and read more reviews of the Horizon Evolve 3 on Amazon.
---
Best Overall Elliptical for Short & Low Ceilings: Nordictrack SE9i
Overview: Wanna talk ellipticals? Better start with Nordictrack. These guys know ellipticals. And the SE9i is truly the mack daddy (though surprisingly affordable compared to top competitors).
Take all the top of the line features you could possibly want in an elliptical and bundle them up in a fold-away design and you've got the perfect elliptical machine for small spaces and short ceilings.
Step-On Height: 14″
Overall Footprint: 78″ length x 31.9″ width x 66.4″ height
Why we like it: It doesn't get any better than this. Built-in fan. Top of the line digital display with over 30 different workout apps (run through countries around the world!)
On-board speakers. Bluetooth. Lifetime warranty. Reasonable step-on height for short ceilings. And a fold-away design that saves you even more space. Easy assembly.
This is a good one, folks.
Potential drawbacks: It's quite large when fully assembled, though it does fold away as I've mentioned. It's one of the best on the market and you pay for it (though it's cheaper than the Bowflex).
Check price and read more reviews of the NordicTrack SE9i on Amazon.
---
Wrapping Up
Unfortunately, ellipticals are large pieces of equipment. Just a quick reminder that if your ceilings are under 8″ tall and/or riders over 6″ will be using the machine, be extra careful about the measurements.
The best rule of thumb is to allow 17″ of ceiling clearance for the tallest rider, which should accommodate most models. (And one more thing, utilizing the incline feature of an elliptical will add to its overall height and elevation!)
If you've got that magic number covered, go ahead and check out my top pick, the Nordictrack SE9i Elliptical, on Amazon
Hope this helped!