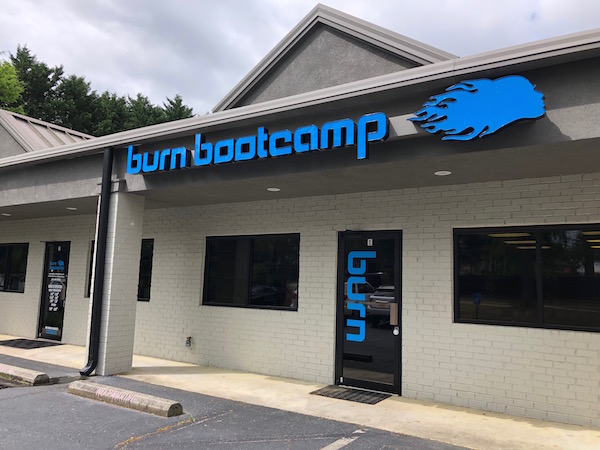 I am dead right now. I think I might actually be dying.
OK, maybe I'm being dramatic — but I did just get back from my first Burn Boot Camp class.
I'm always trying different workouts (hit the link to check out everything I've tried and reviewed), and today I took a short 13-minute drive to Burn Boot Camp in Roswell, Georgia to give it a whirl.
While I hydrate and refuel on carbs, here's my hands-on and honest Burn Boot Camp class review!
Overall, my first workout class at Burn Boot Camp kicked my butt. I'm not sure I've ever been so sweaty or exhausted. The intensity might be a little high if you're using these workouts in between performance training (like strength training or athletic training), but if just need a full-body calorie burn a few times per week, you'll absolutely love Burn.
Now let's take a closer look and I'll walk you through exactly what to expect at your first class, and if Burn is worth it.
(You can also get a killer bootcamp-style workout at home with Beachbody on Demand, plus hundreds of other workout programs including strength, yoga, and more. Use my link to try it free for 14 days.)
---
What to Expect at a Burn Boot Camp Class
If you're like me, you'll really want to know what you're getting into before you step foot inside Burn.
I usually lift weights and do minimal cardio, so I was excited but a little hesitant to try more of a high-intensity conditioning style workout.
If you're a novice, not used to cardio and conditioning, or just curious, here's about what you should expect at Burn.
(By the way, Burn Boot Camps are franchises and each one may be run a little bit differently. I can only share how my local Burn does things, and hopefully, that helps you decide if it's a good fit for you!)
---
Before You Go
Most workout classes like this will offer you a free class (or several) to try it out before you commit to a membership.
Burn Boot Camp is no exception.
I went online to their website and was able to quickly sign up for a 14-day free trial at my local studio.
That's pretty cool! Usually, you can only finagle one or two free classes, so it's pretty advantageous to be able to try out Burn for that long.
From there, you can view your local Burn's schedule online.
My local spot seems to have about 5 or 6 morning slots, one class at lunchtime, and then three in the late-afternoon and early evening. That's during the week.
On the weekends, they just have a handful of morning slots (7, 8, 9, and 10am).
One thing I noticed is that you can't reserve a spot in the class. You just walk in whenever you want and get started.
That's cool because it gives you a lot of flexibility for when to go (and you can easily back out without losing your money), but the downside is that peak times might be really crowded.
I perused the schedule and picked out a 12-noon class on a Wednesday that worked with my schedule and put it on my calendar.
(You can also browse the schedule on the Burn mobile app.)
---
When You Get There
Burn Boot Camp is easy to find.
You'll notice their scorching-blue logo and you'll know you're in the right place!
When I walked in, I was greeted by a really friendly girl at the front desk.
She had me sign a quick waiver (in fact, they never even looked up or asked about my 14-day trial. So if you don't want to set yours up online, you can probably just go in person whenever you'd like.)
She then walked me over and introduced me personally to the trainer who'd be teaching class that day. I thought that was a really welcoming touch!
I stored my stuff in one of the open cubbies near the front. I kind of wish there were combination lockers available, but everyone in the class is working out together and there's someone standing by the desk at all times, so I felt pretty safe.
(I also noticed this contraption with straps hanging down, but I'm not totally sure what it is! We didn't use it during my class.)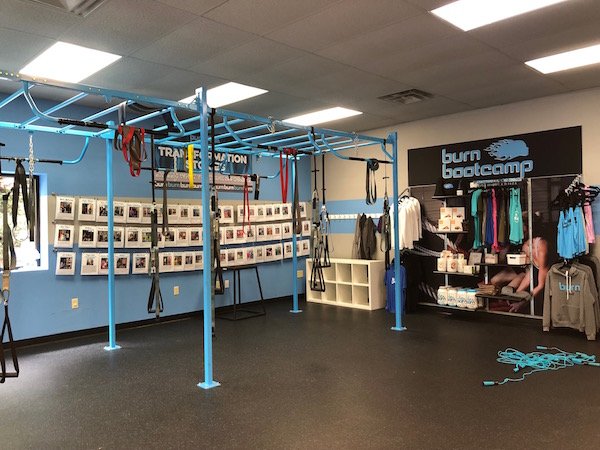 There wasn't a locker room or changing area to speak of, but there were two private unisex bathrooms available.
I also noticed these energetic, inspirational signs all over the place.
Check out "Rule #5," – Don't get tired, get tough!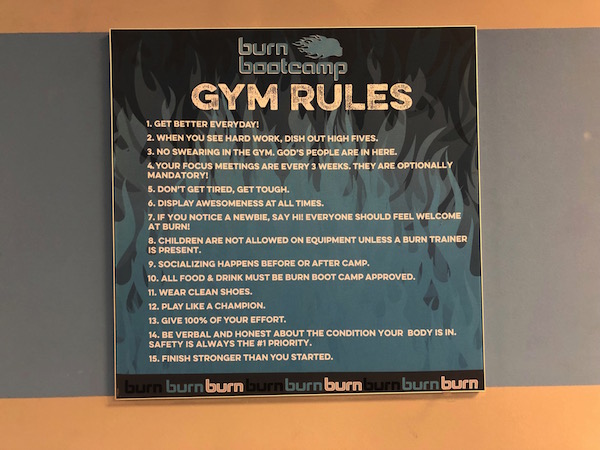 Other than that, the majority of the studio is just a large workout-studio surface with some various equipment on and around it. The floor itself is about 4-inches of foam for a firm yet surprisingly bouncy and low-impact surface.
There was, however, a child care center inside! More than a few moms were in my class and brought their babies and toddlers with them. It's included in your membership, which is an incredible perk for parents.
After I stored my stuff and had a look around, the instructor turned on her headset microphone and told us to get in place on the mat. We were about to start!
---
During Class
If you're getting ready to take a boot camp here, do yourself a favor and wear comfortable sneakers along with clothes you can sweat in.
Because you're going to sweat… a lot.
When I walked in, they told me it was a "cardio day." Each day of the week has a different focus, like lower body strength, speed/agility/cardio, etc.
I was lucky enough to pick the workout designed to destroy your heart and lungs. Yay!
(One downside is I'm not sure how you'd know which day it is from the website or app. The instructor told me to follow them on Instagram to get updated weekly schedules.)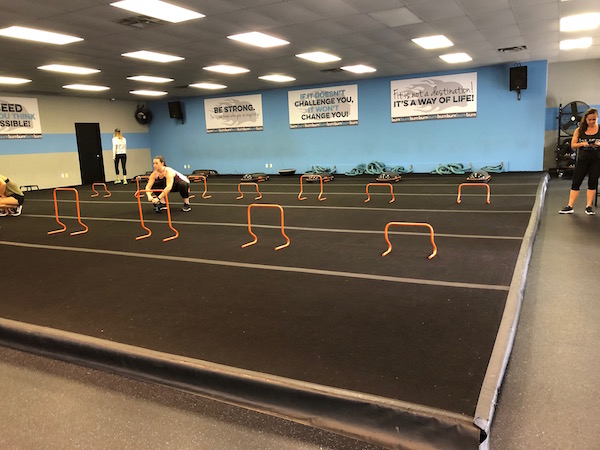 So here's how the Burn Boot Camp workout went:
5-7 minute warmup
The instructor got our hearts pumping (and me sweating) with a pretty intense warm up to kick things off.
We alternated between:
Burpees
Jumping jacks
Mountain climbers
Heisman / high-knees
And a few other movements
Quite honestly, I've had entire workouts that were easier than that 5-minute warm up.
I really wasn't sure how I was going to get through the next 40 minutes of class.
From there, we got a very short break as the instructor explained that we'd be moving into stations.
There were a total of 7 stations (plus one extra that she threw in on a whim!), and we'd go through each station for four rounds:
Round one – Each station for 1:15
Round two – Each station for 1:00
Round three – Each station for :45
Round four – Each station for :30
The stations were heavily focused on agility, speed, footwork, and anything else she could think of to wear your butt out.
We cycled through:
Jumping rope
One-footed ledge hops (onto the platform)
Broad jumps
Heisman / skaters (side jumps and landing on one foot)
Travel tap (tapping alternating toes on a platform then broad jump)
Plyometric step up (stepping up/down from a box)
Our instructor also partnered us up with someone in the class to do partner oblique crunches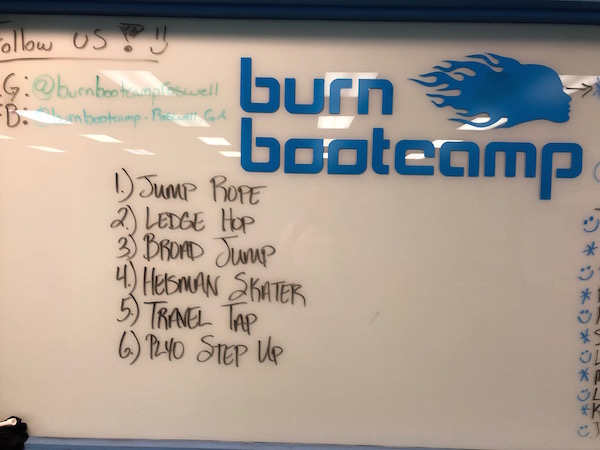 Between rounds, there was essentially no rest.
You had maybe 5-10 seconds to grab a sip of water. Then you were back at it.
Throughout the class, the instructor walked around shouting encouragement and correcting your form, so it was hard to slack off!
Every muscle in my body was on fire after the first round one, and I was drenched in sweat and drained. But there was still a LOT more class, so you pretty much have to find a way to keep going.
Before the last round, the instructor decided to change things up and instead just murder us with 2 straight minutes of full push-up burpees.
If you had anything left in the tank at that point, you were pretty much fried after.
There were about a dozen people in my class and I'm not sure anyone really had any effort left to give down the stretch.
Myself, I made it through, but I was truly peeling myself off the floor by the end — it took everything in me just to crank out a few extra burpees to close out the class.
(Don't worry — You are going to work VERY hard in this class, but almost every move had a modification available if you needed it to be a tad easier.)
I was a little surprised, but there was no official cool down period after such an intense workout. However, when class came to a close, they were in no hurry to shoo people out. A few folks stayed behind to chat and stretch.
(I found a video of a full body Burn Boot Camp workout you can check out. This one has a little more of a strength focus with dumbbells, but you can get an idea of the intensity you're signing up for.)
---
After Class
There wasn't much to mention after class.
Like I said, I do kind of wish instead of obliterating every last bit of our will to live, we could have finished up with a 2-3 minute cooldown instead.
But you can always do that on your own if you want.
After boot camp, everyone in the class was basically dead and either hydrating, stretching, or just getting the hell out of there.
---
Is Burn Boot Camp on ClassPass?
As far as I can tell, Burn Boot Camp is not included with ClassPass.
That could change as ClassPass is always adding new partners and fitness classes.
But there are tons of local bootcamp style workout classes in your area that are included in ClassPass.
If you like hopping around between spin, yoga, bootcamp, and others, you won't find a more affordable way to do it.
---
Pricing (How much does Burn Boot Camp cost?)
Like I wrote above, it's pretty great that you can try out Burn Boot Camp for 2 weeks while you decide if it's for you.
From there, you'll have a few membership options.
But you should know that Burn is not your usual gym membership or workout class.
The majority of their packages come with unlimited workouts at any Burn Boot Camp gym, PLUS access to focus meetings: Those are 15-minute one on ones with a Burn trainer where you discuss your fitness goals, nutrition, and overall progress.
You can have focus meetings as often as once a week. That's AMAZING if you're someone who needs some extra structure and guidance to really make the transformation you're looking for.
Most of the membership packages will run you somewhere between $100-179 per month depending on the length of the contract — most members pay an average of about $125 per month. For unlimited workouts and one-on-one trainer time, that's a pretty great deal.
You can also load up a Fit Card for access to classes on an a la carte basis.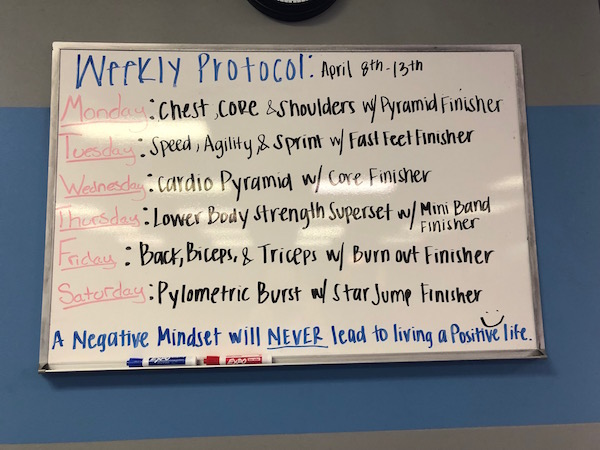 Note: This post was updated in May 2020 to reflect current pricing at Burn Boot Camp more accurately.
Burn is also offering some at-home live fitness classes and an accountability program for members stuck at home!
---
Burn Boot Camp Pros
Alright, so what did I like about it?
Effective and varied workouts: If you go to Burn a few times per week, you'll hit every muscle in your body in a variety of different ways, burn a ton of calories, and get in fantastic shape. There's no way not to succeed if you show up and do the work.
Free childcare: Seriously, this might be the best overall selling point of Burn Boot Camp. Almost no one has childcare except for big box gyms. So if group classes are your thing and you're stuck at home with the little ones during the day, Burn should be at the top of your list.
Encouraging environment: Class was hard, but fun! The instructor was encouraging and had us all giving each other high fives throughout. You'll also be partnered up at some points, which is a great way to mix things up.
---
Burn Boot Camp Cons
There weren't too many drawbacks to Burn Boot Camp, but it might not be for everyone.
No locker rooms/showers: I can't say if this is the case for every Burn gym, but it was for mine. I don't really need it, personally, but I can see some people wanting access to a shower area before they head off to work.
Workouts might be too intense: Lifting will always be my number one, so personally, I'm looking for a good conditioning workout that compliments my strength training goals. Burn Boot Camp absolutely FRIED me, and it might ultimately be too much to do on rest days. Conversely, this might be exactly what you're looking for!
Expensive: You get a LOT for your money here (training and nutrition advice, child care), but Burn certainly isn't the cheapest way to burn calories around. You could probably do a little better doing the group classes at LA Fitness or going somewhere with more a la carte options and fewer extra services.
---
Wrapping Up
Overall, I had a blast working out at Burn Boot Camp.
The routine was intense and satisfying at the end, the instructor had great energy and enthusiasm, and ultimately, I could see myself going back.
(If you stick with it, you'll likely see some incredible Burn Boot Camp results!)
The workouts are probably a little too intense for me to regularly fit into my lifting routine several times per week, but Burn Boot Camp does offer free 9am classes every Saturday — those would be a great option every now and then for a killer calorie burn!
(If you'd rather just work out at home, save yourself time and money by trying Beachbody on Demand. You'll find plenty of awesome conditioning and bootcamp workouts on there. Click here to try it free for 14 days.)
Hope this helps give you the push you need to sign up and try it out. Let me know if you have any questions in the comments below!