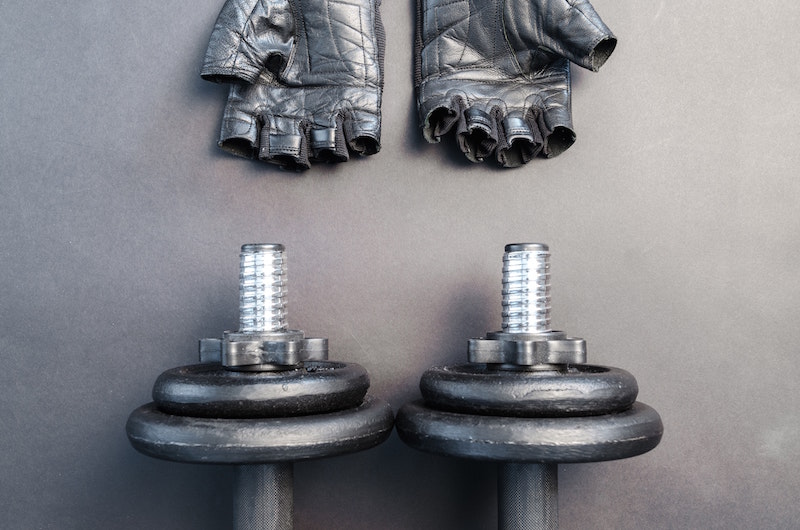 Going to the gym for the first time, alone, can be really intimidating.
And the truth is, some people just don't jive with going to the gym at all!
The good news is that you can get an incredible strength workout in at home, any time you want.
All you need is a good dumbbell set.
If you're a total newbie, here's all of my best advice, tips, and recommendations for the best dumbbells for beginners:
First, decide if you want fixed or adjustable dumbbells

Then pick your budget

Decide how much weight you need

Make the purchase
If you want to skip ahead to the last step, here are my favorite dumbbell sets that I always recommend:
*** = My overall favorite
Image
Product
Details

AmazonBasics Neoprene

Super affordable
Feel great in your hands
Great for light beginner workouts

Check on Amazon

My Pick

BowFlex SelectTech 552

Adjustable set
Excellent value
Up to 52.5lbs per hand

Check on Amazon

CAP Barbell

Durable & lasts forever
Easy on floors and other equipment
Hex design is super practical

Check on Amazon
Now let's just dive in a little bit deeper on what to look for and how to choose your first set of dumbbells.
---
What to look for in your first dumbbell set
If you go to Amazon right now and search "dumbbells," you'll get well over 1,000 results.
That's… a lot!
We need some way of narrowing it down, especially if you're new to lifting weights and have no idea what to look for yet.
The good news is that I've been through all of this before, have spent hours pouring over customer reviews of every set on the market, reading through dozens of Reddit threads about dumbbells, and generally absorbing every piece of information that I can.
Here's what you need to know before you buy a set of dumbbells as a beginner.
---
Style (Fixed vs Adjustable)
This is one of the key decisions you'll need to make before you decide on a dumbbell set.
Do you want fixed dumbbells or adjustable dumbbells?
Fixed dumbbells come with a separate dumbbell for each weight. You can buy them individually, in pairs, or in a huge set. But you'll have 5lb dumbbells, 10lb dumbbells, 25lb dumbbells, etc, and they'll each be their own piece of equipment.
Adjustable dumbbells are a pair of weights that can be adjusted to a number of different weights either by adding/removing plates, or working some kind of adjustment mechanism.
(I'll recommend examples of both below.)
Fixed dumbbells will be a LOT more expensive if you plan on buying a full stack (say, 5-50lbs).
They'll also take up way more room. But the upside is that fixed dumbbells will be significantly more durable, and they're way more cost-effective if you just want to buy a few smaller pairs to start.
Adjustable dumbbells are an awesome investment and can keep you pretty happy for a while as you progress through the different weights.
The downside is that they often aren't as durable and can sometimes feel a little weird in your hand due to their construction. Plus you have to stop between sets to change weights, if necessary, rather than just grabbing a different weight as you would with the fixed option.
(Related: How much does an empty dumbbell handle weigh?)
There's no right or wrong answer, it just depends on how you think you'll be using the dumbbells over time.
---
Cost
Decide on your budget, or how much you're willing to invest in your home dumbbell workouts.
As with everything in life, you get what you pay for.
If you cheap out and get the least expensive dumbbells on the market, well, chances are you'll be replacing them in a few years when they start falling apart.
Higher-quality sets might cost more up front, but should last a lot longer.
That's not to say that you can't get some really good, affordable dumbbells to start out with. Scroll down for my top budget recommendation.
Quick tip: When it comes to cost and durability, I'd say the more metal components a dumbbell has, the more it'll cost and the more durable it will be over time.
---
Brand
Do you care about brand recognition and customer service?
There are a few names in the fitness industry that you can always count on to put out awesome, consistently-excellent products and back them up with great service and warranties.
Check out my guide to the best dumbbell brands to learn a little more about this, or just scroll down and I'll give you some top-notch options for your first dumbbell set.
---
Starting weight
This might low-key be the trickiest part of buying a dumbbell set.
How much weight do you need if you've never lifted weights before?
I'll go into a lot more detail on this below my recommendations, but in general I would advise that you don't limit yourself!
Don't just buy a set of 5lb weights and think that you'll be set for a while. If you're following a proper program with progressive overload, you should be getting stronger over time and will need access to more weight.
That's one point for buying an adjustable dumbbell set right off the bat, or at the very least budgeting for a few pairs of weights you can grow into.
---
(Oh, and while we're on the subject, check out my favorite muscle-building program for men and my top-recommended program for women who want the lean, toned look. These routines are AMAZING and I've used them myself to great effect!)
---
Now if you're ready to get to shopping and pull the trigger on a new dumbbell set, here's what I recommend for beginners.
---
Best budget dumbbell set for beginners: AmazonBasics neoprene dumbbells
Overview: AmazonBasics, really? Believe it or not, yes! Amazon, if you didn't know, has a line of products that acts essentially as their "store brand," and it's called AmazonBasics.
What they're able to do is source really good, high-quality products, slap their name on them, and ship them out to you at an affordable price.
If you're looking for the best dumbbells for the money and don't need anything too heavy duty, you'd be hard-pressed to do better than these.
Weight Available: 1-32 pounds per hand
Why I Like These for Beginners: These are pretty friendly when it comes to price tag, and that's one of the primary reasons I recommend them to people who are new to dumbbell workouts. You can invest in a few pairs without completely annihilating your bank account.
The neoprene design is also pretty cool, and that tends to feel pretty good in your hand (with lots of grip and soft edges) compared to metal and iron dumbbells.
Reviewers on Amazon are pretty keen on these for basic dumbbell workouts, noting that they're great for sweaty, high-intensity workouts and won't lose their grip.
You can also get a pretty inexpensive stand to stack these up in your basement, garage, or home gym.
To recap:
Relatively inexpensive

Feel great in your hands

Perfect for beginner workouts

Overall positive reviews
Potential Drawbacks: These dumbbells only go up to 32 pounds each, which will eventually become a limiting factor for most people who stick with strength workouts for a while.
The durability on these is pretty good for the price, but they may not hold up forever as the neoprene coating starts to chip and peel away.
To recap the cons:
Only go up to 32lbs per hand

Durability a concern over the long term

Check price and read more reviews of the AmazonBasics Neoprene dumbbells on Amazon
---
Best adjustable dumbbell set for beginners: BowFlex SelectTech 552 adjustable dumbbells
Overview: If you've decided you want to be able to pick from a wide variety of weights during any given workout, but don't want to spend the money or space on a massive dumbbell stack, you're going to love these adjustable dumbbells from Bowflex.
They go from 5-52.5 pounds per hand with just a quick switch of a dial, and you can throw in a convenient stand if you want a nice place to set them down.
This is one of the most affordable ways to get access to nearly a full dumbbell set without shelling out thousands of dollars and taking up your entire garage.
Weight Available: 5-52.5 pounds per hand
Why I Like These for Beginners: I'm not 100% on whether these are the absolute best adjustable dumbbells money can buy (read more on that here), but these are my top pick for beginners. Here's why:
First, this is a pretty affordable set. It might seem like a lot of money to shell out at first, but keep in mind you're getting a pair of 5 pound dumbbells, a pair of 52.5 pound dumbbells, and literally every combination in between, all in one set. When you compare the price of these to buying over a dozen pairs of individual dumbbells, the cost isn't even in the same stratosphere.
Second, these are really easy to use. You can switch between weights quickly and easily using the dial system, and the user reviews from real owners are incredibly positive.
Last, these resemble the shape and feel of real dumbbells fairly closely, though it's not perfect. There are some competitors out there with slightly better quality (like Powerblock), but the shape of those dumbbells can be off-putting for some.
To recap the pros:
Excellent value per pound of weight

Super easy to use

Trusted brand (Bowflex)
Potential Drawbacks: Overall weight availability is a minor concern here. If you're a total beginner, 52.5 pounds per hand should keep you very busy for a long time. But if you plan to really stick with your lifting program, you may outgrow these within a year or two (especially if you're a larger man).
There's no way to expand the weight capacity on this set when you do.
Second, the plastic dial system can be prone to breakage and wear and tear. Not everyone has positive things to say about these dumbbells over thelong termm (multiple year use).
To recap the cons:
You can outgrow these fairly quickly

They may wear down and break after a few years of use

Check price and read more reviews of the Bowflex SelectTech 552s on Amazon
---
Best long-lasting dumbbell set for beginners: CAP Barbell dumbbells
Overview: If you decide you want to invest in pretty much the best individual fixed dumbbells money can buy, these are the standard. The best around. And they should last pretty much a lifetime.
Now, CAP Barbell dumbbells don't come cheap. But that steel handle bar will hold up to a ton of abuse, and the thick plastic-coated, solid cast iron, weighted ends are as heavy duty as they come.
The hexagonal design is also a really nice feature. It stops the dumbbells from rolling around and falling off of surfaces. (Trust me, you don't want a 50lb dumbbell falling onto your hardwood floor!)
Weight Available: 5-50 pounds per hand
Why I Like These for Beginners: If you're a beginner, but you're really committed and serious about getting stronger on dumbbell strength exercises, buying CAP Barbell would be a great longterm investment.
The steel handlebar ensures these will take serious abuse, and they should last you for years and year of intense, regular lifting. I don't recommend throwing any dumbbells around or dropping them on the floor, but if you do, these should survive unscathed.
As far as design and usability go, the hexagonal dumbbell heads are absolutely awesome. They won't roll away from you, and that simple design tweak will make your workouts so much more enjoyable.
There's really nothing fancy, no crazy bells and whistles, that make these dumbbells special. They're just made with elite craftsmanship by a brand that knows what they're doing, and they make a great longterm investment.
To recap the pros:
Solid cast-iron dumbbell heads

Hex design for better stability

Steel handlebar = insane durability
Potential Drawbacks: The only problem with these dumbbells is that they're expensive. You'll have to buy them individually or in pairs, which starts to add up really fast as you get into heavier and heavier weights.
And, again (this is the case for most at-home dumbbells), you can only buy these up to 50lbs per dumbbell, which could be limiting for stronger folks. If you need something heavier, well, I've got some ideas for you.
To recap the cons:
Expensive option

Only go up to 50lbs each

Check price and read more reviews of the CAP Barbell dumbbells on Amazon
---
What weight dumbbells should I use? (Male and female)
If you've decided you really just want to buy a pair or a couple of pairs of fixed dumbbells to start out, how do you know which weight to use?
That is a really, really tough question to answer.
For most beginners who are serious about getting stronger, this is why I would recommend buying an adjustable dumbbell set and giving yourself lots of room to play around and progress.
(Alternatively, you could just buy a full dumbbell stack. But it's hard to imagine most people have the money and space in their house for that.)
But if budget is a major factor and you've got to pick one weight, or maybe a small range of weights, where do you start? Here are some tips:
Go lighter than you think: There's no use in buying a dumbbell you can barely lift. You won't be able to get enough proper reps in on any exercise to make progress if you can't execute full range of motion. If you've never lifted before, you probably don't need to jump right in with 50lb dumbbells.

But not too light!: For most people, a single pair of 2.5 or 5 pound weights just isn't going to be enough. Yes, women too. Technically, yes, you can do lots of reps with a lighter weight and still get a great workout, but after a few workouts you're going to be ready for something heavier.

Factor in your workout style: If you want to do lots of compound lifts with your dumbbells (like dumbbell bench press, goblet squats, shoulder press, etc.), you'll want heavier weights than if you just plan on doing some isolation work (curls, tricep kickbacks) or HIIT with your dumbbells.
One thing that might be helpful is to check the Strength Standards resource. The folks over there have taken thousands of user data points and compiled the "average" amount of weight you should be able to lift for your gender, weight, and experience level.
The "beginner" lifts should give you a halfway decent starting point. (The numbers you see here are barbell lifts, so divide by two to find out how much weight you would need per dumbbell, more or less).
Finally, if you want a specific number, I would recommend starting with a pair of 10-30 pound dumbbells depending on your gender and size.
If you're a completely untrained beginner and a petite woman, you should find a pair of 10s pretty challenging for most lifts.

If you're a slightly bigger male, you should be able to do a lot with a set of 30s.
In both cases, you'll likely outgrow these quickly or need to switch to higher reps or more challenging variations. So either be ready to buy heavier weights in the near future, or just go for the adjustable set up front.
(Also, check out my guide to kettlebells for beginners.)
---
Wrapping Up
There's a lot to consider when you're buying your first set of dumbbells for home workouts, but thankfully, it's pretty simple in the end.
Just decide:
Fixed vs adjustable

How much you want to spend

What weight dumbbells you should start with
Really, dumbbells are just plastic, rubber, and/or steel that weighs a certain amount. There's no Bluetooth or WiFi settings to figure out. You really can't go too wrong here!
For my money though, I think the best beginner dumbbell set is the Bowflex 552 adjustable dumbbells. It's a decent investment up front, though not a ton, and should give you all the flexibility to figure out your starting weights and progress properly for a long while.
Get the latest price and read some more customer reviews of the Bowflex SelectTech 552s on Amazon
Hope this helps, everyone!