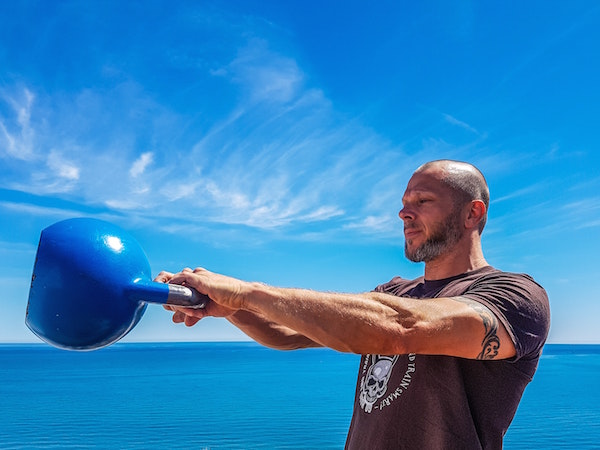 Kettlebell workouts have endless benefits to your body and overall health.
They combine strength and cardiovascular training while focusing on range of motion and what is sometimes known as functional strength.
The term "range of motion" is key to the uniqueness of the kettlebell. Let's take one of the most basic exercises, the kettlebell swing. You may have spent an afternoon at the gym focusing on your hips, glutes, core, lats, shoulders, and pecs.
But have you ever worked out everything I just mentioned in one exercise? With the kettlebell swing, that is possible, because of the range of motion in one simple, yet effective, move.
With that in mind, here's my guide to the best kettlebells for beginners looking to get started:
Now let's dive in a little deeper into how to shop for these awesome additions to your home gym.
---
What is a kettlebell, and what should beginners look for when buying them?
A kettlebell is a cast iron weight that consists of two parts:
The ball ( Or as I call it, "the heavy part"), and
The handle
And that's it. Simple right?
Well, as anyone who has participated in a kettlebell workout, the term "simple" is one of the last words they would use to describe it. Though a bit intimidating at first, kettlebells are extremely effective in training your entire body without having to dedicate hours to your workout.
More bang for your buck.
Speaking of bucks, another attractive feature of the kettlebell training is its relative affordability compared to dropping thousands of dollars on a home gym. The kettlebell can do it all! Is your interest piqued? Great! Let's look at some equipment to kick start your kettlebell journey.
The beauty of kettlebells is that they do not discriminate. Whether you are a work out novice, a seasoned vet, male, or female, kettlebells can offer something for everyone.
When searching for a set of kettlebells that are right for you, let's start by understanding what it will take for a killer beginner's workout.
Weight
Because of the wide range of motion that a kettlebell provides, you should start with lighter weights than normal.
Just because you can curl 40-50 lb. dumbbells doesn't mean you should dive right in with a 40-pound kettlebell.
The kettlebell's weight is distributed differently as the heavy part is located at the bottom of the weight while a dumbbell is distributed more evenly throughout.
Once you add swinging the kettlebell while squatting and moving your entire body during an exercise, the heavier the weight at the outset, the more likely you are to get injured.
Budget
As I mentioned previously, the price point to get started is a perk.
A $40 investment will have you well on your way to functional fitness.
What you don't need are some of the bells (no pun intended) and whistles of a more expensive brand. Once you get hooked on the kettlebell culture, and oh boy is it out there, then you can splurge on the designer brands.
At the end of the day, 20 pounds is 20 pounds no matter how you slice it (or swing it, or squat it, or…you get the point)! Let's see some kettlebells!
---
Best Kettlebell set for Beginners on a Budget: CAP Barbell Kettlebell Set

Overview: This basic set of two kettlebells is perfect for a beginner. They are not Amazon Prime products but they do offer free shipping, a nice feature as a shipment could weigh anywhere from 25-35 lbs. depending on the size you select.
These models have a solid frame with a narrow, easy to grip handle. CAP has been in the fitness game for 25 years and offers a wide range of reliable high-quality equipment for any fitness level.
Available In: 10 & 15lb set, 15 & 20lb set, and 10 15 25 & 30lb set
Why I Like These for Beginners: These are a terrific introduction and a worthwhile investment if you are looking to try something different without draining your bank account in the process.
While 10 or 15 lbs. doesn't sound all that heavy initially, they can produce amazing results in 20 short minutes.
The key to most kettlebell exercises is not the amount of weight but the form you are using and your body's total range of motion.
Kettlebells, in general, are a minimalistic approach to fitness so you can rarely go wrong with the equipment you get. These will start your engines and fan the flames until you are ready for an upgrade.
Potential Drawbacks: The only real drawback to this product is the ceiling that such lightweight kettlebells set.
While form and safety are important at the beginning of your kettlebell journey, you will eventually be ready to incorporate heavier weights in order to see more results.
Check out real user reviews and get the latest price on the CAP Barbell kettlebells on Amazon.
---
Best Mid-Range Kettlebell Set for Beginners: Yes4All Combo Vinyl Coated Kettlebell Weight Sets
Overview: Fun for the whole family! But seriously, this set can do it all and is ideal for a wide range of fitness levels and age groups.
These kettlebells are more versatile, with a range of kettlebell from 5 to 30 lbs. Their durability is more significant too, with the added vinyl coating, preventing potential rust and erosion.
Not only does the coating protect the kettlebells, but it makes for a quieter workout, which could prove very attractive for roommates, small children, and significant others asleep in the room next to, or below, you.
Available In: Various set sizes ranging from 5 to 30lbs
Why I Like These for Beginners: This set offers more options for weight which will help diversify your overall workout.
If you wanted to try a Turkish Get Up but are hesitant, you can pick up the 5 pounder to avoid poor form and injury. If you almost swung your 15 lb. kettlebell through the TV the last time you used it, pick up the 25 or 30 pounder and push yourself.
And, at this price point, you are still not breaking the bank, but you are able to make a slightly larger investment to improve your results.
Potential Drawbacks: The handles are a bit wider and are not vinyl coated, like the ball of the kettlebell.
This came up fairly infrequently in the reviews, so maybe those people have sweatier than normal hands, or there is something to the critique.
Check out real user reviews and get the latest price on the Yes4All Kettlebell sets on Amazon.
---
Best High-End Kettlebells Set for Beginners: Rep Fitness 17 to 53 lb. Kettlebell Set
Overview: So you've truly bought in to the kettlebell experience and are looking to up your game to the ultimate level. This is the set for you.
You get 10 kettlebells with this purchase: 2 of each weight (17, 26, 35, 44, and 53 lbs.) giving you the ability to work each side of your body at the same time, which can even further maximize the efficiency of your workout.
Available In: Set of 10 kettlebells, 2 each of 17, 26, 35, 44, 53 lb. kettlebell each with SmoothGrip matte powder-coated handle to add comfort and avoid slipping.
Why I Like These for Beginners: Once you have graduated from kettlebell beginner, you can spend a long period of time with this set, giving you the most bang for your buck with the diverse weight group offered here.
There are two distinct features with this set that separates them from their competitors.
The first feature is the powder-coated handles increasing comfort while decreasing the chance of your hand slipping. When combining a workout that can leave you drenched by the end and upping your weight to upwards of 40 or 50 lbs., the extra grip on these kettlebell handles are a welcome addition.
The other feature is the color coated handles, making it simpler to navigate through your workout and leaving no time to waste.
Potential Drawbacks: Some reviewers mentioned some dings on the kettlebells when they received them in the mail.
This could be a transit issue due to the weight of this set but there were several reviewers that made this claim. The other claim was that some of the handles had sharp areas that caused some irritation during specific exercises.
Check out real user reviews and get the latest price on the Rep Kettlebells set on Amazon.
---
Wrapping Up
So there you have it kettlebell beginners.
Above is a group of diverse products to get you going while not overwhelming you to the point of your eyes glazing over and resigning to the treadmill and bench for the "usual" workout.
There are countless kettlebell professionals and enthusiasts online where you can begin researching exercises and proper form.
Or you can check out this awesome laminated poster of kettlebell workouts (Amazon) for workout ideas — hang it in your iron jungle or, you know, your garage.
Hopefully this guide kick starts your obsession with the kettlebell, one of the most basic, toughest, and most addictive workout equipment out there today.