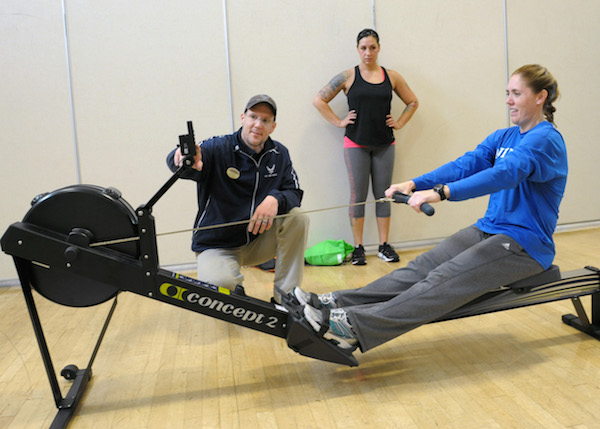 Any workout is better than no workout at all.
When it comes to cardio, you can make a case for any of the big machines:
Ellipticals, treadmills, stair-steppers. They're all great!
But rowing machines are an often-overlooked option that have a TON of amazing benefits for your body.
They deliver equal parts cardio and resistance training, putting a demand on your entire body. When done correctly, you can engage every major muscle group and seriously challenge your cardiovascular system at the same time—with next to no impact on your body.
If you're looking to add one to your home, but aren't sure what to look for, here are the best rowing machines for beginners:
Alright newbies, let's take a closer look at rowing machines, the different kinds available, and how to buy your first rowing machine for your home gym.
---
Types of rowers and what to look for when shopping
Row machines come in a variety of models beginners should be familiar with before deciding and ultimately making a purchase.
There are four main classifications of rowers: air, magnetic, hydraulic, and water.
Air Rowers
A popular style of rower, used and preferred by serious rowers for their off-season training. These rowers use air flow to create resistance – the faster you row, the greater the resistance.
Magnetic Rowers
Another popular type of rower but more heavily used by the recreational rower. Magnetic rowers are popular options for in-home because of how quiet they are in operation.
Also, they're typically very easy to store while not in use.
Hydraulic Rowers
Used for their relatively small size and low price point. Hydraulic rowers are silent and easy to use, but require more maintenance and don't provide quite the same experience as other models.
Water Rowers
While not the rower of choice for competitive athletes, many people prefer a water rower for its quiet and smooth operation. Many claim these rowers most closely replicate the feel of actual rowing in a body of water.
Questions to ask when shopping
What's your budget?
Rowers can cost anywhere from as little as $100, to $2000 and up. If your heart is set on purchasing a rower, there's an option out there for you and your budget.
How much space do you have?
Even the smallest rower will take up a decent amount of space but there are differences in storage capabilities from model to model. Some have smaller footprints than others, while some fold away to save even more space.
Is noise something that matters to you?
Consider the environment your rower will be in. If noise isn't something you want to worry about, maybe an air rower isn't the best choice.
Are you willing to pay more for a better warranty?
It seems like almost every company offers some sort of warranty. Unfortunately, they're not created equal.
On the off chance your rower goes belly up, you'll want a decent warranty to get that bad boy replaced.
Who will be using the machine?
If multiple people will be using the rower it will be important to find a model that allows for easy adjustments to resistance to accommodate different levels of fitness.
Those are just a few things to think about as you browse your options.
Now let's take a look at my top picks for beginners based on price, features, and real user reviews.
---
Best budget rowing machine:
Sunny Health & Fitness Magnetic Rowing Machine with LCD Monitor 
Overview:
This rower is a beginner's dream. The no-frills style provides simplicity and ease of use to the buyer.
With an assembly that takes only 30 minutes, you'll be off and rowing in no time.
Features & Key Specs:
Assembled Dims: 82L x 19W x 23 H in
Folded Dims: 37L x 19W x 53.5H in
3-year warranty on the structural frame
Extremely quiet
Low maintenance
250 lbs weight limit
Why I Like It:
Unlike most row machines, this model is equipped with pivoting pedals allowing for a greater range of motion while rowing. This model also allows the resistance to be adjusted across eight levels making it easy to find the perfect intensity for your workout.
When not in use this model is easily foldable and includes wheels for hassle-free storage.
Potential Drawbacks:
The max weight this machine can accommodate is listed at 250lbs. If you're an individual with a larger frame, this may not be the best choice for you.
Check the latest price & read real user reviews of the Sunny Health & Fitness rower on Amazon.
---
Best Mid-Range Rowing Machine:
Stamina Avari Programmable Magnetic Exercise Rower
Overview:
If you're the type that likes to track your workouts – this rower is for you.
With 12 workout programs at your disposal your fitness will be better than ever. Built for comfort, this rower comes with a moulded seat and cushioned handles.
Features & Key Specs:
Dimensions: 81 x 20 x 24.5
Product Weight: 75 lbs
3-year warranty on the structural frame, 90 days on parts
LCD programmable multifunction fitness monitor
Heart rate chest strap
Extremely quiet
Moulded ergonomic seat
275 lbs weight limit
Why I Like It:
What stands out to me about this model are its technical qualities. It's equipped with an advanced display system that can provide all the information you need to optimize your workouts and comes with a heart rate monitor – I thought that was a neat little bonus.
The display system comes with 12 different workout program options – pretty awesome!
Potential Drawbacks:
While this rower comes with a lot of bells and whistles, it seems to run into problems relatively fast. A small number of individuals who purchased this model experience some malfunctions within a year of owning the machine.
Even if it is a small percentage, it's something to consider.
Also, just like our first option, this rower doesn't simulate rowing on water.
Check the latest price & read real user reviews of the Stamina Avari rowing machine on Amazon.
---
Best High-End Rowing Machine:
WaterRower Club Rowing Machine
Overview:
High. Quality.
If you're serious about rowing and have a desire to own the best equipment available, this solid ash rower is a top-notch choice for your home gym.
Ergonomically designed from long-lasting hardwood for a smooth and quiet ride.
Features & Key Specs:
In Use Dimensions: Length – 82.25" / 209 cm, Width – 22.25" / 57 cm, Height – 20" / 51 cm,
Stored Dimensions: Depth – 20" / 51 cm, Width – 22.25" / 57 cm, Height – 82.25" / 209 cm,
Weight: 66.5 lbs / 30.5 kg (dry), 103.5 lb / 47 kg (with water)
1-Year Manufacturer's Warranty (3-year parts / 5-year frame)
1000 lbs weight limit
Constant and consistent resistance
Very little maintenance
Why I Like It:
The water rower offers a unique rowing experience. It provides some of the same relaxing, therapeutic qualities of being out on the water.
The additional high-rise adaptor gives you the option of adjusting the height of the machine to match your needs.
Plus, I absolutely love the wood craftsmanship that goes into each and every WaterRower model. The look is unrivaled by any competitor, that's for sure.
Potential Drawbacks:
Adjusting the resistance or tension during your workout can only be done by rowing faster or changing the amount of water in the machine. There is no button that automatically increases or decreases resistance.
This model is a bit larger than others and, while it can be stored upright, it does not have the ability to fold.
Check the latest price & read real user reviews of the WaterRower Club rowing machine on Amazon.
---
Wrapping Up
All in all, purchasing a rowing machine for your home is a great decision. It's a safe, effective, and easily maintained piece of equipment.
Whether you're just starting out as a newbie or beginner, or have years of experience on the water, there are options available to suit just about any individual's needs.
For my money, I would start with a mid-range model like the Stamina Avari rower (Amazon link) — it's a great all-around machine from one of the best brands in rowing, but it won't break the bank so badly that you couldn't upgrade to an elite model a few years from now.
Hope this helps, everyone! And good luck on your fitness journey.