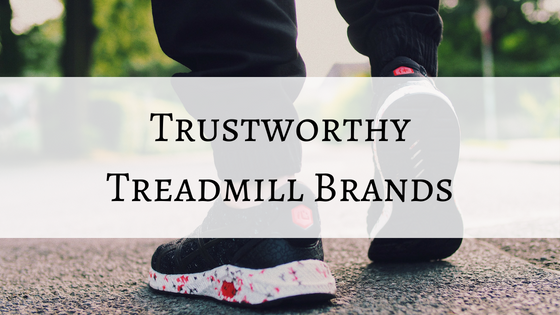 It is recommended for the average person to walk around 10,000 steps (5 miles) per day.
But most people average only 1,000 to 3,000 steps per day.
Getting a treadmill is a great way to bypass a sedentary lifestyle – and start working on your cardiovascular health.
Treadmills are great options for beginners and for experienced athletes. However, it's harder to find the right brand of treadmill than you might think.
At first glance, a lot of people think price would be the determining factor on what treadmill to buy. But size, features, and fitness goals all play a part in what your perfect treadmill would be.
From my experience and research, the best treadmill brands in 2019 are (in no particular order), NordicTrack, Bowflex, ProForm, and SOLE.
| Brand | Founded | Known For |
| --- | --- | --- |
| NordicTrack | 1975 | Excellent value |
| Bowflex | 1986 | Durability |
| ProForm | 1988 | Wide variety |
| SOLE | 1990 | Elite warranties |
---
What to look for when you buy a treadmill
It might be daunting when you're looking for a new treadmill.
Do you need special features? What should the length be? How much should it cost, and why is there such a spectrum?
Here are a few key things you that you should consider when looking for a new treadmill:
FEATURES:
With so many quality treadmills, you'll be sure to find one to meet your needs.
But think about your fitness style when shopping.
Some newer treadmill models may have additional high-tech features such as USB ports, entertainment features, automated programs (so you can pretend you're running on the beach – I wish!), and even WiFi connectivity.
These may come alongside a rising cost, but if you want to have something to keep you occupied during your workout, those might be the features you need.
Lower cost models might have less frills.
Other features include interval programs, multiple incline settings, more speed adjustability, a longer running surface, and heart-rate monitoring.
HEALTH GOALS:
Not everybody has the same health and fitness goals.
Looking to generally improve your fitness differs from training as an elite athlete.
The length of the treadmill and its features are important in achieving your specific health goals.
However, what is also important is the feel of the treadmill during use. The running deck (the moving belt) should help absorb some of the shock while running or walking.
This is key, especially for those who might have joint trouble, or issues with knees and ankles.
SIZE:
Many treadmills average around 77 inches (6 feet 5 inches) long.
If you're a runner with a long stride, you may want to find a treadmill that works for you when running. Others may be comfortable with a shorter treadmill if only walking.
Size is also important depending on where you are placing the treadmill.
If you are located in a home with adequate space, you might be comfortable with a full-size treadmill.
However, folding treadmills that can be easily moved and stored might be better suited for apartments or small home gyms.
Regardless of the type of treadmill, you should have enough space when exercising so that your feet do not hit the front of the machine while moving.
---
1. NordicTrack Treadmills
About the Company: NordicTrack was founded over 25 years ago, when they created the revolutionary "skier," a piece of fitness equipment that mixed the feel of cross-country skiing with a calorie-torching workout.
Today, NordicTrack creates premier fitness equipment. They offer treadmills, incline trainers, exercise bikes, ellipticals, and even personalized fitness coaching.
Major Pros: NordicTrack offers a range of treadmills for all fitness types and budgets, whether you're a casual gym-goer or an experienced trail runner.
Their treadmills are varied, ranging from foldable commercial treadmills to small-scale treadmill desks that fit in your office. The large amount of NordicTrack choices make choosing a treadmill feel like a more customized experience.
NordicTrack treadmills are also extremely sturdy and durable.
One of the best parts of these treadmills is the ease of assembly. Although it would be easier to set up with two people, and NordicTrack does offer expert assembly, many reviewers note that they had no issues setting it up by themselves.
Once set up, the treadmills are built to last.
Enjoy your workout with music from your connected iPod or over 20 workout apps (so you'll stay occupied no matter what)!
Major Cons: Some of the user weight limits on the NordicTrack are somewhat low.
Certain models can only accommodate up to 300 pounds, which is anywhere from 50 to 100 pounds less than other brands in the same price point.
This makes NordicTrack treadmills slightly less accommodating. Some reviewers also found that the incline feature was faulty.
Flagship Product: Try the NordicTrack T 6.5 S Treadmill.
This affordable option will help you reach your fitness goals. It has a maximum 10% incline, which can help make your workouts more intense.
This treadmill includes 20 built-in workouts designed by a certified personal trainer. Even if you're new to using a treadmill, these workouts will help you get started on the path towards getting healthier! It has a user limit of 300 pounds.

Check out NordicTrack treadmills on Amazon
---
2. Bowflex Treadmills
About the Company: In 1986, Bowflex created their first fitness product. Now, they are one of the most well-known brands in the industry.
If you own a television, you've probably heard the Bowflex name on a commercial.
They have spent over 30 years creating a line of trusted, effective fitness equipment for home use. Bowflex offers treadclimbers, ellipticals, treadmills, and home gym equipment.
They offer only two treadmill models – the Bowflex BXT116 and the Bowflex BXT216.
Major Pros: The Bowflex treadmills are built to be very sturdy and solid.
Although they may need two people to move in and set up, due to their weight, they are solid machines that will last even with a lot of use. They can accommodate user weights over 300 pounds, making them a great option for people of all body types.
Bowflex treadmills also offer a long running deck, an incline of 15%, and easy-to-set speeds. The display tracks total calories burned (overall) and calories burned per minute, keeping you constantly motivated throughout your workout.
Major Cons: As I mentioned, Bowflex has only two models of their treadmill.
For those who are looking for additional features or more high-tech options, that might mean that Bowflex isn't the treadmill provider for you.
Another issue is with the Bluetooth connectivity. While this is a highly desirable feature, the Bluetooth does not actually work for music; it only works to sync your workout data to your phone.
This can be frustrating for those who are working out, as one of the great benefits of Bluetooth is not having to use extra tools to play music when you're working out.
Also, not everybody wants to have to download the special app that the Bluetooth works with, rendering it useless for some Bowflex models.
Flagship Product: While both of Bowflex's treadmill options are wonderful, check out the original – the BXT116. It offers 9 separate workout programs, Bluetooth connectivity, a maximum 15% incline, and a downloadable app that allows you to run through 19 locations.
It is foldable, and comes with a 15-year frame and motor warranty, 5-year parts warranty, and 2-year labor warranty.

Check out Bowflex treadmills on Amazon
---
3. ProForm Treadmills
About the Company: ProForm has been a leader in fitness for over 30 years.
Their goal is to provide fitness assistance and motivation to athletes and individuals alike. ProForm offers a variety of fitness gear from treadmills and ellipticals to exercise bikes and HIIT trainers.
For treadmills, they offer a variety of sizes and prices for effective, versatile, and affordable treadmills; all choices offer heart-rate monitoring.
Major Pros: ProForm does well in creating treadmills for everybody. Whatever your budget and fitness needs, ProForm has a treadmill for you. Their powerful motors and changes in incline provide a range of workouts, making each treadmill use completely customized.
Most ProForm treadmills have a lifetime motor and frame warranty, meaning that if yours is damaged in any way, you're still covered in the long run. But these heavy treadmills are extremely durable and sturdy, meaning they can take the daily wear and tear.
Finally, some ProForm models have built-in workout apps, as well as high-definition video routes where you can run down the bustling streets of Italy or across the mountainous Kenyan terrain.
For those who enjoy the ability to "check out" a bit during workouts, or who enjoy seeing the world as you run, this is a highly sought-after feature – especially considering ProForm's relatively low price point.
Major Cons: ProForm treadmills can be extremely difficult to put together, with some estimating a total assembly time of upwards of 4 or 5 hours. Some find the instructions to be difficult to understand.
However, one of the largest gripes about ProForm doesn't seem to be about the treadmills themselves – but about customer service.
Many reviewers seem to believe that the problems they have with their treadmills would be easily fixable if ProForm customer service was more readily available and more willing to help.
Although ProForm does have good warranties, a lack of adequate customer service representatives and assistance could be a large issue.
Flagship Product: The ProForm PFTL59515 Performance 400i Treadmill is a great low-budget option.
With 18 workout apps, a music port for iPods, and a heart-rate monitor, this treadmill maxes out at 10mph. It is recommended to have help with assembly. The 400i comes with a lifetime frame warranty, a 25-year motor warranty, and a 1-year parts and labor warranty.

Check out ProForm treadmills on Amazon
---
4. SOLE Treadmills
About the Company: SOLE has been creating high-quality treadmills, ellipticals, bicycles, and accessories for decades, with extreme growth over the past 5 years.
They are a preferred supplier of hotels across the United States. SOLE has a commitment to efficiency and quality at a fair price. Buyers are allowed a 30-day trial period in order to test out the product.
Major Pros: SOLE treadmills have one of the best warranties in the industry, especially considering their price point.
The manufacturer's warranties against defects in materials and workmanship include 2 years on labor, 5 years on electronics, and lifetime on frame, motor, and deck. This shows that SOLE puts a lot of pride into their products.
In addition to their warranty, SOLE treadmills are sturdily built with a deck designed to help reduce joint pain and pressure.
Some of their treadmill models offer auto programs, heart rate programs, user-customized workouts, and LCD displays. They offer a lot of features at an affordable cost, combining an ergonomic design with treadmills that can fit in most households.
SOLE treadmills come in many models, which range from folding to non-folding models.
This also makes it easier for a variety of households to use these, as users can choose a model that fits their living situation.
Major Cons: Some people find the folding treadmills difficult to put together and overly bulky, not allowing them to be stored well. Some also find the SOLE treadmills to be too noisy during workouts, which can be distracting.
Finally, the fans on the treadmill could be more powerful, as they do not always cool you down as well as they could.
Flagship Product: If you're looking for a great treadmill, consider the SOLE Fitness F85 Treadmill.
At 85.4 x 37 x 17.3 inches, the F85 has the largest treadmill dick that SOLE offers. It can handle weights up to 400 pounds, making it a fantastic choice for users of varying body types.

Check out SOLE treadmills on Amazon
---
Wrapping Up
Whether you're training for a marathon, getting ready to sprint up mountains, or just need some extra exercise besides walking around at lunch every day, a treadmill is a great option.
It can increase your stamina, increase blood flow, and help you breathe better.
But make sure you're standing behind a brand that you trust, with a price that fits your budgets and features that fit your needs. Not everybody is going to need the same thing out of a treadmill. So make sure you're considering what will help keep you motivated.
For my money, I would probably spring for a treadmill from NordicTrack like the T 6.5 S (Amazon link).
NordicTrack is a well-known and respected brand, and I appreciate that they offer a range of treadmills for all lifestyles. This models also offers a great spread of features, like the 20 workout programs, at an incredibly affordable price.
Hope this helps!
---
Related: How much does a treadmill cost?
Check out my full article on this topic by clicking the link above!
But in general, expect to pay just over $1,000 for a good, fully-featured treadmill.
Related: What's the best commercial treadmill & how much do they cost?
For a commercial treadmill (the kinds they use in big box gyms), expect to pay over $5,000. Look for brands like Precor, Octane, and Harison, among others.