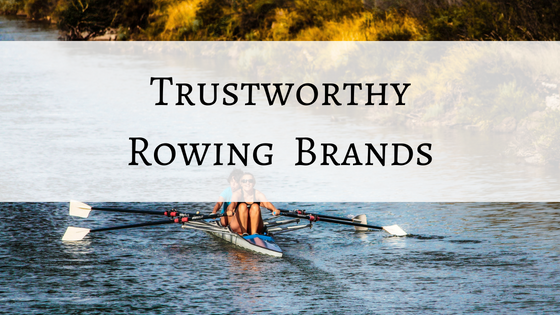 Even if you've seen them in the gym, a lot of people are unfamiliar – or uncomfortable – with rowing machines.
But what you might not know is that rowing machines are great pieces of exercise equipment for your home gym…
…and they give you a killer workout.
Rowing machines can help you burn fat and get a full-body muscle workout – all without putting too much pressure on your joints.
However, picking out a rowing machine for your may be overwhelming. There are a lot of various models, features, and even styles that you have to choose from.
From my experience and research, the best rowing machine brands in 2019 are (in no particular order), Concept2, WaterRower, and Stamina.
There are TONS of companies other than those that make quality rowing machines, but if you want to narrow things down to just the best and most reputable names, start here.
---
What to look for when you buy a rowing machine
Rowing can be a great way to lose weight, tone up, strengthen muscles, and improve cardiovascular health.
In fact, rowing can help you burn up to 600 calories per hour!
But in order to get the most out of your rowing workout, you need to find the right rowing machine. Rowing machines often have different features and functions, sizes, resistance types, and height/weight capacities.
It's important to narrow down what features are most important to you when purchasing a rowing machine. (So is having the right shoes for rowing!)
Here are a few things you should be considering when you're looking for the top rowing machine brands:
SIZE:
Rowing machines come in many sizes, and can be made specifically for people of shorter stature OR come with extendable parts for those who are taller. Considering the size of your machine is especially important if you have a home gym or are living in a smaller space. You don't want to find your perfect rower just to figure out it won't actually fit into your apartment.
If you're concerned about the size of your rowing machine, consider models that can fold up or be easily stored in order to save space.
RESISTANCE TYPE:
Rowing machines actually have different resistance types, which can make for an altogether unique workout. These four types are air, hydraulic piston, water, and magnetic.
Air resistance is customized to your workout, because the resistance increases the more quickly and intensely you row. Hydraulic pistons usually mean adjustable resistance. Magnetic resistance is generally adjustable, smooth, and quiet. However, it is not as strong as air or water might be. Water rowers offer the most realistic resistance, as if you were out on the open water.
Finding the level of resistance that you like the most, and that you are most comfortable with, will help you find the best rowing machine for your needs.
COST:
Rowing machines vary greatly in price. You can find smaller rowers with no frills for $100, or rowers with high-tech features for over $3,000. How much you want to pay for your rowing machine really depends on what functions you're looking for (are games important? Tracking? Heart rate monitoring?) and how often you're planning on using it.
For those who are beginners to rowing, or not planning on using your machine often, your price point may be slightly different than competitive rowers or those looking to exercise on the machine 4+ times per week.
COMFORT:
You want to stay comfortable and composed during your workout. Rowing is a low-impact exercise. But it can put a lot of strain on your back or joints if you don't have proper form, or if your rowing machine isn't well-built.
Your rowing machine should also have a relatively easy pull (despite the resistance) so you aren't straining your muscles. A lot of rowing machines may also have fans that help cool you down during your exercises. If you're someone who gets overheated easily, finding a model that offers fans or other types of cooling mechanisms may be necessary.
---
1. Concept2 Rowers
About the Company: Concept2 began in 1976, the brainchild of Dick and Pete Dreissigacker. After trialing for the 1976 Olympics, the brothers created carbon fiber oars; just 15 years later, they came out with their indoor rowing machine.
Concept2 has a true passion for rowing, and now creates products ranging from oars, indoor Nordic skiing machines, and rowers.
Major Pros: Concept2 products are designed to be used by everyone from the Olympic athlete to individuals working out at home. They really try to promote rowing as a sport and an exercise by showing how accessible it can be for everybody.
Their passion for their craft is inspiring, and really makes you want to support them as a company. Their high-level of customer service doesn't hurt either!
On top of that, their products are extremely high-quality and well-built. Their rowers are easy to set up, but also easy to disassemble for storage. This is helpful for those who might live in an apartment or have a small home gym.
The rowing machines are also quiet, meaning that you can work out day and night without having to worry about losing focus (or bothering your neighbors).
Major Cons: There seem to be relatively few complaints about Concept2 products. But for the complaints that exist, some seem to find the seat to be too hard and uncomfortable. Some pain in the upper thighs and buttocks were reported, and we all know that it's not fun to work out when you're not comfortable. Others mention the noisiness.
Finally, one of the biggest oppositions to Concept2 prices is the price. It is definitely a high-quality, high-price rower, making it inaccessible for some. Others may be worried about buying a product at such a high price without being able to try it out.
Flagship Product: For an exceptional rowing experience, check out the Concept2 Model D Indoor Rowing Machine.
It boasts a 14-inch seat high and can hold up to 500 pounds, making it accessible for users of all body types. It offers a low-impact workout that helps burn calories and strengthen muscles. To keep you occupied, the Model D has games you can play while you row, such as rowing simulations and competitions.

Check out the Concept2 Model D on Amazon
---
2. WaterRower machines
About the Company: WaterRower was formed in 1988 by US National Team Rower John Duke.
This American-made brand combines sustainably sourced materials, stunning design, and unique water resistance for a high-class rowing simulator. WaterRower offers a variety of their rowers, as well as some accessories and protective floor mats.
These beautiful rowing machines, built from wood sourced from the Appalachian Mountain region, are so unique that they'll make you want to work out each and every day.
Major Pros: WaterRower products are well-made and ethically sourced. While it is not necessarily a selling point for everyone, all rowing machines are American-made; the company is headquartered in a small Rhode Island town.
When you buy a WaterRower, you are supporting American businesses. Because it was created by a US National Team Rower, you also know that these products are built with a passion for rowing – and knowledge about the exercise – in mind. For those who are new to rowing, this is incredibly reassuring.
Constructed with a "water flywheel," the WaterRower feels more natural and less mechanical than other rowing machines.
You can build muscle and increase your heart rate without putting too much pressure or strain on your joints. Because of its wooden construction, the WaterRower is also quieter than other rowing machines. It won't bother others in your apartment or living area, and you can feel like you're gliding across the water – total relaxation!
Major Cons: The WaterRower rowing machines are not cheap by any means, and many people will need to save up for a few months before buying one.
While this isn't necessarily an issue for everybody, the cost could be off-putting to some. In addition, although many enjoy the relaxing nature of the WaterRower, it may not provide enough resistance, especially for athletes who might be training.
Finally, the WaterRower does not offer a large warranty. Their products generally have around a 1-year warranty on the frame and components, which can be upgraded, but that is slightly low for their price point.
Flagship Product: The WaterRower Natural works 84% of your muscle mass during use.
Its water flywheel makes rowing into a smooth and natural process. It is beautiful and will fit into your home, even without being stored in the gym area. However, it can be stored upright if you need to put it away. Be aware, though – this rowing machine weighs 117 pounds and might be difficult to move once you've placed it somewhere!

Check out the Water Rower Natural on Amazon
---
3. Stamina Rowers
About the Company: Stamina's aim is to offer fitness products that work your body and your mind.
Founded in 1987, Stamina offers innovative fitness equipment designed for home use. In addition to rowing machines, the company sells trampolines, steppers, aeropilates equipment, exercise bikes, and strength training equipment and accessories.
A well-respected brand in the fitness sphere, Stamina has rowing machines for all budgets and fitness levels.
Major Pros: Stamina has a wide variety of rowers, ranging from their basic InMotion rower to water rowers.
Whether you're looking for air resistance, water resistance, or just resistance from the machine itself, Stamina has a rower for you. This opens rowing up to anyone, whether you're looking for a low-impact rower to help support painful joints, or you're looking to become more competitive in the field (and YOU get a rower, and YOU get a rower)!
Because the company has so many models of rowing machines, it is also easy to feel like the machines are personalized. Each model supports a different amount of weight and can be used for different heights.
Finding the model that fits your build makes it seem like the rowing machine was made just for you. Because the models are made for home use as well, they are often built to fit into your home and lifestyle.
Major Cons: One common complaint about Stamina products is that their display sometimes fails to track time, speed, or distance. Additionally, the spring box and belt are known to break. This can be an issue due to the fact that the parts warranty is so short – only 90 days.
While customer service is said to be both extremely friendly and helpful, Stamina seems to know about some of the issues with the broken parts and the inability for the belt to recoil, but have yet to fix them.
Flagship Product: The Stamina ATS Air Rower is compact, although it can be stretched to fit those who are taller.
It is perfect for use in home gyms, and is durably built for everyday use. This rowing machine uses wind-resistance. It is easy to set up, low impact, and offers a great full-body workout! The ATS Air Rower offers a 3-year frame warranty, but only a 90-day parts warranty.

Check out the Stamina ATS Air Rower on Amazon
---
Wrapping Up
When it comes to rowing machines, you're hard-pressed to find a better piece of exercise equipment!
But determining the best rowing machine brands – and what they offer – is key to picking out the machine that fits your needs.
Make sure to consider your price point, preferred level of resistance, and how much space you have before purchasing your rower.
For my money, I would probably spring for the WaterRower Natural (Amazon link).
It's gorgeous and aesthetically appealing, but also easy to store, durable, well-built, and a more natural experience. Exercising is easier when it is also enjoyable and relaxing.
If you're looking for something a little more budget-friendly, try the Stamina ATS Air Rower (Amazon link).
While it is not the best choice for a competitive rower, its size makes it easy to fit into even small apartments, and the wind resistance creates an intense but fun workout for casual rowers.
Hope this helps!