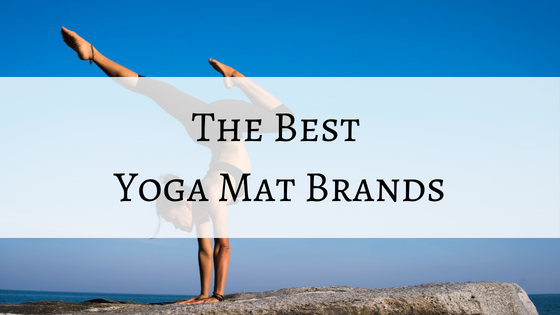 Yoga has been providing amazing health benefits to those who practice for over 5,000 years
This ancient practice can help heal your body and mind. Whether you're new to the practice or have been a yogi for as long as you can remember, you're apt to find yourself…
Happier. More flexible. Relaxed. With less low back pain.
But you'll need a good mat to get started.
From my experience and research, the best yoga mat brands in 2019 are (in no particular order), Manduka, Gaiam, Liforme, and Lululemon.
There are a lot of other companies that also make great yoga mats. But if you're looking to find a great yoga mat, and looking for some of the best and most reputable names in the business, here's where you can start.
---
What to look for when you buy a yoga mat
Yoga is great for physical, mental, and emotional ailments.
But part of the way to find happiness in all of those facets is by having the right yoga mat.
Your yoga poses and routine are important parts of succeeding at yoga. Your yoga mat should complement those by giving you a good platform to work on.
Let me break down a couple of key things you should be paying attention to when you're shopping for your yoga mat. Although everyone has different preferences, these factors are important to consider:
DURABILITY:
When it comes to your yoga mat, you want a brand that creates high-quality, sturdy, and durable mats.
Even if you only practice yoga once per week, you want a mat that will not fall apart or tear with use. Your yoga mat should stand up to frequent use, washings, and transportation. If created with a durable material, your mat should also help with keeping you comfortable while you practice.
PORTABILITY:
Many yogis practice at home. However, a lot of people also travel to studios or classes in order to practice with others. In this case, the portability of a yoga mat is extremely important. It should be easily foldable or rollable, as well as decently light.
A thick mat is nice, but you don't want one that is heavy to the point where it's uncomfortable to lug it around.
GRIP AND SLIP:
You're not going to get a good yoga workout if you're slipping and sliding all over your mat. You want to be able to hit your poses – especially in hot yoga!
Not only should your mat have good grip on the top of the mat, so that you stay in place all session long, but it should have firm grip on the bottom of the mat. Whether you're practicing on a hardwood floor or your living room carpet, your mat should be firm and unmoving under you.
---
1. Manduka Yoga Mats
About the Company: If you're interested in yoga, you've heard about Manduka products.
In 1977, Peter Sterios founded the company with the idea that yoga could change the world for the better. Their mats are eco-friendly, PVC-free, and (whenever possible) made with renewable materials. Designed to be long-lasting, Manduka offers a variety of mats in lengths, weights, and densities.
In addition to yoga mats, Manduka also makes yoga props, carrier bags, yoga sets, mat cleaner, and apparel.
Major Pros: Manduka yoga mats are designed with highly durable material. They are well-made and can stand up to wear and tear, even if you are using your mat for daily practice. Because Manduka offers such a wide range of yoga mats, you'll have plenty of portable options available.
While some mats are on the heavier side, other mats are lighter and can be taken anywhere you'd like to go. This makes it easy to have one mat for a home workout and another for class workout (although we don't fault you if you just want one you can take to both).
But if the mat doesn't match its promise of durability? No problem. Manduka offers a lifetime guarantee for peeling mats or surface imperfections. Their customer service is renowned for their positive treatment of those who purchase their products; you will never be left worrying.
Major Cons: Mats can be slippery, especially when you first purchase them. Of course, you want to be (pretty much) like a statue during yoga – not sliding all over the place.
Manduka mats do require some "breaking in," so to speak. To reduce some of the slipperiness, you may need to scrub it down with salt or mat wash. However, some people feel that it should already be broken in, considering the higher price point. This also may be off-putting for more casual yogis.
Additionally, some people find that they have trouble with the thickness of some of the Manduka mats. However, Manduka offers a variety of mats, so they might have just bought one that was too thin; due to the price point, it may be hard for them to switch it out for something new.
Flagship Product: The Manduka PRO yoga mat, which is extremely dense and cushioned, is raved about by yogis everywhere. It is 100% latex free and extremely high-quality. If you're an experienced yogi looking for a mat to hold up against wear and tear, consider the Manduka PRO.

Check out Manduka mats on Amazon
---
2. Gaiam Yoga Mats
About the Company: Gaiam, pronounced "GUY-um," is a well-known brand in the yoga and wellness niche. The company has a focus on affordability, environmentally-friendly products, and interconnectedness.
Gaiam has been creating their PVC yoga mats for over 25 years now. In addition to yoga mats, Gaiam also makes yoga accessories, hydration tools, fitness tools, balance balls, and ball chairs!
Major Pros: To start, Gaiam is a well-known and highly respected name in the yoga community. Their mats are high-quality, even though they are at a much lower price point than other brands. For someone who is just getting started in yoga, this is a huge draw.
One of the great things about the Gaiam yoga mats is that they are very thick and extra padded. While everyone does yoga for different reasons, many people won't argue when we say – it's a nice way to relax and center yourself. But that isn't so easy when you're feeling pain and pressure on your joints due to a too-thin mat (and a too-hard floor).
The thickness provides just the right balance for you to have a long, comfortable workout (while protecting your knees and back).
Major Cons: Gaiam creates their mats using PVC, which is highly controversial in the wellness community. Congress has actually banned certain PVC materials for use in children's toys and consumer goods.
While Gaiam does not use those 6 materials in their yoga mats, some may still take issue with the use of PVC as a whole. Their mats are more susceptible to sun damage and do not come with a carrying strap, which some yogis may not like (even though they are super lightweight, so they will not be a struggle to carry).
Although Gaiam does have a non-slip surface, it may not be as "grippy" as some users may like. Gaiam mats may be better for casual yogis, while those who do yoga often (or run a practice) may want something with more grip.
Flagship Product: Try Gaiam out with their affordable Gaiam Print Premium Yoga Mats. The dimensions of the mats sit at 67.7 x 24 x 0.2 inches. The mats come in a variety of luxurious colors and prints. These comfortable, padded yoga mats come with a lifetime warranty.

Check out Gaiam mats on Amazon
---
3. Liforme Yoga Mats
About the Company: Liforme is the yoga mat made for yogis – by yogis.
Founder James has been practicing yoga since 1996, but one day questioned why there weren't any markers on the yoga mat to help yogis position themselves correctly. In 2013, they began releasing their yoga mats to the world with a patented AlignForMe system and eco-friendly build. With rampant growth in the last few years, Liforme now offers their multi-colored mats (4 colors!) in 85 countries.
(I recently took the Liforme yoga mat for a test drive and LOVED IT. Check out my Liforme review here.)
Major Pros: Liforme is PVC-free, which means it is free of harmful chemicals. It is also made from sustainably-sourced materials! We know we love taking care of the Earth, so having a yoga mat that is environmentally friendly is definitely a start. If you're a lover of the planet, you'll also be pleased to know that Liforme is partnered with Friends of the Earth, an environmental conservation charity!
Liforme mats are also very grippy, especially on the bottom. Nothing stinks more than when you're trying to get into one of your poses and the mat is sliding around underneath you. Many people also rave about the grip on top of the mat, meaning that you won't slip and slide (even when you're super sweaty – don't worry, we've all been there)!
You can hit your poses more easily, as well, with the addition of the AlignForMe System, which provides markers to guide your positioning. This can be helpful for new and seasoned yogis alike.
Major Cons: Due to its unique material, Liforme yoga mats might get a little squeaky during your workout. Even though this may not be a problem for everybody, some of you might feel like your focus could be interrupted with a wrongly-timed "SQUEAK." Also, some people say that the carrying case which comes with the Liforme mat is not so durable and rips easily.
Flagship Product: If you're interested in trying out a Liforme yoga mat, try out their original The YOGA Mat. This non-slip mat comes in 4 colors (green, blue, pink, or gray) with special markers for your asana practice.
With dimensions of 72.8″ long x 26.8″ wide and 4mm (0.16″) thick, this mat is larger than traditional yoga mats and provides a good amount of cushion. Although it comes in at a higher price point, these mats fit a variety of body types and are highly regarded for their grip.

Check out Liforme mats on Amazon
---
4. Lululemon Yoga Mats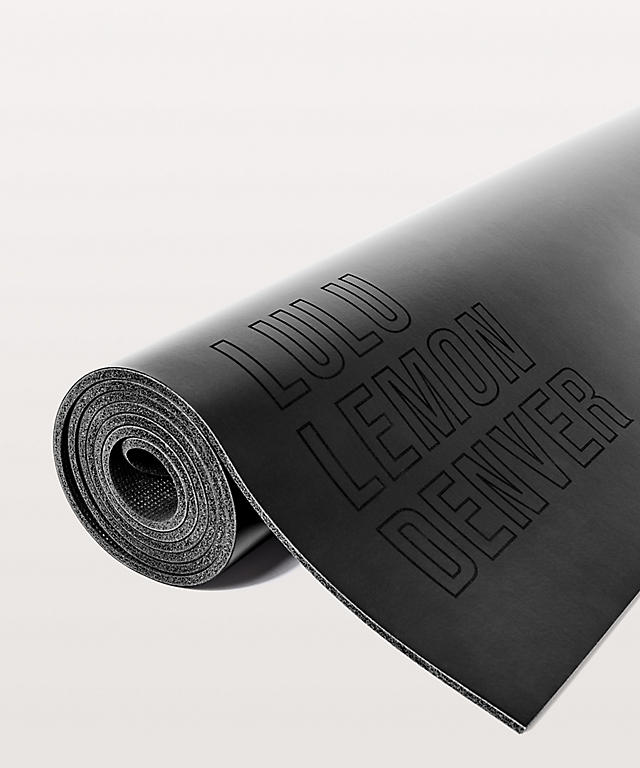 About the Company: Lululemon Athletica was founded in Vancouver, Canada in 1998. The company began by creating yoga and athletic apparel for women and branched off into yoga-inspired athletic gear for both women and men.
Lululemon seeks to develop clothing and products to develop a sense of community and promote mindfulness and healthy living. Today, Lululemon is well known in the wellness arena; they provide clothing, accessories, and yoga mats and props.
Major Pros: Lululemon, as a company, is big on sustainability. So their mats are designed from natural rubber and polyurethane. These two materials, one making up each side of the mat, also help with durability and grip.
The mat provides traction, meaning you'll stay in place whether you're doing your usual yoga class – or whether you're trying hot yoga for the first time. They also use an antimicrobial additive on their yoga mats. That sounds complicated, but what it means is that the additive will keep mold, mildew, or other such things from damaging your mat. It'll stay clean even through intense workouts!
Lululemon is well-branded and known for their high-quality yoga mats. Their price point, while not completely budget, is still affordable. Their mats come in varying sizes, weights, and thicknesses.
Remember how we said that not all yoga mats are created equally? With Lululemon, you can pick from a range of mats to find the one that works best for your workout. Their mats also offer great grip, with some mats being more "grippy" for use in hot yoga.
Major Cons: Because Lululemon uses natural rubber, which has a slight scent to it, your yoga mat may smell a little funkier when you first unroll it. It is recommended to leave it out for a day or two to dispel the smell.
Some Lululemon yoga mats may also stain easily. Although stains are not necessarily an issue for everybody, some may not want the stains to continue to show even after cleaning. After all, we all want a good workout – but without the embarrassment factor!
Flagship Product: From vinyasa flow to child's pose, you can't go wrong with Lululemon's Reversible Mat (5mm). This mat is designed from natural rubber and polyurethane. These two materials, one making up each side of the mat, also help with durability and grip. The mat provides traction, meaning you'll stay in place whether you're doing your usual yoga class – or whether you're trying hot yoga for the first time.
The mat is dense and cushioned, so you don't have to worry about hurting your knees, elbows, or back; the mat is also larger than a regular mat, meaning it fits more body types!
---
Wrapping Up
When it comes to the perfect yoga mat, everyone is looking for something different. You need to find a yoga mat brand that offers the right density, size, material, and durability for your needs.
Although there are a ton of great brands out there, I am confident that the 4 brands shown here will give you a product you can be proud of. Whether you're looking for a low price point, a durable build, or a focus on sustainability, there is a yoga brand (and mat) for you.
For my money, I would probably spring for the Liforme The YOGA Mat (Amazon link).
With its eco-friendly material, it holds strong to the values held by a lot of yogis, while also providing great grip. While it is slightly higher in terms of pricing, the Liforme Yoga Mat offers a wider size (and the special position markers) to provide a great experience to yogis of all body types and experience levels.
Hope this helps!