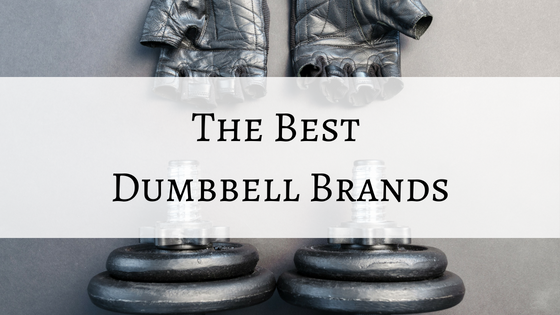 If I had to recommend just one piece of fitness equipment for someone to buy…
… it would be a good dumbbell set.
Home gym machines are great, but dumbbells give you unlimited variation. You can challenge every muscle and joint in your body in a never-ending series of new ways.
The only problem is that doing something as seemingly simple as buying a set of dumbbells can actually be a little complicated. There's a lot to consider, from style, material, and weight, to which brand of dumbbell you should get.
From my experience and research, the best dumbbell brands in 2020 are (in no particular order), CAP Barbell, Bowflex, AmazonBasics (really), Power Block, and Yes4All.
There are TONS of companies other than those that make great dumbbells, but if you want to narrow things down to just the best and most reputable names, start here.
---
What to look for when you buy dumbbells
How do you buy dumbbells for your home gym?
Like I wrote above, it's not always as easy as you might think.
There's a lot to think about before you pull the trigger or spend hours browsing hundreds of products on Amazon.
Let me break down a couple of key things you should be paying attention to when you're shopping:
Style:
There are two basic types of dumbbells: adjustable and fixed (or regular).
The difference should be self-explanatory. Adjustable dumbbells feature some kind of loading system that allows you to add or subtract weight from the bar. These take up far less room in your home and can be super convenient, though they often don't go as heavy as fixed dumbbells and can be quite expensive. You end up paying for that convenience!
Dumbbells can also come in different shapes and be made of different materials. For example, dumbbells can be round or hex shaped and made from steel and iron or plain neoprene.
Cost:
Obviously, your budget plays a big factor in what kinds of dumbbells you should use in your home gym.
Just to give you an idea, you can expect to pay by weight.
Around $1 per pound is pretty fair for a new dumbbell. For example, you can expect to pay anywhere from $30 to $60 or so for a new 50lb dumbbell. That's a big range but it should give you a rough idea of what to expect.
As you can see, grabbing a few 5 and 10lb dumbbells for simple aerobics is going to be a lot different than getting a full dumbbell set for heavy bench presses. Make sure you give a lot of thought to what you're going to need and how heavy you expect to go.
Brand:
Does brand of dumbbell even matter? That's really up to you, but there are a couple of advantages of going with a known and reputable name brand piece of equipment versus the cheapest you can find.
Top brands will typically have better construction, materials, and warranties.
That's important if you plan on using these dumbbells for years to come. Next, good dumbbell brands will offer weights that are better balanced and more durable, which makes them far more enjoyable to use. (If you've ever used a cheap dumbbell with the outer layer peeling off, you'll know how much it sucks).
Last, you may want to know that your 50lb dumbbell is REALLY 50lbs, and that it's not just the company's best guess. You can expect higher-end dumbbells and weights in general to be more precisely calibrated.
---
1. CAP Barbell dumbbells
About the Company: If you know weightlifting, you know CAP Barbell.
They're an extremely well known and highly trusted brand that makes everything from power racks to dumbbells to weight benches and more. CAP Barbell has been around producing awesome equipment for over 25 years and has fulfillment centers out of Los Angeles, Houston, Savannah, Chicago, and Newark.
When it comes to dumbbells, they pretty much do it all: fixed rubber dumbbells, cast iron hex dumbbells, neoprene, and spinlock adjustable dumbbell sets.
Major Pros: CAP Barbell is not a maker of cheap products. Whatever set you choose from this company, you'll be getting an extraordinary well-made piece of equipment.
Reading through hundreds of reviews online of their dumbbells, you'll hardly ever find any complaints about these dumbbells slipping, peeling or flaking away, or eroding and breaking down over the time.
Any set you get from CAP Barbell means you're in it for the long haul and should last you for years to come.
It's also great that the company makes so many different kinds of dumbbells, so it'll be easy for you to continue adding more equipment to your home gym if you decide you like their stuff.
Major Cons: The only considerable drawback of CAP Barbell dumbbells is the cost. In most cases, you can expect to pay a good bit more for their high-quality construction.
You'll pay substantially more than the $1 per pound average you might sometimes see elsewhere, but in return, you get an amazing product.
Flagship Product: If you're interested in CAP Barbell dumbbells (weird name, I know!), take a look at their standard rubber coated hex dumbbells. They're of amazing quality and, while not the cheapest, receive rave reviews from everyone who tries them.
Hit the link below to get them on Amazon.

Check out CAP Barbell coated hex dumbbells on Amazon
---
2. Bowflex dumbbells
About the Company: If you've watched any TV in the past couple of decades, you've definitely heard of Bowflex!
Best known for their home gyms that utilized tensions from bending bows rather than traditional weights, Bowflex has been around since 1986. Since its early "As Seen on TV" days, the company has branched out into other kinds of workout equipment, like ellipticals, bikes, and even dumbbells.
Their biggest seller is the SelectTech adjustable dumbbell series, which utilizes some pretty cool technology to fit a whole dumbbell rack into one piece of equipment.
Major Pros: If you've seen the infomercials, you might think of Bowflex as being a bit of a cheesy, gimmick company, but that's not actually the case. You'll be happy to know Bowflex makes some really high-quality stuff! And their dumbbells are no different.
The biggest advantage of choosing Bowflex as your dumbbell brand is their unique approach to adjustable dumbbells.
The dumbbells use a really cool locking system with a dial that lets you quickly and easily adjust the weight right before you pick them up. Contrast this with something like a spinlock dumbbell, on which you have to manually load each plate. While a little funky looking, Bowflex adjustable dumbbells are unbelievably convenient to use in your home gym.
The price is actually another selling point here. Each dumbbell in their SelectTech series adjusts from 5, all the way to 52.5 pounds, giving you over 100 pounds in total weight when fully loaded, and any increment below in 2.5lb increments. That's like having an entire dumbbell set in your living room!
And for the price, you can't beat that. (See link below for latest price on Amazon.)
Major Cons: There are a few downsides to going with BowFlex for your home dumbbells, though.
Primarily, I would say the overall weight could be an issue for advanced lifters. These dumbbells top out at 52.5 pounds each and after that, there's really no way to make them heavier. To be fair, that should keep most novice lifters busy for some time! But you'll probably eventually want a bigger challenge.
Durability is also a concern here that you wouldn't normally have with, say, solid iron hex dumbbells.
There are interlocking plastic parts, dials, and other small components that can break or wear down over time. The price on these dumbbells is super friendly, but they may not last forever.
Flagship Product: The BowFlex SelectTech 552 adjustable dumbbells are an amazing solution for home workouts without a lot of space. Give these dumbbells a try if you don't want to spring for an entire rack and weight set.

Check out the BowFlex SelectTech 552 adjustable dumbbells on Amazon
---
3. AmazonBasics dumbbells
About the Company: Surely, you've heard of Amazon?
AmazonBasics is a line of products that essentially works like store brand or generic. They find a low-cost alternative to a popular brand and slap their name on it.
The difference is, Amazon is pretty unlikely to put their name on something that sucks and doesn't hide behind generic brand names like "America's Choice." Most AmazonBasics products are actually really high quality and often a great, less expensive alternative to what the big boys are offering.
AmazonBasics dumbbells are no exception, and they carry both lightweight neoprene dumbbells (like the ones pictured) along with bigger, coated hex dumbbells and sets.
Major Pros: There are a few great reasons to consider buying your dumbbells direct from Amazon. First up is price, which is extremely competitive. For most of their dumbbell sets, you'll pay fairly close to that $1 per pound mark. If you're looking for the best budget dumbbells, these are definitely worth a look.
The other is convenience. There's just something inherently trustworthy about something with Amazon's name on it. Plus, AmazonBasics products are almost always available with free, fast shipping via Prime. And they're usually in stock, though not always.
Beyond that, these are just solid dumbbells. Most competitors at this price offer low-quality products, but AmazonBasics dumbbells have been given the seal of approval by thousands of online users.
Major Cons: There's not a whole lot to dislike about these. They may not be as durable or well-calibrated as really high-end dumbbells, but for the average user they work incredibly well.
One thing some folks complained of was a chemical smell coming from the rubber and neoprene used on certain AmazonBasics dumbbells, but it should fade over time and with use.
Flagship Product: Check out these 1-15lb neoprene dumbbells from AmazonBasics. They're brightly colored, comfortable to hold, and perfect for lightweight workouts at home for beginners. You can even buy a set with a simple stand for a great price!

Check out AmazonBasics neoprene dumbbells on Amazon
---
4. Power Block dumbbells
About the Company: It's a tool box! No, it's a car battery! It's a DUMBBELL SET.
Yes, Power Block dumbbells are pretty hard to miss, and in truth, they hardly look like workout equipment at all. But much like the Bowflex SelectTech, this is an awesome and ingenious adjustable dumbbell set that can save you an insane amount of space and money.
Imagine a compact, easy-to-use, and color-coded block that actually housed dumbbells from 5-70 pounds (or more). Pretty cool, right? That's what makes Power Block one of the best dumbbell brands.
Major Pros: OK, this set looks super weird, but these are THE standard when it comes to adjustable dumbbells for home use. You may prefer the aesthetics of Bowflex a little more, but Power Block offers more weight, better quality, and top of the line balance, calibration, and construction.
People online rave about these dumbbells and the space they save is absolutely extraordinary. Not to mention the money! A set of two Power Blocks, which go up to 70 pounds or more per hand depending on what you buy, can replace well over 1,500 pounds of weight from a traditional dumbbell rack.
Adjusting (done in 2.5 pound increments) to the exact weight you need per hand is a breeze and takes seconds.
Major Cons: The only real downside to Power Block dumbbells is the somewhat funky block design. While the weights are extraordinary well made and well balanced, you may find your hand a little constricted inside the "cage." It shouldn't cause actual discomfort but not everyone loves the feel of these while lifting.
They're also a bit more expensive than the BowFlex SelectTech, though they offer more weight.
Flagship Product: A Power Block 70lb adjustable dumbbell set should keep you busy for quite a while. You'll get an amazing full body workout in using these, and they'll take up just a small fraction of the space a full set would normally occupy.

Check out the Power Block Elite Dumbbells on Amazon
---
5. Yes4All dumbbells
About the Company: Yes4All is a bit of a do it all company that prides itself on bringing sport, outdoor, pet, and home products (yes, that's a lot) to people at affordable prices. And they do a good job of it!
I'd normally suggest you get dumbbells from a brand that really specializes in fitness exclusively, but there are some solid advantages of checking out Yes4All, one being the price!
Major Pros: Yes4All makes both lightweight neoprene dumbbell sets and heavy-duty spinlock dumbbells (see photo). If you choose to go with their spinlock set, you'll find one of the most cost-effective ways possible to get a lot of dumbbell weight in your home gym.
You can get up to 200lbs in total dumbbell weight (adjustable, too!) for VERY close to $1 per pound.
Spinlocks dumbbells are awesome, too, because they're designed and balanced like "normal dumbbells," but are adjustable. You have the ability to slide differently weighted plates on and off the dumbbell to set your own poundages. A set of two, 100lb Yes4All spinlock dumbbells could easily replace an entire rack.
Major Cons: Some reviewers have complained about the overall quality of these budget dumbbells, stating that the finish will flake or peel, and that the weights aren't as well balanced or calibrated as top-end competitors.
If you're on a budget, however, there's no better way to get more weight for your money.
Flagship Product: The Yes4All adjustable spinlock dumbbells are an absolute steal if you're looking to outfit a home gym on a budget. Choose between a 40, 50, 60, 105, or 200 pound set.

Check out the Yes4All adjustable dumbbells on Amazon
---
Wrapping Up
You have a TON of options when buying dumbbells for your home gym. You'll have to decide how much weight you need, what your budget is, and what style of dumbbell you prefer.
But getting a set from one of the brands above should set you down the right path. All have hundreds, if not thousands, of extremely positive reviews on Amazon and are well-known for their fitness and/or outdoors equipment. Some of the above are known for high price point and high-quality equipment, others are known for great value.
In any case, those are my favorite dumbbell brands. I hope that helps you get started on your search!
For my money, I would probably spring for the Power Block adjustable dumbbells (Amazon link). There's just no better way of getting a lot of weight for a fair price and very little floor space.