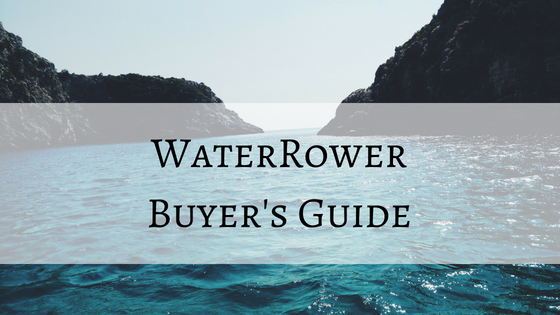 If you've ever been out on a canoe or kayak, you know what a great workout it can be… especially during speed runs!
That explains the popularity of rowing machines, both in the gym and at-home. They give an amazing low-impact full body workout that causes you to scorch calories while challenging nearly every muscle in your body.
Most rowing machines use air, via a fan, that creates resistance as you row. But a company called WaterRower is out to change all of that… Yes, their rowing machines actually use a small underwater flywheel to generate resistance.
Sounds great, right? The only problem is, WaterRower has about a dozen different models and trims of their unique and eye-catching rowing machines.
Which WaterRower should you buy for your home gym? Which has the best reviews and a price to fit your budget?
Let's dive into my full buyer's guide to help you decide which WaterRower machine to buy and which one is best.
If you're in a hurry, go ahead and take a look at WaterRower's best-selling model, the WaterRower Natural on Amazon.
Image
Product
Details

WaterRower A1 Home

No finish
Basic performance monitor
Lowest price point

Check on Amazon
See Image on Amazon

Best Seller

WaterRower Natural

Ash wood finish
Upgraded monitor
Best looking of the bunch

Check on Amazon

WaterRower M1

Aluminum finish
Upgraded monitor
Best performer

Check on Amazon
---
Why buy a WaterRower? Breaking down water rowers vs air rowers
The benefits of rowing are vast.
With regular exercise on a rowing machine, you'll strengthen both your upper and lower body, improve endurance, and burn massive amounts of calories, all while putting minimal stress on your bones and joints.
Rowers are truly one of the best do-it-all exercise machines out there.
But what's the difference between a rowing machine that uses air vs water resistance?
Well, the workout is the same, but the experience can be vastly different.
Some of the benefits of working out with a WaterRower machine:
No resistance settings. The harder you row, the harder it gets. Just like real rowing.
The whoosh of the water as you row is calming and motivating.
These machines from WaterRower are stunningly gorgeous (as you'll soon see)
Incredibly smooth range of motion
The only major downsides to owning a water based rowing machine would be:
They're typically more expensive than traditional rowers
Water drum must be maintained with the occasional purification tablet
There are definitely some cool benefits to choosing water resistance rowing versus air!
So if you're sold, let's jump right into helping you decide which WaterRower Machine to buy.
---
What you need to know about buying a WaterRower
OK, I get it. Looking at all the different models of WaterRower machines is incredibly overwhelming.
(By my count, there are at least 10, plus different add-ons, upgrades, and variations. Yeesh!)
As of this writing, WaterRower currently sells the following models:
Natural
Club
Classic
Oxbridge
M1 Hirise
M1 Lorise
A1 Home
A1 Studio
Xeno Mueller
S1
That's intimidating!
The good news for you, shopper, is that most of those models are either a) designed for commercial gyms/studios b) just a different kind of wood and stain or c) specialty/limited edition models.
That's not to say you shouldn't check them all out and choose the one that speaks to you!
But if you're looking to pare this decision down a bit and make it easier, we can eliminate most of those.
Take a look at my recommendations for which WaterRower machine to buy.
---
If you want a basic but ultra high-quality water rower, get the WaterRower A1 Home
Overview: This is WaterRower's flagship model. It's a pared down (but still very sleek and of insanely high quality) and designed to get the job done. The price is low (compared to other WaterRower models) because of the stripped down features and the bare-bones performance monitor. If you're just looking for an accessibly-priced WaterRower, this is the one for you.
Price: $ (comparatively!)
Why I Like It: It's got all the signature trappings of the WaterRower brand without a price tag that'll make you pass out. Gorgeous design, ultra-smooth range of motion from the underwater flywheel, and extremely simple to use — no complicated resistance settings. Just climb on and start rowing.
Potential Drawbacks: The performance monitor is pretty rudimentary… It displays basic data like time, distance, and calories, but has very few frills or extra features. Some low maintenance involved (1 purification tablet added to the water drum every couple of months).

Check price and read more reviews of the A1 Home on Amazon
---
For an upgraded onboard monitor and eye-popping wood finish, get the WaterRower Natural
Overview: Take a step up from the A1 Home model and you get The Natural. Crafted from stunning (and sustainably sourced) ash wood with a gorgeous Honey Oak stain, this great rower doubles as a conversation piece.
Who knew fitness equipment could be so beautiful? The Natural also comes with WaterRower's upgraded S4 Monitor.
Price: $$
Why I Like It: Once again, The Natural is beautiful! You won't want to tuck this thing away when you're not using it. Leave it out for the world to admire.
Super smooth action and a comfortable seat, to boot. The upgraded S4 monitor has some cool features, like the ability to display a real boat rowing along with your pace, racing against your own previous times, and more.
Potential Drawbacks: A bit pricier than the A1 Home model. Some users report The Natural may not be comfortable for taller riders.

Check price and read more reviews of the Natural on Amazon
---
If the handcrafted wood look isn't your thing, get the WaterRower M1 Lorise
Overview: If the hand-stained wood look doesn't go with your decor, but you still want a top of the line WaterRower, check out the M1 Lorise.
This bad boy is made out of solid aluminum for a super sleek, modern aesthetic. It's got the same buttery range of motion as the other models, along with the upgraded S4 Monitor, and is built for heavy duty use with its metal frame.
Price: $$$
Why I Like It: This thing can take some punishment, with a rock-solid aluminum frame and a weight limited of up to 1000 pounds! For heavy, daily use, this is the model for you.
The sleek metal look is a bit different from the other WaterRower models, but still gorgeously designed. The goodies included on the S4 monitor make rowing a ton of fun.
Potential Drawbacks: One of the most expensive WaterRower models.

Check price and read more reviews of the M1 Lorise on Amazon
---
Wrapping Up
You probably already know that WaterRower machines don't come cheap, but they are exceptionally crafted, and built with some of the highest quality materials you'll find. The rowing experience is smooth and natural, and there's just something fun and motivating about rowing against real water.
Don't let all the options intimidate you… Any WaterRower will give you a great workout! Just refer to my buyer's guide above and pick the one that best fits your aesthetic and workout needs.
Hope this has helped!

If you're having trouble picking, go take a look at WaterRower's top seller, The Natural, right here on Amazon.
---
WaterRower FAQ
How much does a WaterRower cost? What's the price?
These bad boys aren't cheap. They run the gamut, however, from relatively affordable to extremely expensive depending on the model.
In general, the slightly lower end consumer models start in the low $1000s, and the highest end models retail for several thousand dollars.
Are they worth it?
That's up to you and your budget!
The key thing to remember with WaterRower is that they're statement pieces, in a sense. Yes, the water rowing technology is really cool and promises you an excellent, smooth workout, but these models are also fashioned from high-quality wood, handcrafted, stained, and designed to be beautiful additions to your home.
They are, in truth, half workout equipment, half furniture.
So if you view them that way, as something you won't want to hide away in your basement, but rather something you might actually want to leave sitting out, you may see a little more value in a WaterRower purchase.
Can I buy a used WaterRower?
Yes! You can check your local online marketplaces (like Craigslist) and occasionally you'll see a used WaterRower listed. That's a great way to get your hands on one of these without paying a premium price.
Unfortunately, people buy exercise equipment all the time only to never use it and put it up for sale on the Internet after a few months or years of collecting dust.
One word of caution: Before you buy a used rower, make sure it's been well cared for, that the finish is in good shape (that's a key feature of the piece!), and that the water tank has been properly maintained with the purification tablets. I'd pass on a WaterRower that hasn't been cared for properly and may have some durability issues lurking beneath the surface.
Can I rent a WaterRower?
Yes! WaterRower, the company, offers a pretty cool rental program (and a rent to own program) that lets you test out their products without the big investment upfront.
The rental program also hooks you up with some cool rowing training guides and other learning materials, which makes it an appealing option.
You can also sometimes get access to refurbished used WaterRowers to buy through this program.
Check out more details direct from WaterRower.com
And if you're ready to buy, you can't go wrong with The Natural. Check it out on Amazon.