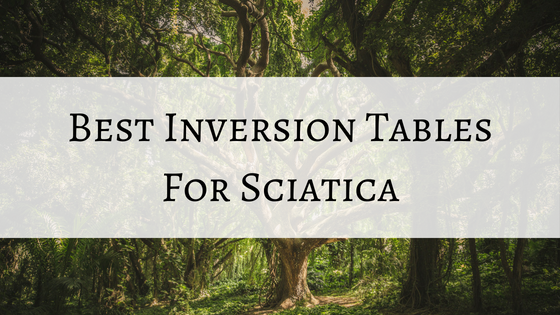 Nearly 80% of people will deal with lower back pain at some point in their lives. But sciatica can be debilitating.
What's sciatica? It's the inflammation of the sciatic nerve, which goes from your lower back all the way down to your feet.
So when it is damaged, whether due to herniated disks or muscle strain, your back is in a lot of pain.
But don't fear – if you're suffering from sciatica, you don't need to immediately think of surgical options.
Consider using an inversion table instead!
An inversion table is an at-home treatment to release the pressure on your sciatic nerve. By inverting at small angles, gravity helps to relieve lower back pain.
It can also help improve circulation, reduce muscle spasms, and stretch tight muscles!
But before we dive into the research behind how and why you should buy, let's take a look at my top three picks for the best inversion table for sciatica:
Image
Product
Details

Innova ITX9600

Budget-friendly
Extra wide backrest
Folds for easy storage

Check on Amazon

Merax Table

Heated massage pad
Ultra-thick padding
Full inversion

Check on Amazon

My Pick

Teeter EP-560

FDA registered
8 acupuncture nodes & lumbar bridge
Top of the line quality

Check on Amazon
(And a quick note: As always, if you have a known medical condition, you should always consult a doctor before self-treating at home. Inversion tables are known to be safe and effective, but definitely get the input of a medical professional, please!)
---
Best Budget Inversion Table for Sciatica: Innova ITX9600 Heavy Duty Inversion Table
Overview: This Innova ITX9600 Heavy Duty Inversion Table comes with a variety of features to help users find their unique center of gravity.
It offers a "True Balance System," with three adjustable features (headrest pad, height, foot) for better customization. For inversions, the Innova ITX9600 offers a six position adjustable pin system. It supports users from 4 feet 10 inches to 6 feet 5 inches, and supports a weight of up to 300 pounds.
Weight: 52 pounds
Dimensions: 46 x 28 x 63 inches
Why I Like It: At its price point, the Innova ITX9600 actually offers a wide variety of features that will help people suffering from sciatica.
The adjustable headrest pad and a padded backrest help you get comfortable even before inverting. The backrest is also extra long and extra wide, allowing it to fit more body types.
Another great feature is the height adjustment tube. Back pain and sciatica can affect people of all shapes and sizes. With the Innova ITX9600, you can adjust the foot area, headrest, and height. This helps every user adjust to their unique center of gravity, meaning you'll be better able to target the areas of your back that really need help.
The Innova ITX9600 is also very safe.
Its six-angle pin system features a protective cover. Once you set the angle you want to invert at, the protective cover will ensure that your inversion will stay safely and comfortably in place. When you're done using your inversion table, it is foldable for easy storage, meaning you can invert even if you live in a smaller home or apartment!
Potential Drawbacks: Innova changed the ITX9600 design in 2017 to update the ankle support system.
Although there are plastic cuffs and foam rollers, there are no designated straps for ankle relief. The plastic cuffs and foam can be set up so either can be in the front or the back. However, the plastic cuffs may be uncomfortable, leading to discomfort or pain in the foot after inversion. Also, although it can be put together with one person, the construction is not the easiest.
Two people may be needed for easy setup, which can make the actual process more time-consuming.

Check price and read more reviews of the Innova table on Amazon
---
Best Mid-Range Inversion Table for Sciatica: Merax Vibration & Heat Comfort Inversion Table
Overview: This mid-range option offers ultra-thick foam padding for an incredible level of back support.
The Merax Vibration & Heat Comfort Inversion Table blends vibration massage, heat massage, and inversion for ultimate back pain relief. Offering up to full inversion, or a variety of angles, this inversion table is also easily foldable and transportable. It supports users up to 300 pounds.
Weight: 55 pounds
Dimensions: 47.2 x 27.6 x 59.1 inches
Why I Like It: Heat can be incredibly helpful for sciatica by relaxing some of the tense muscles in your back.
Between the massage pad, the heat, and the inversion, the Merax inversion table is uniquely suited to address your needs. The massage pad, which offers both the heat and the vibration, is removable. If you want to invert without the pad, you can. You can also use the massage pad when sitting anywhere else, such as a lounge chair or a couch.
This means that you get benefits to address sciatica whether using the inversion table or not.
The high-density foam provides extra back support while using the inversion table. The adjustable dual-pin system also allows for users to change the height of the inversion table, allowing for people up to 6 foot 5 inches to use it. This means you will stay relaxed and contented.
You can adjust the angle using a special pivot arm placement, meaning you will never get stuck in an inversion that you feel uneasy with.
Finally, the Merax inversion table can be folded, easily stored, or brought with you. We know you're probably not taking your inversion table everywhere you go (although who could blame you?), but you do have the option.
Potential Drawbacks: Although Merax describes the setup of the inversion table as fast and easy with minor assembly, one big complaint is the difficulty of setup.
Sometimes assembly instructions are not included. Other times, they are included but are somewhat unreadable. Some may find this to be especially frustrating. The company itself also seems to forget to include certain pieces upon shipment.
While Merax does have a high-quality inversion table, the company needs to work on focus and quality control when their pieces are sent to clients.
Additionally, the ankle supports do not seem to be the most sturdy. This might make it more difficult to relax while on the Merax inversion table.

Check price and read more reviews of the Merax table on Amazon
---
Best High-End Inversion Table for Sciatica: Teeter EP-560 Inversion Table
Overview: Teeter has been creating inversion tables for over 35 years.
The Teeter EP-560 is UL-certified, meaning that it was independently tested for quality. Teeter inversion tables are also the only FDA-registered inversion tables. The Teeter EP-560 offers features such as ankle straps, acupuncture nodes, 5-step assembly, and a 5-year full warranty.
It supports users from 4 feet 8 inches to 6 foot 6 inches, and weight up to 300 pounds.
Weight: 65 pounds
Dimensions: 84 x 28.8 x 86 inches:
Why I Like It: To start, Teeter EP-560 is FDA-cleared. When it comes to inversion tables, you want one that is high-quality and that will keep you safe.
That the Teeter EP-560 is an FDA Registered 510(k) Medical Device shows that it is sturdy, durable, and meant to really help with back pain, sciatica, muscle spasms, and more. It is also UL-certified and comes with a 5-year FULL warranty.
This really shows how much effort goes into quality-control for Teeter. They really care about making a product that will help the people who use it.
This inversion table is also built to be incredibly easy to assemble. Teeter says that assembly should only take about 13 minutes and comprises of 5 steps.
They even offer interactive 3D instructions via the free BILT app. The simple assembly means you will not be spending hours trying to build your inversion table. Rather, you'll be able to experience it (almost) right away.
The Teeter EP-560 also includes some great features. It has 8 acupuncture nodes for focused release, a lumbar bridge for better support, wrap-around ankle cuffs to keep you in place, and handles and tethers for adjustability purposes. It also folds for easy storage!
Potential Drawbacks: Although the ankle straps are definitely a benefit, they can also be a potential drawback.
Wrapped fully around ankles, it may sometimes be difficult to release yourself from the inversion table. The ankle straps may also not be the most comfortable. The Teeter EP-560 is also not padded. Although it offers padding by the head and ankles, it offers no back padding, which some may not like.

Check price and read more reviews of the Teeter table on Amazon
---
What to look for when buying an inversion table
Using an inversion table is a safe and easy way to decompress your spine.
In fact, it is so good at helping to get rid of the numbness, aching, stiffness, and pain of sciatica that it has been used for hundreds of years.
That's right – evidence shows that inversion therapy was used by the Ancient Greeks as far back as 400 BC! Even though we have more technology now, the principle is still the same.
The vertebra in your spine are separated by spinal discs. When those discs are compressed, pressure is put on your sciatic nerve.
But an inversion table holds your body at a certain angle, reducing the pressure.
Many people who suffer from sciatica worry that they won't be able to relieve the pain. But picking the best inversion table can help with sciatica relief.
Here are a few things to look for as you're shopping:
Durability – When it comes to inversion tables, you want one made with high-quality, durable materials. You will be hanging and moving to different angles. A well-made, quality inversion table is imperative to make sure it can support your body weight.
Ease of setup and use – You don't want to end up having a difficult setup, spending hours at a time trying to get your inversion table put together. After all, that would just strain your back more! You want a table that has a relatively simple setup, but one that is also easy to learn how to use. Don't waste your time trying to figure out hard or unclear instructions.
Comfort – Part of the reason people get an inversion table is to relieve pain (and get more comfortable)! So you want something that won't add to sciatica pain. In addition, you should look for extra features (like ankle padding or ankle locking) to help reduce pressure on other parts of your body.
Safety – In a sense, this goes back to durability – you want an inversion table that is high-quality, built well, and fits together the way that it is supposed to. When it is fully built, it should be sturdy, with all of the parts fitting into the right places. The best inversion table for sciatica should be one that isn't going to injure you somewhere else instead!
---
Wrapping Up
Sciatica can make life a lot harder. But you don't need to continue suffering from a sore back, muscle spasms, or stiffness.
With an inversion table, you can ease your sciatica symptoms. In terms of the above options, I would say that the best inversion table for sciatica is the Teeter EP-560 Inversion Table.
Although it is the more expensive option, the Teeter EP-560 is best suited for the needs of back pain sufferers. With its targeted acupuncture nodes, ankle straps, and durable build, users can get a full-back pressure release. Plus, it is easy to assemble, meaning you'll get relaxed more quickly.
Get the full specs and read customer reviews of my favorite inversion table, the Teeter EP-560 on Amazon.