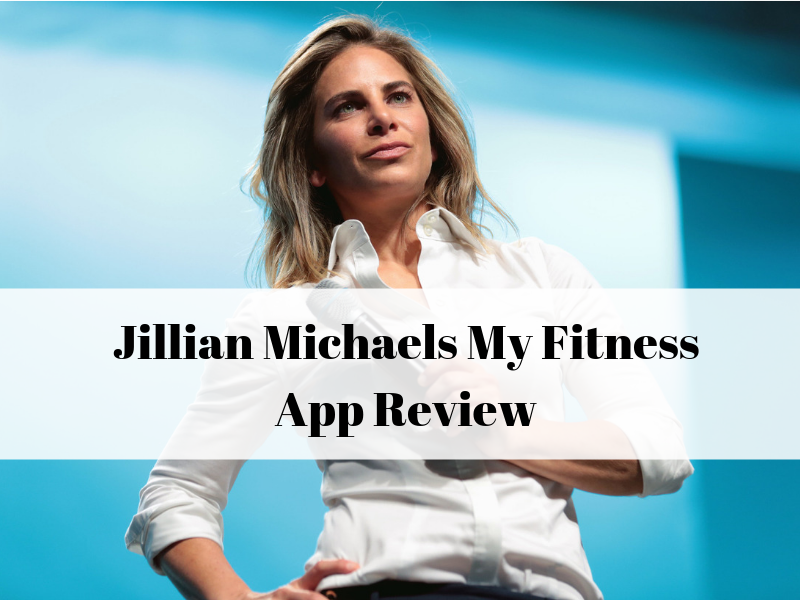 You can't look anywhere in the fitness world without seeing Jillian Michaels face.
This world-famous trainer is probably best known for being on the reality show The Biggest Loser, but she's also launched her own line of super popular workout DVDs.
These days, though, you can get full access to all of the Jillian Michaels workouts, diet tips, and eating plans in one convenient mobile app, called My Fitness.
The question is… is it worth it?
After trying the app myself, here's my hands-on Jillian Michaels My Fitness app review.
Overall, the workouts are great, but the app really shines when it comes to its unreal level of detail in meal planning. You can plan as many meals as you want per week (even for a couple or family) and get a grocery list of everything you'll need for weight loss, maintenance, or muscle gain. It's incredible.
At first, I found the interface a little clunky and confusing to navigate, but the content in this app is deep and incredibly valuable. It's a great choice for busy people or anyone who needs a little structure in their fitness journey.
Now let's dive deeper.
Use my link and start your no-obligation, 7-day free trial here.
If you find this review helpful at all, I greatly appreciate you using my link to sign-up before you download on the app store! 
---
What is My Fitness by Jillian Michaels?
My Fitness App is a subscription-based workout app that's designed to be your one-stop-shop for fitness.
Once you've downloaded the app and signed up, inside you'll find:
Complete workout programs you can follow from home, outside, or at the gym
An eating plan built for you with lots of recipe ideas for every meal
Complete meal logging and calorie tracking
Progress tracking: Enter weigh-ins and save progress pictures to see how far you've come
There are a lot of apps that do one or a few of these things, but few that do it all.
Could you just look up free workouts on YouTube to do in your living room? Sure, you could.
But I'm a big believer that there's value in following a program from start to finish and having everything you need in one place.
It removes confusion, keeps you accountable, and makes sure you're making progress from one week to the next.
The app is really designed for:
Busy people that want to access workouts quickly, either from home or on the go
Beginners who have no idea where to start and need some guidance
Anyone who needs the extra structure and motivation to stay on track
---
How much does the My Fitness app cost?
You often get what you pay for, and an app that has this much to offer usually won't be free.
So how much does it cost?
To start, you can get a 7-day free trial to test the app out for yourself.
After that, you can pay $14.99 per month for a month-to-month membership.
Or you can pay $89.94 for the whole year (which is half the price of paying monthly).
Compared to the cost of a gym membership (about $30 per month, on average), this works out to be a pretty good deal.
Learn more about how the Jillian Michaels app works & how much it costs here.
---
How My Fitness app works & what happens after you join
Let me walk you through signing up, downloading the app, and completing the initial set-up process.
(Don't worry, the whole thing only takes about 2-4 minutes.)
Step one: Sign up for a free trial
Use my link to get started and get 7 days for free.
Create an account using your email and a password, or you can sign up using your Facebook profile.
Step two: Download the app and sign in
My Fitness by Jillian Michaels is available on both the Apple and Android app stores.
It should only take a second to find and download it!
Step three: Answer the intro questions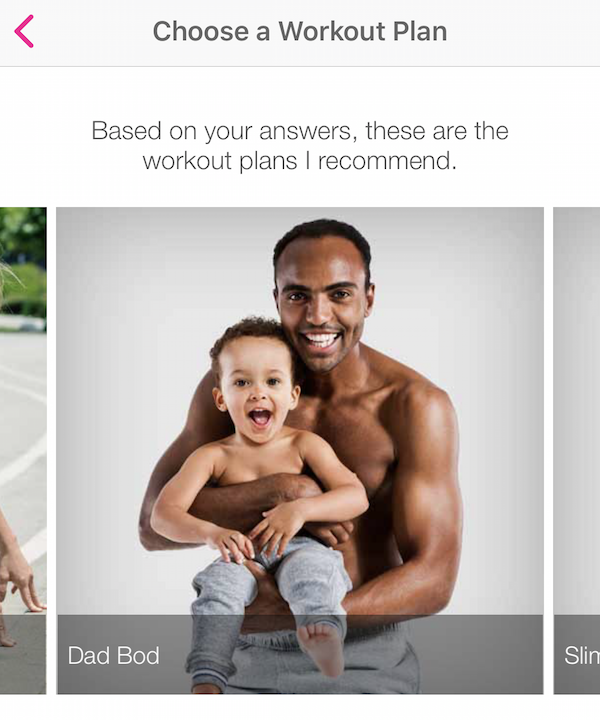 When you first log in, Jillian pops up on the screen!
She'll ask you a couple of quick questions to get you set up like:
If you want your workouts easy to start, medium, or hard
Your name, age, weight, and height
What kind of workout plan you're interested in
To choose your eating plan (omnivore, vegetarian, pescatarian, etc.)
And that's pretty much it!
From there, the app builds you a custom calendar (My Day) and home screen that looks something like this: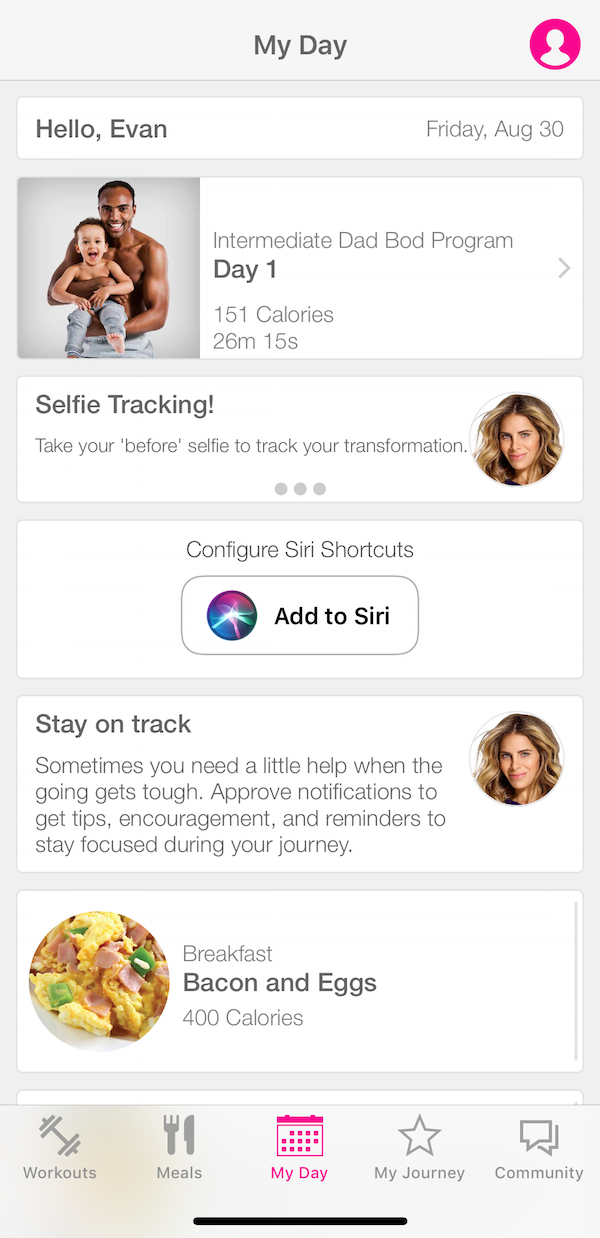 From your home screen or calendar view, you can do a few things:
---
Access workouts
On your My Day view, if you've chosen a workout program to follow, the calender will tell you which workout you're supposed to do that day.
From this screen, you can tap the workout card and jump right into the video-guided workout, woohoo!
(The workouts play in landscape mode on your phone. They string one video into the next with music of your choice laid over top and voice over from Jillian. The video and audio quality are excellent!)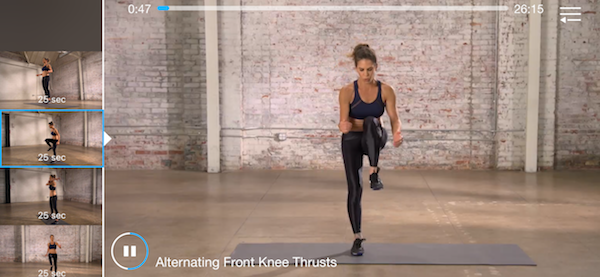 You were prompted to choose a program to follow at the beginning, but you can always mix things up if and when you're ready.
You'll have a few choices:
Premium Programs
The Premium programs are full, comprehensive workout programs only found on the app.
(What's a workout program? It's a series of workouts designed to help you improve from day to day, week to week, and reach a specific goal. A "workout" is just a single workout session.)
These programs range anywhere from a few days to over a year long, if you can believe it.
A lot of them can be done in your living room (or outside) with little to no equipment, like
Yoga
5k Walking
Fitness for Beginners
Others are more advanced, and some even go to the gym with you to train in you in heavy barbell lifting and other fitness challenges like:
Gym Cat
Gauntlet
And more
There are a bunch to choose from and it's not always immediately clear what the difference is between all of them.
But if you click on a workout program, you'll get to read a brief description of how long the program lasts and what its goals are.
Some of the best and most interesting Jillian Michaels workouts are:
Wedding Warrior – A grueling 6-week program to get you in tip-top shape for your wedding
Gauntlet – This one lasts a whole year and puts you through running, calisthenics, weightlifting, yoga, and more. By the end, you'll be a beast.
Slim 60 – A no-frills, 8-week program to help you shed 10-20 pounds of fat and slim down quick
See all Jillian Michaels fitness programs included in the app right here.
---
DVD library
As a member, you'll also get streaming on-demand access to all of the world-famous Jillian Michaels DVDs, like:
BodyShred
Ripped in 30
Yoga Inferno
6 Week Six-Pack
And more
You've probably heard of a few of these.
Separately, these cost about $7 as DVDs or $2 as streaming videos on Amazon Prime, but they're all included on the app with your membership.
---
Workout generator
If you can't find a program that jumps out at you, or if you have a nagging problem area, you can customize your own workout with the really cool feature:
Workout generator.
Just put in how long you want the workout to be, how hard you want it to be, and which body part(s) you want to focus on, and the app will put together a plan for you.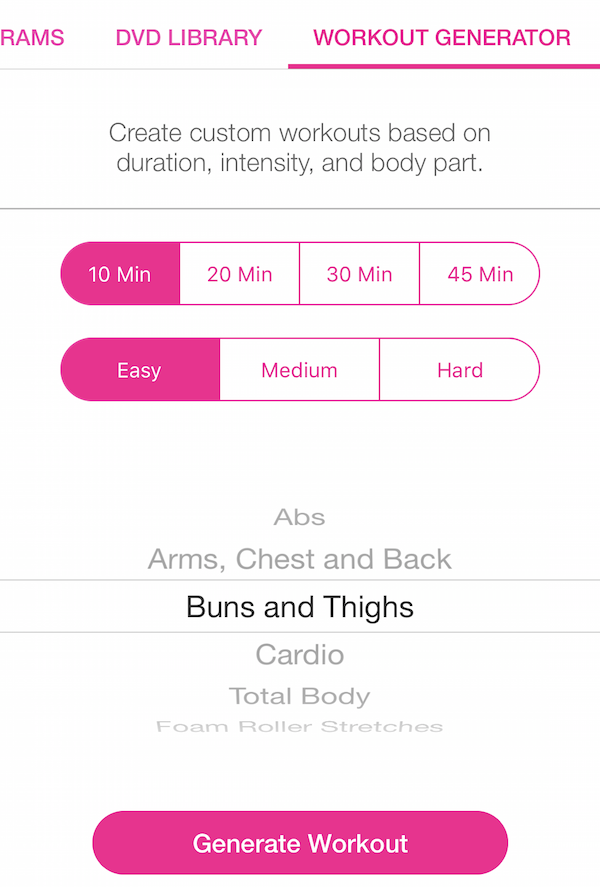 Start a free trial right now & build your own workout.
---
View recipes & log meals/calories
The My Fitness app suggests meals and snacks for you along the way, with new recipes each day under My Day.
I was a little confused at first when I hopped into the app and it told me I needed to eat eggs and bacon for breakfast and a pumpkin salad for lunch!
Was I supposed to have all of these ingredients already?!
I realized, eventually, that these are just suggestions for people who want a little structure and guidance for their eating to go along with the workouts.
If you click on the meal cards under My Day, you can see the full ingredients, recipe, and nutritional profile of each meal — pretty cool!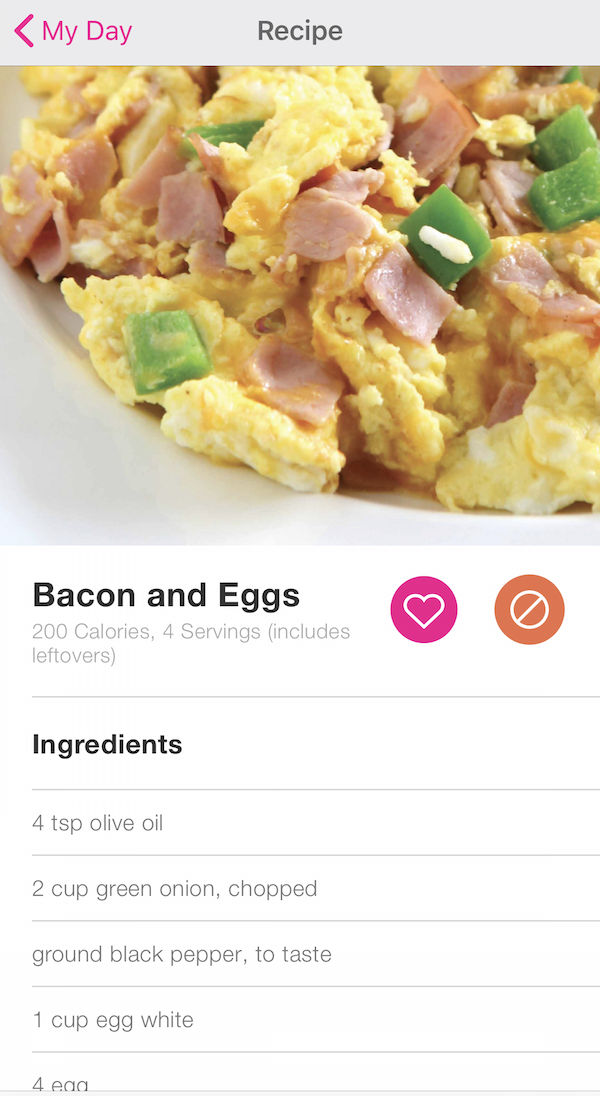 These recipes are pulled from the preferences you set when you installed the app, eating giving you an omnivorous diet, a vegetarian diet, or whatever else you choose.
If you click on the Meals tab inside the app, you can customize even further, choosing a diet for weight loss, maintenance, or muscle gain.
You can also:
Choose if you want the app to recommend all meals and snacks, only on certain days, only dinners, etc.
Input food allergies or restrictions
Plan meals for a couple or family
Plan ahead by making big batches of certain recipes
Get a detailed grocery list of everything you'll need
You really have a lot of control here!
However, if you don't want to follow Jillian's meal plan, you don't have to.
You can enter any meals, snacks, or other calories manually using the Calorie Tracker.
---
Track everything in "My Journey"
This is a really cool area of the app that gives you a birds-eye view of how far you've come.
Here, the app tells you how many workouts you've completed, how many calories you've been eating, and how your weight has changed over time.
It also allows you to take and save progress pictures along the way, which is really cool!
I haven't seen any other fitness apps that can do that.
Get more details on the immense meal-planning features inside My Fitness.
---
Engage with the community
The Community tab inside the app offers discussion forums for Jillian Michaels members, along with other content to help you on your journey.
You'll find:
An active and engaged community (for motivation, problem-solving, or bragging rights)
Blog content (meal planning, diet tips, workout advice)
FAQ
A podcast
This is a pretty useful area of the app if you need that extra support.
And some of the content will help you out if you get stuck along the way.
---
Equipment needed for Jillian Michaels workouts
For many of the Jillian Michaels workouts, you won't need any equipment.
Just a space in your house to workout, or a place to walk or run outside.
However, some of the programs, especially the more advanced ones, may require things like:
Dumbbells
Resistance bands
Jump rope
Etc
Other programs, still, require you to go to a gym to use barbells and Olympic weights.
When you first set up the app, you'll be asked what equipment you own or have access to, and a lot (but not all) of the workout content will be tailored toward your unique situation.
If I have a complaint here, it's this: It's not always immediately apparent what equipment you'll need before beginning a workout or program.
I'd love it if a summary of equipment needed was included on the workout program pages.
---
Let's get into my final takeaways after using this app.
Comprehensive workout programs
One-off workout videos are fine, but I really love having a program to follow.
I think most people end up falling off the fitness wagon because they don't really know what to do other than squeeze in a workout here and there.
Without a progression, without knowing what you're working towards, it's very hard to stay motivated.
I love that this app has programs for everyone; short programs for beginners to get you started, and even a year-long program to go from zero to total beast.
Unreal level of detail for meal planning & diet
At first I thought that the calorie tracking and recipe suggestions in this app were kind of a useless add-on.
Boy, was I wrong.
The utility of this tool is amazing.
It lets you meal plan for yourself, a couple, or your entire family. As many meals as you want planned out, recipes that fit your diet and preferences. Plan around your goals (weight loss, maintenance, muscle gain). Take it to the grocery store with you and you'll know exactly what to by.
The meal planning tool is worth the price of this app alone.
Engaged support community
The "community" section of most fitness apps is a ghost town.
But Jillian Michaels is so popular, so engaging, and has such a loyal following, that I think you'll be pleasantly surprised by the strength of the community here.
Get support, find motivation, and share your progress. It all helps you stay on track.
---
2 things I don't like about My Fitness app
Not everything about this app is perfect.
Interface isn't my favorite
I won't lie. When I first logged in and got set up, I was a tad overwhelmed and confused.
It wasn't initally clear where I was supposed to go, or how I was supposed to use the meal and recipe cards.
It took a little bit of poking around and experimenting to get everything set the way I wanted and to learn the ins and outs of the app.
Hard to find out what equipment you'll need
The first program I tried involved 30 seconds of jumping rope.
That's great! But I didn't realize I would need that before I started.
(Funny enough, not even Jillian had a jump rope. In the workout video, she's just jumping in the air pretending to skip rope, which was kind of odd.)
They say the programs are tailored to the equipment you have access to, but sometimes you'll end up surprised and needing something you don't have.
---
Wrapping Up
I didn't immediately love this app when I first opened it, but the more I explored it, the more I began to see the insane value it offers.
I love the workout programs — they're great for busy people, stay at home moms and dads, parents of any kind, and total beginners.
But even more, I think the detailed meal planning tool is incredible; it's something almost everyone could use and it's worth the price of My Fitness app's membership alone.
Overall, I would definitely recommend you give My Fitness a shot!
Try it free for 7 days and see how you like it.
If this review helped you make your decision, I really appreciate you signing up via my link above!
Any other questions about Jillian Michaels My Fitness app? Let me know in the comments!
---
FAQ
What are the best Jillian Michaels My Fitness app alternatives?
The best alternative to My Fitness is definitely Beachbody on Demand.
BOD also has:
Complete workout programs
Eating plans
A support community
Pricewise, they're pretty similar. I like the workouts inside Beachbody a little bit better, but the meal planning in My Fitness is far more comprehensive and less confusing.
Check out my Beachbody review here.
I also really like Aaptiv for audio-only workouts you can keep in your pocket and take with you outside or to the gym.
Read my Aaptiv review here.