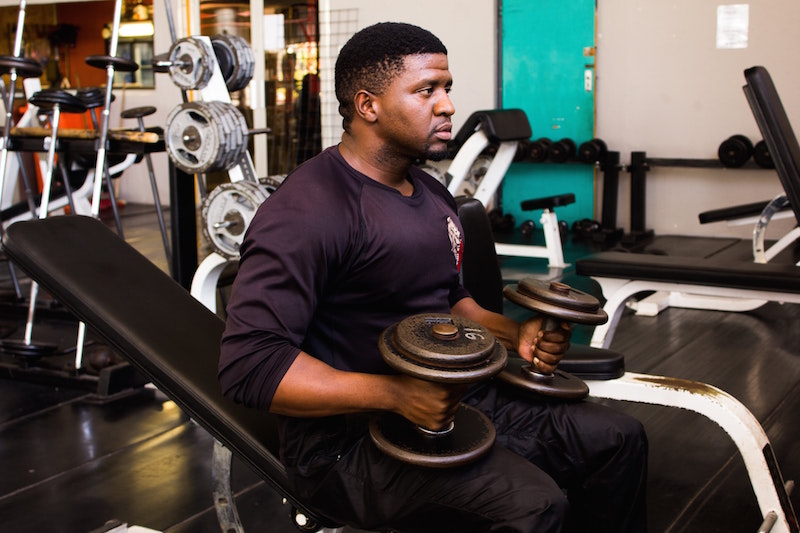 After pouring over hundreds of reviews and doing hours of research on home weight bench options, I think XMark flat incline decline bench (Amazon link) is going to be the best bet for most beginners. It's a little pricier, but the insane weight capacity and quality means you can grow into it for years and years.
Read on to find out about some other interesting options and how I decided on my top 4!
…
If you're planning to work out at home…
… and I mean REALLY work out at home.
Not just the occasional 7-minute workout in your living room!
Then you should really consider investing in a good weight bench.
A weight bench gives you the stability and versatility to perform lots of different dumbbell exercises and get a much better workout at home.
If you're a total newbie, here are all my best tips, advice, and recommendations for choosing the best weight bench for beginners:
First, decide if you want an adjustable bench or a flat bench

Second, pick your budget and how much you're willing to spend

Account for your size and size/width/length of the bench

Factor in weight capacity of the bench

Make the purchase
If you're ready to skip ahead to the buying step, here are what I think are the best weight benches for total beginners:
*** = My overall favorite
Image
Product
Details

adidas Performance Flat Training Bench

Budget-friendly
Lightweight & easy to assemble
600lb capacity

Check on Amazon

Rep Fitness flat bench

Sturdy & reliable
Excellent value
1,000lb capacity

Check on Amazon

Marcy adjustable utility bench

Wheels for easy moving & storage
Perfect entry-level choice
600lb capacity

Check on Amazon

My Pick

Xmark flat incline decline bench

Rock-solid, sturdy & durable
Thicker padding than competitors
1,500lb capacity

Check on Amazon
Now let's just dive in a little bit deeper on what to look for and how to choose your first weight bench for a home gym.
---
What to look for in your first weight bench
If you go to Amazon right now and search for "weight bench," you'll get over 600 different results.
That's… too many!
In order to narrow that list down to a reasonable number of choices, there are a couple of factors you should consider right off the bat to eliminate benches that just won't work for you.
If this is your first time buying a weight bench and you're relatively new to lifting weights or dumbbells, here's what you need to know.
---
Flat or fixed vs adjustable
There are a couple of key differences between a fixed flat bench and a bench that can adjust and incline and/or decline.
First is the range of motion of the bench for different exercises. An adjustable bench will be far more versatile and allow you do a bigger variety of lifts (incline bench press, chest flys, seated shoulder press, etc.)
However, adjustable benches will usually be a lot more expensive. There's simply more mechanics and moving parts involved, so the cost goes up. You can get a high-end flat bench for the same price or less than a cheap adjustable bench, in most cases.
Adjustable benches are also often about twice as heavy as flat benches, so keep in mind that flat benches will be a lot easier to move around, set up, and transport on your own.
---
Weight capacity
How much weight can a bench actually hold?
This is a really important question to answer before you buy.
You'll find cheap weight benches with only a 300lb capacity, and high-end benches that can hold over 1,500lbs.
If you're a big dude who will be lifting a lot of weight, a low capacity bench isn't going to work for you. Worse, it will be horribly unsafe.
Make sure you factor in your bodyweight and what weight dumbbells (or barbells and free weights) you'll be using, and ensure whatever bench you buy can handle the load.
---
Budget
The safest, sturdiest benches with the highest weight capacity usually cost more money.
In other words, you get what you pay for.
However, that's not to say you can't get a great value on a less expensive weight bench. In fact, weight benches are a pretty reasonable investment, with even pretty high-end ones going for $300 or less.
The thing that holds and supports your body while you lift weights probably isn't a piece of equipment you want to cheap out on, but I have some really solid budget recommendations for you below.
---
Size (length, height & pad width)
Benches come in all sorts of shapes and sizes. You'll want to think carefully about three measurements:
Weight bench length: If you're tall, pay particular mind to the length of the main pad on the weight bench. In most cases, you won't have any problems unless you're extraordinarily tall (like over 6' 7"), because the main surface of most benches is around 4' long. If you're worried, read lots of Amazon reviews and try to find commentary from taller folks about how they found the fit.

Weight bench height: Height off the floor is really important. If you're going to be doing bench press, shoulder press, or really any form of pressing, you'll want your feet to be able to plant firmly into the floor. If you're on your tippy toes when seated on the bench, that's going to be a problem. 15-17 inches off the floor is a little on the lower end and good for short people. 17-20+ is better for tall people.

Pad width: The standard pad width for a weight bench is 12". Sometimes the top end near the head of an adjustable bench is a little narrower, around 10". You can sometimes find benches with slightly wider or narrower pads but 12" is pretty much the standard.
---
Now if you're ready to get to shopping and pull the trigger on a new weight bench, here are all my top picks for beginners and newbies.
---
Best budget flat bench for beginners: adidas performance flat training bench
Overview: If you're looking for an affordable flat bench that's solid but doesn't have a ton of frills or extras, you'll be really happy with this one from adidas.
With a weight capacity of around 600lbs (adidas says it can hold up to 1,000, but the official capacity is 600), it's not the heaviest-duty bench around but should more than get the job done for a beginner.
Weight Capacity: 600lbs
Pad Length: 43 inches
Height off of floor: 16.5 inches
Why I Like This Bench for Beginners: I like a lot of things about this bench! If you're looking for an entry-level weight bench for basic movements like dumbbell bench press, dumbbell rows, step-ups, etc., this is going to a perfect low-cost option.
For starters, it's pretty lightweight at only around 28 pounds, so it shouldn't be hard for anyone including petite women to move around, set up, and transport.
It also comes in two colors (silver and black), which is a nice touch if you're trying to match it with existing gym equipment.
I also like the low-profile design. This bench puts you about 16.5 inches off the ground when seated, which is definitely on the lower end and should be pretty comfortable for most people.
Plus, if you're even remotely handy, this bench should be really easy to assemble.
To recap:
Relatively inexpensive

Lightweight

Easy assembly

Low profile
Potential Drawbacks: I probably wouldn't recommend this bench for bigger guys. If you're over 6' 2" or so, the length might be a bit of an issue. Plus, the low profile height might be a cramped fit for longer-legged folks.
The weight capacity should be pretty good for most people, but just be aware that it's on the lower end. If you weigh 300 pounds and will be bench pressing using 150lb dumbbells, you might be pushing it a bit.
To recap the cons:
Only 600lb official capacity

Not great for big, tall guys

Check latest price and read more reviews of the adidas flat bench on Amazon
---
Best higher-end flat bench for beginners: Rep Fitness flat bench
Overview: When you start doing research on the best weight benches, you'll see Rep Fitness touted as one of the absolute best brands around over and over.
Their main flat bench, the FB-3000, is a fantastic piece of equipment for anyone, especially beginners, looking to build out a home gym.
It's a bit sturdier and better constructed than the adidas option above (rock-solid 1,000lb capacity), but still won't break the bank.
Weight Capacity: 1,000 pounds
Pad Length: 47 inches
Height off of floor: 17.5 inches
Why I Like This Bench for Beginners: If it's a flat bench you want, this is the only one you're ever going to need.
The weight capacity should be plenty to keep even big, strong dudes busy for quite a while. The exception might be using this bench for exceptionally heavy barbell movements like a box squat, for example. Still, 99% of people will never be able to max out the weight on this bench.
I like the stripped down design. You can take one look at this thing and know it means business. The legs are understated and out of the way. It just looks rock solid, and it is.
It's also just a little bit bigger than the adidas bench, both in length and height off the floor, so it's a lot better suited to men or anyone who's over 6 feet tall.
(It's built to IPF, International Powerlifting Federation, standards.)
To recap the pros:
Still a great value at the current price

Exceptional sturdiness and durability

A little roomier for taller people or people with longer legs
Potential Drawbacks: One small downside to this bench is that, because of the thick steel its made of, it weighs in at a pretty hefty 45 pounds. That's a lot for a flat bench with no moving parts. Moving this around and storing it might not be easy if you're a smaller person.
Some reviewers were miffed that parts of this bench were designed and built in China.
You really have to dig to find anyone with a bad thing to say about the Rep Fitness flat bench.
To recap the cons:
Pretty heavy (45lbs) for a flat bench

Some parts made in China

Check the latest price and read more reviews of the Rep flat bench on Amazon
---
Best budget adjustable weight bench for beginners: Marcy adjustable utility bench
Overview: Because of the extra materials and functionality that go into them, adjustable weight benches cost more than flat benches on average.
If you really want an adjustable bench but it's squeezing the budget, the Marcy adjustable bench might be your best option.
It's not the biggest or sturdiest on the market (600lbs capacity), but has excellent reviews, usability, and value. Truly one of the best adjustable benches for the money.
Weight Capacity: 600 pounds
Pad Length: About 51 inches
Height off of floor: 17.5 inches
Why I Like This Bench for Beginners: If you're in the market for an at-home adjustable bench, but you're not sure you want to shell out top dollar quite yet, the Marcy is an excellent entry-level choice.
The weight capacity is on the lower end but should be more than enough for most beginners. Even if you weigh 200 pounds and use 100lb dumbbells in each hand, this bench can support you.
This bench can do just about everything you need it to do with several incline and decline levels (seated shoulder press, incline bench press, flat, and decline press).
I also really like when adjustable benches like this one come with wheels. It may be heavy (55lbs), but it's pretty easy to pick up one end and roll it around to where you need it.
To recap the pros:
Awesome value for the price

Incline, flat, and decline positions

Wheels for easy storage and moving
Potential Drawbacks: The 600lbs weight capacity isn't quite ideal. If you plan to lift very heavy weights, the bench probably won't collapse, but it might not be quite as stable as some higher-priced competitors.
The decline option is great for pressing and sit-ups, but without a foot grip to lock in your feet, you may find it difficult to do those movements.
Assembly on this bench isn't too bad, but is a little more involved than a flat bench. Expect about 30-60 minutes.
To recap the cons:
Low weight capacity

No foot grips

Longer assembly time

Check the latest price and read more reviews of the Marcy adjustable bench on Amazon
---
Best higher-end adjustable weight bench for beginners: XMark incline decline flat bench
Overview: So judging by the product photo to the right, can you guess what this bench's claim to fame is?
Yep. It has a ridiculous, absurd 1,500 pound weight capacity.
If you're a beginner but want to invest in something incredibly rock-solid that'll last you a lifetime, no matter how strong you get, this bench from XMark is the one for you.
Full incline with 5 different settings, plus decline, plus fat and upright. Heavy gauge steel. 3" thick padding, which is about half an inch thicker than most competitors.
This thing is no joke. And for all of that, I would say the price is still pretty reasonable.
Weight Capacity: 1,500 pounds
Pad Length: About 51 inches
Height off of floor: 20 inches
Why I Like This Bench for Beginners: There's really not much to dislike about this bench.
Weight capacity fits the bill and should be enough even if you go on to become an elite level lifter. I can't imagine anyone ever lifting enough to cause this 1,500 pound capacity bench to buckle.
Features are on point. You'll get 5 levels of incline on the seat back, plus a 20 degree decline, and of course flat and upright positions. There's no lift you can't do with this bench.
The super high-quality materials drive the price up a bit, but the durability on this bench is top-notch, with many reviewers noting that they've used it for years without a problem.
If you want to make an investment in your home workout game and be able to do a wide variety of workouts with heavy weights for many years to come, definitely consider splurging on this bench.
To recap the pros:
Full incline, flat, decline, and upright positions

1,500 pound capacity

Extra seat padding

Foot grips for sit ups and decline bench press
Potential Drawbacks: There are two main drawbacks to this bench. The first is its overall size. It weighs over 100 pounds and is close to 20 inches off the floor when flat. This is an incredible bench but if you're a very petite person, it may just be too much for you.
(I'll add that it does have wheels for rolling out of the way)
Another small thing. The gap between the bottom seat and seat back, according to some reviewers, is a little bit too big, which could lead to some discomfort.
To recap the cons:
Priciest option

Large size and weight

Gap between seat and seatback

Check the latest price and read more reviews of the Xmark flat incline decline bench on Amazon
---
Wrapping Up
Buying your first weight bench for home workouts can be a little overwhelming. There are so many options and so many variables to consider!
But no matter what you choose, you'll find it's going to step up your home workout game significantly. If you own a good set of beginner dumbbells, you'll be able to do WAY more exercises with a bench than ever before.
Before you buy, just remember:
Flat (cheaper, lighter, easier to assemble) vs Adjustable (better exercise variety)

Your size vs size of the bench

Overall cost and budget
For my money, I would definitely recommend that you get an adjustable weight bench. If you're going to stick with your weightlifting program for a long time (which you should!), I'd advise you to just invest in a really good, high-quality bench now and enjoy it for the next 5-10 years with no problems.
For that reason, my top overall pick for beginners is the XMark flat incline decline bench.
Get the latest price and read some more customer reviews of the XMark bench on Amazon
Hope this helps, everyone!
For more, check out my guide to the different types of weight benches.